Toggle Switches
Sauntering through the lounge, your eyes catch the glimmer of the sleek toggle switch. The world around you melts away as you move to the rhythm of your favourite music, feeling carefree and at ease. Once an ordinary plastic element, the new and improved, high-end light switch now captivates with its intriguing finish and delicate design, begging a daily dose of admiration.
Carry on Reading...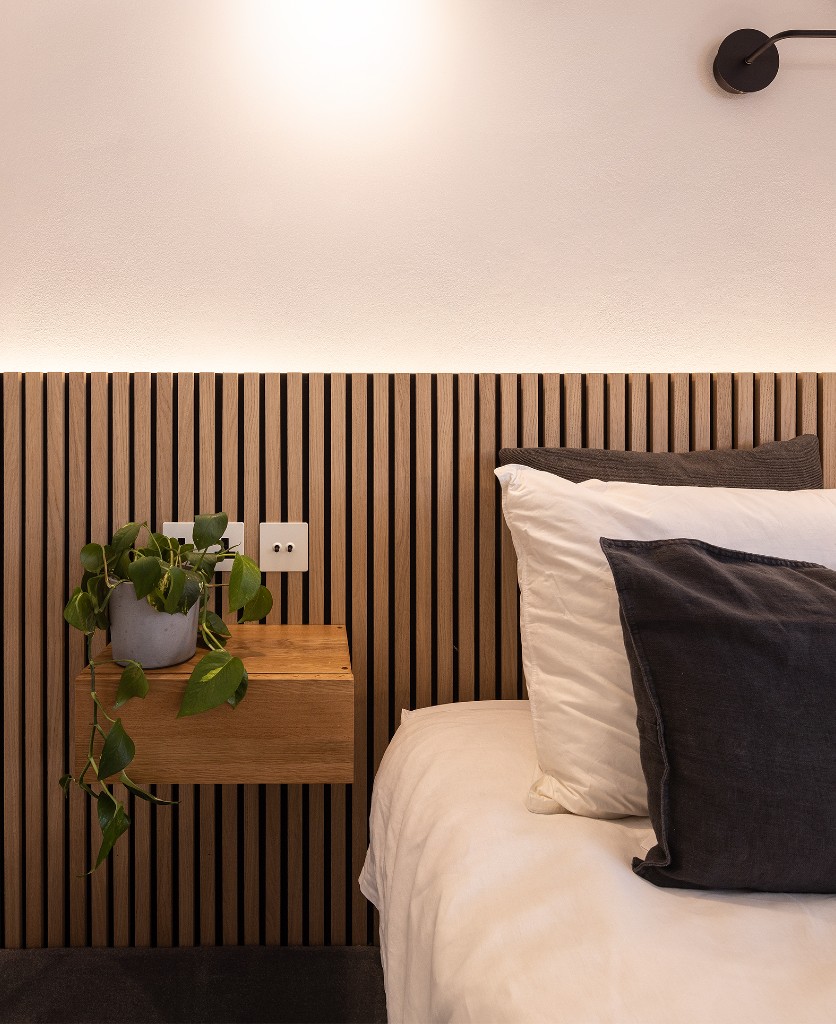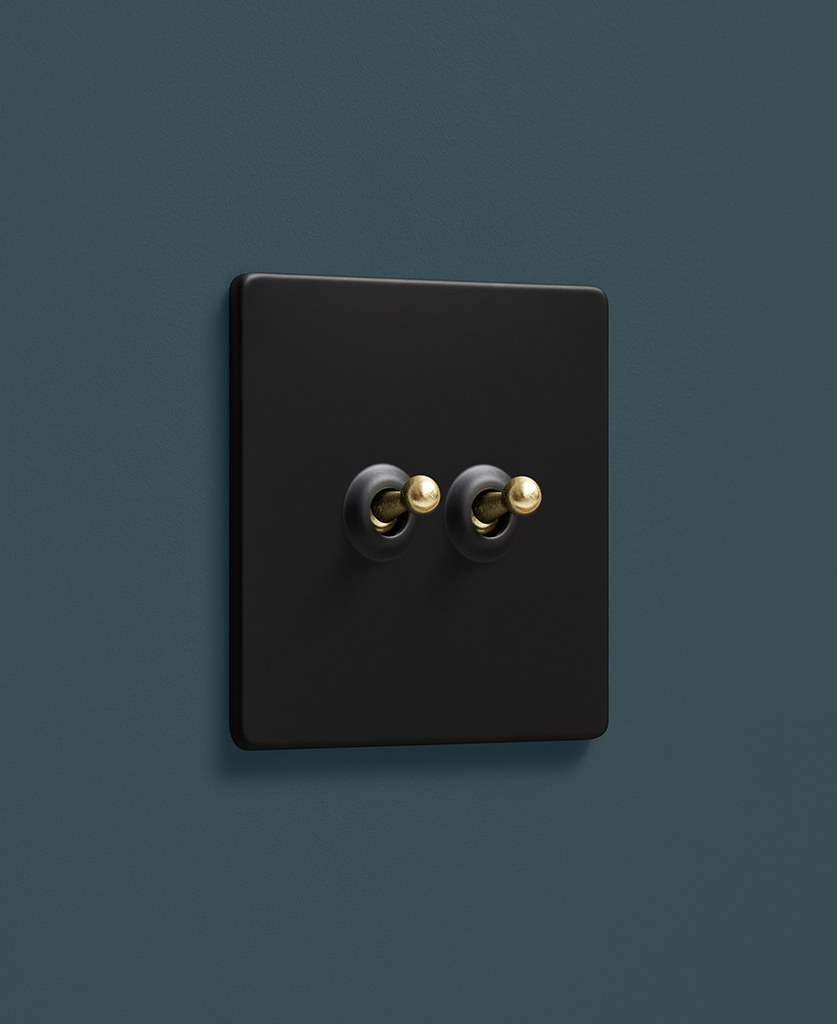 As you leave the room to prepare your evening meal, a simple flick of the switch dims the statement ceiling light with a satisfying click. A subtle smile graces your face, a silent testament to the satisfaction derived from such a simple act.
Explore the potential of toggle light switches to elevate your surroundings and appreciate the subtle yet significant impact they can have.
Toggle light switches: Embrace the joy of simple pleasures
Small, mindful moments that bring unexpected waves of joy are to be savoured. The subtle flicker of a smile as you hear the satisfying 'click' of a toggle switch, and the brief but soothing pause as you trigger the opulent pendant light into illumination, surprised by its power to uplift your mood. As your fingers meet the cool metallic surface of the switch plate, you're reminded of the exceptional quality of this simple yet elegant fixture.
Brushing your hand against our designer switches provides a burst of pleasure for your fingertips, and the solidity of the toggle as you grasp it to illuminate your space is reassuring.
How can Dowsing & Reynolds' wide range of dolly switches enhance your space?
Our exclusive toggle switches enhance your interactions with everyday light switches, from their ergonomic design that's so pleasing to grasp to the satisfying 'click' as you turn your lights on and off. 
Getting pleasure from switching lights on and off is something unexpected—a mini mindful moment every day.  
When it comes to aesthetics, our electrical switches get careful consideration. Just like dimmer and rocker switches, this collection has many beautiful finishes. From the contemporary charm of brass and tarnished copper to the minimalist mood of white and black, there's a perfect match for your home style. 

If you like to take creative control and make your interior hardware fixtures more personal, why not

design your own switch.

Select the tone of the toggle switch lever itself, and pick whichever plate finish tickles your fancy. We've also given you a choice of configurations, including single gang to double gang right up to quadruple options.

Beyond their functional appeal, toggle light switches have an undeniable intrigue. Their timeless design, reminiscent of retro simplicity, adds a touch of elegance to any room. Whether you prefer a vintage-inspired toggle switch with intricate markings or a sleek and minimalist design, these switches fit almost any criteria.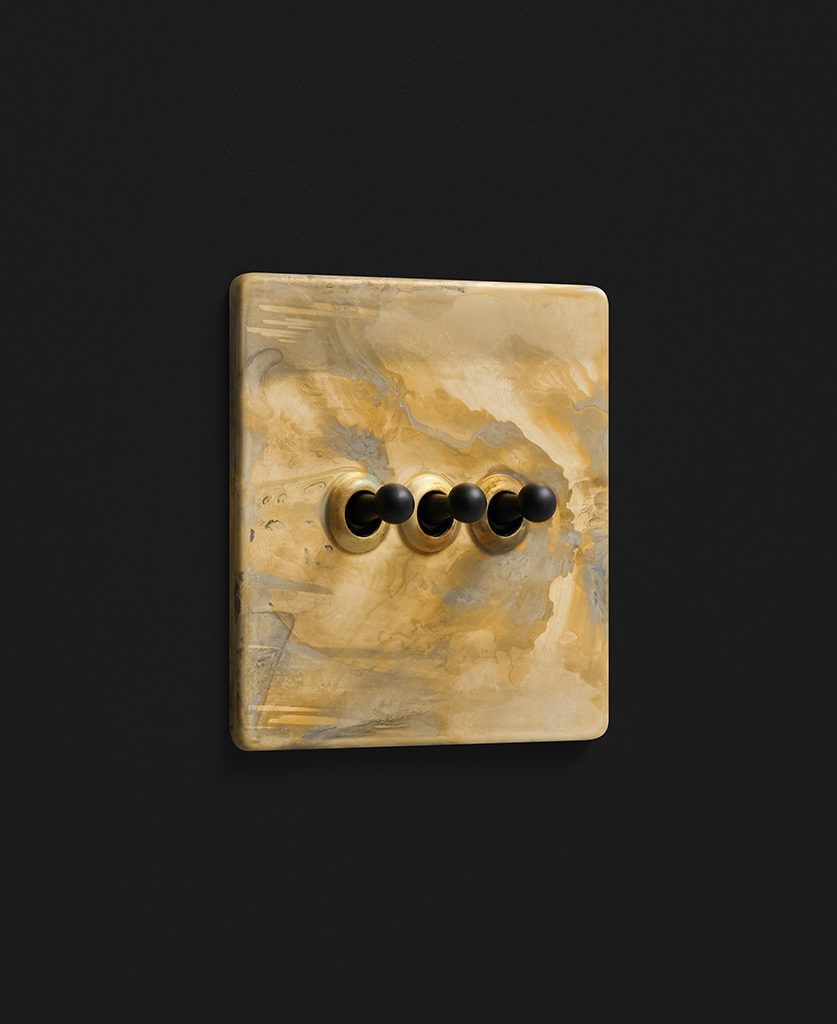 Unveiling our exclusive colour range. Your guide to matching hardware to interior style
Like all the light switches and plug sockets we design, we've fine-tuned distinctive finishes and looks that are completely unique to us. 
Pondering over the perfect finishing touches for your decor is all the more exciting when you strike upon inspiration – browse our toggle switches to elevate your interior design to match your vision.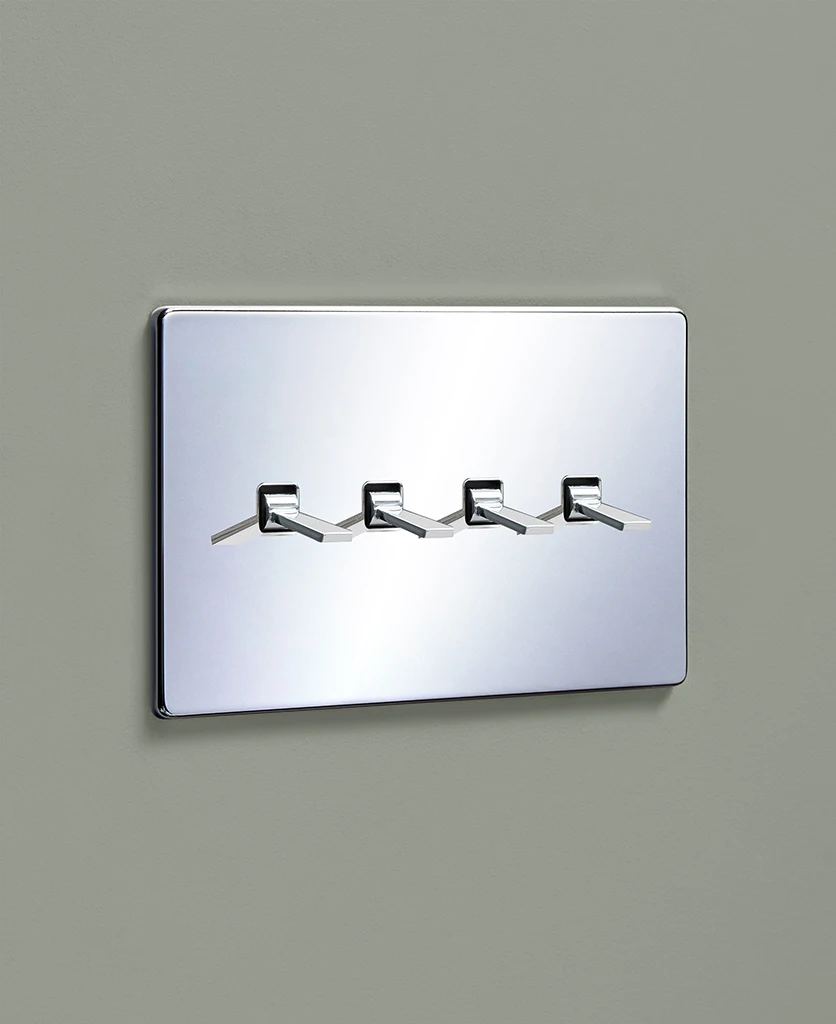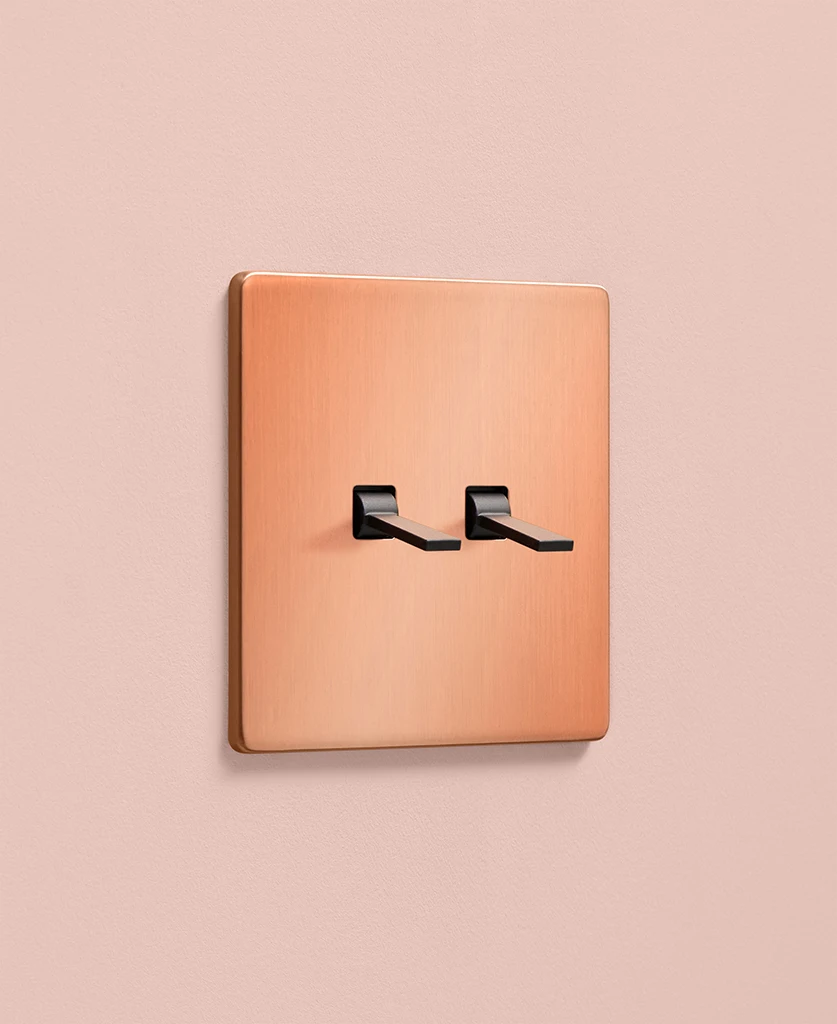 Tarnished copper:

Rugged, undone and gloriously edgy. Our

collection of tarnished copper electrical hardware

is the epitome of modern vintage. It's an intricate detail that's out of the ordinary, making guests stop to double take for a closer look. This industrial detail can really tie your luxurious decor together – opt for golden toggles for a combination that really exudes decadence.

White:

It's easy to think of

white switches and sockets

as ordinary, but we've  redefined the timeless white fixture, and made it cleaner and sleeker. For a bold and contrasting combination, try black toggles. Alternatively, stick with a classic and clean, understated look by choosing silver toggles. 

Matt black:

From a glamorous boudoir to a contemporary kitchen,

black switches and matching sockets are incredibly versatile

making an unmistakably striking feature. It's uncomplicated and simple, but really makes an impact – when juxtaposed against lighter colour palettes, their intensity is even more eye-catching.

Polished copper:

The gleaming copper electric fixtures radiate an irresistible charisma that simply demands the spotlight. Their natural good looks and luxurious finish make a real difference to the atmosphere. Plus, the warmth of the terracotta finish is something any space benefits from, they're a real treat to gaze upon – The polished surface of copper fixtures gleams and shimmers and they're just as delightful to touch.

Gold:

Infuse your decor with

the regal beauty of our gold switches

. Their sun-kissed look is stunning, and looks particularly enchanting with black toggles. Whether your style leans towards shabby-chic, industrial, or minimalist cream and white palettes, these golden accents are a delectable addition that commands some well-deserved attention. 

Smoked gold:

These original pieces are brilliant for creative types, representing your unique style and artistic flair. Whether you're an artist, a visionary, or simply someone who appreciates the finer things in life, these pieces will become a centrepiece of your design.

This smoked gold collection of hardware is designed to be exquisitely imperfect

, which is what makes them so wonderfully unique. To truly enhance their captivating appearance, consider pairing them with rich mahogany furniture and walls painted in warm coffee tones.
What's the difference between rocker and toggle switches?
Unlike rocker switches that activate with a bit of pressure, toggle switches require a firmer grip and a more conscious hand movement.
It's this added engagement and the noticeably audible 'click' that makes them unique – it's simply a matter of personal preference. Aside from this, they both function in the same way and trigger the 'big light' with one single flick.
Experience the differences in upgraded interior features
It's the little things that make a big difference, and at Dowsing & Reynolds, we've got you covered with a range of designer fixtures to help you craft a home you love.
Set the mood for cosy nights with our versatile dimmer switches. Insert coordinating metallic handles and knobs that blend with your decor to create a cohesive look, or let our captivating lighting fixtures cast a gentle glow, enveloping your space in a peaceful and inviting aura.
At Dowsing & Reynolds, we revel in the art of embracing the minute details that often escape our attention. Browse the collection and experience the fun of personalising every inch of your home.