Chandeliers
Awaiting the arrival of your dinner guests, you find yourself lost in the hypotonic glow of the chandelier. The mere sight of it in the room is enough to make your heart skip a beat. As the candlelight kisses the crystal bubbles, a tranquil ambience takes hold, causing you to let out a delighted gasp.
Carry on Reading...
You take seconds to admire the decorative piece – the glass orbs seemingly defying gravity as they hover effortlessly in the air. Like captured soap bubbles frozen in time.
In this enchanting space, the designer ceiling light becomes the centrepiece of the evening.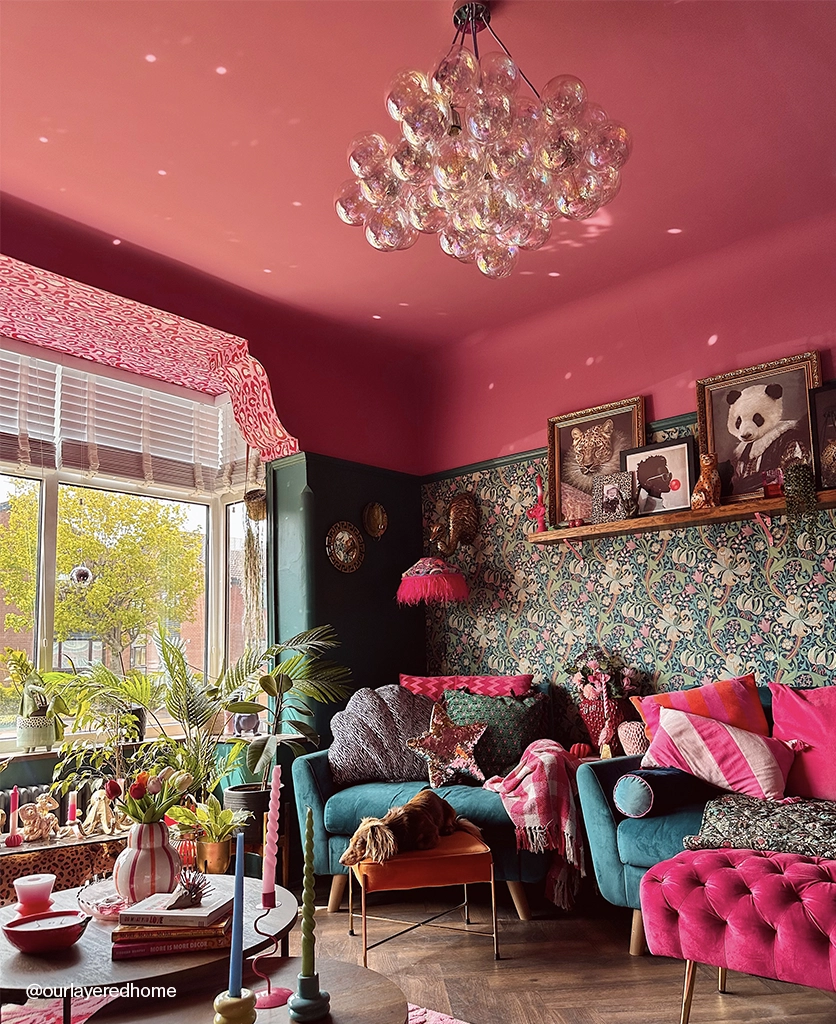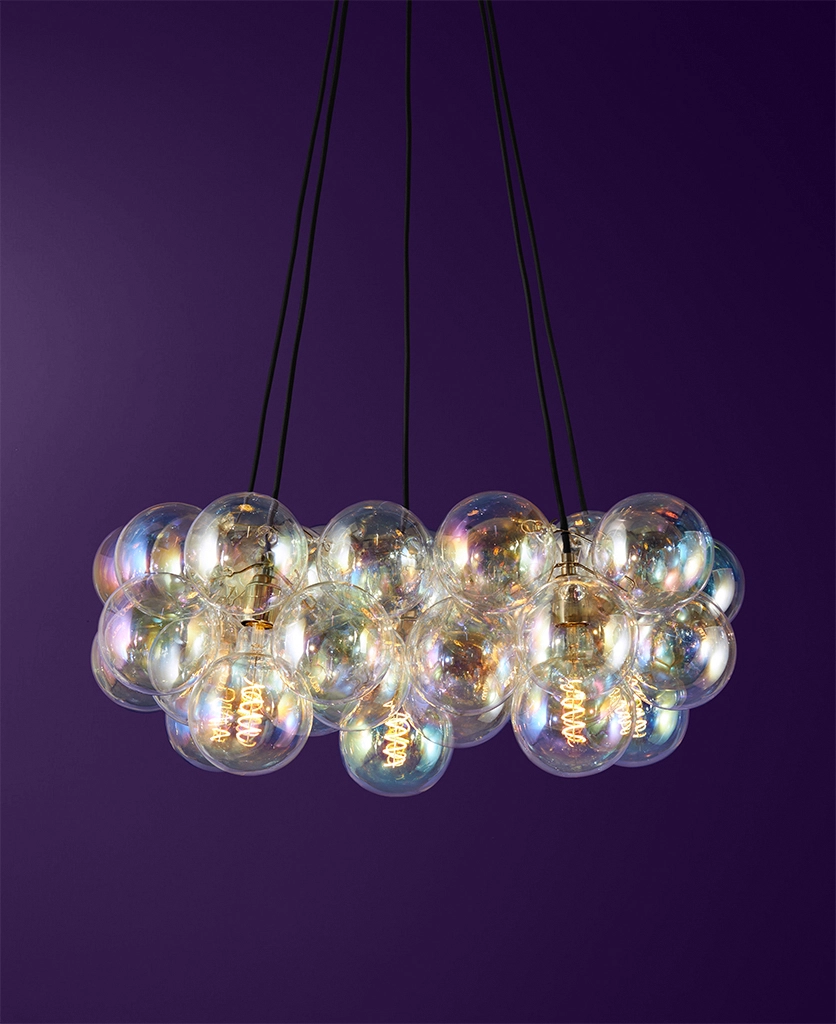 Experience first-hand the awe-inspiring influence of light and design, working together to transform an ordinary gathering into an unforgettable memory filled with pure, unfiltered happiness.
Modern chandeliers: Lighting up special moments in style
Transform your surroundings with our unique collection of ceiling lights, thoughtfully designed to capture the essence of contemporary interior design. Every piece is created with multiple design styles in mind, so you can choose the one that reflects your individuality and love for the finer things in life.
The elegant chandelier has a timeless appeal, one that has been admired for centuries. Its shape is intricately created to reflect light in the most captivating of ways. Whether it's illuminating a grand boudoir or a cosy dining area, the chandelier instantly elevates any space with its regal presence.
What can you expect from Dowsing & Reynolds chandeliers?
Designer products that are exclusive to us, making them ideal if you prefer items you won't see everywhere else.

If you're looking for more creative freedom,

take a scroll through our customisable lighting options

where you can make our lights more

you.

Low ceilings needn't hold you back from experiencing the glamour of a stunning chandelier. Our designs cater to all spaces, big or small, so you can still make the statement you desire.

From sleek and minimalist designs to captivating fixtures that make a statement, our collection ticks the boxes of many interior styles.
Bubble chandeliers: Creating an elegant celestial constellation
Meet the most popular choice amongst our customers – the bubble chandelier.
Hanging effortlessly, this truly opulent chandelier lights up the room with its cool glass orbs. It's like a foam of soap bubbles floated up to the ceiling and got stuck, giving the space a relaxed and playful feel.
The copper ceiling rose gracefully guides your gaze to the plump bulbs, where sleek lines and delicate glass combine gorgeously – a feast for the eyes every time you enter the room.
With numerous finishes, quantities and sizes to play around with, you can make this chandelier your own. Consider incorporating an XL bubble cloud light to make every dinner time a fancy affair. 

The bubble light also makes a lovely feature in your baby's nursery – a cluster of baubles and bulbs that mimic the peacefulness of a fluffy cloud, creating a serene and calm atmosphere.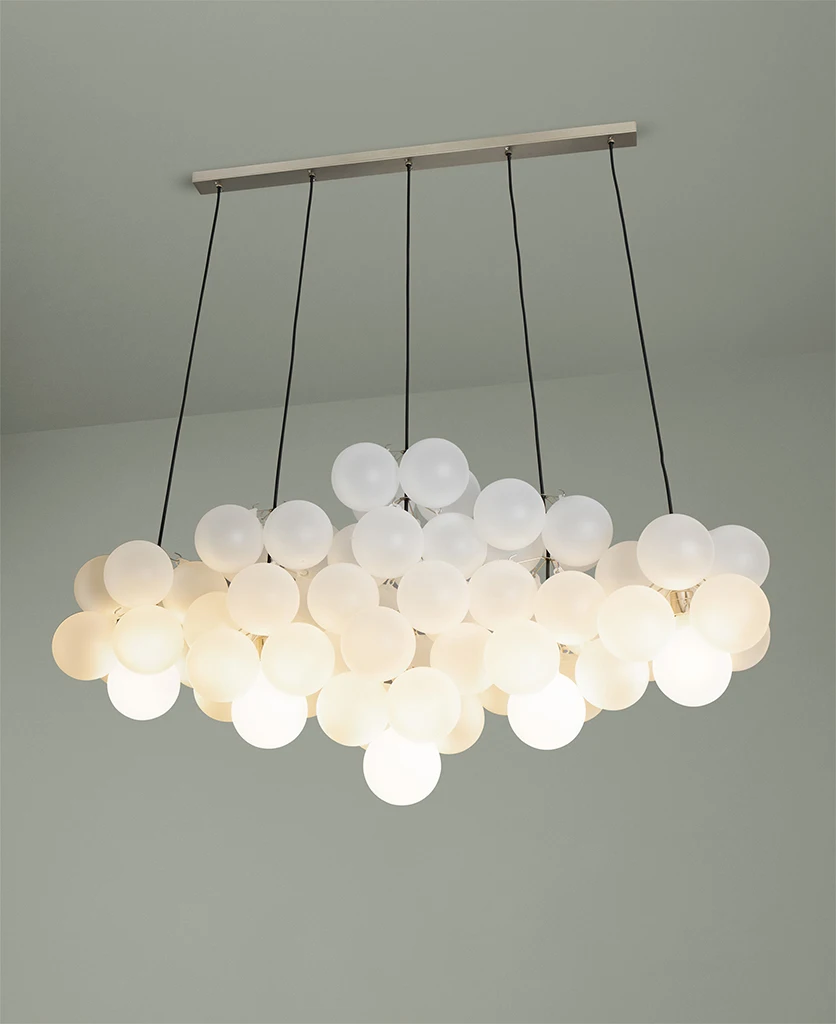 Abstract black chandelier: Multi-arm lights for an industrial look
This abstract light fixture has a unique and unconventional design, like the rebel of classic chandeliers. Its sleek bars invite your eyes to glide across each polished steel beam which ends in a gorgeous bulb, reminiscent of an atomic structure.
With its subtle industrial charm, the slim, yet bold arms effortlessly stretch the light like graceful acrobats, reaching every nook and cranny of the room. It's a spectacle that plays with space and pushes the boundaries of illumination.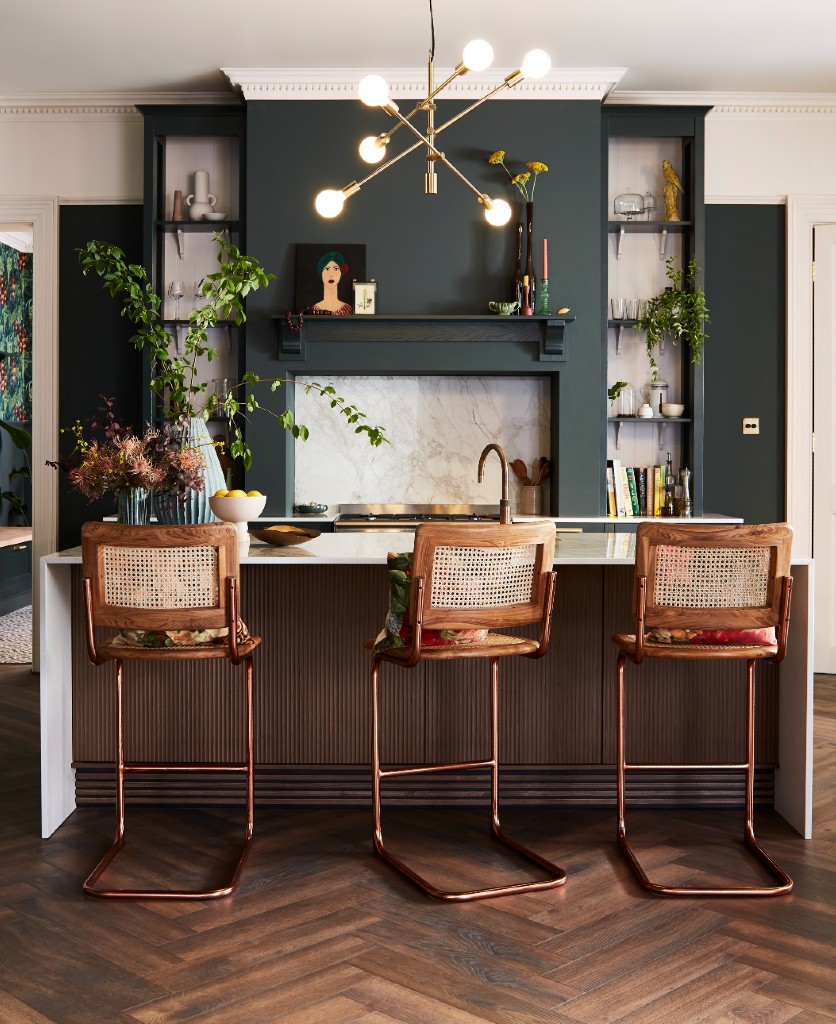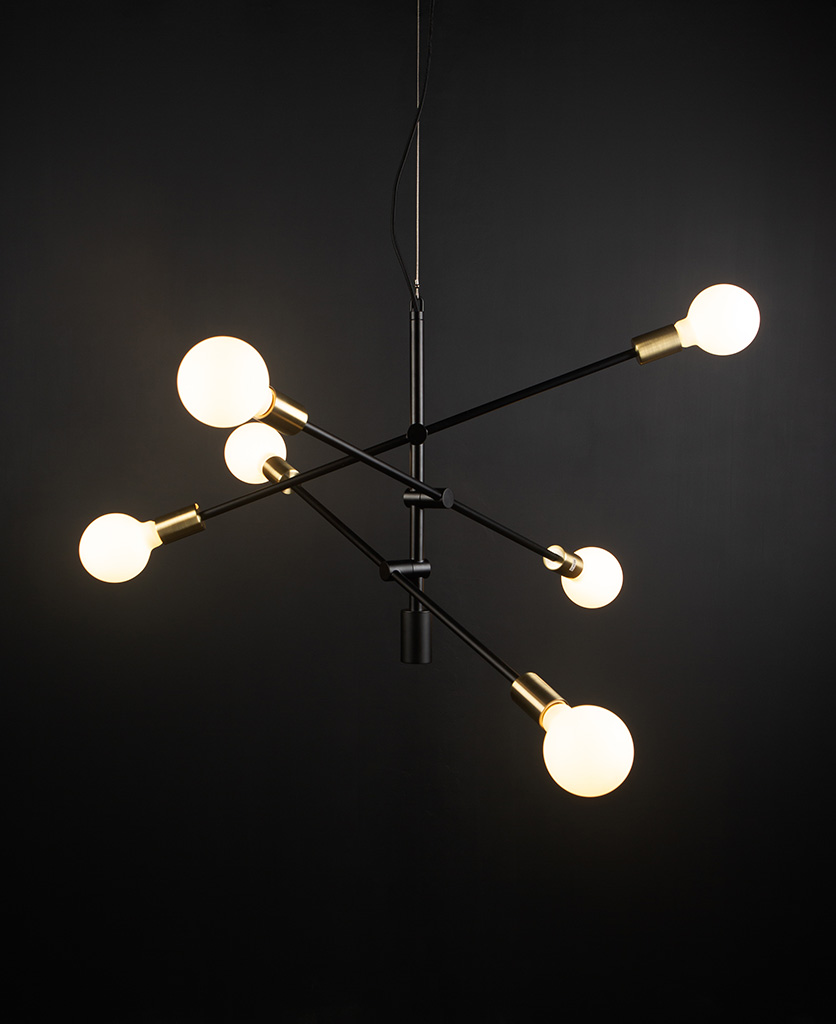 Our lights not only match your sophisticated style with their black steel ceiling rose and sleek black fabric cable, but they also come reinforced with a sturdy metal supporting wire for added durability. 

This stunning light fixture features four satin black steel bars that artfully intertwine, creating a striking contrast against our

opal light bulbs

and

filament light bulbs

.
Fern frosted chandelier: Bringing the outdoors in with contemporary chandeliers
This statement piece is the light source of botanical dreams, appealing to nature enthusiasts and anyone who enjoys incorporating plants and flowers into their decor. It's a symphony of light and foliage, the perfect finishing touch to a modern-boho home.
The silver fern bubble chandelier is a fixture that'll transport you into a state of pure zen. It's an eye-catching light that embodies your love for the great outdoors. It's big and bold enough to add that jaw-dropping 'wow' factor to your lofty, high ceilings – far from the classic design.
Each piece comes with Celestial LED bulbs, mindfully chosen to add to its natural charm. Nestled amongst the lush foliage of faux ferns, the dew drops delicately cascade, reminiscent of a gentle rain shower.

The brass bulb holders and ceiling rose effortlessly enhance the understated beauty of this piece, seamlessly complementing our light switches and plug sockets of the same finish.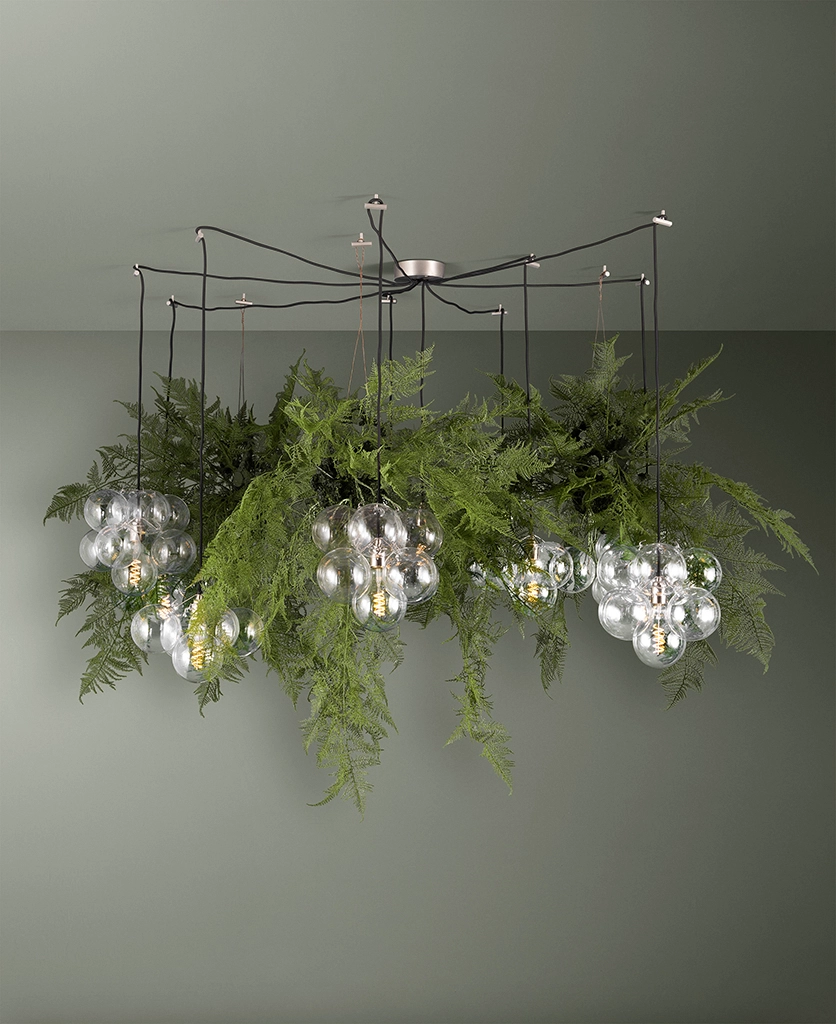 How our wide variety of designs can update your living space
In the living room, a chandelier can add a touch of elegance and opulence that really ties your refined decor together. An eye-catching fixture adds grandeur to your space, drawing the eye up and making the room feel larger. The lounge is a place you go to unwind in the evening and catch up with family, so you want something gorgeous to illuminate your downtime. Remember to

add a dimmer switch so you can set the perfect relaxing atmosphere.

Creating a romantic spot for an evening soirée is easily achieved by

suspending a chandelier above your dining table

. A warm glow is very flattering – just what you want to look your best. On a practical note, this will also zone the area from the rest of the kitchen diner, creating an intimate spot to while away an evening.

Bedrooms can become somewhere altogether more appealing with the addition of a chandelier. Suspended above a bed, with the lighting turned down low, they transform a functional space into an elegant and cocooning room, where you want to nestle down and decompress with a good book and a brew, the soft light easing you into a restful night's sleep.

Find more bedroom lighting options that add a special touch to any sleep space here!
Find 'the one' amidst our stunning collection of chandeliers. Whether your heart is set on an extravagant centrepiece or a delicate and subtle design, we have the perfect chandelier to capture your individual taste.