Dimmer Switches
Drifting into the kitchen, your eyes catch a subtle glimmer of light bouncing off the sleek chrome finish of the designer light switch – a simple yet impactful upgrade from the mundane plastic hardware. In that fleeting moment, a burst of happiness prompts a smile, knowing that even the smallest details can spark joy.
Carry on Reading...
With a smooth twist, the pendant light above begins to cast a soft, inviting glow that fills the room. You pause for a moment, relishing the half-dimmed ambience – a sweet spot that lets you whip up a cuppa without disturbing your sleepy state.
It's not just about functionality; it's about creating an atmosphere that nurtures your well-being and enhances your everyday interactions. Find light switches and sockets that bring happiness to your home at Dowsing & Reynolds.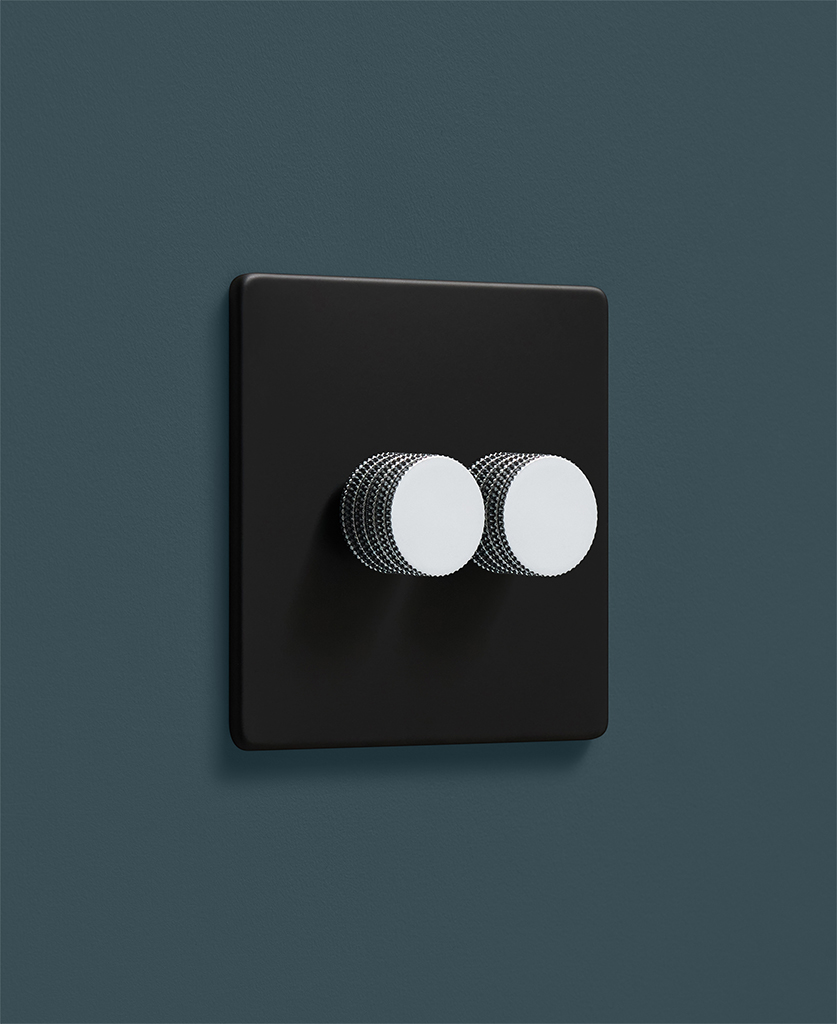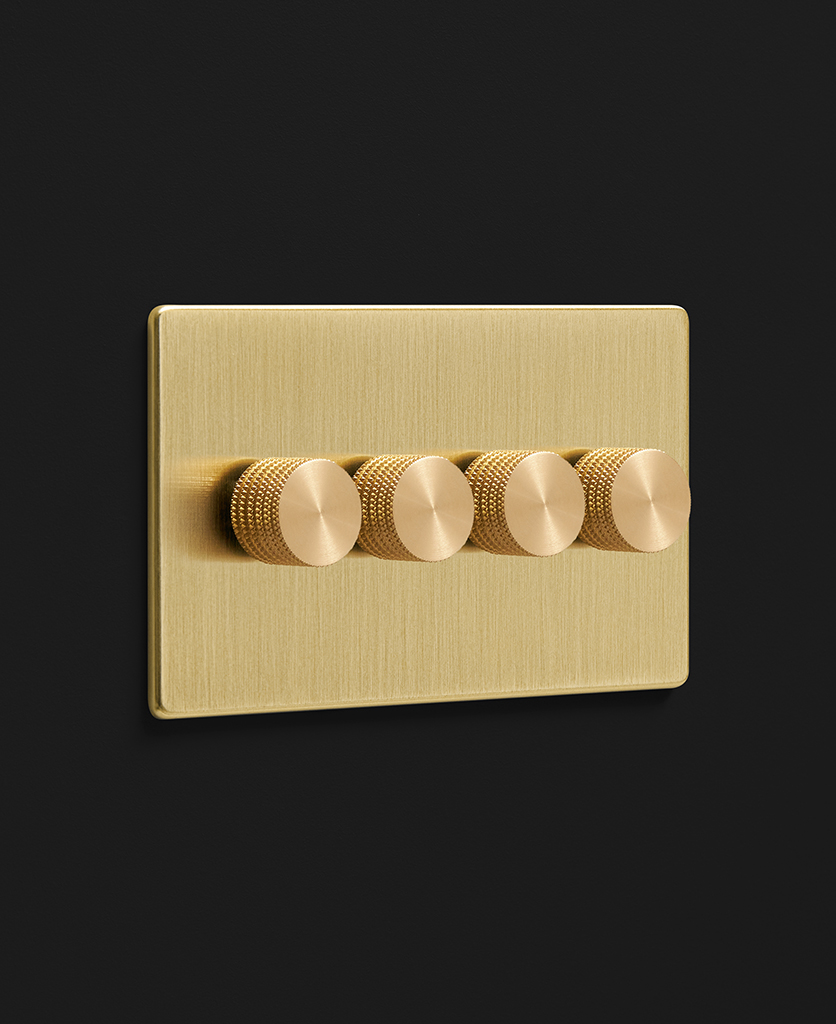 Premium dimmer switches: Customisable illumination at your fingertips
Adjust the level of lighting in your home with a delighted smile on your face. Our high-quality dimmer switches go beyond functional – albeit enhanced functionality – they're made to add detail to your walls and blend with the decor you worked so hard to perfect. Above all, this collection makes something as simple as altering the light level a joyous task you look forward to… you won't be able to keep your hands off them. 
Why choose our dimmer switches?
Wide variety of finishes:

What makes our light switches different is the exclusive colours and finishes. If you're bored of the same old silver finishes, we have over 13 colours to choose from, so you can add a pop of personality and pzazz with ease. Take your pick from

our unique Café Culture range

– a collection of neutral hues with a matt finish so tempting, you'll want to take a bite. Or, elevate your style with the shimmering brilliance of our metallic range – from sleek chrome to luscious copper to edgy black. 

Multiple configurations:

If a single dimmer switch won't suffice for your many ceiling lights, we have

3-gang dimmers

and 4-gang to choose from. For even more versatility,

consider our combination switches

that can house a variety of mixture of toggle and dimmers on one grid plate for full, uncomplicated control.

Interior expert help:

Online shopping is fun, but sometimes you hit a roadblock and can't find the right product.

We've got a team of hands-on specialists

who are ready to jump in and help you out whenever you need it – we're here to lend a hand, make recommendations, and answer any burning questions you have.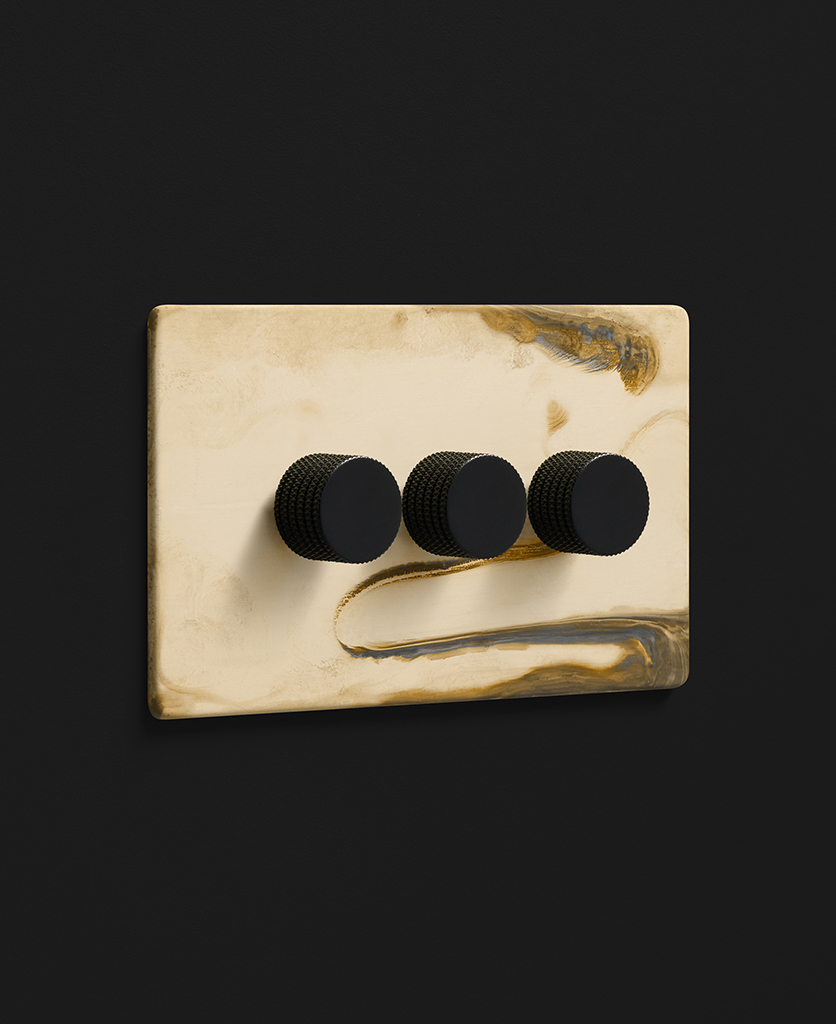 Feels good to the touch:

These light switches are not just useful and pretty to look at, they're a feast for the senses. Our switches come with knurled dials that feel absolutely amazing to twist and turn. It's all about that satisfying tactile experience, adding a little extra oomph to each interaction.
Designer dimmer switches for visual appeal
If you enjoy life's simple pleasures, our designer light switches are the perfect match for you. With a contemporary spin on classic finishes and designs, you'll notice the way these switches add an instant high-end feel to any room.
Elevate your space and elevate your mood with designer dimmers.
Designed to complement other

metallic accents and premium hardware

, stealing the gaze of anyone that sets foot in your home. Not too distracting, but stunning enough to be remarkable. 

Aside from the practical, our dimmer switches look beautiful in their own right. Specially designed with no visible screw holes, they blend seamlessly into your walls. 

The knurled knobs are a lovely detail, and you notice how they feel to your fingertips as you dial them up or down. Our chunky dimmer switch is even more grabbable than the standard one.
LED dimmer switches for saving energy 
LED lighting saves money and the planet as they are, but with the savvy addition of a dimmer switch, you've got yourself a winner.
LED options are available in most of our range, simply select the right box before adding your favourite switch to the cart.

The LED dimmer module includes an auto-detect function that can handle either leading edge or trailing edge with a load range of 5-150W and operates at 230-240V 50Hz.
Our LED dimmer switches are designed for optimal compatibility with LED lighting setups and light bulbs, giving you seamless integration and an even better lighting experience. Achieve a flawless and dependable display as you tailor the luminosity to your fancy. Pair this technology with our LED light bulbs sold onsite for optimal performance and a beautiful glow.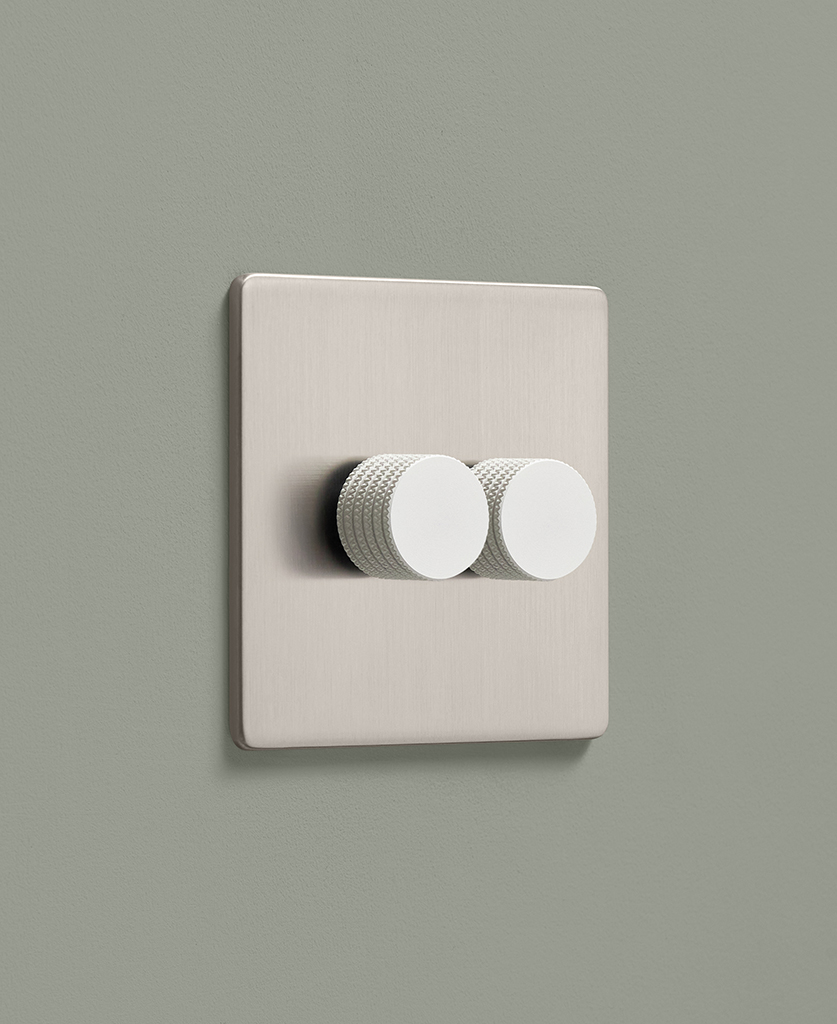 How do I know if my dimmer switch is compatible with my lights?
It's no use fitting a dimmer switch if it's not  compatible with your light bulbs or LED lamps, but there are a few ways to check this. Find the information in product descriptions or your light's specification manual. If you're unsure, have a browse of our light bulbs and lighting fixtures collection at Dowsing & Reynolds. We handpick our products, so you can trust that you'll find compatible lights that will dim to your heart's content.
Can I get matching plug sockets?
Absolutely! We're the matchmakers of interior design – creating harmonious spaces with beautiful details and matching accessories that take the hassle out of finding the perfect decor. So, if you're looking for a seamless look, matching plug sockets are available in the same range of finishes.