Wardrobe Handles
Tracing the lines of the wardrobe handles you recently replaced, you smile, knowing that these details make your sleep space feel like home…
Carry on Reading...
The knurled brass door handles on your freshly-painted matte black wardrobe enchant you, making it hard to tear away your gaze for even a moment.
As you drift off to sleep, your imagination whisks you away to a luxurious home adorned with shimmering metallic features and intriguing handles that beckon you to discover the secrets behind every door and drawer.
At Dowsing & Reynolds, you'll find an extensive selection of wardrobe handles and premium drawer knobs that add a touch of charm to your interior design. From simple and classic to ornate and intricate, our carefully curated inventory has something for everyone.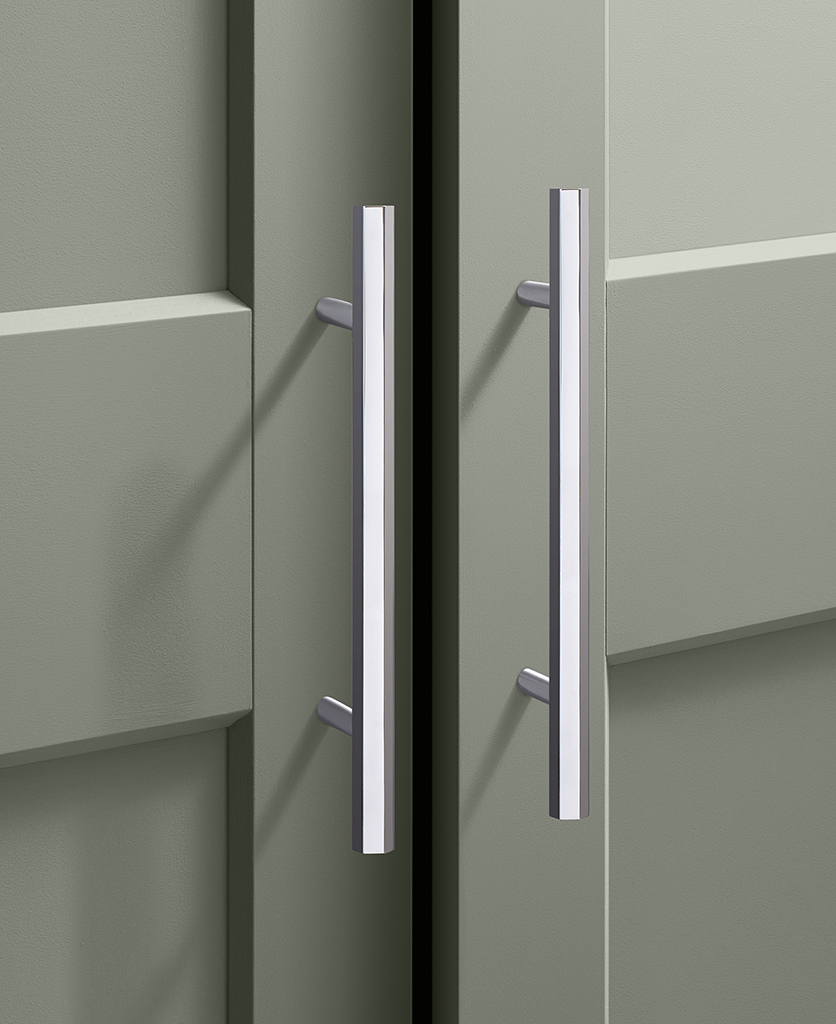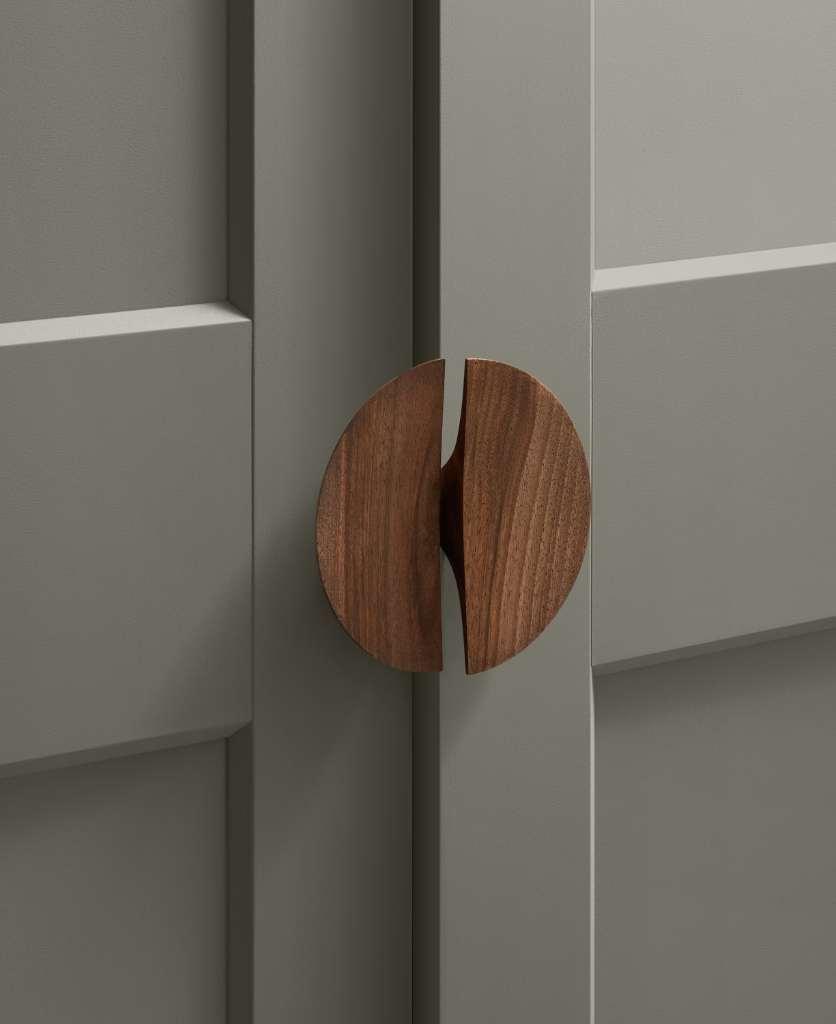 Bring some love to your wardrobes and discover our bespoke collection of door handles today. 
Inject a touch of glamour into your home with designer wardrobe handles
Your wardrobe handles are more than a simple functional component. They can be the gateway to a realm of simple joys and mesmerising décor.
Every drawer and door handle we design at Dowsing & Reynolds is lovingly considered with the utmost attention to detail. You'll be tempted to reach out and touch them every time you lay eyes upon them.
What do our customers love about our wardrobe handles and knobs?
If you're looking for the perfect drawer handle, door handle or knob to finish off your wardrobe, we have a wide range of options waiting for you. Choose from different shapes, sizes, finishes and styles – all with their own unique flair.
Quality materials:

Our wardrobe handles and door knobs are the result of intricate design and superior materials coming together to create a work of art. The array of options available ranges from premium-grade leather handles and solid brass door knobs to natural oak pieces and

eye-catching stainless steel door handles

in bright hues.
Ergonomically designed:

We strive to create wardrobe handles that are as pleasing to the touch as they are to the eye, just like our

light switches and plug sockets.

We want to make sure that when you reach for a uniquely shaped chrome knob in the morning, your fingers are greeted with engaging textures and smooth finishes.
At Dowsing & Reynolds, we can help you bring out the distinctive character of your home and add those extra special touches that radiate your personal charm.
Whether you prefer muted silver, dramatic black hues, or want something more distinctive such as vibrant red or stunning scorched wood, we're sure you'll find the right match for you.
Immerse yourself in nature with our wooden wardrobe handles
You'll never want to take your hands off of these wooden wardrobe handles.
The wood is natural and soothing, inviting your fingertips to glide over its surface with its tactile grain and curvaceous shape.
Our wooden drawer handles and door knobs are a simple yet effective way to bring a natural charm to your space. 
These solid walnut, larch and oak wardrobe handles add an organic, comforting touch to your bedroom, instilling peacefulness to transform your home into a tranquil woodland oasis.
The natural wood appearance complements any bedroom colour scheme. Incorporating these homely wooden elements into your interior design creates a serene atmosphere in your home.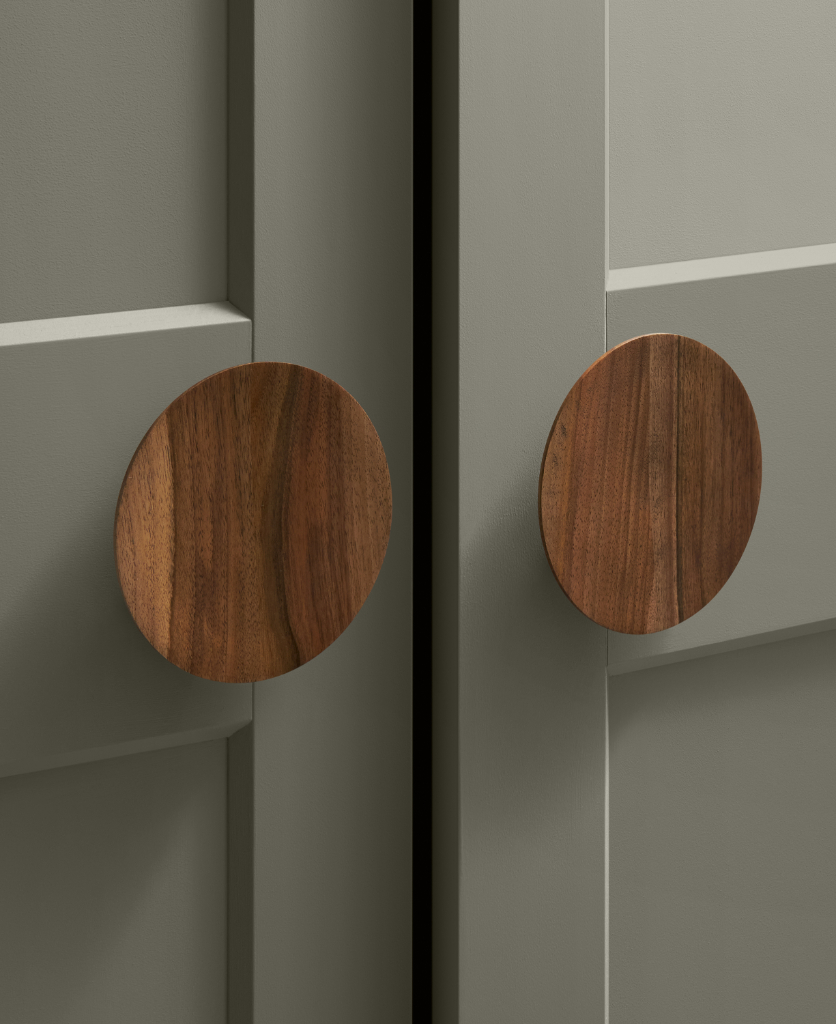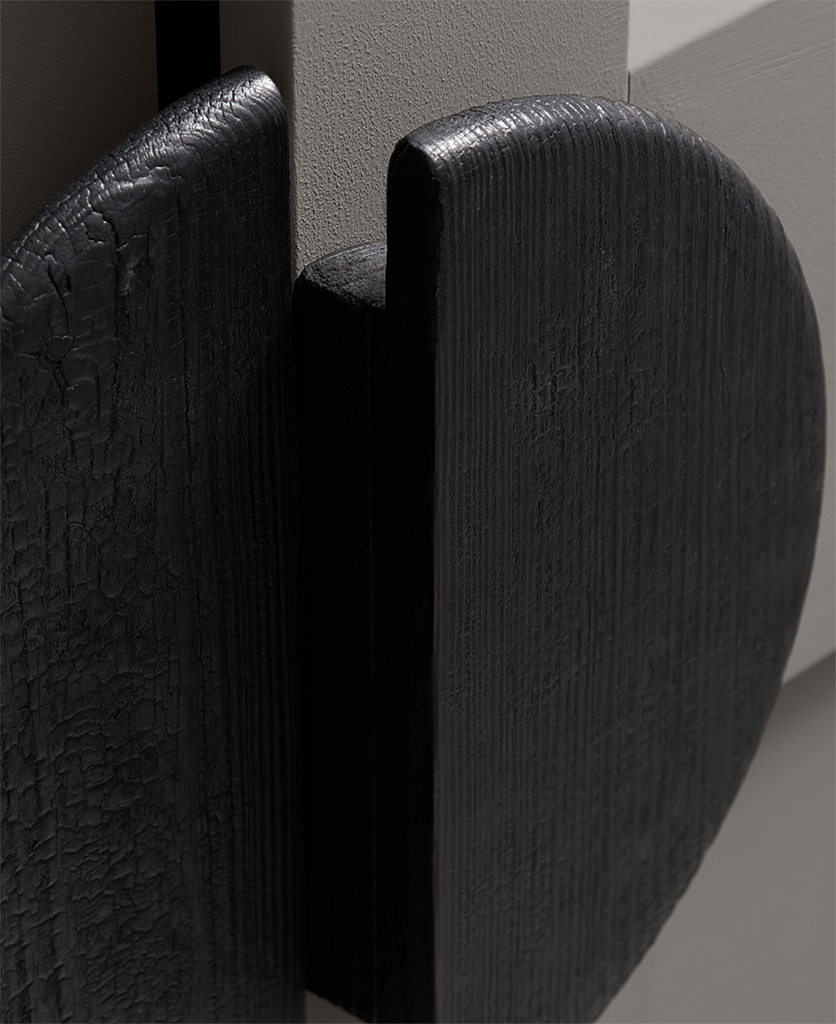 A new sense of texture awaits you with our pull door handles
Uncover the elegance of Skyscraper, Tau and Hive pull door handles – three striking collections designed to revitalise your wardrobes.
Your wardrobe's door handles are the first thing you see when you open it, and they're the last thing you see as you shut the doors. Our wardrobe handles are an alluring feature that you can't resist. The cold grooves against your fingertips are an invitation you can't refuse.
As you wrap your fingertips around them, you'll find yourself admiring the complexity of their design. The way they fit so perfectly in your hand, paired with the quality of the raw brass door handles, only adds to that satisfaction.  
Skyscraper door handles with plates: 
Sculptural and striking, our skyscraper knurled door handles with plates are perfect for injecting modernist style and grandeur into your home. 

These statement wardrobe handles are a great way to easily replace your old pull handles without the need to fill and sand old screw holes.

Available in black, silver, brass and copper these pull bars are designed to fit most styles of wardrobe – all you have to do is select the size that works best for you.
 Hive hexagonal handles: 
Our Hive hexagonal door handles are a unique and elegant way to add flair to your décor.

Made of solid brass, these geometric wardrobe handles reflect the light beautifully creating an irresistible effect – no matter which colour or finish you decide on. 

Available in everything from classic metallic finishes such as gold and copper to bolder red and matte black designs.

Our wide variety of Hive handles are perfect for smaller drawers, too. Alternatively, you can explore our larger Hive handles for something more statement-making.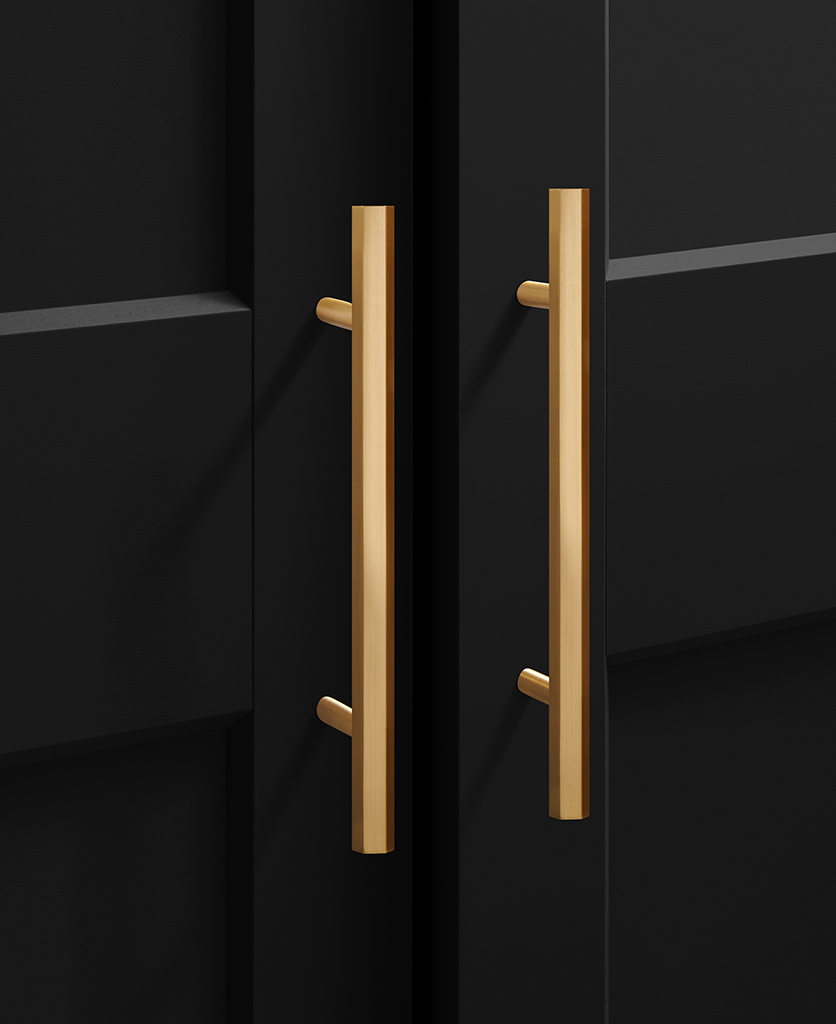 From satin smooth to diamond-patterned knurled door handles, our range is sure to add an extra dose of opulence to any space.
We're here to help you create an interior that's uniquely yours.
Every room should have its own unique style, and thoughtfully chosen details can really bring a home to life.
Creating a space that captures your own personal style is the aim, whether it be the kitchen of your dreams, a warm dining room for entertaining loved ones, or a peaceful and relaxing haven. 
At Dowsing & Reynolds, you'll discover effortlessly stylish items that are just as flexible as your lifestyle. From the soft glow of our luxury lighting fixtures to the understated beauty of our kitchen and bathroom taps, we'll help you make your home a place you look forward to spending time in.
Upgrade those every-day interactions with decorative and functional fittings that elevate the senses. 
It's time to make your daily routine more enjoyable by adding beautiful and tactile items that appeal to all of your senses.