Single Sockets
Hanging the final print on the wall, you catch sight of your new single plug socket against the pistachio background. It's perfectly positioned beside your bed, ready for the reading lamp you ordered yesterday.
Carry on Reading...
The room had stayed the same for years and was in need of a transformation – in the end, all it took was a feature wall, a furniture rearrange, and a candle or two.
Usually, you'd be inclined to hide any plug sockets away. Their unappealing plastic sheen would distract from the fluidity of the space, but having found a flush-fitting design with a metal backplate, you were quick to change your mind. 
Decorative and functional, our range of plug sockets features a wide range of colours and configurations.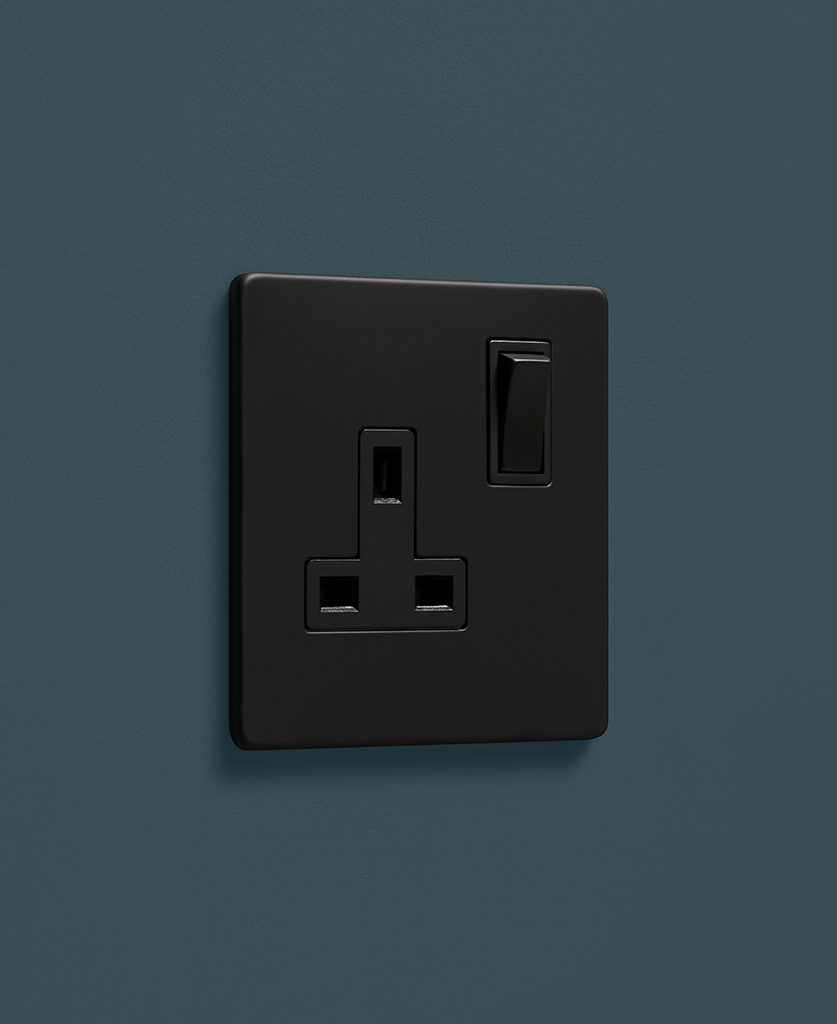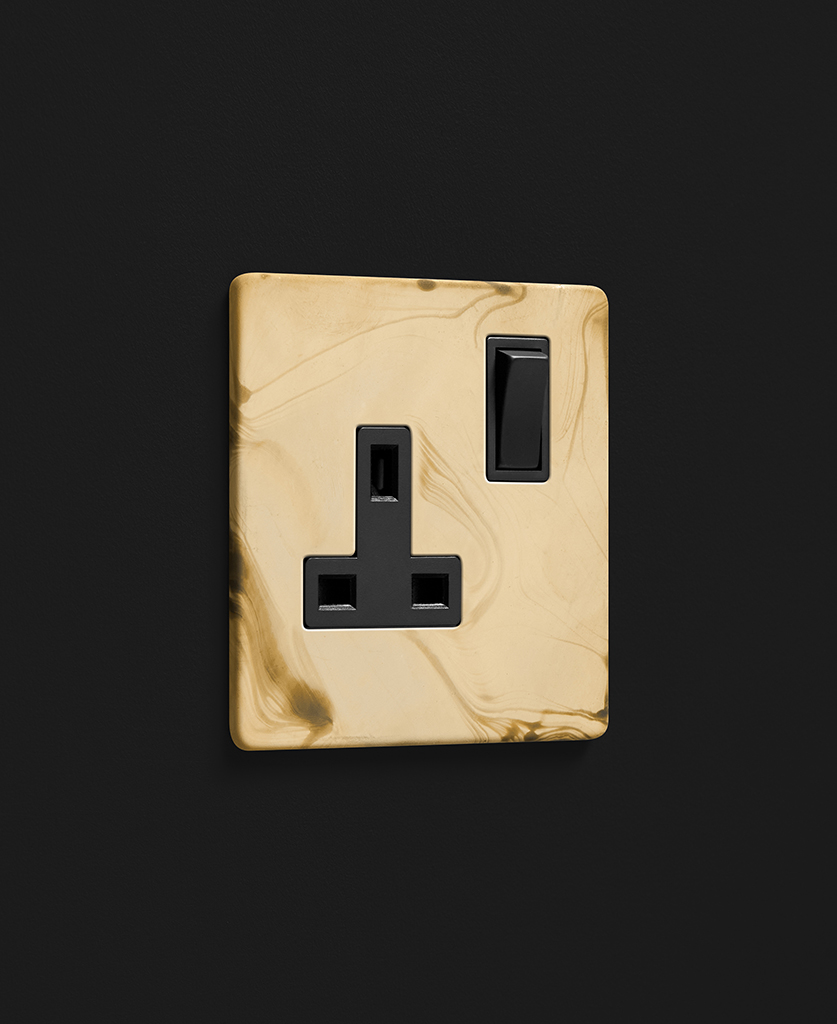 What you can expect from our premium single plug sockets:
Richly-pigmented steel switch plates

Subtle curved edges that are smooth to the touch

No unsightly screws for a sleek finish

Customisable designs, down to the finest detail
Whether it's a space to entertain or a sanctuary to unwind after a day at work, discover quality details for your home with Dowsing & Reynolds.
Create a harmonious space with single plug sockets
When considering the design of your interior, it's easy to focus on the larger items. 
A new bouclé sofa would add an extra cosy feel to your front room, while an ornamental chandelier light would work wonderfully above the dining table. 
Plug sockets aren't always at the top of your list. But once the standard white design is swapped for something more stylish, they can quickly become a striking home décor piece. 
As an essential detail, single sockets have a place in almost every room – powering the blender, enabling you to hoover the hallway, and switching on the floor lamp in your extension. Their appeal is in their convenience, coupled with an elegant quality that immediately elevates your outlets. 
Pushing the plug into the socket, you flick the switch and pause to admire the smooth surface; a simple yet thoughtful touch has completely transformed the feel of the space.
Flush–fit single designs for every need
Whether you need a single plug socket for your workspace or you've just renovated your dining room, we have plenty of stylish solutions to explore. From customisable designs for every taste to configurations that meet your exact requirements, there's something for every home.
Single switched sockets: For smaller spaces, single sockets are a go-to. Our screwless design offers a clean aesthetic. With colours that create a sense of cohesion, they're practical whilst fitting into any interior scheme with ease.
Single unswitched sockets: Once plugged in, your TV and larger kitchen appliances can usually be left untouched. There's no need for you to lean over cabinets or counters to turn them on and off again. Unswitched sockets provide a continuous power supply for your always-on appliances, leaving you to get on with your day. 
Single cooker switches and sockets: The kitchen is a place for whipping up weekday meals, relaxing on a Saturday morning, and catching up with family and friends. It's also a space where switches and sockets are constantly in use. Versatile and impactful, our 45 amp cooker switch comes with an extra appliance socket, so you can multitask in style.
Single ports: A jumble of adaptors and cords is a familiar sight underneath any desk, but excessive clutter can disrupt your focus and doesn't look all that appealing. Transform chaos into order and stay connected throughout the day with our neat single USB ports. 
Sophisticated in design and intended for the everyday, explore our single plug socket range.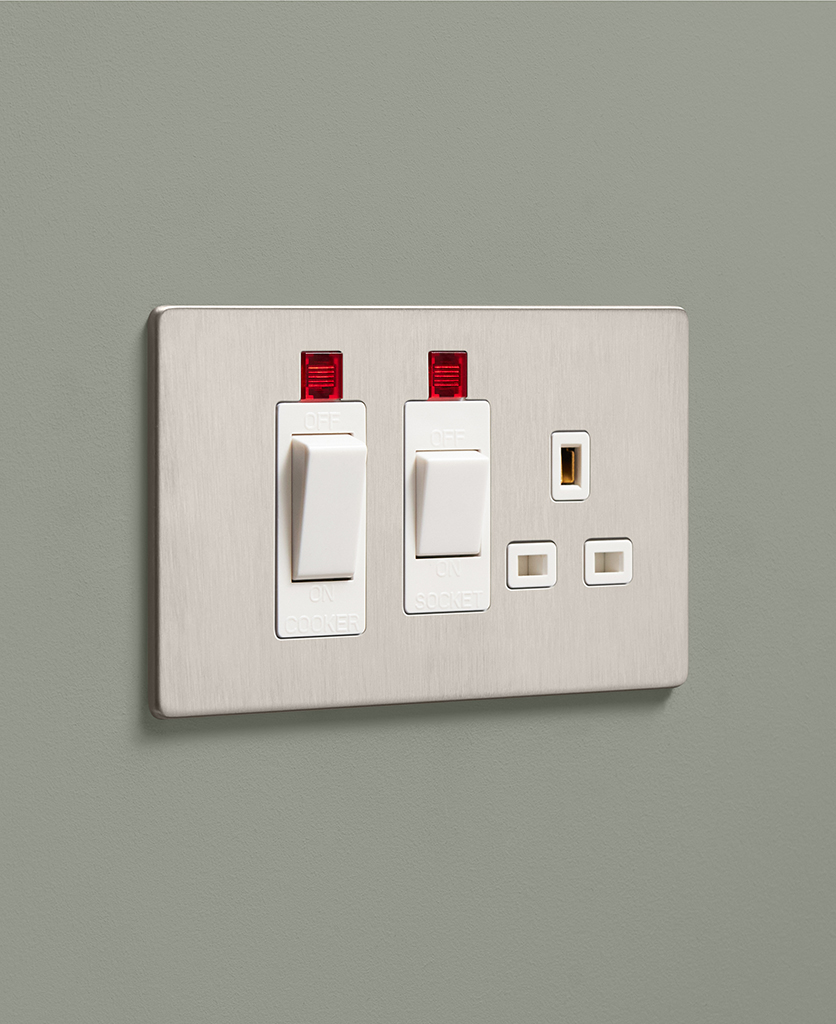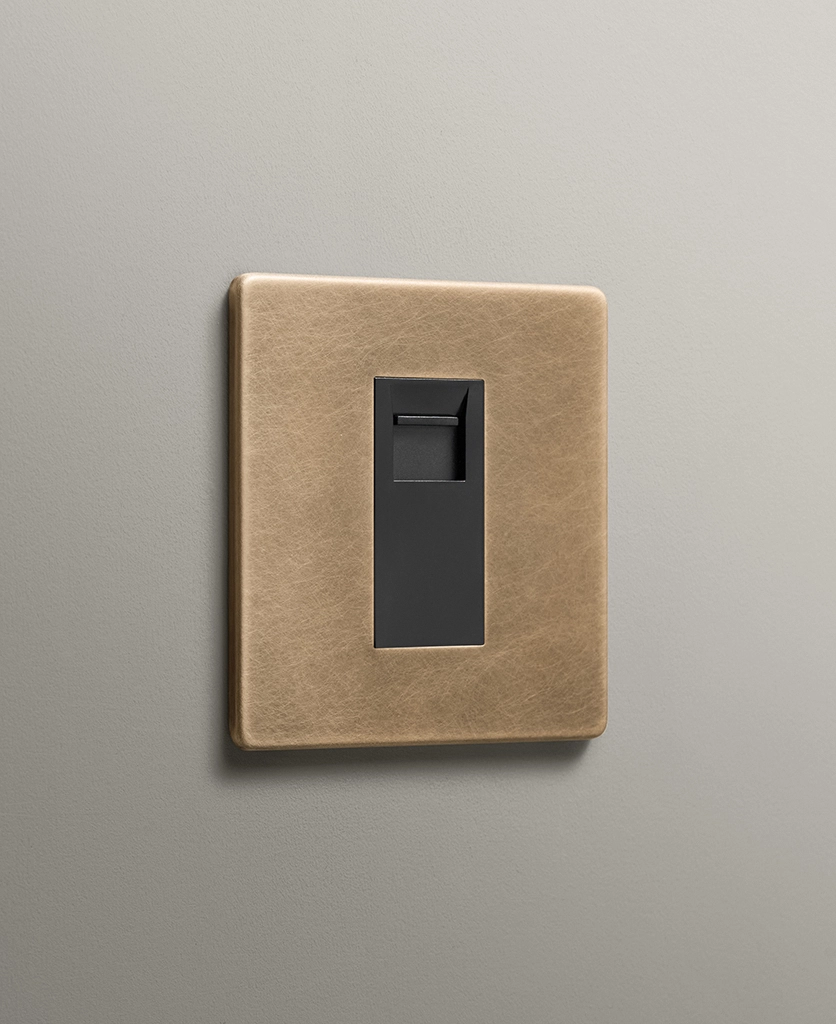 Coordinate with your colour scheme or make a statement
When chosen carefully, single sockets can add personality to any room. From creamy muted tones to polished chrome and smoked gold finishes that capture the sunlight in just the right way, there's a style for you. 
An off-white plug socket is kind on the eyes. The colour has a softer quality that is much more enticing than the brilliant white you'll find with most standard sockets.
An off-white plug socket is kind on the eyes. The colour has a softer quality that is much more enticing than the brilliant white you'll find with most standard sockets.
If you prefer a touch of drama, take a look at our sleek black single-plug sockets. Whether you're adding an extra dimension to moody colour palettes or tying together spaces with patterned wallpaper, black sockets are at home in a variety of settings. 
Silver plug sockets with a brushed steel finish add a subtle gleam to industrial-inspired interiors. Picture exposed brick walls, a pendant lighting fixture cascading from the ceiling, and understated furniture with metallic accents. Silver sockets also blend beautifully with sage green tones, creating tonal harmony throughout the space.
Then there are the reflective chrome single plug sockets, an irresistible finishing touch for contemporary spaces.   
Curate a beautiful and functional space with Dowsing & Reynolds. 
Find the perfect pairing with our premium plug sockets and light switches
You've settled on a single plug socket. The vibrant shade immediately ignited your creativity and, after seeing it in the space, it's become one of your favourite features. 
Replacing the remaining outlets in the room has been moved to the top of your to-do list, matching your new single socket with the double plug sockets and light switches from the same collection. 
Our range has been designed with this in mind, helping you create a balanced interior with coordinated switch and socket designs.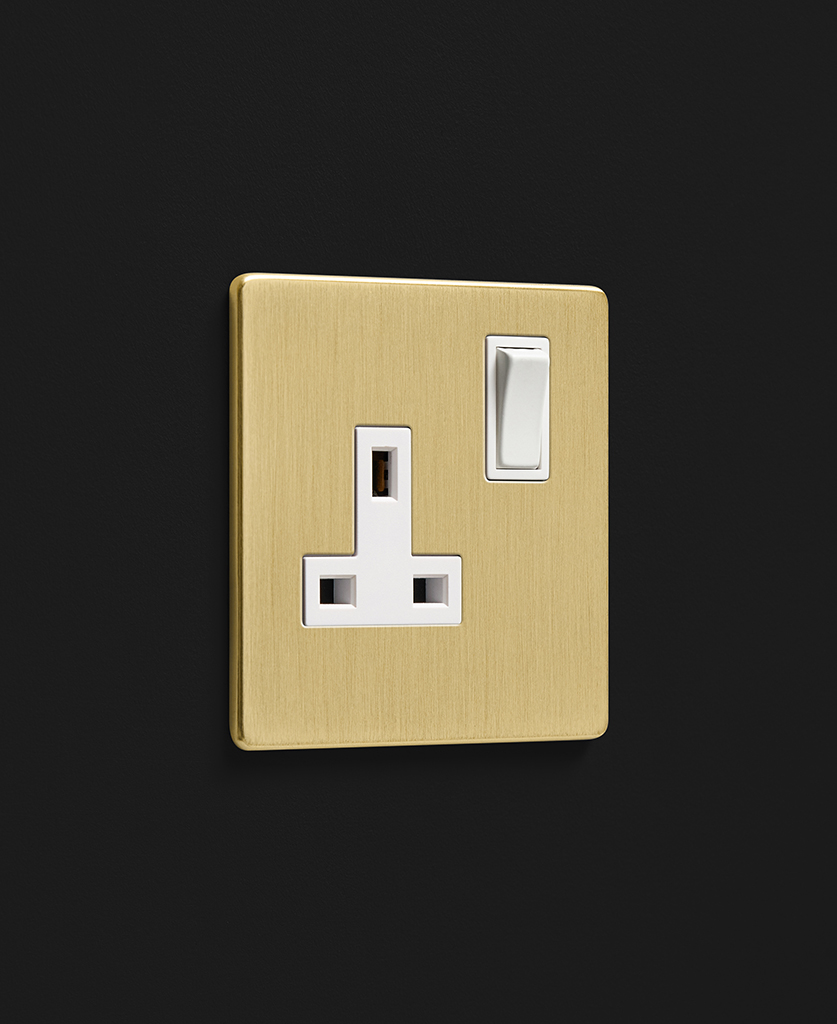 In need of some design inspiration? Have a look at our guides…