Wall Hooks
Rubbing your eyes, you hang your silk robe on the wall hook and start the shower. Balmy steam and the aromatic scent of eucalyptus fill the bathroom, creating a wash of serenity that reminds you of spa days. Taking a deep breath, you step under the cascading water, letting the warm droplets revitalise your skin. 
This is your morning ritual – a bit of 'you' time before the day begins.
Carry on Reading...
With a sweep of your hand, you wipe the mist from the mirror and reach for your robe. The metal surface of the hook feels cool to the touch. Pausing to admire your new purchase, you notice how the silver shade glints under the bathroom lighting, bringing a touch of elegance to the sage green colour palette.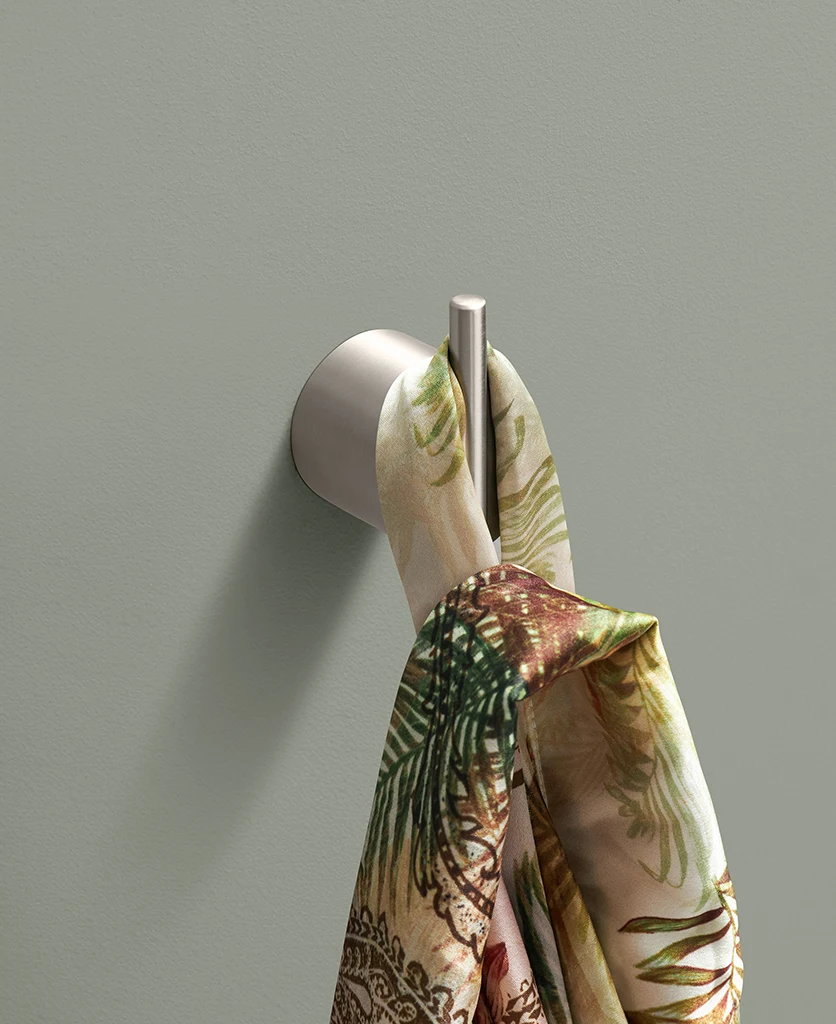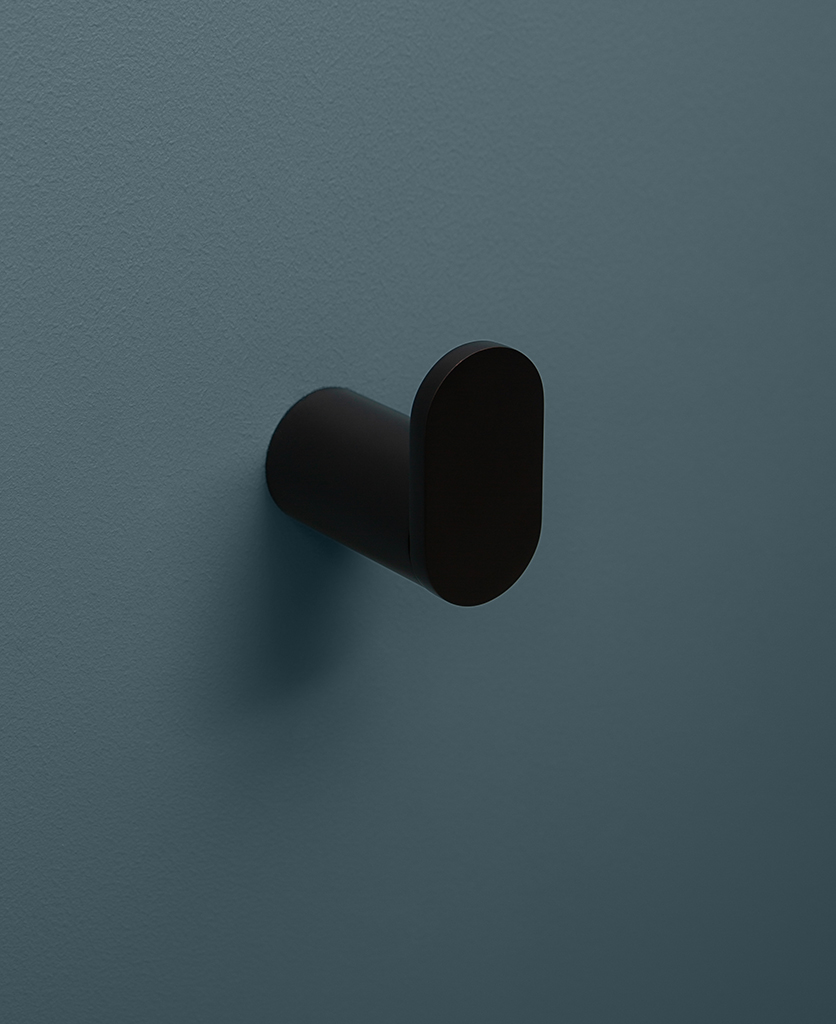 It's details like quality hardware that turn a plain room into a curated space that's full of personality. We have a wide selection of wall hooks to explore – from captivating colours like gold, silver and jet black to sleek designs with intricate knurled detailing.
Explore home décor that's both practical and stylish. Explore our collection.
Discover decorative wall hooks: A place for every robe, towel, and jewellery piece
Stuffing your winter scarves into the bedroom wardrobe, you realise you're in desperate need of storage – something convenient that you can reach with ease. But plastic boxes simply aren't an option when you've created such a beautiful décor scheme. 
Wall hooks offer the perfect solution, letting you make the most of your available space without compromising on the overall look and feel.
Heading into the hallway, you consider your options. The fresh coat of paint in a natural sand tone has worked wonders, complementing the wooden shoe rack and allowing the plant arrangement on your floating shelf to take centre stage. All that's missing is a line of hooks for the wall. 
Whether you're looking for a design that blends into the background or a statement feature to wow guests, our wall hook range has something for everyone.
Sturdy without being bulky, our hooks are the ultimate storage solution for any room.

From contemporary hooks to elegant cylindrical designs, they're visually impactful, adding artistic detail to your walls.

Easy to install with screws provided, this is a quick weekend job that will instantly uplift your interior. 
Find design details that fit your style with Dowsing & Reynolds.
*Please note that our hooks have not been weight-tested and are only recommended for use with light loads.
Choosing the right wall hooks for your interior
Go-to classics with a lustrous finish
Versatile and gently rounded wall hooks are an option for all styles, from minimalistic to glamorous interiors. Whether you're flinging your coat to the side after a long day or getting the kids' school bags ready for the next day, our classic hooks make life's daily tasks a little easier.
A final touch: Bring out the sheen on your hardware with the right lighting. Cooler tones enhance the reflective qualities of the metallic finish while warmer tones create a cosier ambience that's ideal for living rooms and bedrooms. 
A range of shades for modern interiors
If you're looking for something that can slot into any area of the home, take a look at our robe hooks. Designed with clean lines and a focus on functionality, the simple details strike the perfect balance between convenience and style. Ideal for holding your everyday essentials, they're available in a range of modern shades, from matt black to luxurious gold and brushed silver.
If you want to add a playful pop of colour, have a look at our Miami Pink and Neo Mint ranges - they're also great for kid's rooms and play areas.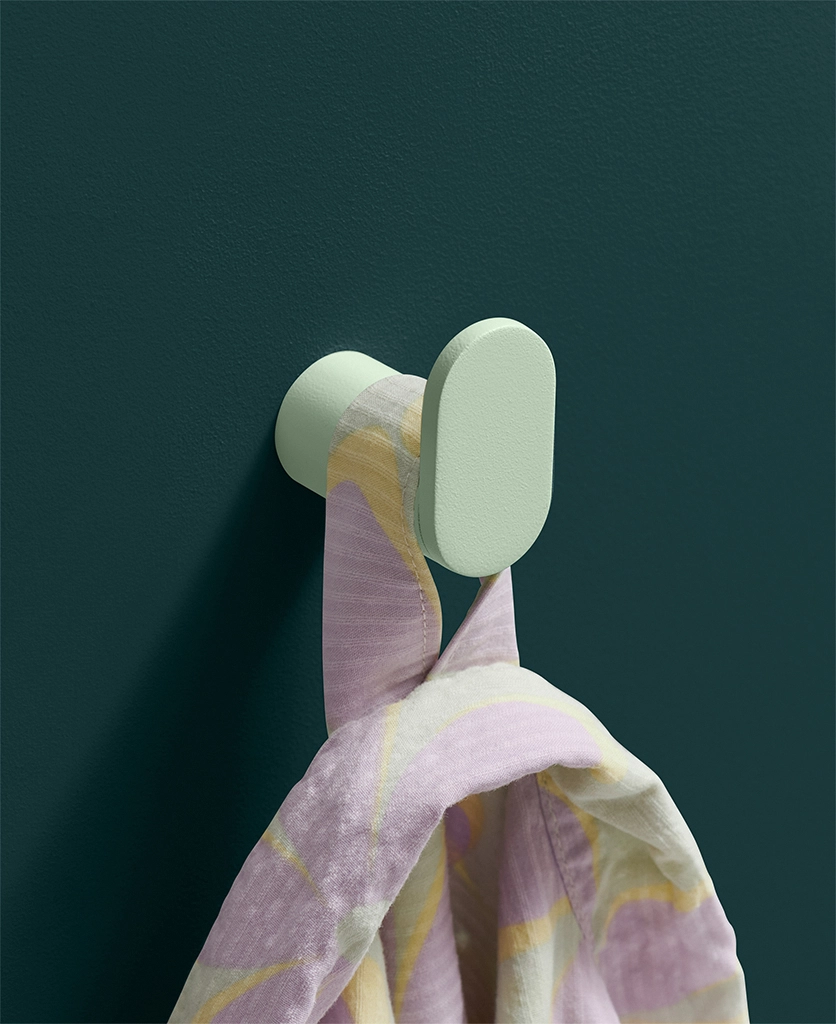 A final touch: Create a cohesive space by opting for drawer knobs that match your new wall hooks. 
Knurled robe hooks that make a statement
For a sophisticated take on a timeless design, explore our knurled cylindrical hardware. Textured edging contrasts beautifully with the hook's smooth surface, creating a tactile experience that delights your senses.
A final touch: Your bathroom is your sanctuary, a place to unwind and enjoy a moment of self-care. Elevate morning and evening rituals with beautifully designed bathroom accessories. 
Curate a space you love with thoughtful hardware accents 
Carefully considered hardware can transform how you feel in your home, from the moment you step into a room to the interactions you have throughout the day. Drying your hands on a brushed cotton towel or reaching for an apron – it's the finer details that elevate your home's touchpoints. 
Whether you're renovating a specific space or looking for hooks that you can install in multiple areas, browse our decorative handles and hardware collection.