Leather Handles
Flicking between channels, your gaze wanders from the TV and settles on the silhouette of your new leather handles. Throwing your blanket to the side, you push yourself up from the sofa and head towards the cabinet. 
Carry on Reading...
Sliding the drawer open, you feel the organic patina of the leather handle against your skin – natural creases that add depth and intrigue. Fixed to your cabinet by two gold-knurled studs, it's the perfect mix of high-end luxury and natural, homely textures.
What was a neglected piece of furniture is now the focal point of your living room, finished with a brush of soft blue paint and some beautiful new drawer pulls.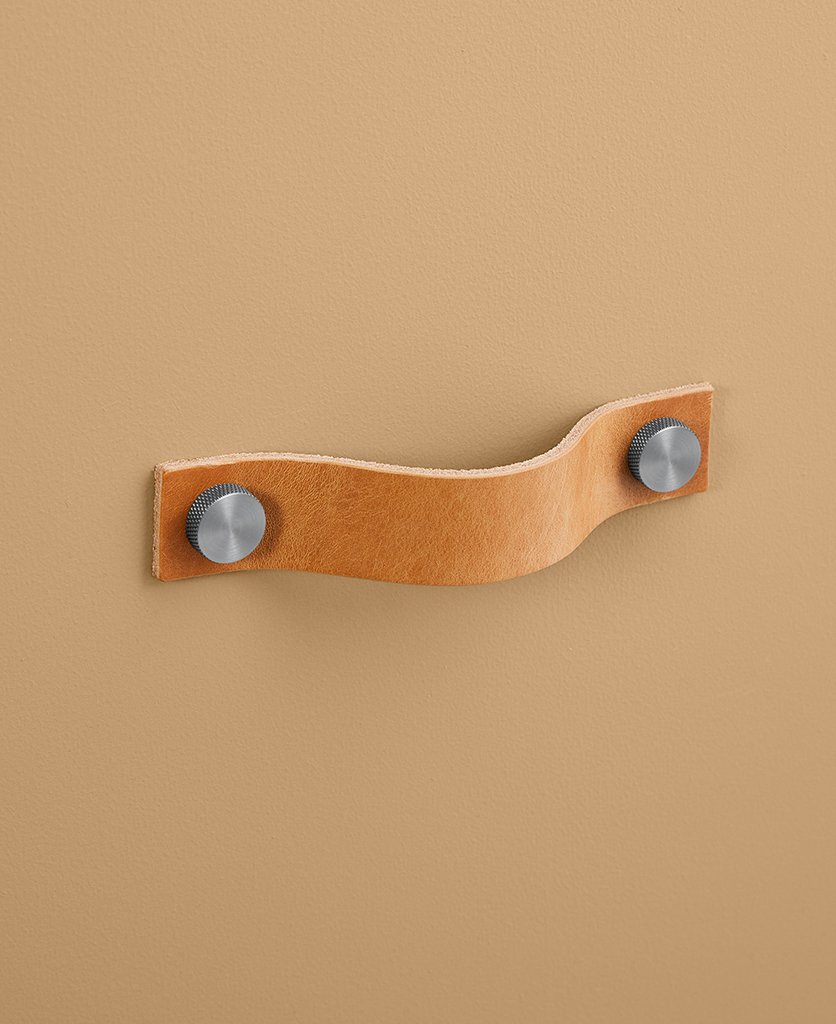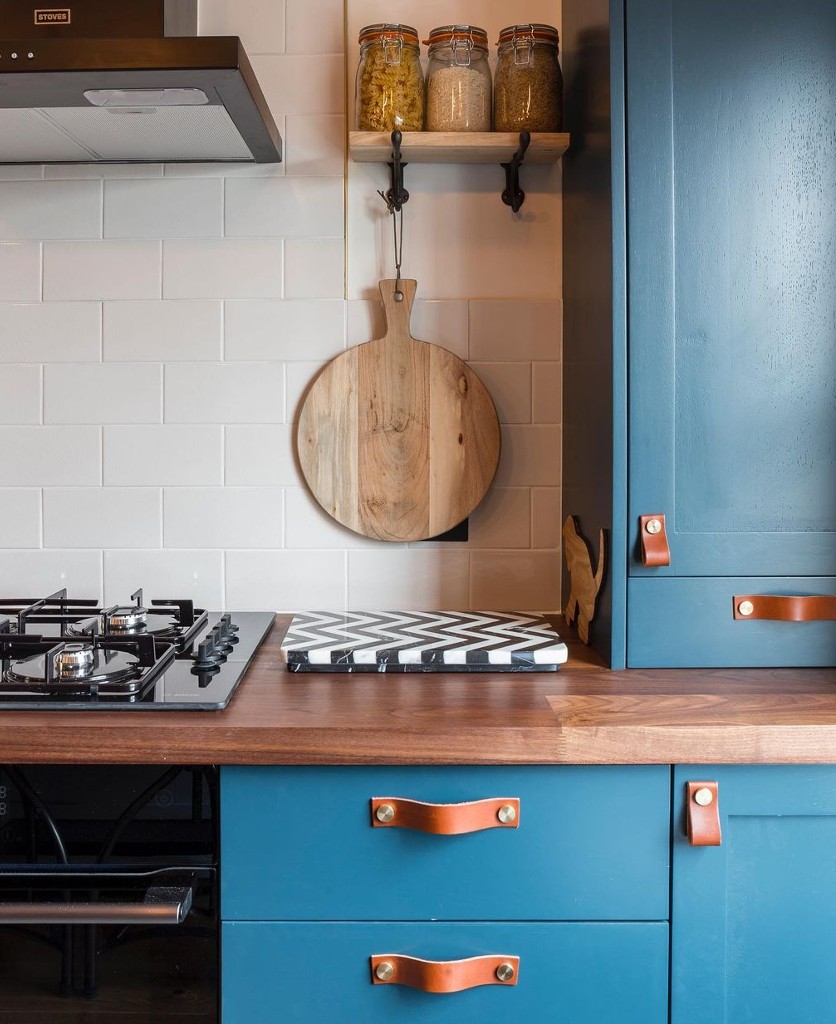 At Dowsing & Reynolds, our wide range of handles and knobs will transform any space instantly. Discover your perfect fit today. 
The leather handles range: A softer touch that adds character
Compared to the structured design of our drawer knobs, our leather handles have more of a natural look and feel. Their versatility means they work well in any corner of the home. Elevate your kitchen cupboards, renovate the creaky cabinet drawers in the hallway, or introduce a nostalgic quality to more personalised spaces, like your bedroom or home office. 
Transform standard furniture with high-quality handles that only get better as they age over time.
Choose from large or small sizes, as well as horizontal or vertical designs – whichever feels right for the space. 
Handles that stand the test of time
From grabbing socks to rummaging around for new batteries, your drawers and cabinets are well-used. After all, the snack cupboard is the most visited place in your home so durable kitchen handles are a must. 
Made with attention to detail, our range combines high-end design with quality leather sourced from Italy, and long-lasting, natural vegetable dyes – practical, without sacrificing style.
A rich selection of shades for every space
Choose from a selection of beautiful colours to match your leather cupboard handles to your home's palette. Warmer tones of camel and tan create an earthy feel, reminiscent of desert landscapes and your favourite autumn coat. 
Featuring a natural, organic finish, they work beautifully with farmhouse and Scandinavian interior design, blending seamlessly with muted colour schemes, like airy whites, soft pastels, and weathered wood accents. Pair with chunky-knit fabrics casually draped over armchairs and hints of luscious greenery to complete the look.   
Add depth to neutral palettes and contemporary-style interiors with darker black and navy shades, or opt for charcoal grey to perfectly complement vibrant splashes of colour, from upcycled bedside tables to bright, bold sideboards. 
Whether you lean towards eclecticism or have more of a stripped-back style, you'll find a decorative handle to suit your taste. 
Take your pick from a variety of solid brass studs
The secret to any thoughtfully designed interior is to play with colours and textures. Complementary shades enhance the fluidity of the space while contrasting tones have a statement effect that commands your attention. 
With eighteen combinations of leather and stud colours available, your style choices are elevated with Dowsing & Reynolds. Explore gold, silver, show-stopping red, and more.  
Pottering around your newly renovated kitchen, you catch a glimpse of the Leather handles that have been added to all the drawers and cabinets, bringing out the undertones of the wooden kitchen surface. You're thrilled with your decision to go for brushed silver studs – they mirror the gleam on the kettle and toaster set you purchased last weekend, making every interaction all the more delightful.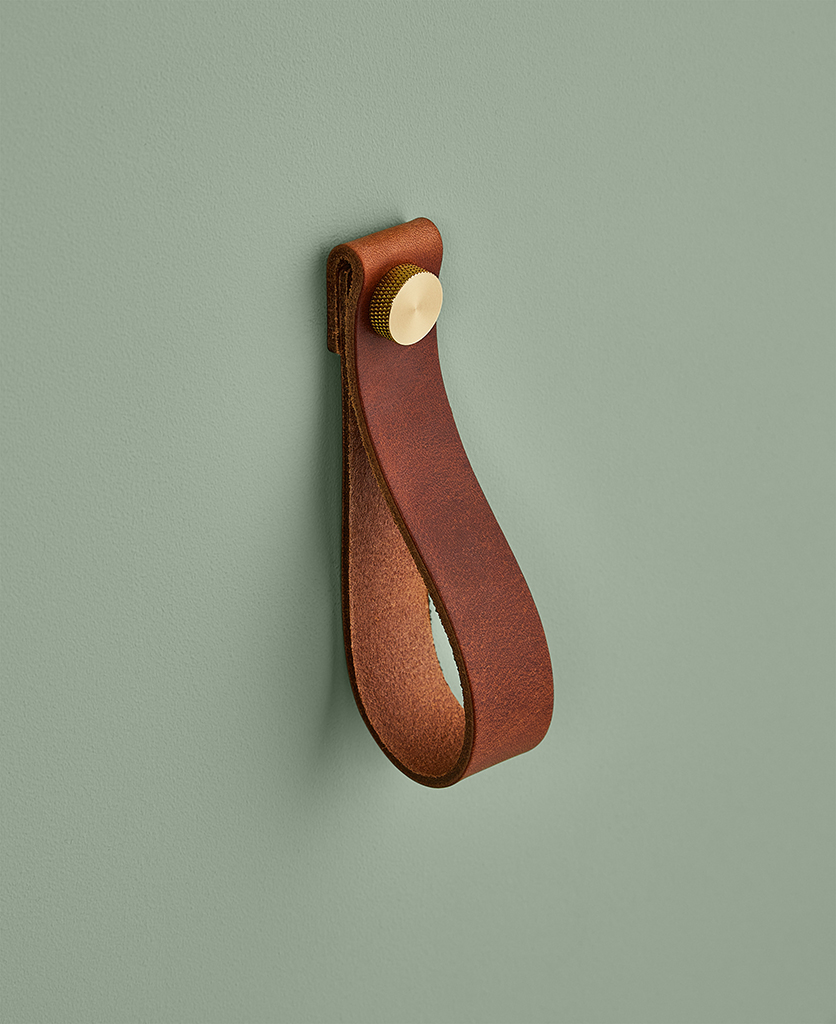 For some extra inspiration and handy tips, have a look at our related guides: