Copper Light Switches & Copper Sockets
Gazing upon the gorgeous fusion of the copper switches and sockets amidst your Moroccan-inspired space, a wave of euphoria washes over you. The interplay of warm copper finishes mingling with the opulent decor's cool blues and vivid greens creates a burst of energy.
Carry on Reading...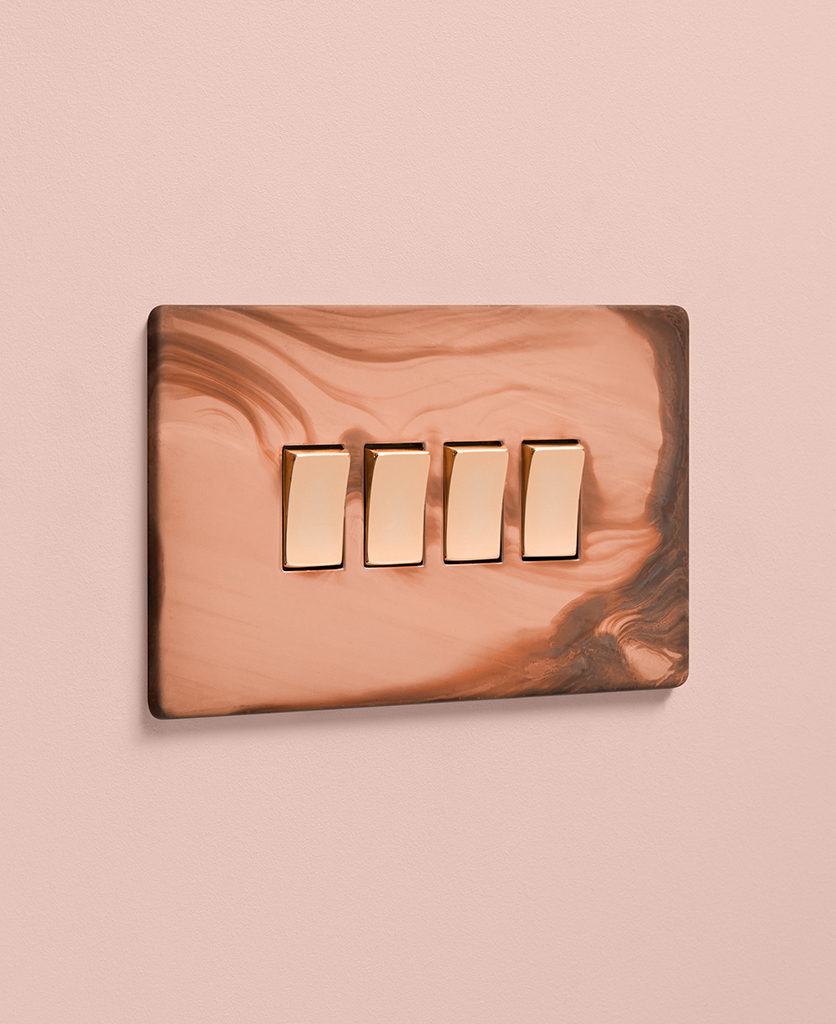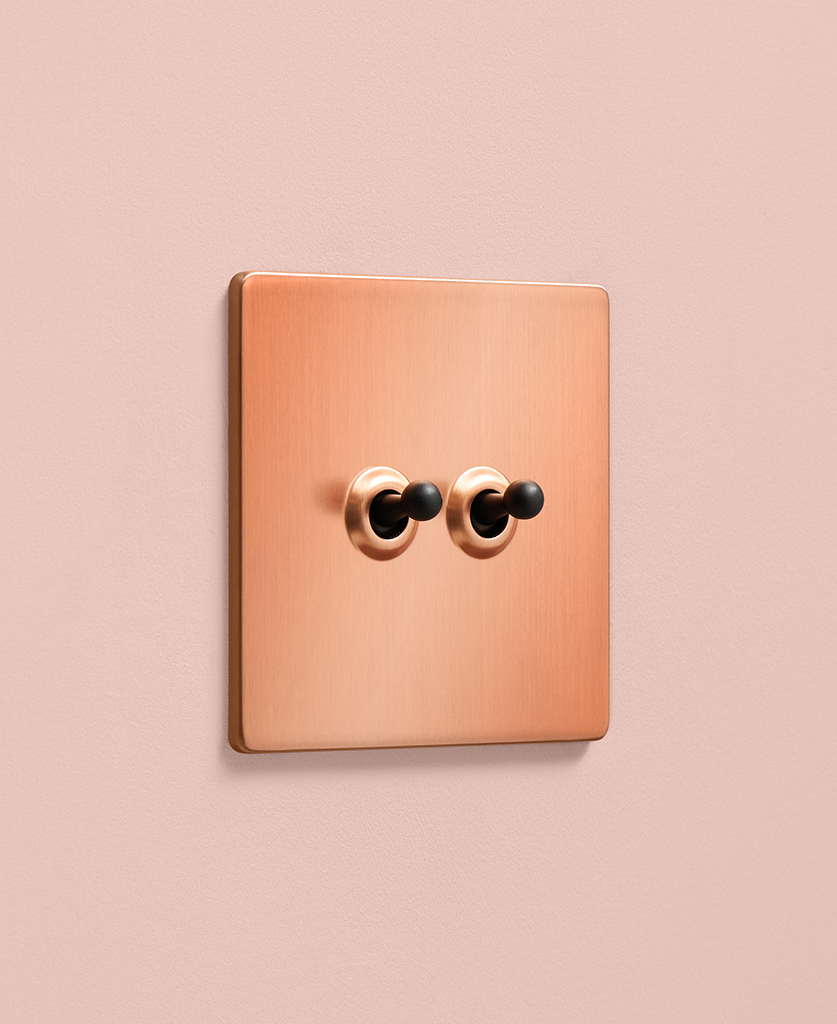 Reaching to plug your phone charger into the premium plug socket, you can't help but admire the buttery-smooth glide into the USB slot. As your fingers skim the lustrous metal, you feel pleased that you ditched the mundane plastic fitting.
Observing the finished result, you notice how small touches like this can make a huge difference, elevating it from ordinary to extraordinary.
Indulge in the sheer radiance of copper light switches and sockets. Experience first-hand how even the smallest details can leave an unforgettable impression.
Copper switches and sockets: Infusing your home with a touch of luxury
Enhancing the interior of your home can significantly improve your daily life, by adding both functionality and beauty to your routines. It elevates your living space to a new level of elegance and sophistication, making it a pleasure to spend time in.
Picture the copper plate glinting beneath the enchanting luminosity of our beloved bubble chandeliers. With a mere flick of the designer switch, light and joy effortlessly fill the space.
Surrounding yourself with interior products that reflect your personality enhances your experience of being home, and our array of contemporary styles is waiting to delight you.  Our polished, brushed, and tarnished copper sockets and copper light switches are so beautiful they'll become a feature of your décor in their own right.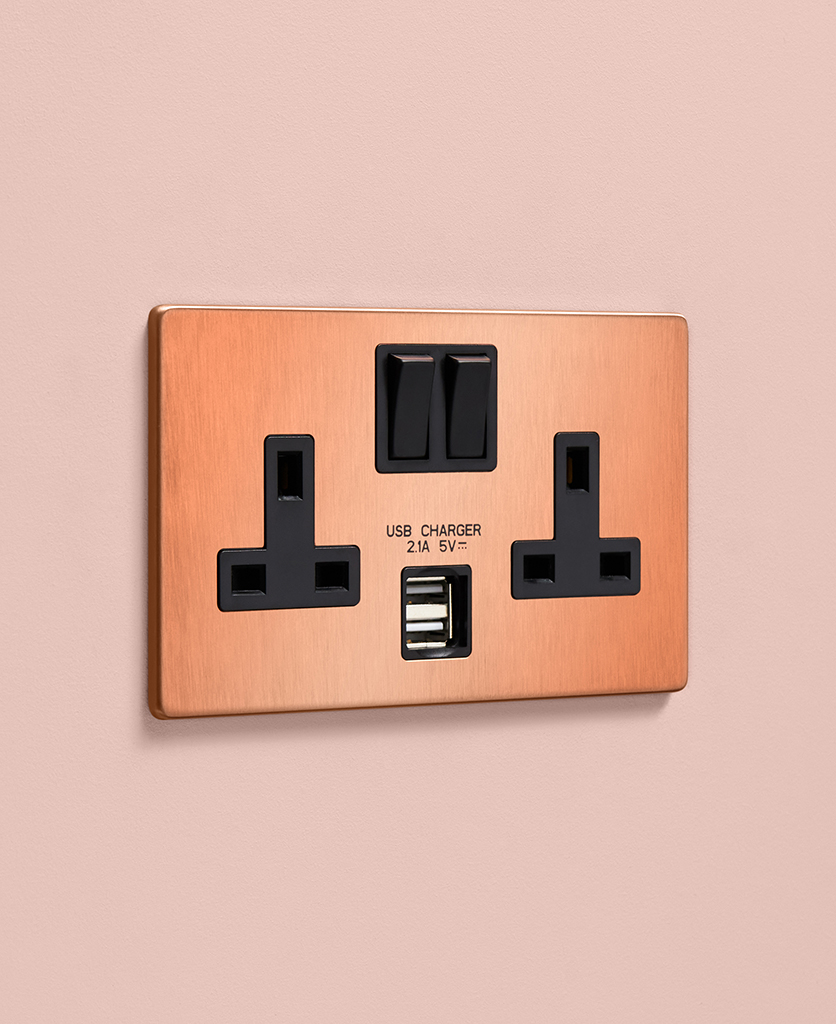 Discover our wide range of designer copper fixtures
Copper rocker switches: For a simple yet stunning upgrade to your existing rockers, take a peek at our copper collection. The copper rocker switches offer a blend of classic and contemporary design, providing a distinctive appearance to enhance your living area. From single to quadruple, you can take control of as many lighting fixtures as you need in one place. A classic design with new and intriguing finishes, from highly polished, to brushed and distressed tarnished, all to help you add personality to your space.
Copper toggle switches: If you're looking for effortless functionality, you might struggle to resist our premium toggle switches. Choose from a variety of configurations, plate finishes, and toggle colours to create a bespoke look that perfectly complements your style. Not only do these switches give you the best in tactility, but they have the most satisfying 'click' each and every time you use them – it's a sensory experience like no other.
Copper dimmer switches: Dim the light and set the scene with ease, our dimmer switches are a pleasure to use. Choose from highly polished or distressed tarnished copper for a sleek or edgy look. The beautifully knurled dials make adjusting the mood a dream, plus, you can pick from an array of colours to mix and match your plate and dials. 
Copper unswitched sockets: The unswitched socket and your wall are a match made in interior design heaven – a seamless blend that's nothing short of divine. It's not too flashy, but just enough to add a bit of elegance and bring everything together. Our unswitched sockets come in a range of finishes, so you can choose the perfect one to complement your decor. You can even select black or white inserts to suit your personal style.
Copper USB sockets: Revamp your power outlets and upgrade your charging experience with our exceptional copper USB sockets. Not only are they practical and functional, but they also exude a remarkable aesthetic appeal that instantly elevates any room. Stay connected and powered up throughout the day with this convenient solution to charging up.
Our exclusive copper range explained: Finding your favourite finish
imagine the flickering light of a blazing campfire on a cosy summer evening, casting an inviting glow that draws you in. That's the feeling you get when you incorporate copper interior enhancements into your space. Just like the crackling embers of a campfire, copper electrical accessories create a fascinating and welcoming atmosphere that is simply irresistible.
To really bring out the best in your new switches and sockets, consider pairing them with warm wall shades like blush pink, terracotta, burnt sienna or creamy neutrals. These earthy hues create a natural synergy that infuses your space with richness and depth.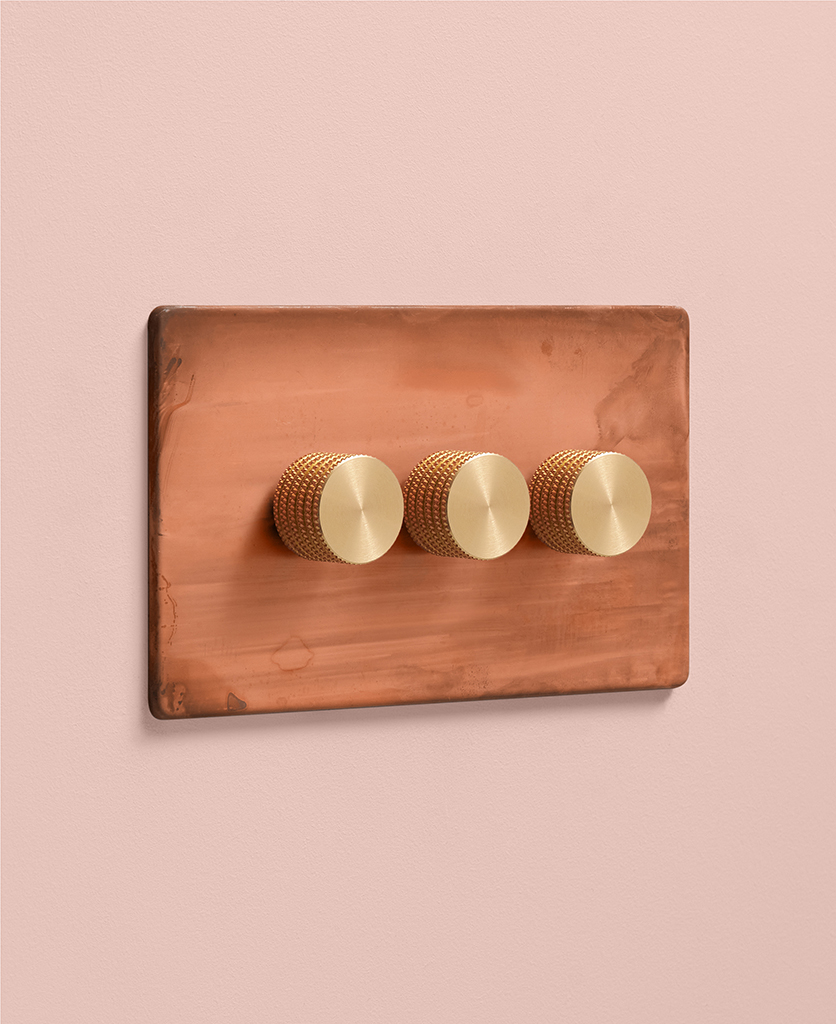 Embrace the uniqueness of our tarnished copper finish
Our unique tarnished copper finishes are exclusive to us. With each piece possessing its own distinct character, they're guaranteed to capture your gaze. 
This unique  copper finish is untreated, so it acquires an irreplicable  distressed finish over time. With each use, it gains more character – a perfect match for those who cherish the ever-changing splendour of life.
Created with an industrial-style interior in mind, our antique copper collection is versatile enough to complement any space, from raw and edgy to modern rustic.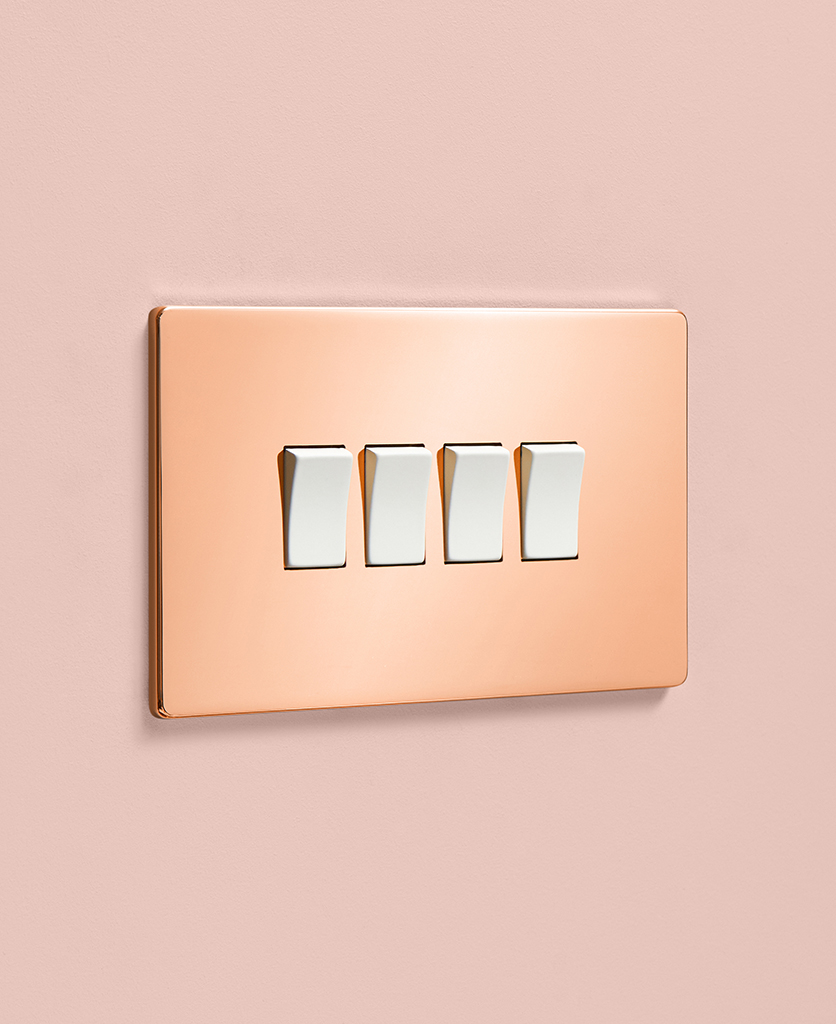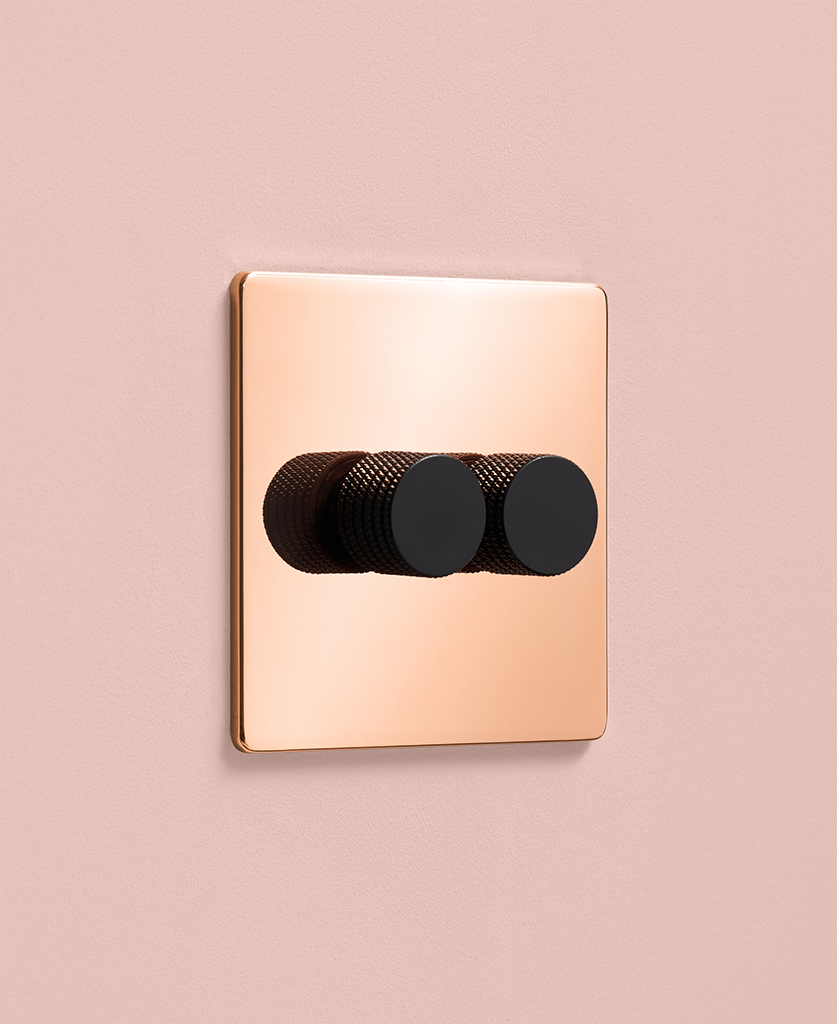 Experience the captivating charm of polished copper
Our polished copper is perfect for adding sleek, refined details to your home.

The radiant shine of polished copper is simply captivating, and it's the perfect way to inject interest and contemporary style into any room. Its smooth reflective surface bounces light in a way that's both subtle and mesmerising, a delightful treat for the eyes.
The polished copper tone is a dreamy addition to blush pink interiors, the enchanting balance between sunset hues of gentle pinks and gleaming copper creating an instantly calming atmosphere.
Not just limited to blush pink interiors, polished copper can also add a subtle pop of metallic shine to a monochromatic scheme or provide a suave and sophisticated contrast to dark, moody walls. It's a finish versatile enough to work with minimalist and maximalist interiors alike.
Indulge in the warmth of brushed copper
The brushed copper finish shimmers like a penny tossed into a fountain for good luck. Its alluring tone represents the premium quality of our brushed copper line and adds eye-catching details to any room.
Combining these striking pieces with natural elements like wood and stone, creates a harmonious balance of finesse and earthiness  that magnifies each material's intrinsic beauty and texture.
Feasting your eyes on our brushed copper sockets and switches, you might find yourself compelled to explore our matching collection of wardrobe handles. Details like this help create a home you love to spend time in.