Antique Brass Light Switches & Sockets
Turning the final page of your book, you place it down on your coffee table and reach for the brass switch on the wall. Sinking back into the sofa, you take a deep breath before sipping your freshly-brewed cuppa, watching as wisps of steam rise into the air. 
Carry on Reading...
The faint patter of rain gently taps the window, and your shoulders soften as you begin to relax. Glancing around your heritage haven, you take in the beautiful features – original wood floors, a traditional fireplace and aged brass switches, all carefully chosen and lovingly restored to bring a nostalgic quality back to the space. 
We have a wide range of antique brass light switches and sockets to explore - from dimmers and rockers to double-switched sockets and everything in between. 
Discover a home you love today – it's the finer details that can truly transform an interior.
The antique brass switches and sockets range
Tracing your fingertips over the lightly brushed dimmer switch, you pause, admiring the undeniable charm of your new antique brass switches and sockets. The rustic golden palette blends beautifully with your warm, earthy décor, leaving the eye free to roam without interruption, whilst the hand-finished surface ensures each piece is unique in its own way. 
At Dowsing & Reynolds, we have a variety of colours and finishes to discover.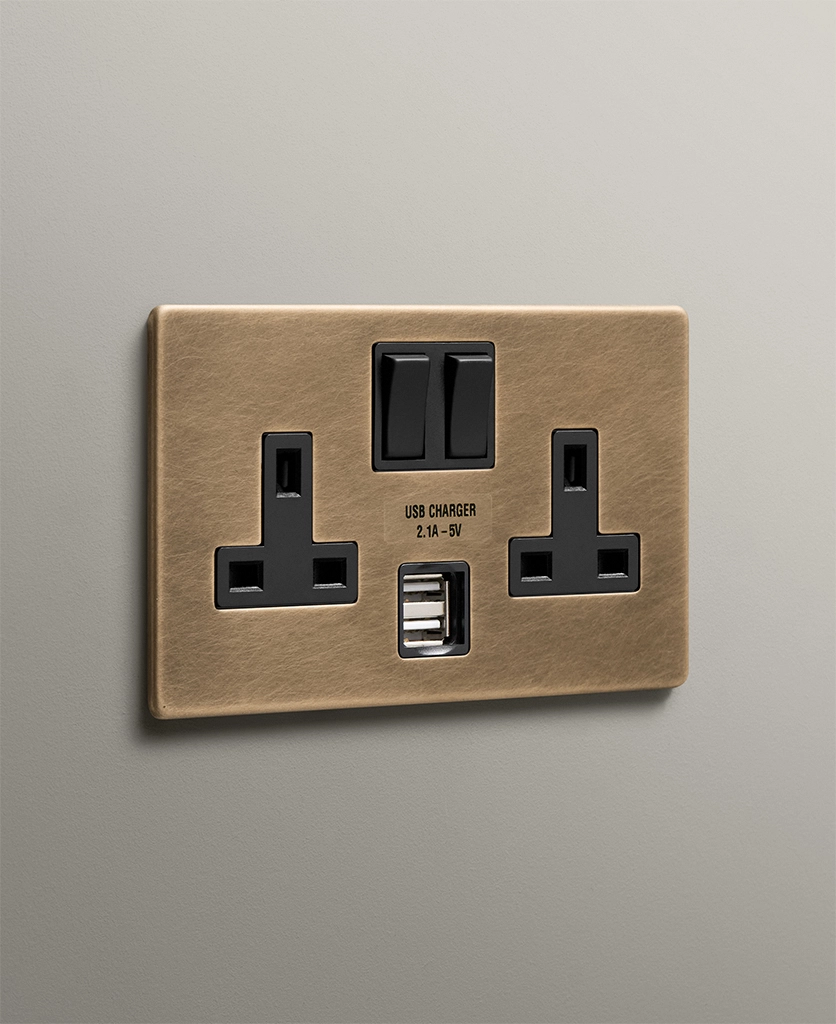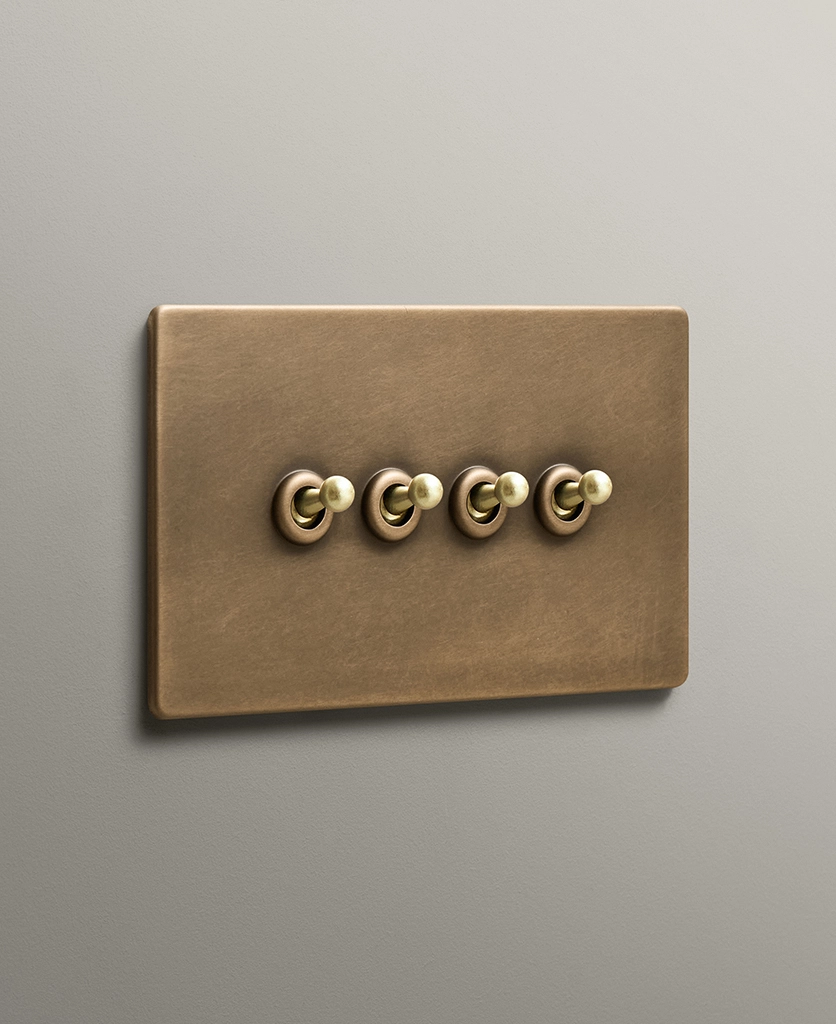 A solution for every space 
Whether you're looking for a double plug socket to complete your kitchen or a data port to finish your home office, we have a wide range of configurations to suit any purpose. Choose from single, double, triple, and quadruple light switches and express your style with a choice of dimmers, toggles or rockers – whichever feels more 'you'. 
Dimmer switches: Set the mood when the day turns to dusk with a brass dimmer switch. Snuggle under a warm blanket and get cosy by adjusting the knurled dial to create a warm glow, or twist it to the full level for spring cleaning afternoons where task lighting is more appropriate.
Rocker switches: Whilst rocker switches may give you less control over the ambience, they're great for areas that require convenience, like a utility room or a boot room. With the flick of a switch your space is bathed in light, making it easier to get everyone ready and out of the door on time. 
Toggle switches: If you love a vintage, retro aesthetic, then take a look at our antique brass toggle light switches. Choose from the classic 'dolly switch' with a traditional rounded toggle, or try a more modern approach with our exclusive tapered toggle design.
Double sockets: Plug in all your kitchen appliances, whilst charging your phone, with our brass double sockets – also available with a USB port. 
If you have a smaller space or a designated area, such as a coffee station with a single appliance, we also have single plug sockets to keep things looking tidy.
Tie your décor together with matching unswitched sockets, cooker sockets, single ports, and blank fascias for complete cohesion throughout.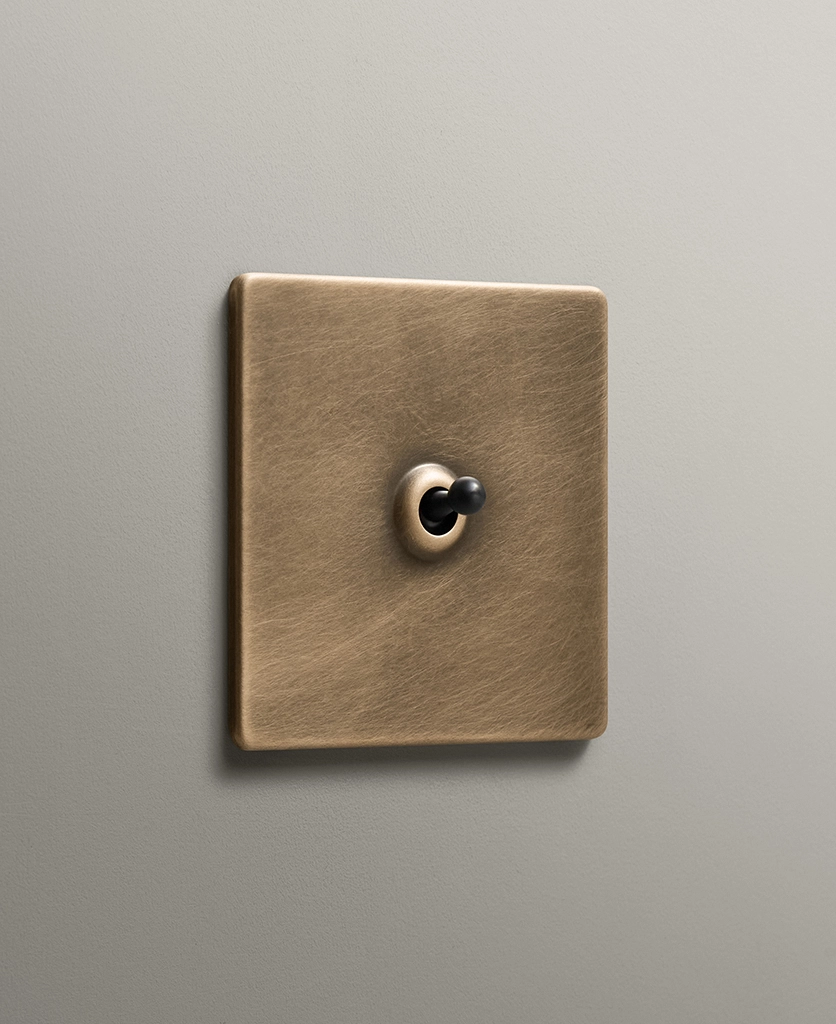 A vintage touch with a modern twist
Brass light switches and plug sockets have a timeless quality, spanning generations and interior design styles. 
When paired with patterned wallpaper, antique floral paintings and intricate plaster mouldings, they create a vintage-inspired space where time stands still. Finish the look with a statement chandelier light and some dried foliage in a hand-painted jug to add intrigue and texture. 
Although often associated with heritage interiors, antique brass switches and sockets are equally at home in a modern, neutral living space. So, whether you're drawn to an eclectic style or prefer to keep it simple with a few eye-catching accents, you'll love the versatility this unique finish gives you. 
With our extensive collection, you're sure to find something you love.
A one-of-a-kind design, finished by hand
There's something exciting about finding the perfect interior design feature- like uncovering a remarkable piece of art in the back of a vintage shop. 
Each switch and socket in our antique brass range is finished by hand, replicating the hardware of days gone by to add depth and character. Much like our smoked gold collection, this extra-special touch adds a point of visual interest to your home, sparking conversations for years to come. 
Find yours today.