Ally Dowsing-Reynolds shares her tips on home organisation for neurodiverse minds
This article first appeared in Real Homes Magazine in March 2022.
All photography by Katie Lee, Beautiful Homes in the North.

For the final post in our ADHD Awareness Month series, our CEO, Ally Dowsing-Reynolds, is discussing how to create a home that works for your wonderfully unique mind. This week, Ally looks at how savvy storage can help you to retain focus, plus discover her top organisational tips for making the morning school run a little bit easier.
We can all understand that our surroundings affect how we feel on a daily basis. The way our homes are organised can impact our mental health a great deal. Chaos around us causes chaos within us. This is even more so for those of us who are neurodiverse.
Distraction, clutter and organisation issues are areas that can affect a lot of people with ADHD in particular. Ever watched the movie 'UP'? The dog that loses his attention and hyper-focuses on the squirrel? That's us. We are often either scattered focused or hyper-focused. When in a scattered focus mode, it can be very hard for us to follow through on a task such as tidying a room or getting something done. This is due to our brain's reward circuits sometimes having a little sleep or a full-on party.
"A simple trick like ensuring fresh towels are
stored near the shower can really help to reduce distraction."
Make your space convenient
Room layout can help with that by attempting to keep us on the straight and narrow. Often if I'm going to take a shower, I get distracted by twenty little things that might not affect a neurotypical person (e.g. towels being in a hallway airing cupboard… oooh squirrel, there's something in the hallway that I need to move into one of the bedrooms, ooh now I've found something in the bedroom that I should tidy… and so on) and it slows me down or actually prevents me from taking the shower, because I run out of time.
A simple trick like ensuring fresh towels are stored near the shower can really help to reduce distraction. Having a place for everything, having more storage than is needed (e.g. don't fill to capacity, like I often am guilty of in my dressing room) is the key to staying on top of things. Give everything a home, near where it'll be used.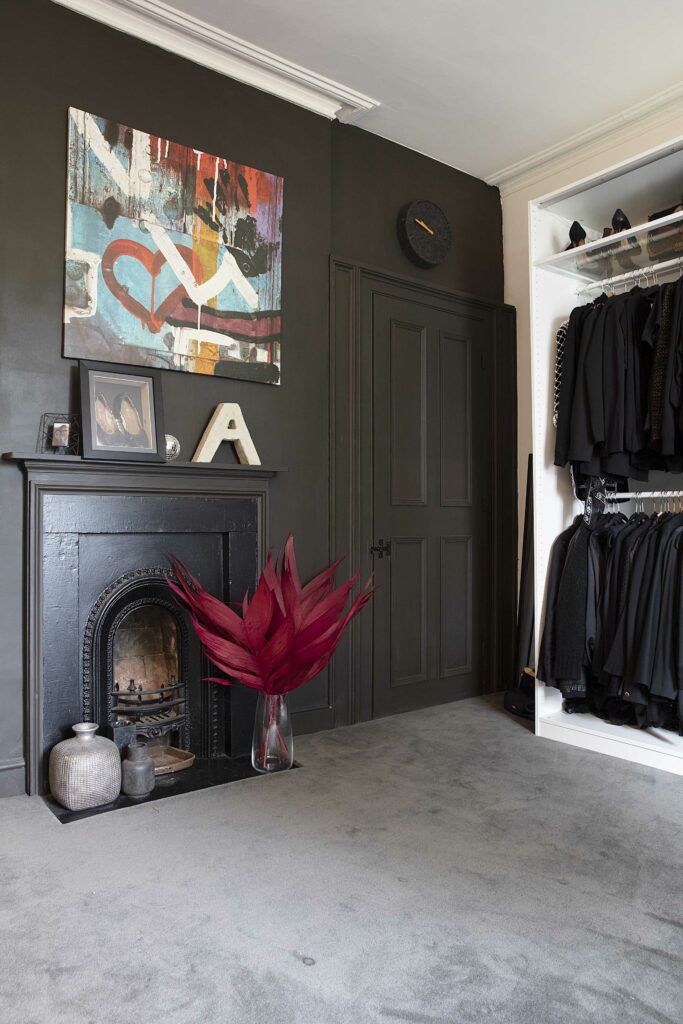 Keep things visible
Another key thing to bear in mind for ADHD people is that we organise by field of vision. We often need to see everything. If we don't see it, we forget we own it. I'm not kidding. Our executive functions often impair our memory. If something is in a drawer, unless it has a label and it's things I use every day, it's completely out of my mind.
Depending on our individual brain chemistry, dopamine and norepinephrine, the neurotransmitters that regulate focus, are missing or in short supply. This results in us often completing vital parts of a task, but leaving finishing details undone. At home, this means cabinet doors and dresser drawers left open and objects that are never put away. We put bills and receipts on the kitchen table and forget about them. This can mean our own clutter distracts us and overwhelms us.
So organising the layout of a kitchen, wardrobe (or a dressing room if you have space) in a way which helps you to see everything is key. In our kitchen, we have lots of glass tubs so we can see everything easily.
In our dressing room, everything is open. I can see all my clothes and I reduce drawers to an absolute minimum. Sliding wardrobe doors and closed drawers are the enemy of ADHD. You'll have jumpers you never wear and you might even buy the same things over again, forgetting you own them. Put a donation box in a good place for regularly adding items to give to charity. For me, it's in my dressing room. This reduces the amount you own regularly, which gives you a fighting chance of being able to be tidy.
Reduce morning chaos
And last, but not least, don't forget the humble hallway. It's a room that can really affect how you feel at home. It's often the room you come into first from outside and that you leave the house by. Having soothing colours or neutrals, combined with furniture which aids organisation can really help you to feel calm as soon as you come into your house and when you leave your home.
In our hallway, we have a bench ottoman that has everything needed to get our young daughter out of the door in the morning. As most parents will relate, mornings are frantic in terms of getting out the door to school, having everything already in the right place can really help neurodiverse minds to feel a little bit more calm leaving the house and ready to tackle the day ahead.