Interior Colour Trends for 2017…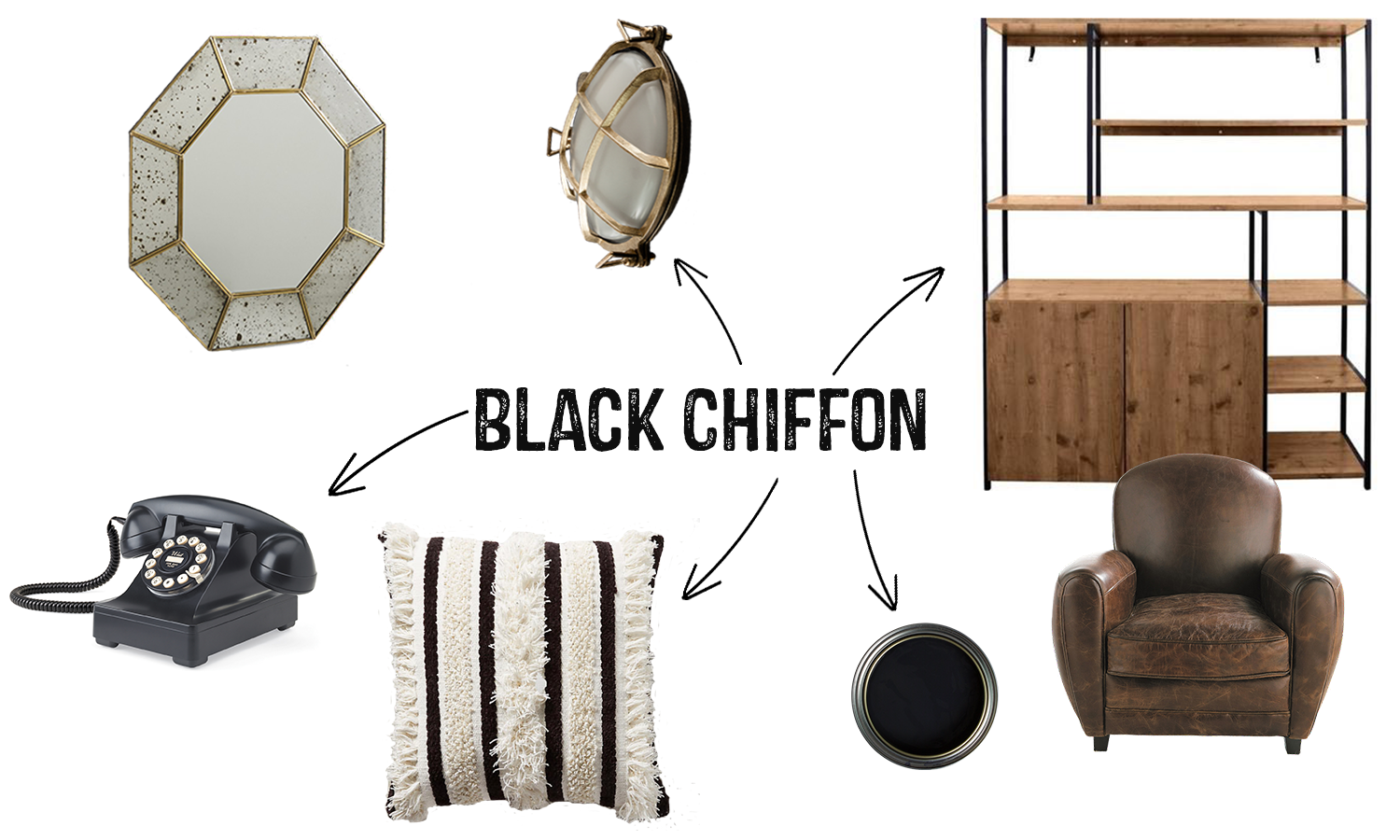 And how to incorporate the must have colours into your home
I'm literally always on the look out for inspiration and ideas to keep my home looking fresh and on-trend. In my quest (it's my job to scroll through social media looking at this stuff honest!) I decided to have a little look around at interior colour trends for 2017… What are the must have colours and how should I be using them. What's happening right now, and how's that going to develop through the year. Here's a round-up of the colours we absolutely can't live without!
 Mushroom
Rug: La Redoute,  Cushions & Throws: The White Company, Side Board: Swoon Editions, Cushion: House of Isabella
Light shade and paint sample are our own
Mushroom is being hailed as the new neutral! Think soft beige with a cool grey undertone. This is a beautiful shade that has magical calming qualities – perfect for creating a tranquil bedroom. An oasis of sophisticated calm where you can escape from the busyness of everyday life. Team with natural textures for best effect; linens in mid-tone greys, blankets and throws in muted browns alongside exposed wood floors and matt painted walls. Add indigo accents to really bring this palette up to date. And relax…
To update my home I'd use our Hippo Potto Not A Mouse emulsion on a feature wall to provide a stunning backdrop to Mushroom coloured textiles, then use our Marooned satinwood eggshell paint to up-cycle old wooden chair, or two. These two shades are not your average neutrals – together they'll transform any room into a chic Nordic-inspired space that's super stylish and welcoming. This look's all about texture so I'd also choose an Ian Snow White Orb Light to complete my room,
Stone White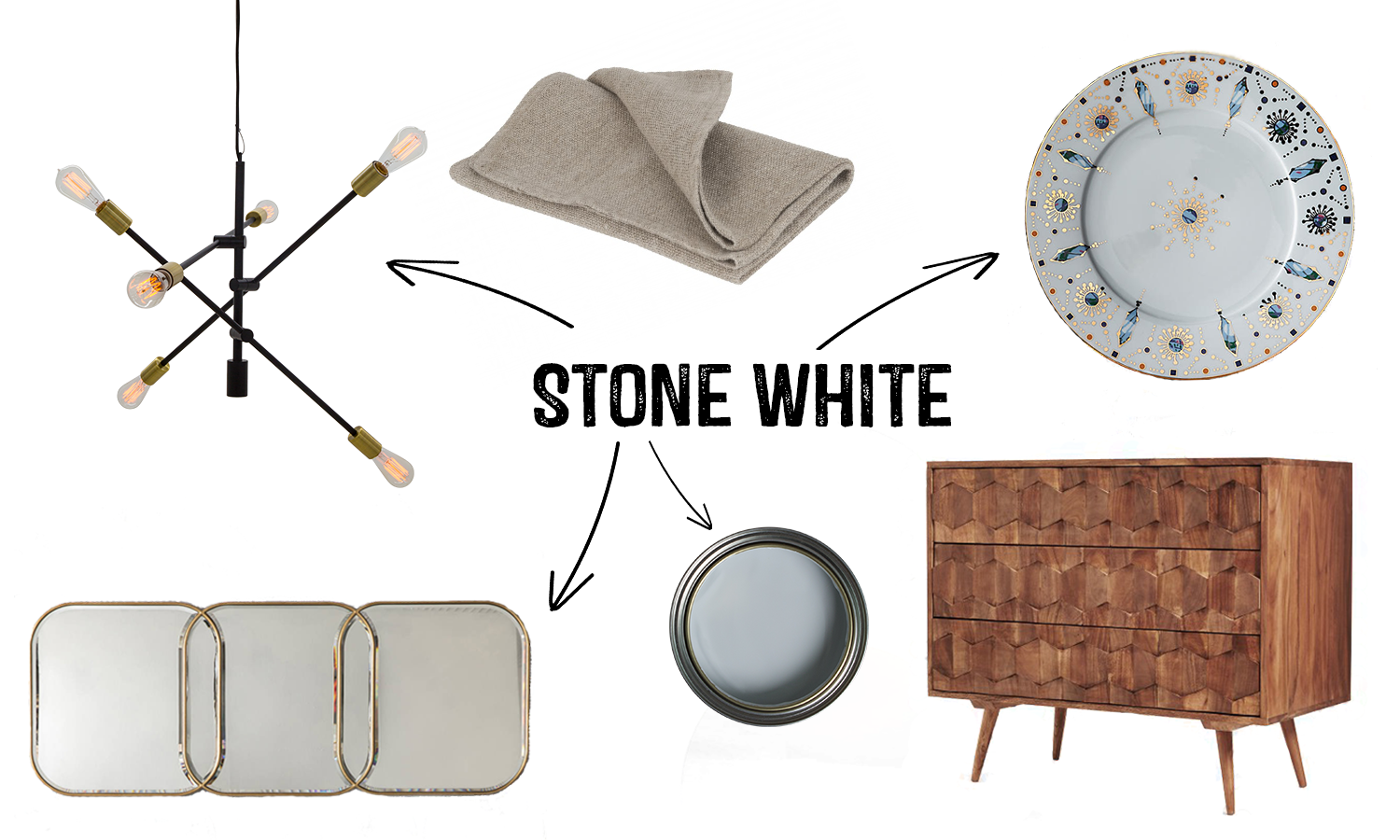 Napkin: Jayson Home, Serving Plate: Anthropologie, Side Board: Swoon Editions, Mirror: Not On The Highstreet
Light shade and paint sample are our own
Stone white is the fastest and easiest way to fake natural daylight in a room. If you have spaces with small windows that don't let in much light, you have to try this trick! It magically transforms a dingy interior in Yorkshire to something more akin to a sun-drenched room in a Spanish Villa. Mix with furniture in natural materials and contrast with reflective surfaces to bounce around the light you do have. Add the odd metallic accent for an edge of glamour. Swish…
To create this look, I'm going to plump for our Polar Bear Selfie emulsion as the perfect shade for my walls. I'd go for the same satinwood eggshell on the woodwork to keep things clean and simple – maximising the illusion of space. For lighting, I'm thinking something striking yet simple – I want a feature that doesn't dominate the room. and this Trikonasana pendant light is just the job.
Black Chiffon

Mirror: La Redoute, Bookcase: Debenhams, Chair: Maison Du Monde, Cushion: Anthropologie
Telephone, bulkhead light and paint sample are our own
Go as bold as you dare with the Black Chiffon trend. Create the ultimate man-cave by painting a small intimate space with matt black paint – the ultimate in Daredevil decorating! Try our All The Lights Off matt emulsion and matching flat matt wood – which is actually a really, really dark grey so not quite as harsh as black if you're not quite ready to take the plunge!
There's very little black doesn't go with although for 2017 keep your palette tonal but up the ante with texture. To keep your industrial vibe, go for retro furniture in natural wood, metal and classic brown leather. Soften things with a few white material cushions and a couple of metallic accents to 'lift' the room. These can be as feminine, or not, as you like.
Hypothetically speaking, if I were creating a cave for my man, I'd opt to light it with a couple of Chris bulkhead lights in polished brass. They're so cool but actually I just like a streamlined look. and these do double duty by adding a metallic accent. Up the retro feel in the room by adding our black Bakelite telephone – it's functional and stylish plus adds a little gloss black to stop everything looking too gloomy!
Blue Shadow
Rug: La Redoute, Chair: Anthropologie, Basket: Oliver Bonas, Cushion: La Redoute
Wall light and paint sample are our own
Blue is coming out as the biggest colour trend of the season. But a bold, statement colour which needs to be fully embraced for the biggest impact. We're not talking pastels and the odd accent here! I'm actually particularly fond of a deep navy blue painted over walls. Keep things '2017' with rustic materials and burnt orange accessories to beautifully complement your interior. This look is great for a living room where you want to create a dramatic impact to elicit the 'wow' from your friends.
There's no doubt in my mind that our Blue Movie emulsion paint is the perfect colour to give a lavish, decadent feel to your room. Use it on a feature wall in a smaller space or go full-on if you've got loads of natural daylight streaming in. I'd want to make sure that nothing detracted from my beautiful walls so would keep things simple with our modern rustic Hebden Wall Lights with Grey Jumper fabric cable bang on to go with my interior colour trends for 2017.
How will you use these interior colour trends for 2017…
I'd love to see how you're using our products to update your interiors for 2017 – if you tag us in any of your Instagram photos then I can keep a lookout!