How To…Customise Your Own Light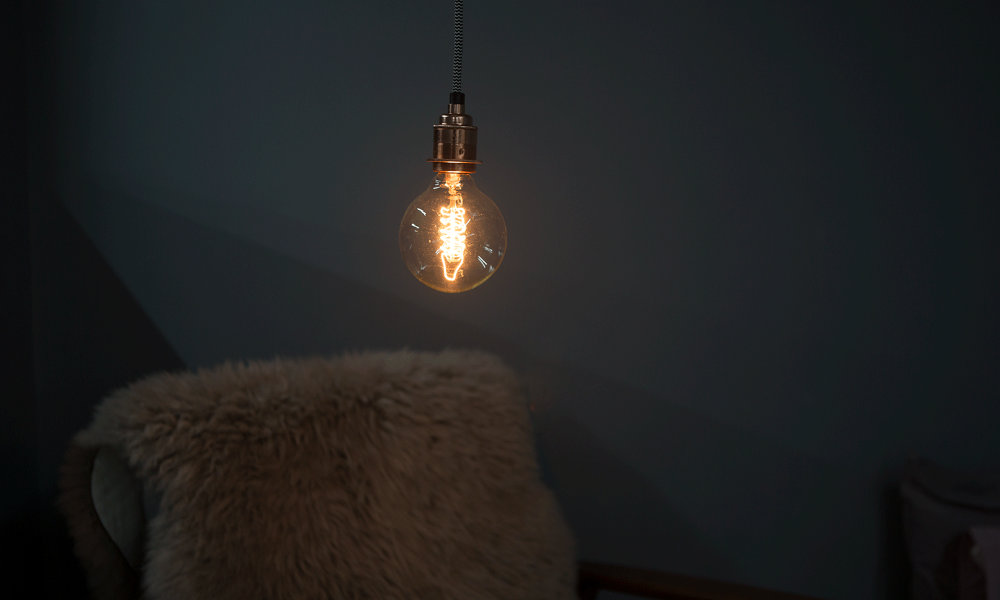 Have you seen our brand new customise your own light range? It's something that we've been working on for a while to really let you visualise your ideal pendant lights. And, what's more, we are now giving you something that you've been requesting for a while…We can fully assemble your chosen 'create your own' pendant light design before sending it out to you! How's that for service?
This fully customisable feature has been one of James' dreams for a long time. As an incredibly visual person, he wanted to show you how your chosen components would look fully assembled. This create your own light feature also lets you see how different styles, finishes and colours of our ceiling roses, fabric cables, light bulb holders and light bulbs will work together, whether you are wanting to create a sleek and sophisticated addition to a minimalist room, or really want to make a statement with eccentric colours, there really is something for everyone.
So without further ado, let me show how it all works…
Customise your own light
Creating a light to coordinate perfectly with your interiors has never been easier. The hardest part is deciding which styles and finishes to go with, believe me, I've been playing around with this quite a lot, and I still can't pick a favourite. Check out the video below to see just how easy creating your own pendant light is.
As you can see from the video, you start off by clicking on our 'Customise your own light' menu, which takes you straight into the create a pendant light page – from here the world really is your oyster.
 1. Decide how many outlets you want
Are you a minimalist single pendant kind of person, or do you want to create something that is really going to add drama to your interiors? Whichever you choose we have a light for you. Available from single entry up to nine entry, this customisable feature gives you the option to create stunning lighting for anywhere in your home.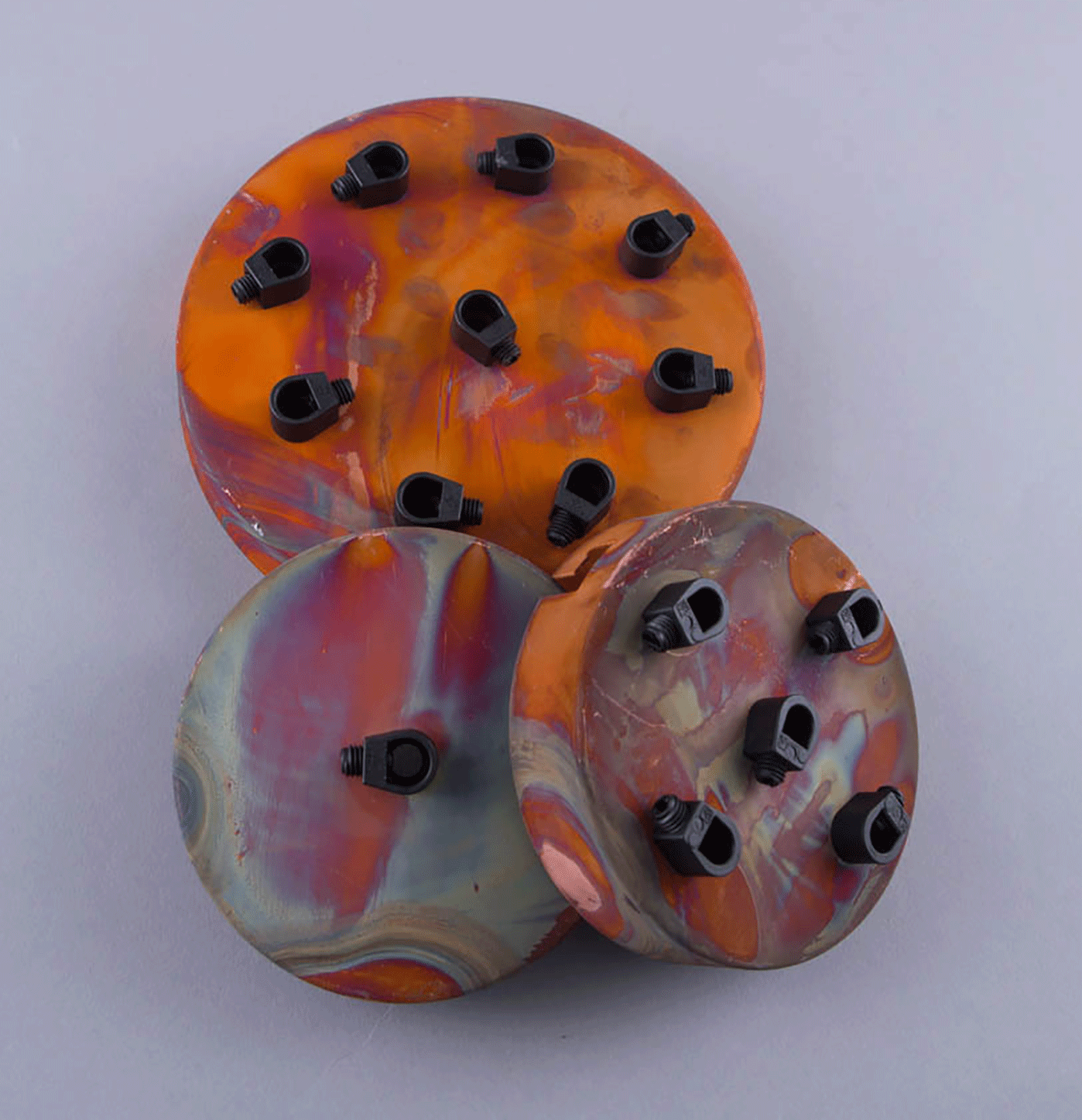 2. Pick a ceiling rose
Next up is picking the finish of your ceiling rose. We have a solution for every style including minimalist white decorative roses to authentically industrial tarnished copper, retro black Bakelite and luxe finishes like polished brass and forgotten silver. One of my favourites at the moment is copper in either the polished or tarnished varieties, so I selected this. With each of the options, you can either choose them from the drop-down menu or, if you're more of a visual person, from the images on the right-hand side. Anything you select will show up on the main image on the left-hand side – so simple.
3. Select a fabric cable
Next is fabric cable. With over 50 options, this decision is a little more difficult. Choose from smooth, twisted, matt, metallic luxe or patterned depending on what overall look you want to achieve. You can even mix and match!

 Another thing worth mentioning is that our fabric cable is sold per centimetre – I wanted a pendant that hung 2.5 metres so opted for 250cms of the black and white zig-zag.
4. Choose a bulb holder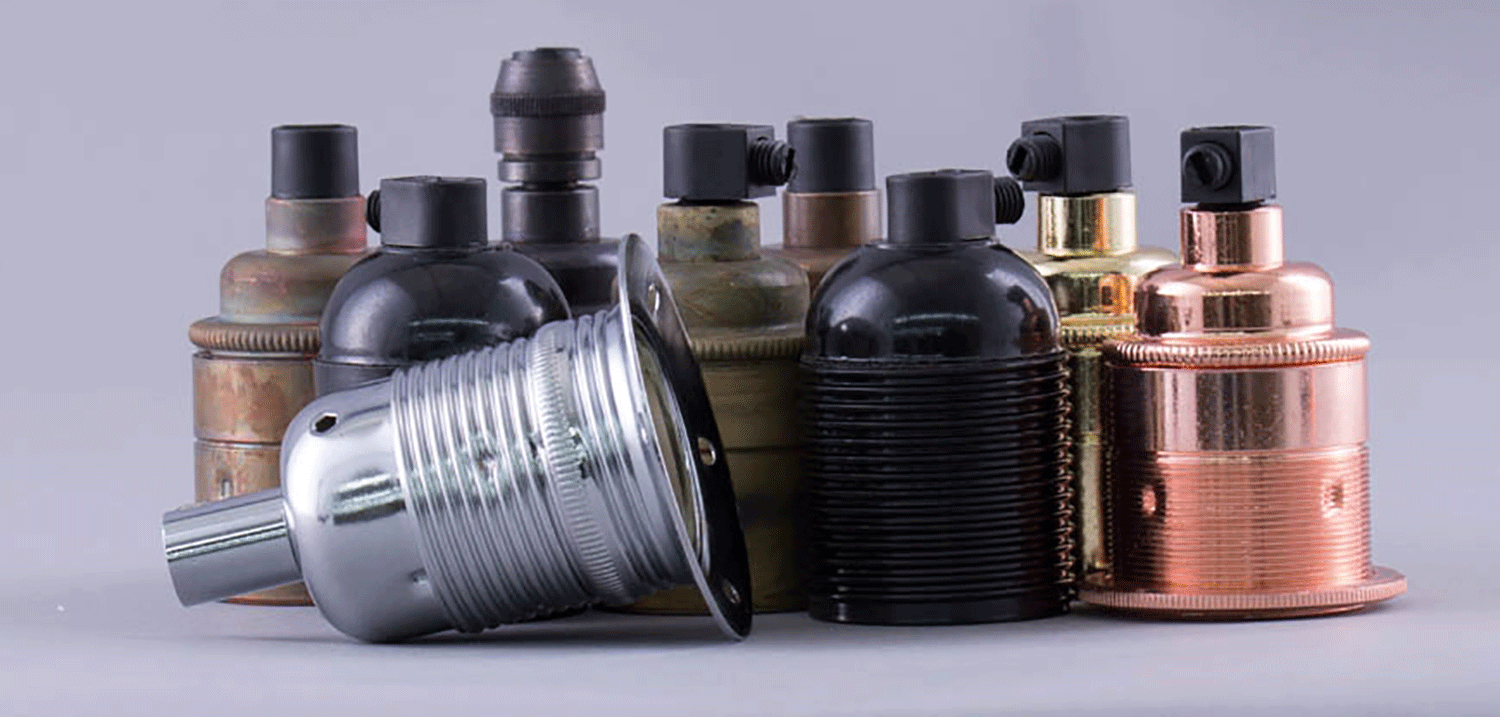 Choosing a bulb holder should be a little bit easier – I find that matching the finish of your bulb holder to your ceiling rose creates a gorgeously polished look, that's why I've narrowed down my options to anything in polished copper – this leaves me with 3 choices – domed, plain or threaded. The beauty of this customise your own light range is that you can see how your chosen products are going to work together and the visuals really help you to make a final decision. Because of this I chose the threaded polished copper bulb holder, it has a real vintage quality, and the ring feature means that I can add a light shade at a later date, should I want to.
5. Add a bulb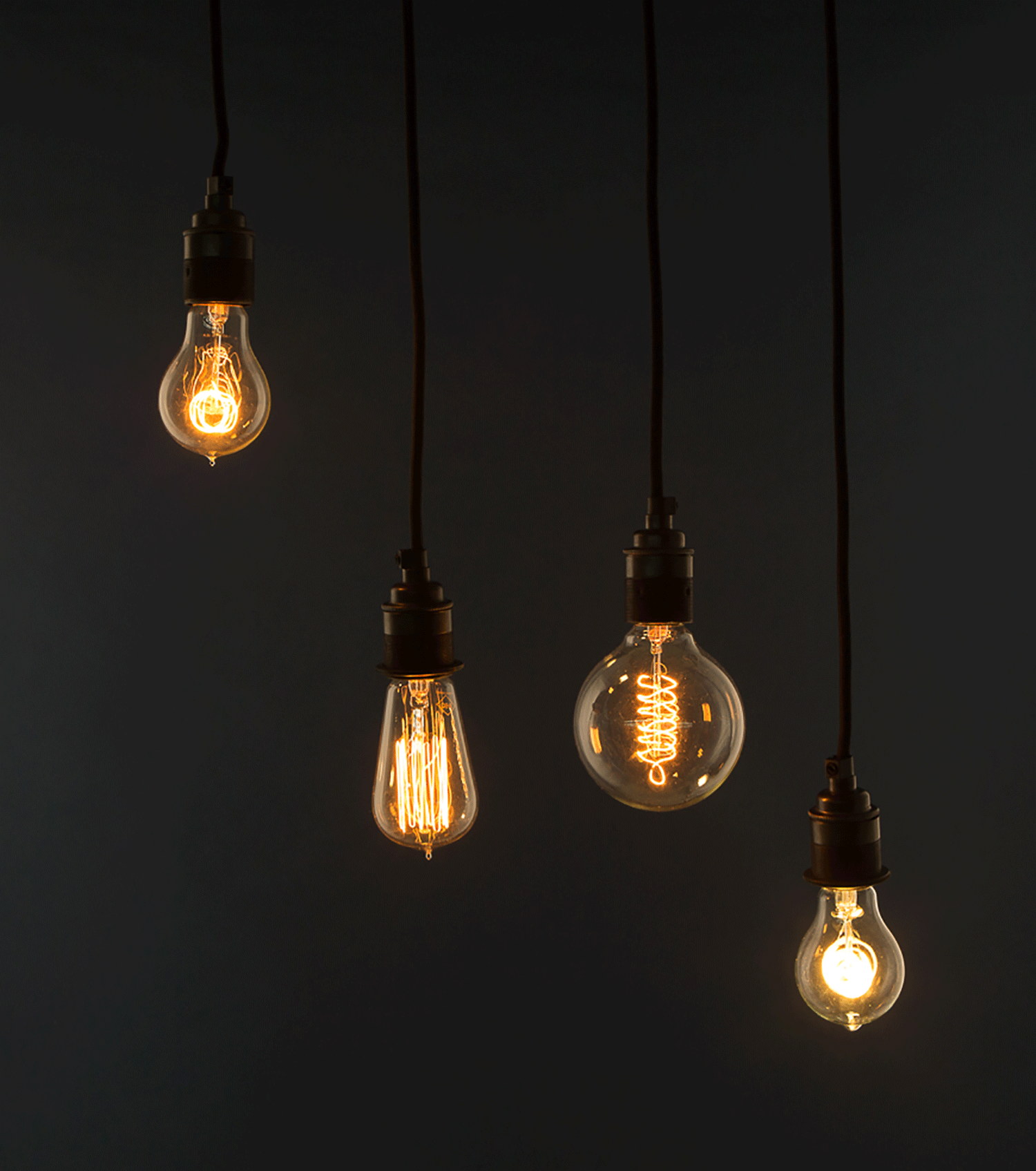 Bulbs are my major weakness, and I find it really difficult to choose. With both LED filament and Edison style filament bulbs available, we have something for both the energy conscious and those looking for something authentically vintage. To go with this conspicuous pendant I chose a large globe bulb with spiral filament. This fabulous bulb is definitely eye catching and looks amazing suspended bare from the fabric cable. With a warm glow, our LED bulbs cast an ambient glow wherever you want to show them off, they last up to 20,000 hours AND they reduce your energy bills too, whats not to love?
6. To be or not to be…assembled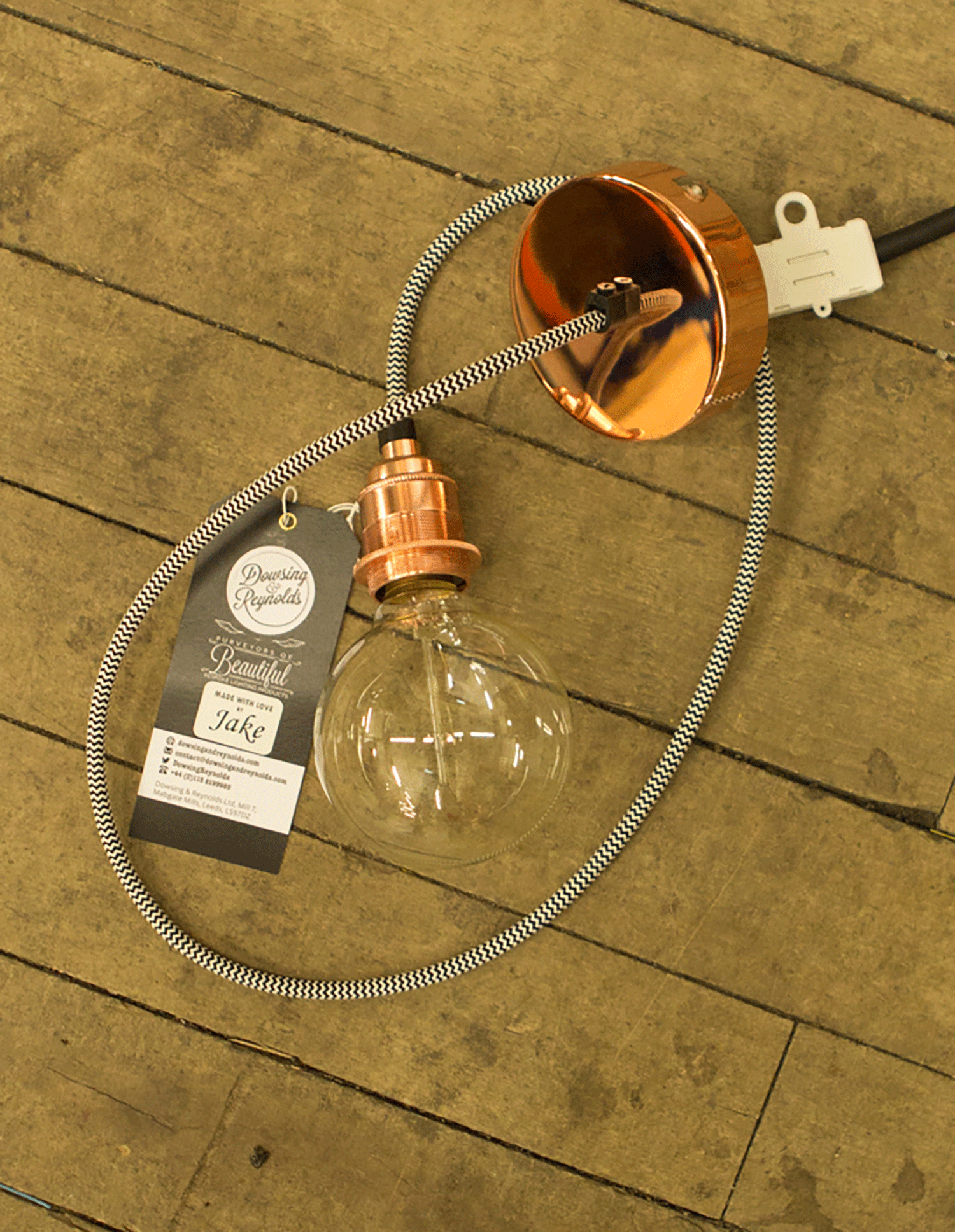 The final choice you have to make is whether you want your chosen components to arrive individually or fully assembled…This is something that our customers have been requesting for quite a while. Having your pendant light assembled means that as soon as it arrives it's all ready to be put up – with the help of a qualified electrician of course! I opted to have my light assembled by the team here at D&R HQ purely to show you what goes on behind the scenes!
What happens once you've requested your pendant light to be assembled…
Once your order comes through, our operations team: Sarah, Abigail or Jess print it off ready to hand over to our assemblers.

On receiving the dispatch note, either Jake or Luke will then carefully pick your chosen components and begin assembly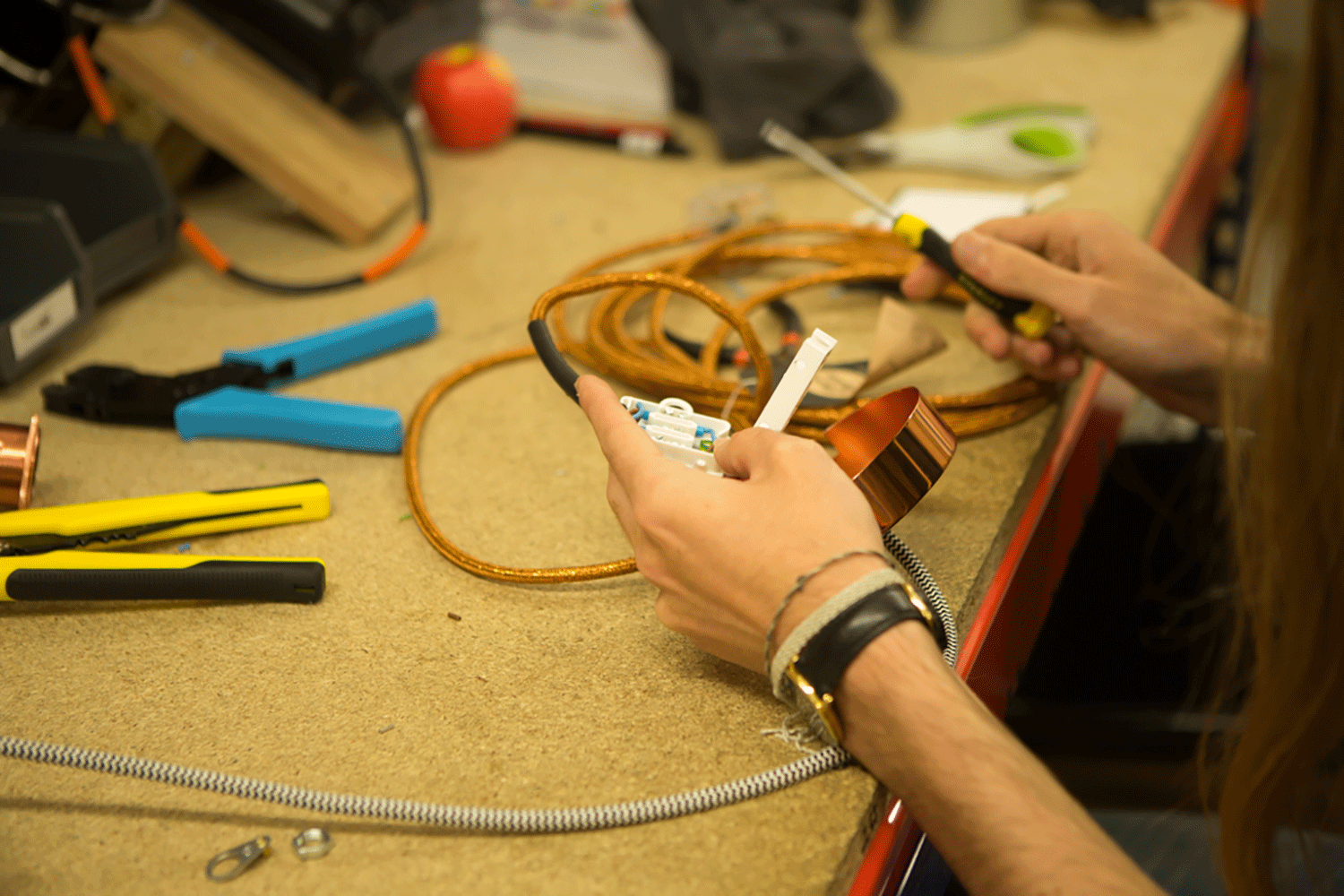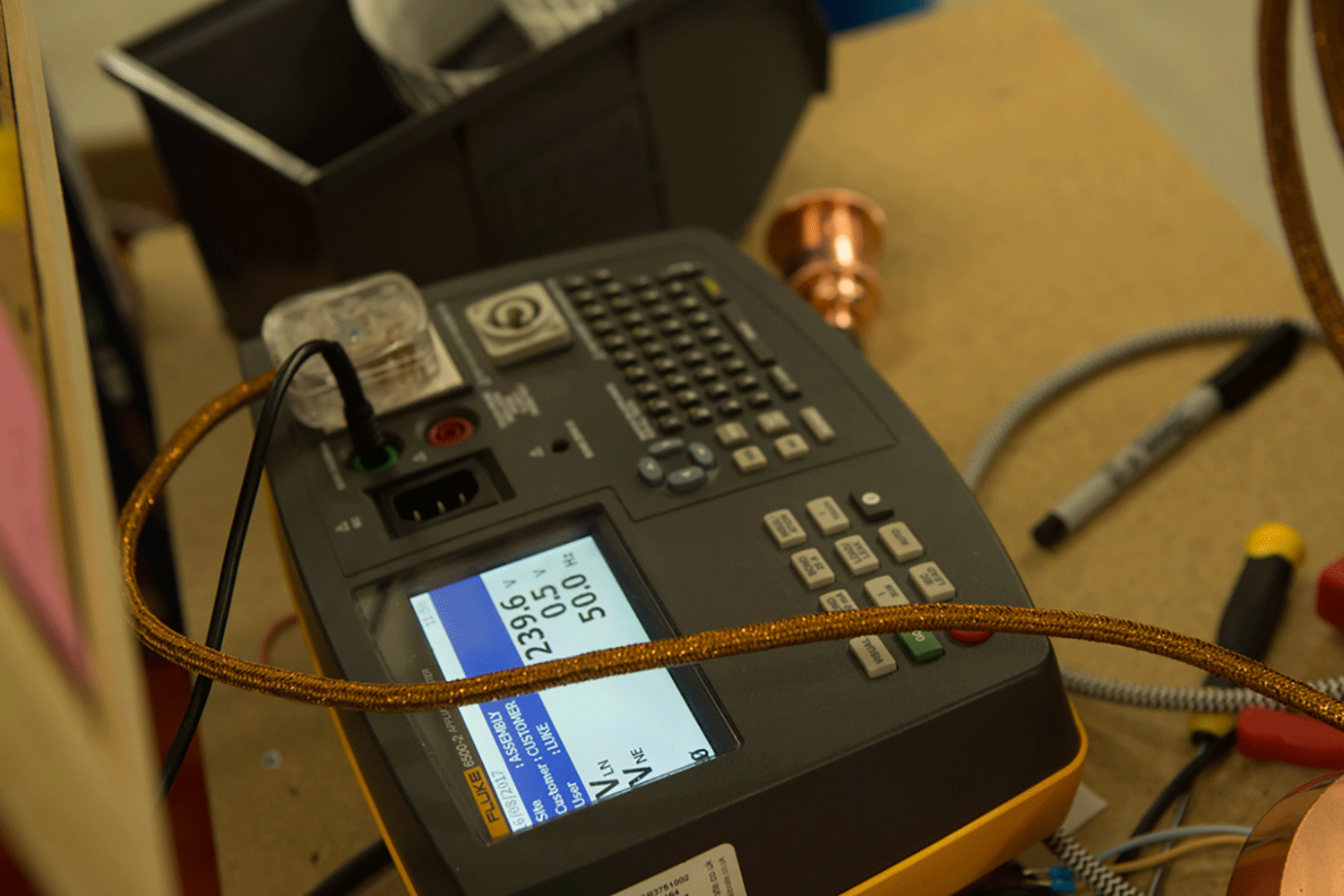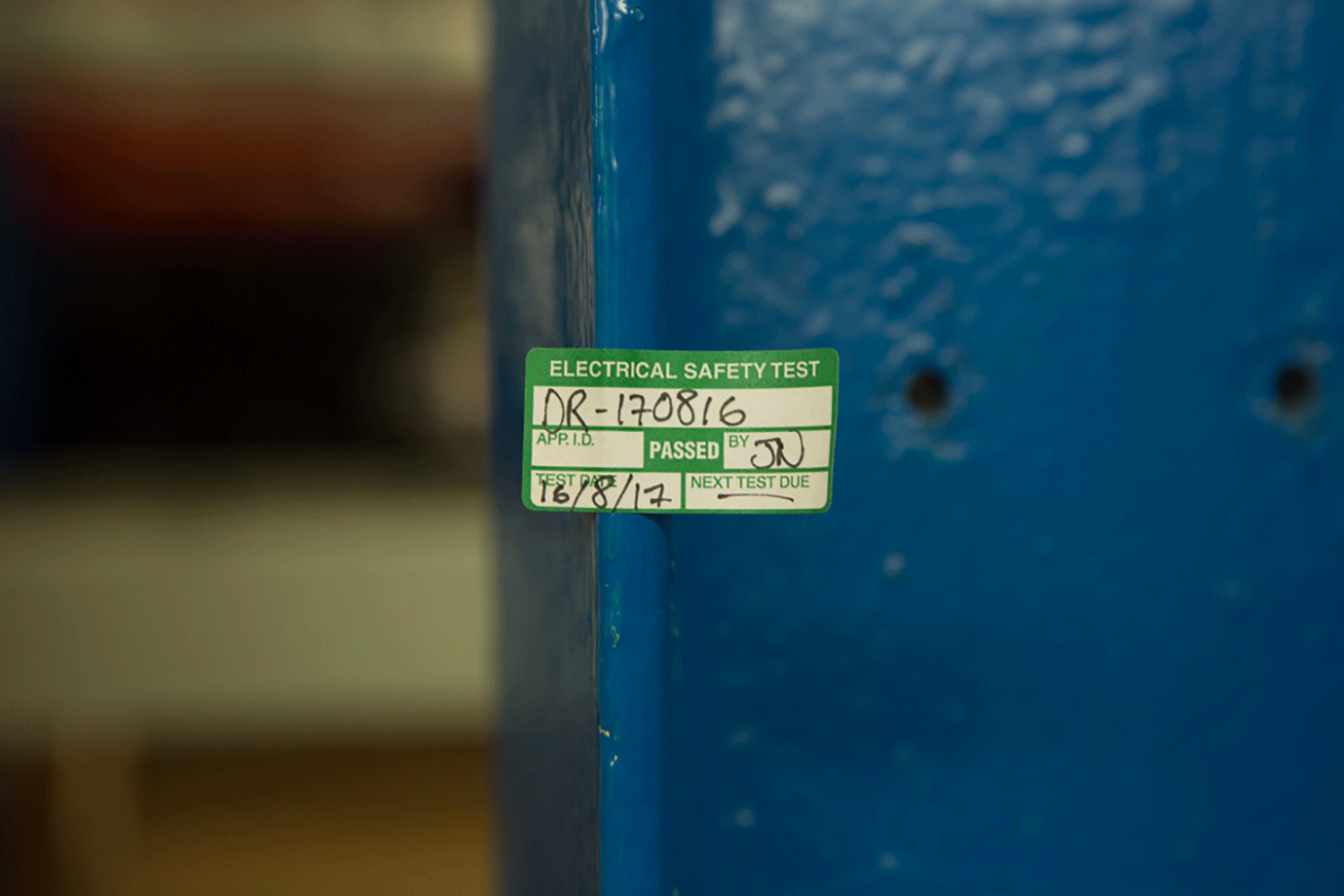 Once your beautiful pendant is assembled and has been PAT tested, it gets passed along to our diligent packing team, who will add any other items you've ordered, wrapping each one individually with love and care.

We wrap everything carefully in paper to protect your delicate bulbs and components from being scratched…It's also very environmentally friendly.
They're even stamped to show you who packaged your light…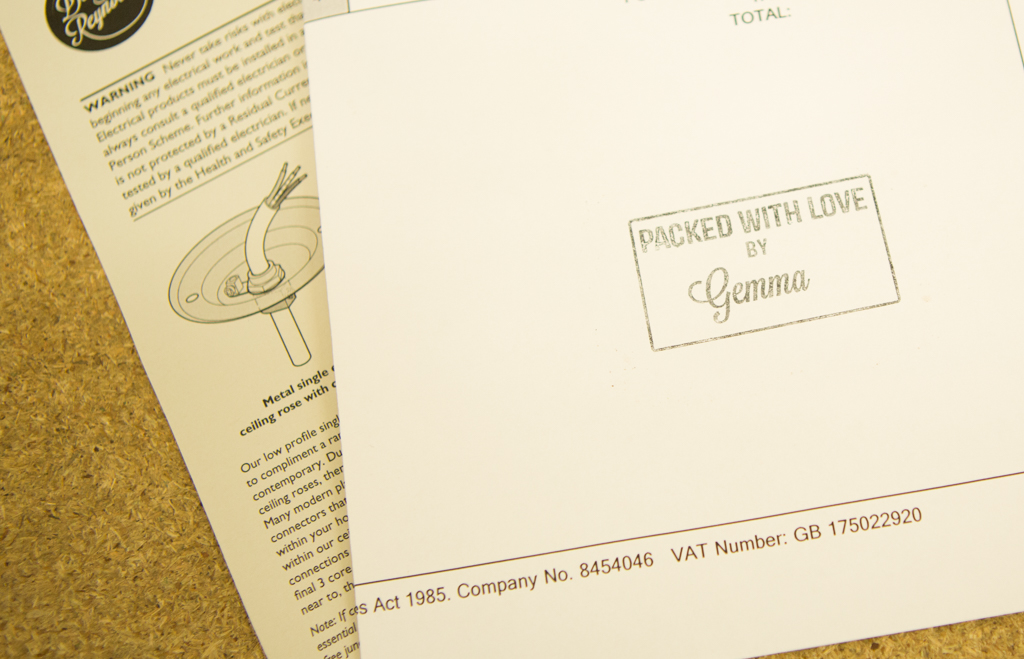 Then everything is put in a box ready to go out into the world to live the life of the pendant light you always dreamed of…
We love our new customise your own light range, as it finally gives you guys the opportunity to play around with styles and finishes to create pendant lights that suit your personalities and interiors perfectly. Feel free to tag us any of your creations, we love to see how you use our products! Tag us on Instagram or drop us an email.