Let's Hear It for The Boys – Metal Shelf Brackets
This week I'm feeling pretty excited about metal shelf brackets! We have a fab new range of brackets in and I'm a little bit in love with them – there are so many possibilities to use them around my house. But before I storm straight in and tell you all of my house transformation dreams, let me introduce you to the range.
Meet our metal shelf brackets
We currently have three styles of brackets; Felix, Eddie and Terry. They're rugged, chunky and a little bit dishevelled…everything you're looking for in a man wall bracket. These cast-iron beauties are aptly named after three famous strong men – and that's predominantly because they will support any weight of shelf you decide to place on them…As long as your wall is sturdy enough!

Felix
Felix is the smallest of our brackets. But don't be fooled by his size – the best things come in small packages…or so I've heard. Named after Mark Felix, a professional strongman, who is renowned for coming in at third place in Britain's Strongest Man competition, this bracket is heavy-set and tough.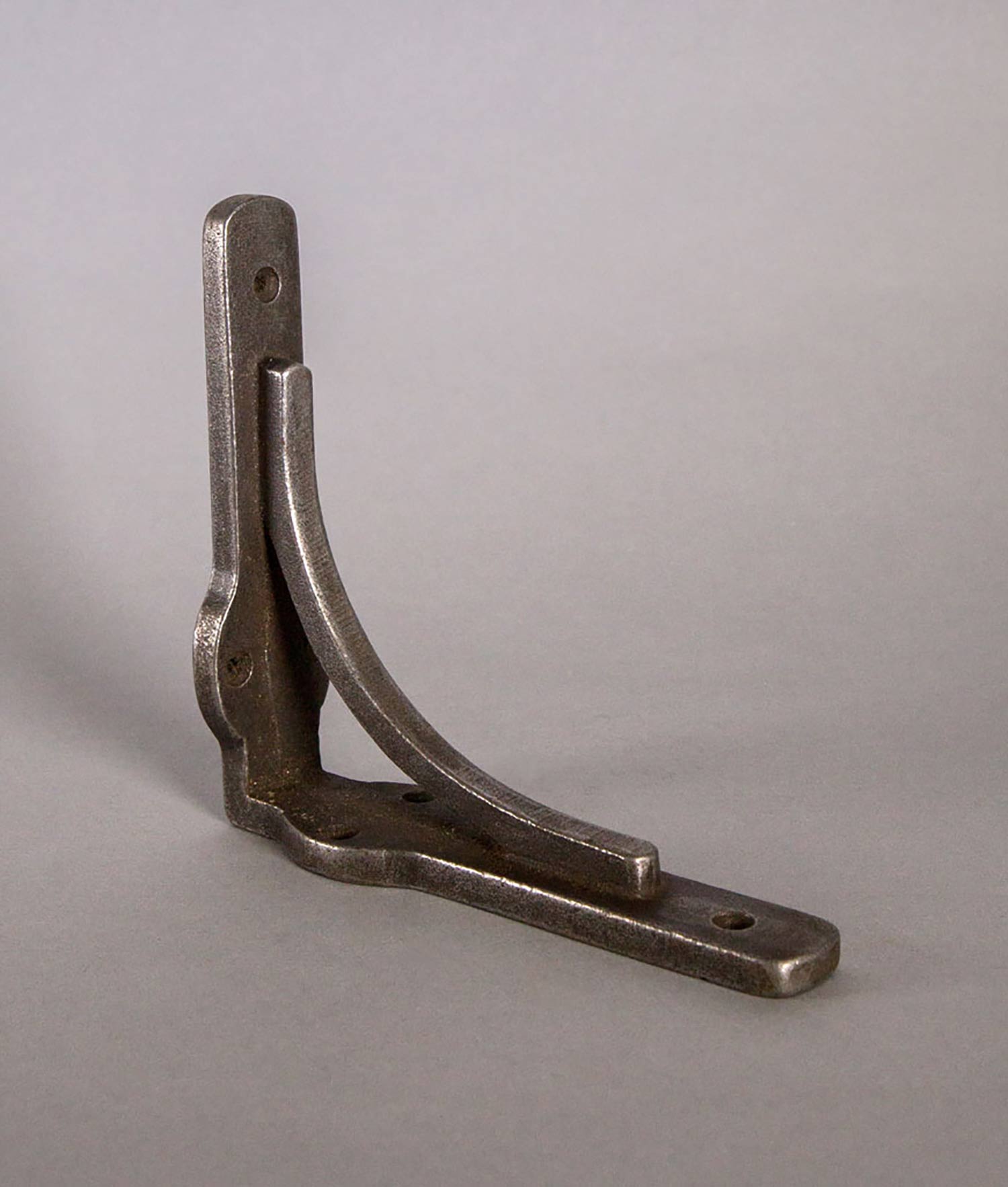 Created from moulded cast iron, this sturdy little number is perfect for creating vintage-industrial shelving. I love the authentically aged pewter finish of Felix, it's a finish that would look amazing against a dark palette. Place upon stormy grey, navy or forest green walls for a striking vintage finish. Finish off with dark walnut wooden shelf and accessorise with books, artwork, statement clocks and indoor plants for a stylish and eclectic finish.
Terry
Terry is a bit more of a rough and ready type chap. He's a little dishevelled, with signs of tooling and welding that would look amazing in an industrially styled space. I think that Terry's longing to support a really rugged piece of reclaimed wood, you know, the type you'd find besides a river or washed up on the beach. Cut to the desired size to create a gorgeous statement shelf.

We love Terry against matt white walls, where his macho finish can really make an impact! He's available in two sizes, small and large, making him perfect for a range of purposes – so very versatile. This forged iron shelf bracket looks amazing displayed in an ad-hoc way across your interiors. Combine the small and large brackets with different wood finishes at varying heights and different distances apart to achieve a really natural finish. Uniformity and precision are definitely not Terry's forte.
Eddie
What can I say about Eddie, he's the kind of shelf bracket that you can rely on, kind of like a grandpa of the shelf bracket world. He's refined, a little bit aged and has tool marks across his iron surface, almost like macho scars, making him a sturdy and dependable choice for your interiors.

We love Eddie in industrial or heritage-inspired interiors. Place upon matt painted walls in a classic heritage kitchen as a striking alternative to cupboards. Open cupboards are so on-trend right now…as long as you're tidy, and Eddie is the perfect starting point. Finish off your shelves using a gorgeously chunky piece of wood, then position one above the other across one wall to store crockery, copper pans and anything else you think shouldn't be hidden behind closed doors. Eddie is also available in two sizes, making him ideal for small or larger spaces.
How will you style yours?
Now that you've met the boys, we'd love to see how you're styling our metal shelf brackets in your interiors. We're always excited to see photos of our products in your homes,  and these shelf brackets are no exception. Feel free to tag us in your Instagram photos!