Creating a zen-like haven with bedroom wallpaper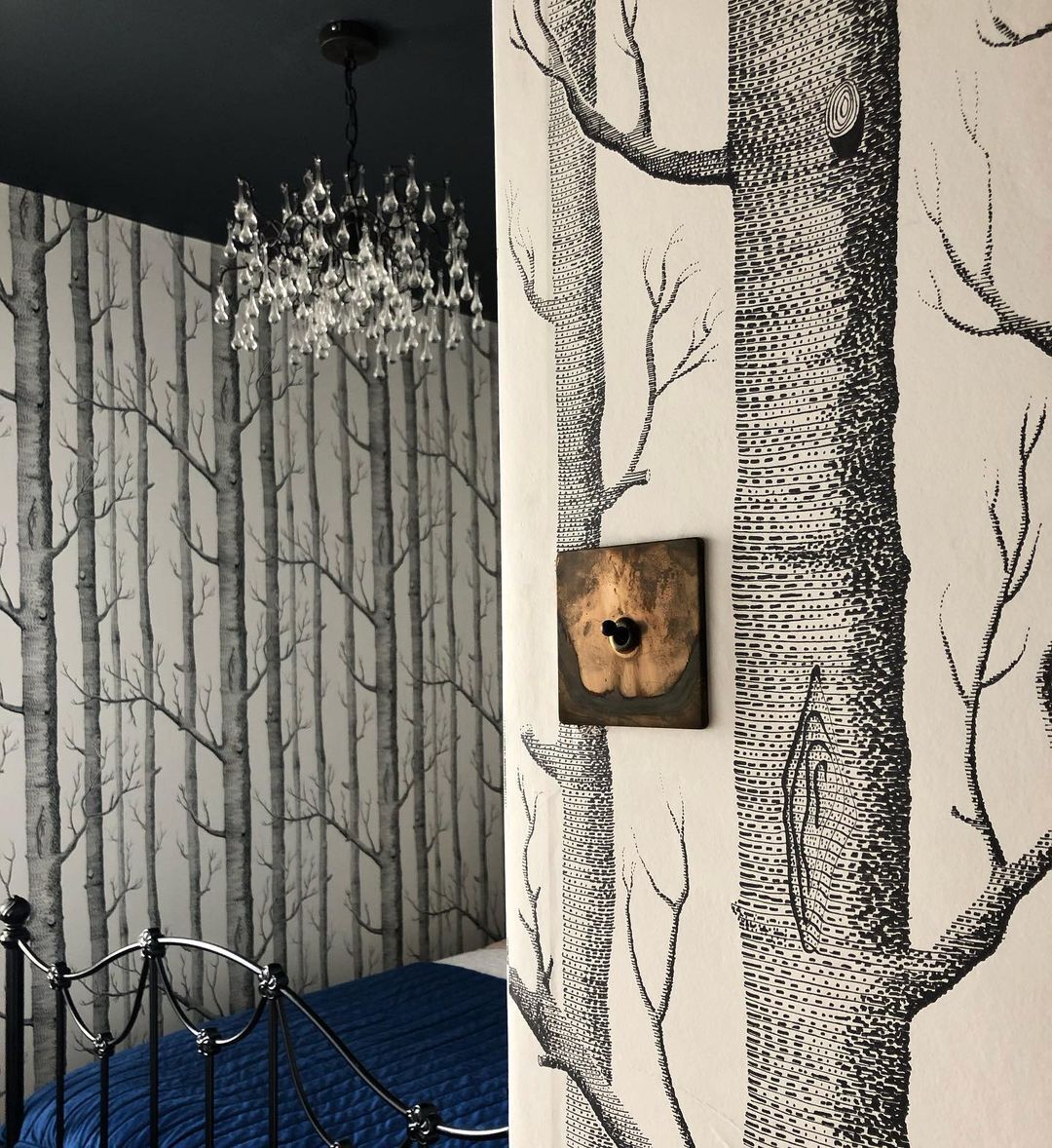 Falling into bed after a long day, you're absolutely exhausted. Your head hits the pillow. You're craving comfort. Falling asleep on someone, listening to their heartbeat as their chest rises and falls, blissfully relaxed and worry-free. Instead, your eyes bounce open; there's something not quite right about your bedroom. It's just not instilling the sense of calm you're imagining. Having given it some thought, you figure the walls are a bit lacklustre, plain and uninspiring. Bland, if you will. If only there were a large-print wallpaper that made you feel something. That had the power to transport you back to your happy place, to quieten your mind, ready for a restful night's sleep.
What should a bedroom wallpaper do?
Choosing a bedroom wallpaper is all about how you want to feel in your room. Following the latest trends is one option, but follow your heart and pick something emotive. A pattern that transports you somewhere happy mentally at the end of the day. You may fall in love with a bright abstract print, but if it feels busily hectic and the colours are strikingly bold, you might struggle to shut your mind off properly come evening. Perhaps consider it for your lounge or dining room instead?
A zen space is the ultimate place to nestle down and relax. Bringing foliage and botanicals into the bedroom creates an instant sanctuary, the perfect place to feel calm and restore after a hectic day. Large scale botanical prints celebrate the natural world around you, evoking thoughts of summer meadows, tropical paradise islands and towering forest landscapes. The great thing about wallpaper is that it, like art, is subjective. If the idea of wandering around isolated woodlands instils Blaire Witch vibes in you, then it's probably best to avoid plastering it all over your bedroom walls. Nobody needs paranormal nightmares.
Not the botanical type? A calming dreamscape wallpaper might be right up your street. Think floating clouds, mythical creatures and fairy tales. Anything that takes your mind on a journey, be this to the land of make-believe or your dream holiday destination, is perfect for your bedroom walls. Escapism whisks you away from everyday woes, de-stresses and prepares the mind and body for sleep.
No matter how much you love bold prints, you have to sleep in your bedroom at the end of the day. Anything too stimulating will make it difficult to drift off. Wallpapers with harmonious, tonal colour pallets, rather than contrasting ones, are calming, making them a great choice in bedrooms.
Where should you put bedroom wallpaper?
Obviously, in your bedroom, but we're talking about what wall and how many here. Bedroom wallpapers need to help you or your guests feel engaged yet relaxed. Here are a few tricks for using wallpaper, so your bedroom feels chic boutique hotel rather than kitsch and overstimulating.
Stick to one feature wall – Putting wallpaper on one wall, preferably behind the bed, stops the pattern from becoming too heavy and overwhelming. Surrounding yourself in a bold, large print wallpaper can make you feel a little like the walls are closing in – not ideal for spaces where you need to unwind. But if you have a vast area, it is a way to make it feel cosier.
If you want to go for a bolder wallpaper because it's just you, then consider positioning it behind your bed. That way, it won't be in your line of vision when trying to get to sleep.
Create a bedhead panel. Using wallpaper to frame your bed turns it into something a bit more special, like a fancy hotel bedroom. Plus, it gives your eyes an area of focus when you walk in. So chic.
Make a smaller bedroom feel much more spacious by choosing metallic wallpaper to bounce light around your space. Magic!
There you have it. Wallpaper is all about self-expression. There are no hard and fast rules to decorating your bedroom. The aim is always that you feel how you want to when you're in the space. So it looks like your room. It's personal to you for some reason and different to how anyone else would style the same area.
The things we surround ourselves with can have a tangible impact on our emotions, so if you want to feel safe, comforted and happy, choose a design that evokes those feelings. A pattern with memory and nostalgia will resonate with you much more than the latest trend ever will.
Do tag us on Instagram in your latest bedroom makeovers so we can have a little look-see. We're ALWAYS on the lookout for new and innovative ways to use wallpaper.