Invigorate your home with large-print wallpapers!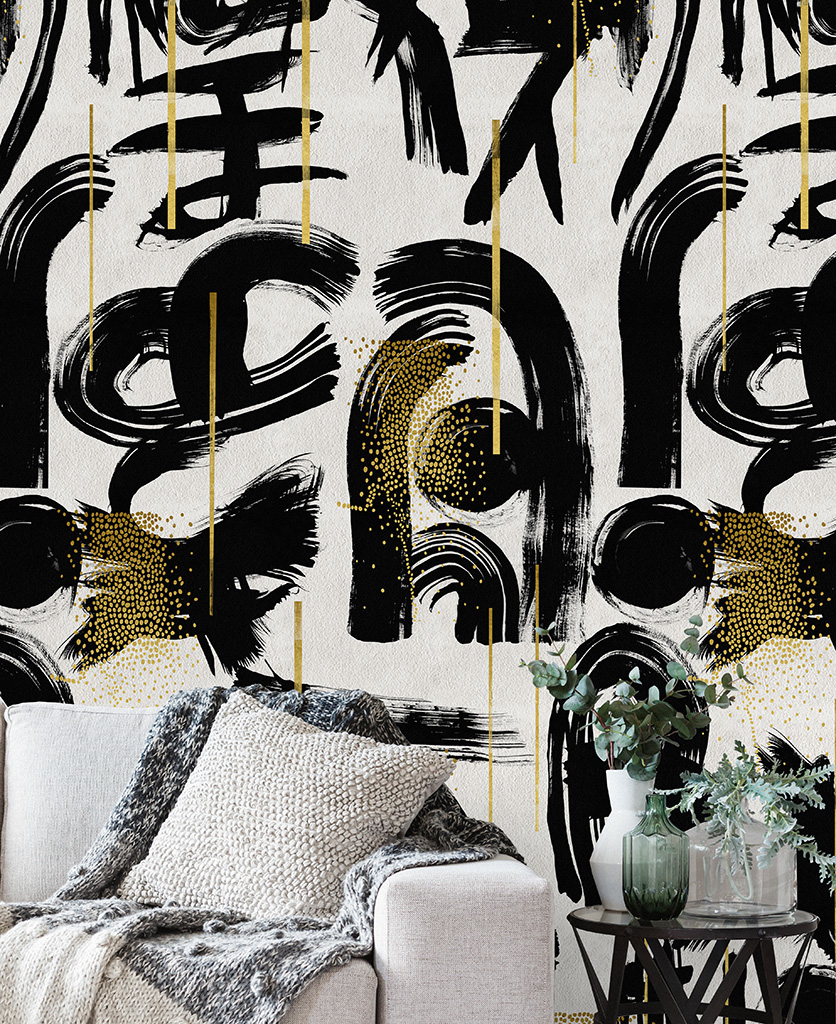 So you've fallen head over heels in love with THE large-print wallpaper on Insta – you have to have it… But then reality hits, panic sets in and a cascade of questions start sneaking into your subconscious.
Is it too bold?
Is my room big enough for that pattern?
Will the sofa look right with it?
Where should I put it?
Do I do one wall or all of them?
Before you know it, you've chickened out and are thinking about sticking with what feels familiar and safe – plain painted walls. AGAIN.
It's a big step; honestly, though, you'll be so disappointed you didn't take the plunge. Gorgeous as high-pigment paint colours are, there's always room for a bit of pattern. So we urge you to GO FOR IT. A leisurely browse through our hints and tips below may provide you with a great starting point for choosing some feature wallpaper – and what to do with it once you have!
Our number one best bit of advice sounds surprisingly simple – follow your heart and choose a wallpaper you love, then decorate/re-configure the rest of the room to work with it.
Large-print wallpaper is a simple way to revamp your space completely, and it's a brilliant way to add your personality to your home. The great thing about it is that you know pretty much from first glance what you love and what you don't. It's instinct.
First steps: tropical botanicals, dramatic florals, or abstract patterns – which speaks to your soul?
Choosing wallpaper can feel overwhelming. Look at the trends of what's popular right now, and you'll notice that the majority fall under just a few categories: tropical and botanical, renaissance florals, abstract, murals and material textures. Researching these is a good starting point to narrow down the kinds of things you like and don't!
Tropical and botanical: abundant with forests, leaf motifs, jungle and palm spring vibes, these prints featuring exotic plants, animals and birds are absolute winners. Perfect for bringing the outside in and creating a haven of paradise in your own home.
Renaissance-inspired supersized florals: dark, romantic and dramatic backdrops add immediate impact and personality to your rooms. One for the brave!
Abstract wallpapers: transform your room into a giant artist's canvas. These are the statement makers. The ones that form the beginnings of your room's theme and usually work best if you have simple furniture in uncomplicated shapes and patterns.
Murals: your new feature wall! Very popular at the moment, they come in all kinds of beautiful styles – from architecture and trompe l'oeil effects to dramatic florals, metropolitan city skylines and misty landscapes.
Material textures: add interest to your space. Many of these can be pretty subtle, so they're a great place to start if you're dipping your toe in the water: paper, wood, cotton, concrete and leather, to name a few.
A single feature wall or a room full of pattern?
So you've chosen a print – what now? Where on earth are you going to put it? Here are a few pointers to see what feels right for you…
Building your room's colour theme around a wallpaper
Textile designers carefully curate colour palettes for their patterns. They use colour theory to produce combinations that look great. So, if you're nervous about putting colours together, wondering if they'll work, starting with a patterned wallpaper is a great 'cheat'. Just pick a few colours from it, and repeat those around your room in paint colour, carpets, furniture, cushions and accessories. It will work. No-brainer. Choose a vibrant colour as an accent if you want to increase the energy of the space. Dotting small pockets of colour around your room will attract your attention and keep your eyes moving around the area – this makes it exciting, and it will feel well put together.
We hope you feel inspired to give large-scale wallpaper a go in your home, whether a whole room, a feature wall or a tiny bit as an accent. Have a browse through our range of large-print wallpapers and see if anything takes your fancy…

Don't forget to tag us in your Insta photos – we do love to see how you're decorating your homes!