Wall Clocks – How to Style your Interior Around a Feature Timepiece
Posted on: 21st Jun, 2016 | By: Danielle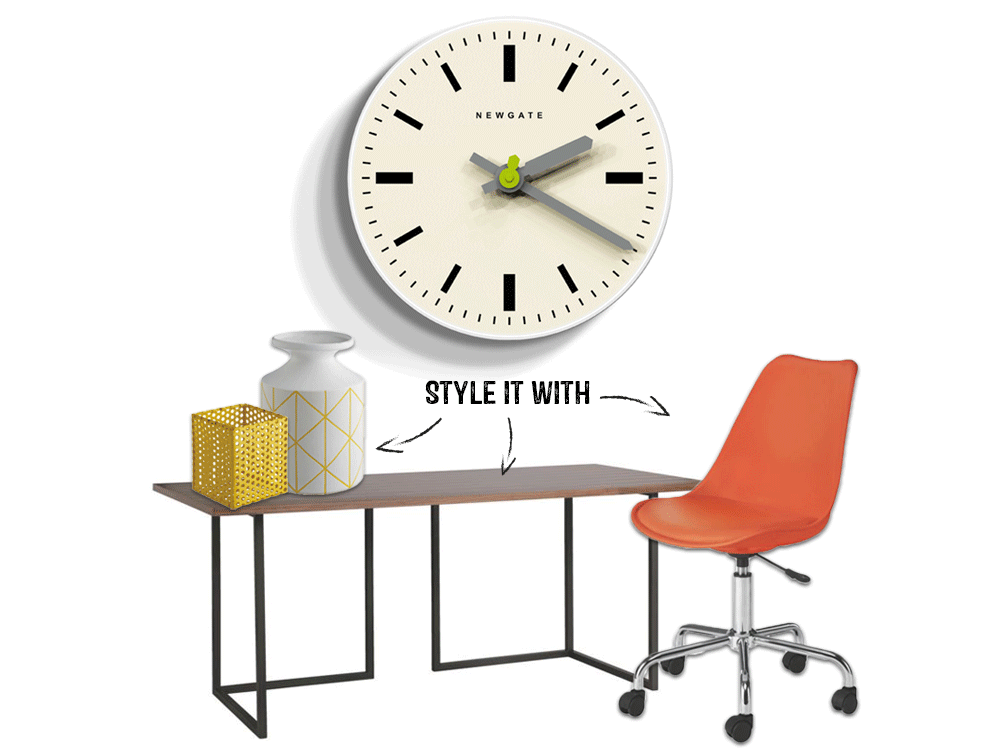 Home accessories except the clock are selected from Habitat
Hey I'm Danni, I'm the new kid on the block here at Dowsing and Reynolds and I love all things interiors. I enjoy discovering new trends or products that I can style together, especially if it's quirky or something you wouldn't necessarily think of doing with your space. Which is why today, I'm talking about feature wall clocks. There's more to a clock than just telling the time. Yes, clocks are an integral part of life and we'd all be lost without them, but have you ever thought about them as a key design feature of your interior… Well today could be the day.
I've hand-picked a few of my favourite wall clocks and styled them up to hopefully inspire you. We have after all just expanded our range of wall clocks, so it did seem like the perfect opportunity to show you a few…
Wall clocks for every interior design style
If you have a penchant for retro style interiors, then we have a clock for you. Likewise, if you prefer a minimalist aesthetic, edgy industrial or even the modern rustic look, there's a wall clock for you.
Think of your new wall clock as a statement piece that you're investing in, rather than a necessary afterthought. After all, a clock isn't something you buy every day. They're designed to last and over time they become part of your décor that remains throughout cycles of renovation and re-decoration. So here's a crazy idea; choose the wall clock you love and then style your space around it. If this isn't something you've thought about before then here's a dash of inspiration to set you on your way.
Minimalist Lounge Space
Home accessories except the clock and pendant light are selected from John Lewis
If your interior style errs on the side of minimalism, then our Newgate Mr. Clarke Neutral minimalist wall clock is definitely worth a look. Mr Clarke is a clock of few details, so it's perfect for a sleek, no fuss lounge.
Style Mr Clarke with a simple detailed sofa and fuss-free cushions in neutral colours. Keep decorative accessories to a minimum, something like the sleek candelabra, shown above, would be perfect; it's almost a design feature in itself. To complete your look, add one of our Scandi-style Danish pendant lights, a final touch that will add sophistication to your room.
Retro Dining Room Space
Home accessories except the clock are selected from John Lewis
If you love all things with a 70s vibe then our Newgate Pluto Retro wall clock is the one for you. Its geometric, sunburst pattern is reminiscent of the 70s era and is perfect for an eclectic interior filled with both modern and vintage treasures.
Style the Pluto Retro clock with pieces of furniture that evoke 70s flair but perhaps with a modern design twist, just like the smooth, refined edged sideboard I've selected. Mix up your textures and pair these beautiful, brown leather and metal chairs, shown above, with a wooden dining table. And lastly, a dining room isn't complete without a few decorative accessories that are both stylish and practical in their design.
Bold Graphic Study Space
Home accessories except the clock are selected from Habitat
If you're creative and adventurous with your interior designs, our contemporary Newgate Time Pill white and grey wall clock is perfect for you. This is a clean and stylish clock that wants to be paired with bold, daring colours and graphic patterns.
Style it with a contemporary desk that's simple in design, and lets the room's bold accessories stand out, just like the chair. Modern in its design, the bright orange pop of colour is sure to get your attention. Now for the decorative accessories, make sure they clash in a harmonious way, creating a great focal point either on your desk or shelves.
These are three very different looks which I've created here, and they show you how versatile a clock can be. Don't be afraid to add your own personality into your interior, in fact, it's important that you do. I hope you're feeling inspired and when you next design a room, just go for it and consider styling it around your wall clock.