Geometric Lights: Our brand new pendant lights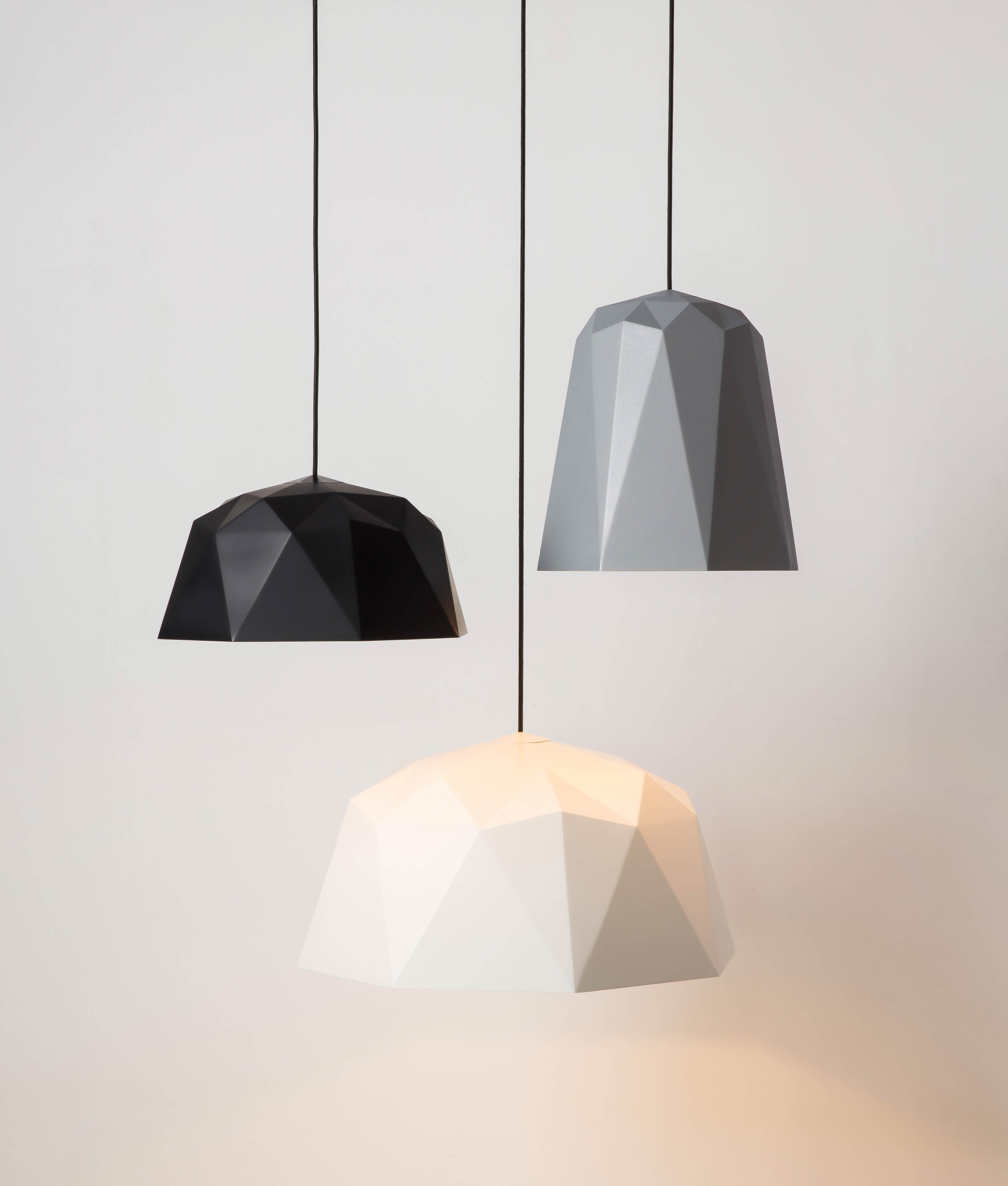 Have you seen our new new geometric pendant light shade range? These have been in the pipeline for a little while and have taken some time to get right. They've been a bit of a labour of love for me and our team really.
Ally and I love the geometric trend, whenever Ally looks for home wares and lighting for our own home…she often has her eye caught by geometric prints and designs. Rugs, cushions…you name it, if it's got a hint of geometric, then I can be sure she'll probably go for it.
So, it seemed like a good idea that I both embrace the geometric trend and keep my wife happy at the same time and add some geometric lighting to the range!
I aimed for clean and simple lines…almost sculptural…and wanted them to feel fairly solid, so looked at nylon for the material. I'm pretty proud of them even if I do say so myself. Thankfully the wife is too! Ally loves the zen-like feel of them and is really pleased with how they've turned out.
Our favourites from the geometric lights
Ally especially loves the white "Kyoto" geometric pendant light. The facets of the light subtly reflect the light from elsewhere in the room and the lines and super crisp and clean. The white is like a beautiful block of sculptured ice…
…and I think my favourite is the same, but in black. I love the shine on the black and the 'haunch' of the shape:
Kyoto Pendant Lights
You can also get grey in the Kyoto range. The colours are obviously different, but where they also differ is slightly in texture. The black is really sleek and shiny…the white is fairly matte and the grey actually has a slightly textured feel, giving a nod to concrete.
Osaka Pendant Lights
We also have a range, in the same colours, called Osaka. These geometric lights are a little taller than the Kyoto range…they really sit in-between the Kyoto and Nagoya ranges – maybe the perfect mid-range height? A little like Goldilocks? Just right.
Nagoya Pendant Lights
And lastly, the Nagoya range. They really make me think of the mountain peaks of Japan. They are lovely and tall, statuesque maybe. You could hang them on a short amount of fabric cable…or maybe choose to allow more length, especially over a table to give a spotlight effect.
…and OK, the black one quite possibly makes me think of Darth Vader too!
Suitable for all interiors
Our new geometric pendant light shade range is suitable for any room in your house really. We think they look equally at home in your lounge as they would in your kitchen or study. We wanted the range to be versatile, hence the different sizes and colours. We also think they will suit lots of different style of interiors – from industrial to a more Danish feel.
Each geometric pendant light comes with three metres of smooth black fabric cable, so you've got plenty of options for height if you're blessed with high ceilings.
Which one is your favourite? Tweet us and tell us!