Paint Like A Pro: How to Prep Like A Boss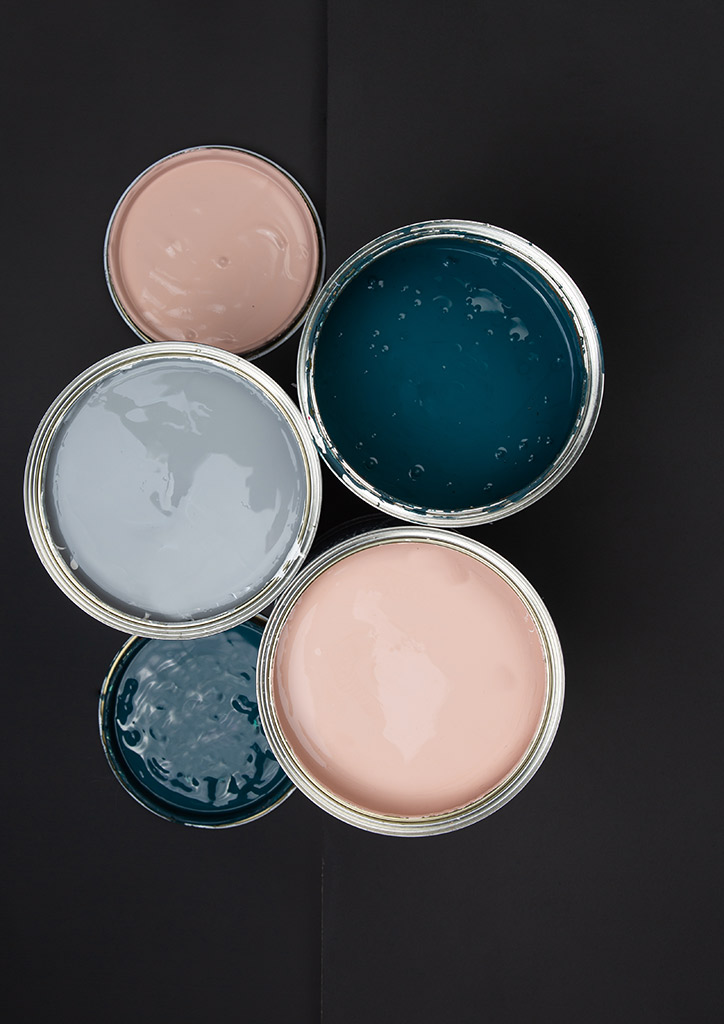 We've all done it. Seen a photo online featuring a gorgeous room-set, acquired the featured paint finish in our chosen shade and bam the room is redecorated. But what a let down the end result can sometimes be. The high-end designer paint you've just splashed out for, highlights every lump and bump your plasterwork has accumulated over the last however many years. And not only that, the first time you 'brush' past it with the hoover, it's irreparably marked. Not to mention the rogue fingerprint you try to remove with a 'quick wipe-down'. Disaster! Well never again – this guide shows you how to paint like a pro by 'prepping like a boss' as a certain famous Personal Trainer (who we'll call Joe Wickes for the sake of argument) would say. But he's absolutely right.
There are a handful of specialist manufacturers making beautiful paints; Farrow & Ball, Little Green and Zoffany to name a few. Especially tricky to work with are the darker, more intense shades which seem to beautifully showcase dints and marks in walls that you never even knew existed before. As a result, we're having to scrub up on our prepping skills pretty sharpish.
'By failing to prepare, you are preparing to fail.'
Benjamin Franklin
Annoying but true. Preparation is everything but it's also important to choose the appropriate type of paint for the area you're using it in. I'll come back to that, but for now, a few essential preparation tips:
Fill cracks and holes – don't rely on matt paints to hide these for you – they won't. They'll make them look worse if anything. Take the time to do this properly
Sand your walls and woodwork – if your walls and skirtings are fairly new you don't need to go mad here, just a light going over with some fine sandpaper should catch the worst of any 'blips' from previous paint jobs. If you've had to do any filling then it's going to take a bit more elbow grease to get a perfectly smooth surface but don't be tempted to skimp on this step
Prime your walls – if you've done the steps above, or filled in a skirting board with decorator's caulk, you're going to need to prime your walls and woodwork. Matt paint is very unforgiving and filler or caulk with just show through. Likewise, if you're painting over gloss wood, you're also going to need to prime. If you don't, the paint will just start to scratch off. Remember, if you're painting your walls in a light colour to go for white primer, and if you're going dark, use a dark primer. It'll save you time in the long run.
Sand again – sand your primed surfaces with a fine grade of paper to get out any bits of dust that may have settled, or any drips
Apply your first coat of paint – now we're getting to the business end of things. A roller will always give you the best finish. Long even and slow strokes are the way forwards and don't try to spread the paint out too thin. Cut in with a small brush for perfectly smooth edges
Sand again – yep, you know what to do
Apply second, and if needed third coats of paint until you get the finish and depth of colour you envisaged
And relax….Now you know why pro painters charge the money the do!
So now for a quick intro to the major paint finishes and where best to use them…
Supreme Matt Emulsion
Our supreme matt emulsion does what it says on the tin… Literally. It's a dead flat, non-reflective paint that's perfect for saturating your interior walls, ceilings and primed woodwork to create that enviable high-end, designer look. It's just beautiful. Paint primed skirtings and door frames in the same shade as your walls for a contemporary look that's the dogs – we love doing this. But beware… eggshell paint is the best option for woodwork. Use eggshell paint if your woodwork is likely to get bumped and scraped…
The downside of this paint is that it can be pretty high maintenance. It's easily marked which means it's not so great for rooms where there's high footfall such as a living room or hallway. It's best saved for larger, quieter rooms like a grown-up bedroom where there's less risk of 'bumping' into a wall or the woodwork. Keep pets, kids and clumsy adults well away! If you do use it on wooden furniture or bannisters, be sure to finish it off with a coat of matt varnish to protect it.
Supreme Eggshell
Supreme eggshell, is a durable paint that's ideal for walls, ceilings, primed wood or metal (inc. radiators & pipework) furniture. It's a great alternative to supreme matt emulsion because it can be wiped down without ruining your beautiful paint job (after a suitable 'hardening-off' period – usually two weeks). Although it is slightly more forgiving than supreme matt emulsion, you do still need to follow the eight prep steps above to get that coveted show-home finish.
Because of its durability, supreme eggshell is perfect for higher traffic areas like a lounge or hallway. Small houses would do better with this paint as people and objects often come into contact with walls where space is limited – well that's the excuse my husband uses anyway 😉 And if you have children's sticky hands to contend with, then also use this everywhere – apart from high humidity areas that is. Nearly matt isn't well-suited to a damp environment.
Paint like a Pro, in summary…
Time spent preparing your surfaces for painting is NEVER wasted
If you're painting your walls dark to light or vice versa, you may need three coats of paint, unless you use a primer – a white primer for light walls and grey primer for darker tones.
If using supreme matt emulsion after stripping walls or filling in holes, you will definitely need to start off with a coat of primer. Otherwise, the holes will show through the paint – more obvious with darker tones
Use a high-quality roller, cheaper ones tend to splash and don't give such a smooth finish
Avoid using supreme matt emulsion in 'busy' rooms
When painting edges, and you don't have a steady hand, opt for frog tape. If however, you have an older home with 'wobbly' walls you may just need to practice doing it by hand!
As always, we love to see how you're using our paints, upload your pics to Instagram and tag us #dowsingandreynolds