The Dowsing & Reynolds story started with James (Dowsing-Reynolds), concrete sculptures and vintage light bulbs.
To cut a long story short (you can read more about James' journey below)… D&R has now grown beyond James' wildest dreams into a successful company that not only sells gorgeous vintage light bulbs, hardware and lighting accessories, but that is more widely concerned with home décor. No ordinary home décor though.
Everything we sell has to go through the D&R filter before it makes it into the store. We're looking through a lens of home décor with an edge. We're always on the lookout for lighting and home accessories that are a little bit different – sometimes even quirky. Things you won't find on the high street. They have to be design-led AND affordable – no easy combination to achieve.
We're an online store; we don't have a bricks and mortar shop or showroom. We do have an HQ though in a lovely old mill in the centre of Leeds. The perfect environment to house James' vintage knick-knacks collectables… And the team of people behind D&R.
And on the vintage theme… We're very much about vintage industrial style with some Scandinavian influences thrown in for good measure. Our varied range of beautiful and bespoke lighting products means you can buy, or create, your own lights to match your own interior personality style perfectly. What's more, we have an ever expanding collection of hardware that's ideal for coordinating with our lighting. We pride ourselves on getting your vintage light bulbs, fabric lighting cable, ceiling lights and designer lighting accessories ready to post on the same day – across the globe.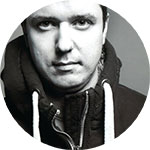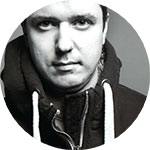 James
James set up, and is the creative innovator behind, Dowsing & Reynolds. He is obsessive about industrial-style lighting having originally fallen into the industry a little by accident…
He was creating concrete sculptures in his spare time when his wife (the lovely Ally) spotted a concrete light fitting in a magazine and suggested he could make a more stylish version. He dutifully set to work and did indeed improve on the design. His sculptural lights needed vintage-style light bulbs to finish them off and having sourced a few too many he decided to sell the spares on eBay. Much to his amazement, they sold fantastically well and before he knew it a business was born – the rest is history as they say.
He is now fully immersed in lights and hardware –  there has never been a more enthusiastic advocate of vintage bulbs, fixtures and fittings. He's the one who researches and sources new product ranges and specifies the exacting standards that ensure you get great products.
James is seriously into his food (don't mention corn syrup unless you're prepared for a rant) and weekends are spent either full-on socialising with friends and family or getting away from it all completely in the country. Art is another passion of James' and this is reflected in the street art murals he commissioned for the wall of the Mill where our HQ is based.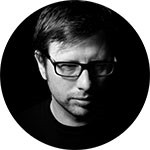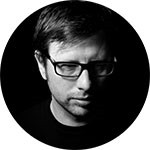 Tony
Director Tony is the man who oversees everything. He's the guy we call when we need help, and his method for fixing the team usually involves tea, sweets or cats! He can turn his hand to anything but is genuinely just an amazing people person – the father figure of the office…hence the frequent dad jokes and desire to fatten us all up on fish and chips.
Tony is a quite unassuming chap but is actually a well-known promoter of hip-hop nights. He also runs online magazine Rhyme and Reason, has a radio show on KMAH called the 7-inch Disco AND is the manager for Released, a Leeds based independent record label. He's super-human! All this with two kids, I swear he never sleeps!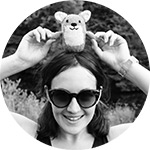 Abigail
Where to begin with Abigail. By her own admission has felt old since she was fourteen – She has a most delightfully artful character, and it has to be noted, is a person of many unusual talents and experiences. She amazes us every day with her quirky talents, it takes a brave soul to ask how her weekend went – prepare to be blown away.
Abigail loves making things. She's highly proficient at crochet and is currently working on crocheting taxidermy animal plaques and a square granny blanket. She also does a spot of Morris dancing, has started growing rhubarb and sunflowers and also does something with puppets that everyone is too scared to enquire about. She even lived in Norway for a while and definitely prefers Norwegian death music to run of the mill death metal… The things you learn about people on a night out.
You'll encounter Abigail on the phone, via email and on chat if you need help or support with any of our products. Ever keen to help out wherever she can, Abigail mostly works alongside  Sarah in operations and director Tony, but she is literally capable of everything and knows more about our products than the rest of the team combined. The girl's a machine!
Keren 
After completing her English literature degree Keren joined our ever expanding marketing team as our product manager. Her main role is taking charge of all the new and exciting potential products that arrive at D&R HQ. When she's not doing that Keren supports Lyz in all things copy related, blog writing, product descriptions and listing!
Keren loves tea, tattoos, Florence Welch, dinosaurs and all things Gothic. An eclectic mix of interests we think you'll agree, but she fits right in here! In her spare time Keren can be found doing a whole host of quirky activities, Finding sloths to cuddle, sleeping in windmills, teaching her cats Tallulah and Pete to sit and getting married in a cave are just a few of the rogue things she does on her days off. Keren also loves exploring European cities, primarily for amazing food and beer, but also to see the beautiful sights.
Sarah
Sarah is probably the coolest person in the office. She always has AMAZING T-shirts, and her love of dinosaurs, graphic novels and roller derby are just a few of the things that make her a superwoman! Sarah's latest hobby is learning to ride her shiny new 'baby bike' Honda 125. We all know she's going to look pretty badass riding it and are secretly jealous of her fun-filled lifestyle.
Sarah is also pretty awesome at her job. As the newest member of our operations team, Sarah is one of the main people who will be answering your questions on the phone, email and on our online chat service. No problem is too big or too small, and she's always willing to go the extra mile to help anyone out. Sarah's role also includes processing orders, managing stock and helping out in the warehouse from time to time – she's one multi-talented lady!
Jake
Jake works in assembly here at D&R but also oversees the smooth running of the warehouse – a hefty task in itself! Jake's the guy that knows where everything is – he creates order and is possibly the most methodical person we know.
To most of the team, Jake is an enigma! There are rumours going around that he is a crazed scientist, carrying out experiments in his shed…But the truth is he's just hugely passionate about physics. In his spare time, Jake makes electronic music, snowboards and is hoping to continue his studies into physics research.
Jessie
Jessie works with us part time between building her own music studio, songwriting and singing in a band. We really are a talented bunch! She's an enthusiastic member of the packing team with a real passion for our products – she's even decking out her studio in D&R!
Jessie is a keen animal enthusiast and as a vegetarian loves ALL animals. On interrogation, she admitted that her favourite animal is a cat (we're all crazy cat folk in the office) She does, however, have a dislike of anything wiggly or with tentacles! Jessie is always happy and chirpy – like the snow white of the office and brightens up the office with her easy-going nature!
Luke
Luke is our assembly and health and safety master and can often be found playing around on his PAT testing machine ensuring that all of our products are safe for use. Luke's job entails creating our bespoke lighting products and putting together our best selling lighting accessories.
Luke is probably best known for his immense beard, mane of black hair and his bizarre concoctions of food. He has been known to eat garlic naan with kippers and coleslaw for breakfast! Luke is also a talented musician and plays both bass and guitar – he currently plays for a band named Scree.
Ally
Ally is quite possibly the busiest person we know – the amount of stuff she manages to fit into a week is quite breath-taking. She not only has a demanding job as a successful digital marketing strategist at a leading advertising agency but has her own lifestyle blog, Digital Diva, which means working with many well-known fashion brands and attending numerous restaurant openings and parties. Glamorous!
There is a certain sparkle about Ally and her enthusiasm for anything she's involved with is infectious. Ally oversees all our marketing and very patiently lends her ears to help James sound out new ideas and supports him to drive the business forwards.
Lyz
Lyz (with a 'Y') has made herself quite at home since joining D&R – in fact, it's like she's always been here. She's our eyes and ears online, sharing, publishing and generally keeping our website in tip top condition.
You'll know Lyz if you meet her, she'll be wearing black. All black. We don't think it's a morbid thing, it just suits her best. She loves the glitz and glamour of the Art Deco period which brings an edge of feminine contrast to our 20's NY loft apartment house-style.
Ally once let slip that Lyz is also a nutrition coach and come to think about it, there's been a distinct lack of bacon butties around the place lately. She also enjoys working in a gym and would apparently rather spend her evenings working out than shopping at Ikea or taking a trip to Costco – weird. She's amazingly fussy about her espresso coffee and is currently plotting how to sneak her Nespresso machine in without anybody noticing.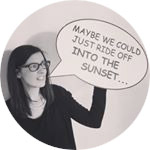 Danielle
In her interview, Danni let slip that a lifelong passion of hers was to work doing the graphics for the theme parks at Disneyworld in America. But with a new husband and baby on the way she settled for second best…a honeymoon to Disneyworld and a career at D&R! It's like a modern-day fairytale.
Danni lives for graphic design and photography, and we think she's fabulous at both. She loves to capture a photo every day to post on her Instagram feed. Always of something that makes her smile and she's been at it for five years solid. That's a whole lot of smiles.
Danni is our marketing manager. Working in our marketing team she helps run our Facebook, Instagram and Twitter feeds as well as doing all of our design work,  creating advertisements for magazine features, packaging, artwork and PR. She's pretty magical!
Fred
Fred is basically our saviour – As technical e-commerce manager he prevents the website (and the staff) from imploding and we're pretty sure he's sick of hearing his name being cried across the D&R HQ already. Fred attempts to keep us all sane by telling us terrible dad jokes – he's almost on par with Tony!
Fred studied TV production at uni and was once in as an extra in EMMERDALE, where his role involved reading a newspaper in The Woolpack. We are all surprisingly jealous of this feat – we are a Leeds based company after all.
In his spare time, Fred can be found either in the kitchen, cooking up a storm or watching Forrest Gump with his cat, I'm sure he does many more things. He joins us on the marketing table (also known as the cat table) three days a week, where we have a weekly cat catch up and music debates while he tries to convince us to do some Karaoke…Never gonna happen!
Ellenor
Ellenor is our newest marketing member and is already working up a storm in the office. Ellenor is infectiously bubbly with a passion for all things interiors based, and this makes her the perfect girl for running the D&R social media! Elle has also been tasked with expanding the D&R brand, working on getting our products in magazines and advertising. She will also be helping out while Danni is on maternity leave!
In her spare time, Ellenor writes a lifestyle blog, Champagne Lifestyle, where she shares her experiences of life, love of coffee and her passion for fashion. Elle is a real city slicker and if there's something she doesn't know about  Leeds it ain't worth knowing…A British Carrie Bradshaw we think you'll agree.
Shirley
Well, the first thing that springs to mind about Shirley is her laugh. How to put it delicately… We can't, it's dirty. There's no other way to describe it and when you hear it, you'll know Shirley is nearby. Not only that but it's truly infectious, and she laughs a lot. Always smiling and always delighted to go the extra mile for anyone. She loves what she does and is never happier than when in the warehouse with 'the girls' picking and packing your orders.
Shirley may tell the odd joke but she is deadly serious about precision and getting the right bits and pieces beautifully packaged up for you, and out of the door on time. Don't mess.
Jess
You will probably encounter Jess at some point – she works in operations a few days a week, where she liaises with customers on the phone, email and live chat. The rest of the time she's carefully packing orders with the rest of the packing team and entertaining us with tales of her travels and weekend exploits.
Jess is a pretty interesting character, she's done all of the things that make the rest of us look boring! Jess has travelled the world, joining the D&R team after living in Australia for 5 years, where she met her husband.
Jess is a real outdoorsy girl, she loves walking her dog Charlie in the sunshine, but that's a drop in the ocean compared to the time she climbed Kilimanjaro for charity! She's a machine!