Shelf Brackets
Delving into the world of interior hardware products online, your eyes lock onto a shelf bracket that demands your undivided attention.
Carry on Reading...
As your cursor dances across the screen, your eyes feast upon the mesmerising details and contours of the metalwork, igniting a vivid vision of how a sleek and modern shelf would accentuate your art-deco-inspired living space.
Without hesitation, you decide to purchase it. The excitement builds as you eagerly await its arrival, anticipating the transformation it will bring to your living room. Your mind begins to race with possibilities – a chunky slab of driftwood serving as the perfect base for a stunning display of books and vibrant greenery, all coming together to create a one-of-a-kind centrepiece for your living room.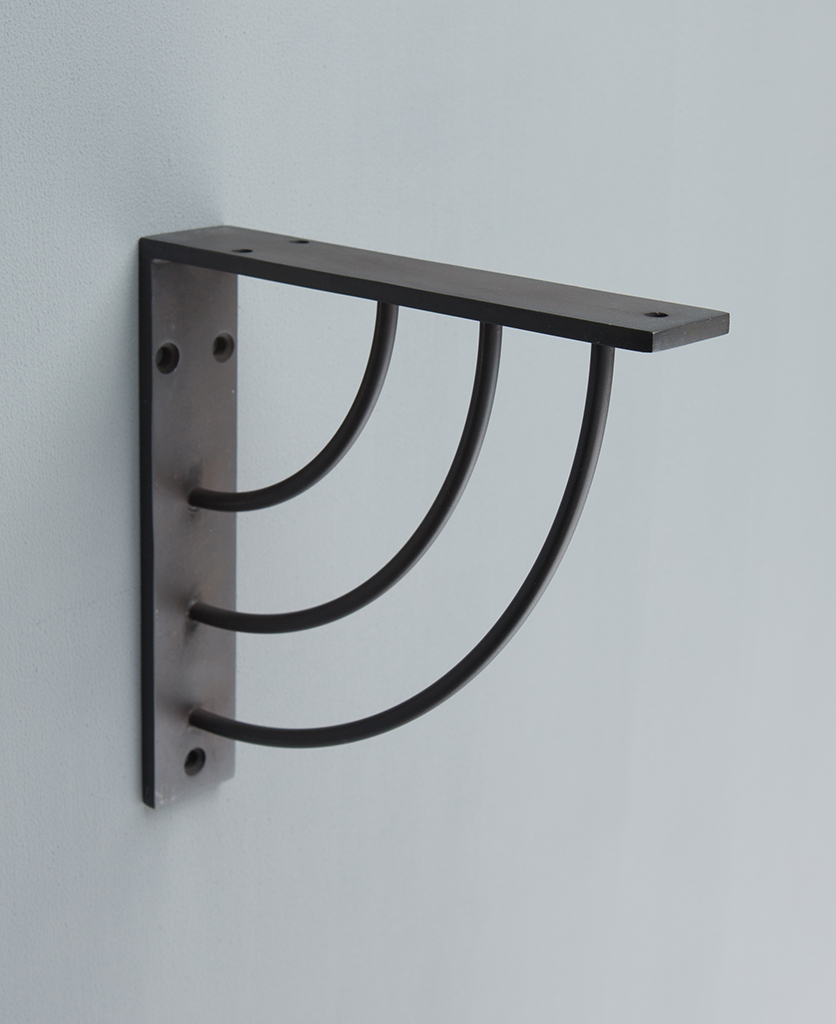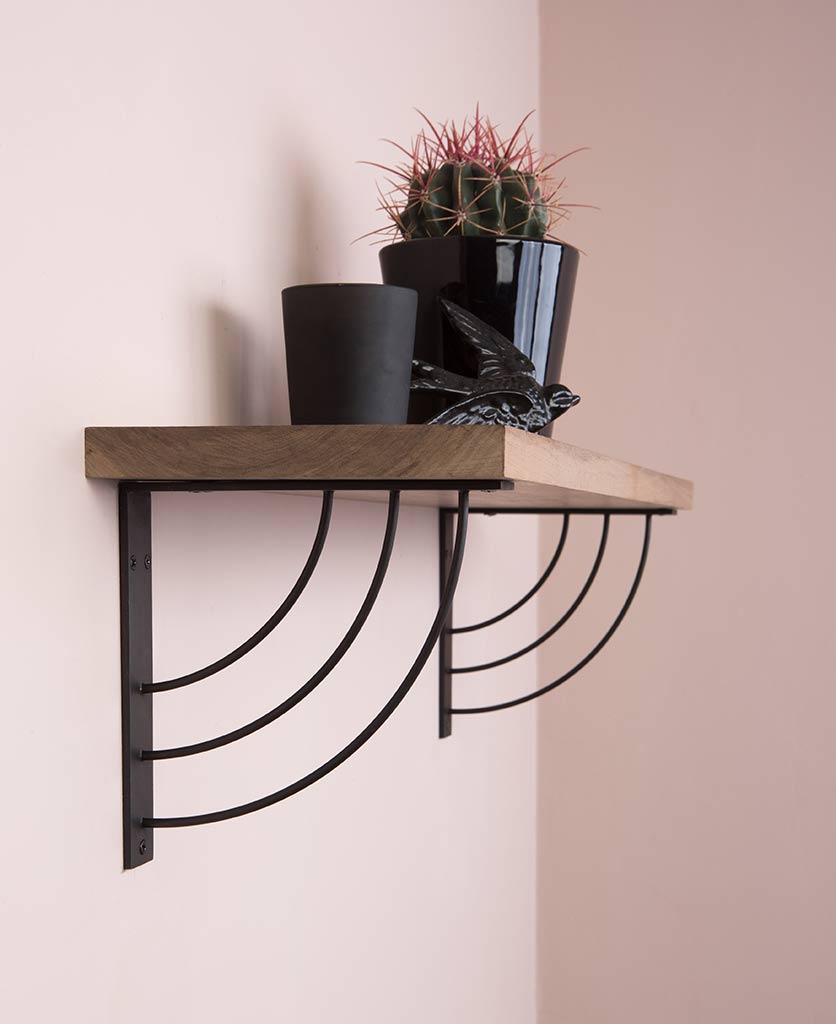 Transform your living space to reflect your individuality with artistic shelf brackets by Dowsing & Reynolds. Let your creativity run wild and design the bespoke shelf that you've been dreaming of.
Unleash your creative vision with our unique range of shelf brackets
Your home should be a reflection of who you are, and we're here to help make that happen. Our selection of shelf brackets features intricate details and beautiful finishes, providing options beyond the ordinary.
Our brackets aren't mere storage solutions, they're a bold and striking expression of your style. The fusion of industrial geometrics, graceful curves, and a hint of retro chic make for a range covering all interior tastes. 
No matter your interior design style- be it farmhouse, minimalist, or Scandi-inspired, our brackets are the ultimate compliment to any home décor style.
Iron shelf brackets

are made from cast iron, they're not only strong enough to support heavier loads, but they also infuse edginess to any wall they're mounted upon. You could use them to create open cupboards in your kitchen, showcasing your beautiful dishware or cookware.

Solid steel art deco brackets

are true showstoppers and are ideal for creating a captivating display. What's more,

the art-deco design of these brackets adds elegant

detail your carefully styled interiors. With their delicate shapes and alluring design, they're sure to add an air of femininity and become a focal point of any room.
Scaffolding brackets make a bold design statement that's bound to steal the attention of your guests.. You can combine the small and large brackets to create a dynamic, layered look, or use them separately for a more minimalist approach.
What distinguishes Dowsing & Renolds' shelving brackets from others?
Heavy duty: The resilience of our heavy-duty shelf brackets makes them great for hoarders of ornaments and nick-nacks. Plus, they're meticulously moulded with premium materials that will endure the test of time. They are capable of carrying your prized possessions with ease while flaunting a lovely, stylish design.
Attention to detail: Each rustic shelf bracket possesses a distinctive quality. These pieces are the very embodiment of industrial design, showcasing intricate tool marks, expertly hand-welded joints and a beautifully rusted surface..
Impeccable finishes: For maximum customisation, we've got a couple of finishes you can choose from. Select from the sultry antique black for an edgy look or dull nickel for a clean and fresh feel.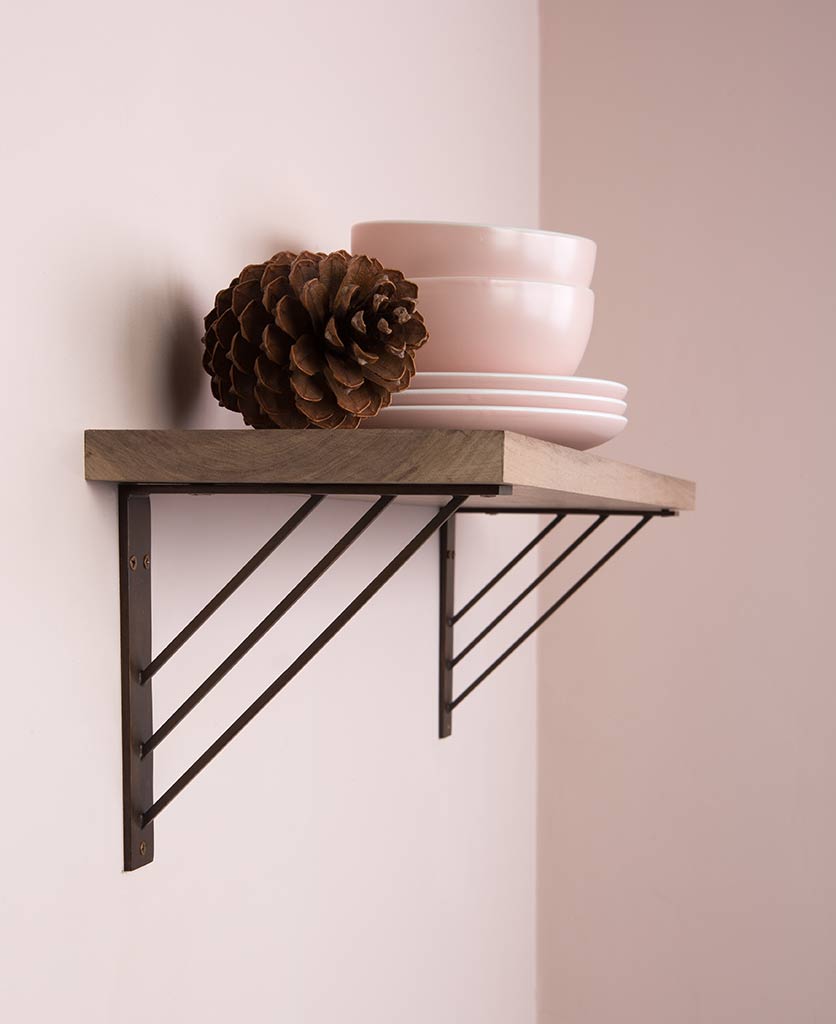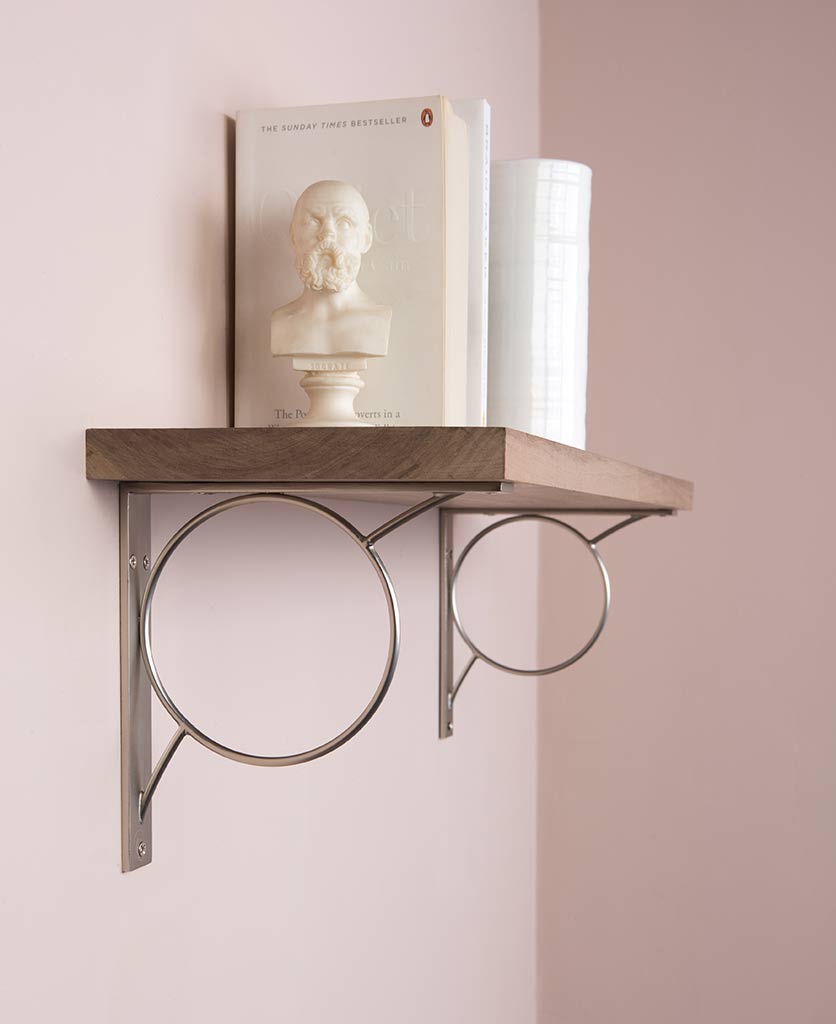 Creating a bespoke shelf: How to add the finishing touch to your brackets
The sky's the limit when it comes to elevating your brackets into a statement piece of your decor. If you're looking to infuse a natural, homely feel into your space, consider incorporating pine or oak wood into your shelf design. These materials have a distinct texture and are light and airy, injecting a touch of rustic charm into your rooms. 
Alternatively, driftwood can bring an organic and unique look to your shelving unit. The unusual shapes and textures of the wood create a striking focal point, and their sandy shades complement a coastal or bohemian look. 
Reclaimed scaffold planks, in particular, are a popular choice for those looking to create a more vintage look. The weathered and worn surface of these planks adds a sense of history and authenticity to your shelf, while the strength and durability of the wood ensure that your shelf will be able to support even the heaviest of items.
Make your home a sanctuary with our designer interior design products
Transforming your home into a haven of beauty and comfort can be a fulfilling experience. There's nothing quite like floating around and admiring the small details that make such a big impact. Imagine inserting a shelf that harmonises with your existing décor, swapping out your old handles for brass ones that offer an unbeatable tactile experience, and decorating every wall with a fresh coat of stunning paint. You'll find yourself never wanting to leave the home you've spent so long perfecting.
At Dowsing & Reynolds, we offer an ever-evolving range of interior design products to help you create the home of your dreams.