Designer Paint Range – Paint The Town D&R
Posted on: 23rd May, 2017 | By: Keren
I can finally announce that we've launched our very own designer paint range! Our exclusive range is a result of a collaboration between ourselves and Hicks & Weatherburn, the longest standing paint manufacturer in Leeds. We curated the colours we felt would be both on-trend and that would work together really well.
Take a look at our designer paint range
We wanted a capsule paint collection that both echoed our passion for all things industrial and worked beautifully as a backdrop for our hip hardware and lighting accessories. And, after much deliberation, we narrowed our choices down to just nine paint colours, in four finishes; chalky matt emulsion, chalky matt wood and nearly matt emulsion and nearly matt wood – we definitely covered all the bases with our designer paint range. This fabulous collection is perfect for using across your interiors on walls, ceilings, interior woodwork and furniture to create a gorgeously polished finish, no matter what your style.
So, without further ado, let me introduce you to a few of my favourites from the range…
Blue Movie
Our blue movie interior paint is the type of paint you'd use to make a statement. This rich regal blue is the perfect choice for a living room, where you want to create a sophisticated vibe. Paint this lavish chalky matt emulsion across all of your walls for a decadent and saturated look. If you're wanting to create a heritage or Gothic vibe (my favourite) be a little bit rebellious and paint your ceilings in this naughty shade too. Then, eradicate any trace of standard white gloss by painting over skirtings and door frames in our matching blue movie chalky matt wood paint for ultimate opulence. Complete the look with richly coloured furnishings in mustards, teals or brown. Throw in some wooden flooring and a worn chesterfield for instant gentleman's lounge chic.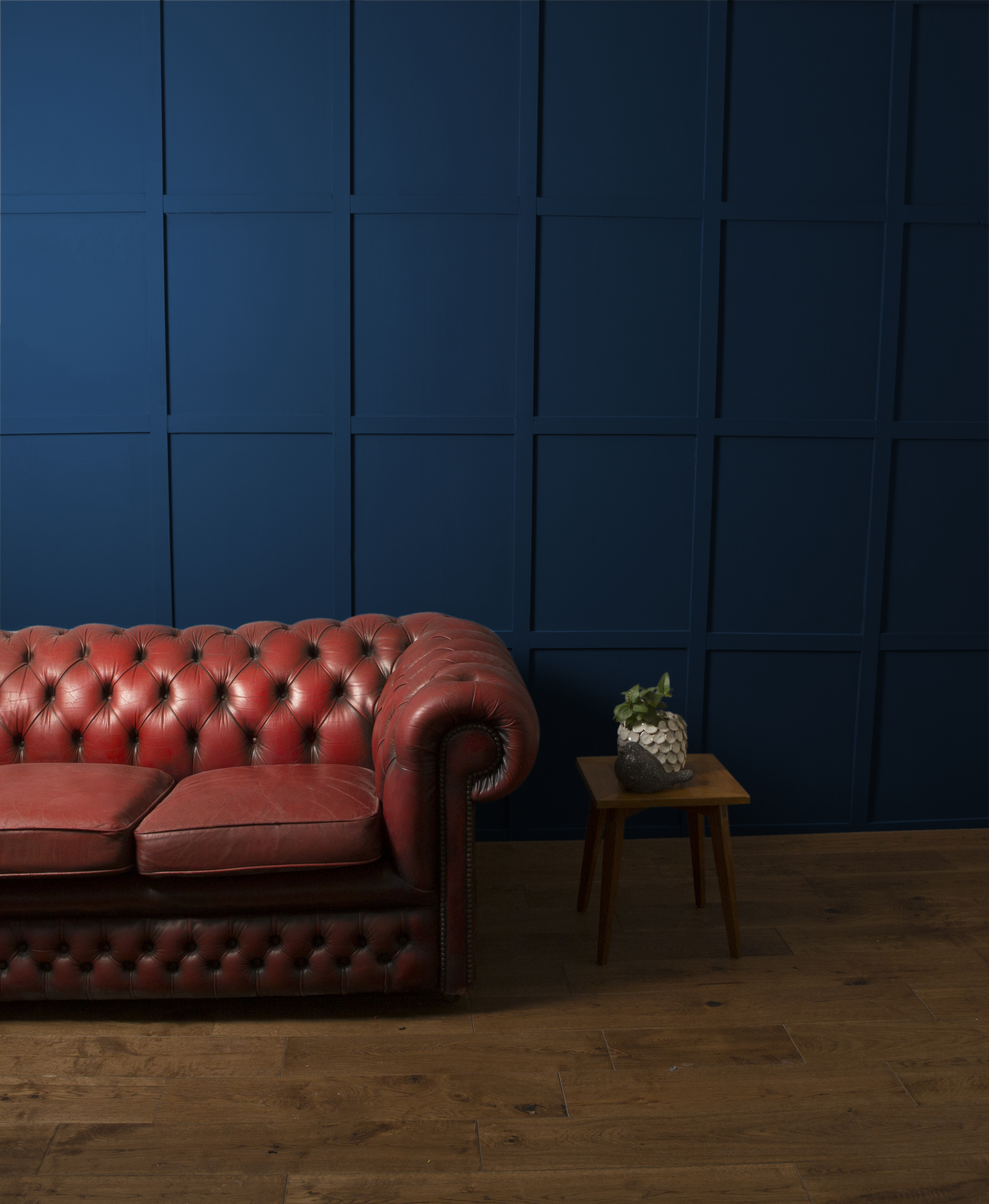 If all-over blue isn't quite your thing, opt instead for painting vintage pieces of furniture in this decadent shade to make a statement in industrial or minimalist spaces. I love this blue nearly matt wood paint on the legs of a dining table. Leave the top unpainted and natural to enhance your industrially styled kitchen diner and coordinate with brightly coloured Eiffel chairs, reclaimed wooden flooring and matt off-white walls for a rugged look.
Bus stop on a foggy morning
This mid-grey paint wall colour is just gorgeous, the perfect shade for a bedroom. It's the kind of paint that you always envisaged coming home to after a tough day at work – natural and serene like its name implies. I love the subtle green undertone in this colour, it has an enveloping aura that instantly makes you feel calm, cosy and relaxed, and that's exactly how you want to feel before bed, right?
Bus stop on a foggy morning looks so lovely as the predominant colour in your bedroom. Accentuate by painting your door frames and skirting boards in our contrasting polar bear selfie chalky matt wood paint then finish off with furnishings in a monochromatic palette. I adore white, stormy grey and soft greys because they work so seamlessly together but still add depth and texture to your rooms, making it feel sumptuous and ambient. Pure bliss, like sleeping in a cloud. Don't forget to strategically place soft lighting around your interiors for maximum relaxation, nobody wants clinical bright white lights ruining their vibe. Check out our vintage filament light bulbs for something more fitting.
All the lights off
Our all the lights off paint is one of my favourites, it's wickedly dark, sultry and alluring, the perfect backdrop for a sophisticated dining room. This naughty paint colour is just beautiful and looks phenomenal slicked across your walls in an Abigail Ahern inspired style. For the ultimate statement, match this bold paint with our all the lights off chalky matt wood paint on skirting boards and door frames to create a seamless setting that somehow manages to be both unabashed and inconspicuous at the same time – a striking way to make sure your furniture stands out. Your dinner will be blown away!
Finish off the look with classic, richly coloured high-backed dining chairs, a dark wood dining table and lavish metallic accessories. Our exclusive bubble chandelier suspended dramatically above the table will definitely be a conversation starter! Oh and don't forget the candles for optimum ambience…and a little Gothic twist thrown in for good measure.
If you're not cut out for drastically altering your interiors…or, like me, live in rented accommodation, why not use this intense grey paint to transform subtle accents in your rooms. Paint on skirtings, door frames or use to rejuvenate furniture in an industrial space to add contrast without having to restyle your entire room.
Unicorn's breath
I love the name of this off-white paint! But let's face it who doesn't love unicorns? This barely there off-white chalky nearly matt white emulsion has the merest touch of grey that adds a subtle heritage feel to contemporary kitchens. I love this colour because it doesn't have that clinical feel that some white paints have – I hate sterile feeling kitchens. This versatile soft grey tone works with practically any other colour, making it perfect for having as a backdrop to different coloured kitchen fittings and furniture.
For a natural, minimalist finish, paint your walls in this nearly matt paint and your kitchen units in our unicorn's breath nearly matt wood paint. For an authentically industrial vibe, embrace open cupboards made from salvaged wood – this may mean you have to be ultra-tidy, but it looks incredible! Fair trade-off, right? Finish off with reclaimed wooden flooring, upcycled dining tables and French school chairs. This may make you actually want to cook!
The paint low-down
This is obviously just a snapshot of our designer paint range – check out the full collection here.
All of our paint is available in four finishes finishes; nearly matt wood, nearly matt emulsion, chalky matt wood and chalky matt emulsion. Our nearly matt paint has a finish that sits somewhere between a gloss and matt paint. This classic finish adds a subtle lustre to your interiors and can also be wiped clean! This is exceedingly useful if you're as clumsy as me…I have a tendency to fall over with full cups of tea!
Our chalky matt emulsion is the perfect choice for using across walls and ceilings in your interiors. It has an oh-so-stylish flat matt finish, that doesn't reflect light! Pair this with our matt wood paint on your interior woodwork for a seamless finish!
Both our wood paints are available in 750ml tins and our emulsion comes in a 2.5-litre tin. Handily, for anyone that's as indecisive as me, our paint is also available in sample pots. Try it out before you commit to painting your entire house!
No paint job is complete without designer paint brushes…
You've chosen which paint you want and you're ready to go…almost. Don't forget to take a look at our designer paint brushes! They've got rugged wooden handles with stamped D&R branding, a burly stainless steel ferrule and brilliantly high quality, super-fine bristles! We currently have a range of seven brushes ranging from 0.5-inches to 4-inches. There's really no excuse for not decorating now! Throw on some old jeans, turn up the music and get painting!
Where will you paint next?
Our designer paint range can be used anywhere across your interiors and I can't wait to see how you're all using it! Please tag us in any of your Instagram photos. Who knows, you might be in our next blog post.