Bulkhead lights: your nautical to industrial wall light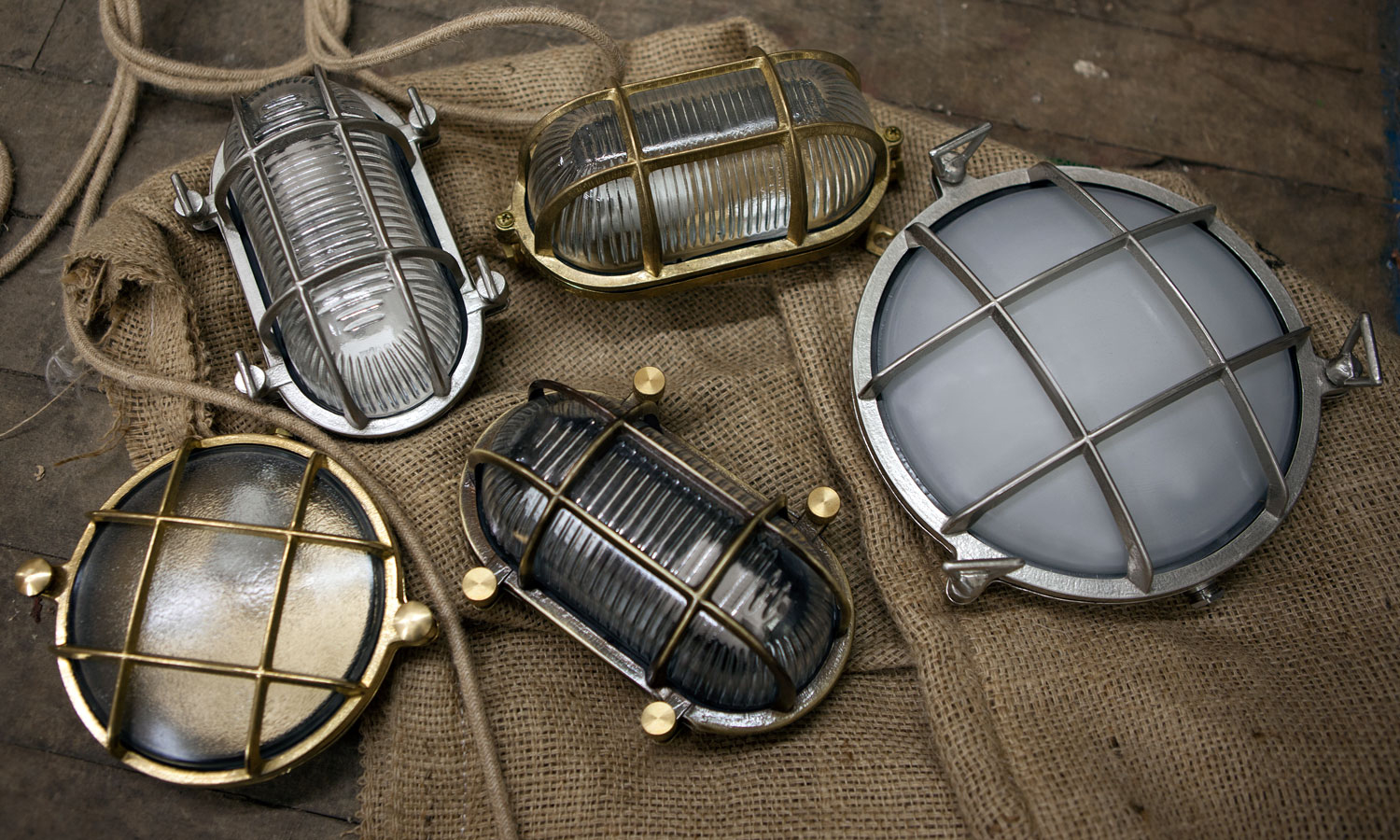 We've just launched some new bulkhead lights (one of which is Steve's posh cousin) which I love. It's got me thinking about how these particular lights originated, and how I might incorporate some into my urban pad…
What is it about summertime that makes us lust after seaside escapes? As a city girl, the smallest glimpse of sun makes me crave feeling the wind in my hair on the beach. To eat ice-cream at the marina watching the boats return to unload their catch after a day at sea – preferably with Captain Jack Sparrow in tow… A girl can dream right?
The coast is all well and good but I work, socialise and live in the city, it's in my blood! Sure I love having tousled beach hair and I'm partial to a Breton stripe. That's probably as 'beachy' as I get though. Worryingly I enjoy sipping my soy chai latte whilst being packed onto a commuter train. I love simultaneously reading a novel and uploading photos of said commute to Instagram. The beach is but a dream yet this escapism is a persistent trend!
The nautical trend is perfect for incorporating a secret rebellious sea-faring desire into your city home without the inconvenience of the sand and seasickness. Use key rugged, reclaimed pieces alongside your industrial interiors to subtlety pay homage to the coast without having to sacrifice your urban roots.
Nautical inspiration of bulkhead lights
When I think of nautical I instantly think of pirates (again with the Johnny Depp obsession) but what exactly are the key themes of nautical trends? The sea is an obvious one. Beaches, blue skies (we can dream), yachts, blue and white stripes plus white flared trousers (not sure where that came from). But this time around the trend is more 'raw'. Think rustic: rusty anchors, faded and distressed neutral linens, salvaged driftwood washed ashore from ancient shipwrecks and reclaimed ship's timbers. Pair the traditional associations of the sea with more industrial nautical artefacts like bulkhead lights and rope to really reinforce the heritage of the maritime industry.
Subtle striped accents will pull this theme together without turning your home into a replica of Robinson Crusoe's beach hut. Think minimal! Allude to the nautical by incorporating neutral fabrics paired with mix and matched hints of sun-washed red and bleached navy blue… Or greys to add a more contemporary touch to the look just don't overdo the rope!
Lights from maritime history

Why exactly does a bulkhead evoke a feeling of the sea? This style of lighting is fundamental to maritime history. The name bulkhead light is derived from the term 'bulkhead' created during the 1500's to describe a component of the ship's hull. This was traditionally a wall-like partition dividing the ship into compartments, primarily to add rigidity and reinforce the ship's structure. They also prevented the spread of fire and flood…pretty robust and life-saving devices!
With this in mind, the bulkhead light offers similar (although not so fundamentally death preventing) ideas to a ship's bulkhead. This light is primarily used outdoors, so is built of robust materials to withstand vile weathers and dust whilst protecting the electricals inside. This kind of lighting is traditionally associated with businesses, often in industrial areas where there's a constant requirement for bright light. The lighting ability and durability of these lights makes them perfect for use on outside walls, inside warehouses and within commercial buildings. However, the lights are popping up more and more outside of the industrial sector in shops, bars and homes, bringing traditionally factory and maritime aesthetics out of their comfort zones!
Bringing the bulkhead home
In spite of being traditionally industrial, bulkheads create stunning lighting features for your home too. Not only do these lights work beautifully within a nautical theme, but (if you're more of an urbanite) also truly reinforce their industrial heritage.
If you're looking to add a more industrial vibe to your décor then this style of lighting is a simple way to do it. Use our stereotypically oval-shaped Dave bulkhead lights on exposed brick walls to instantly create a rustic aesthetic. Great for kitchens and placing either side of your wood-burning stove. Alternatively, consider 'Chris' or 'Mark'… Our circular, porthole inspired bulkheads that further reinforce the shipping heritage surrounding them. In fact, the Chris circular bulkhead actually reminds me of those old-fashioned diver's helmets from way back when.
However, if you're completely over the nautical trend, let the industrial appearance of the bulkhead light speak for itself. Just display them on neutral walls, either alone or in a series to invoke a factory warehouse vibe. Especially good for this are our brand new Steve's posh cousin bulkheads. For a contemporary take on a bulkhead, you can't go wrong with our Steve's bulkhead with posh knobs. It still has all the essential components required of a bulkhead light, except that it has a black metal cage contrasted with brass knurled knobs. Bang on trend and ubiquitous amongst high-end product designs right now.
Another choice to the stereotyped bulkhead is Simon, which looks great used either upwards or downwards facing. The caged appearance makes this light appear aesthetically similar to its brothers yet also reinforces the impenetrable nature associated with the lighting. Basically, the world is your oyster…or so they say!
Accessibility of bulkhead lighting

Right! Now you've decided that the versatile bulkhead light is definitely your light of choice, where can you find it? And what are the differences? As with most things, there is a budget, middle-ground and premium option. Your choice also depends very much on what you want you're lighting to 'do'. Bulkhead lighting for outdoor use is available to buy from as little as £5 from DIY stores. This is obviously a budget option and accordingly is made from plastic. The traditional sturdiness of a bulkhead is discarded to achieve an industrial aesthetic at a cheap price. Obviously, the quality won't be great but neither will they possess the standard good looks of a bulkhead. Metal variations are available from around £20 but again, quality and sturdiness suffer,
If you're looking for something that will last a little longer… The middle and premium offering prices do still vary depending upon materials and size. Our range of bulkheads start at under £50 and the historically robust nature of these lights is faithfully represented. Our bulkhead lights are made of solid brass and glass, so like their predecessors are built to withstand all elements. They're not just beautiful to look at, but can also serve an industrious purpose outdoors!
Things of technical importance when buying bulkhead lights

Our entire range of bulkhead lights has a lighting rating of IP64. In case you're interested… IP (or International Protection Rating) is a code that starts with IP, is always followed by two numerals and sometimes has a letter. It aims to provide more information than just the rather vague description of 'waterproof' or 'dustproof'. It actually 'classifies the degrees of protection provided against the intrusion of solid objects (including body parts like hands and fingers), dust, accidental contact, and water in electrical enclosures.'
In summary, our IP64 means that our bulkheads are dust-tight (6) and splash-proof (4). Splash-proof, in this case, means they're protected from water spray from any direction. Do always check with your electrician before fitting any lights in damp environments or near to any water sources.
IP64 also ensures that they're fully compliant to use both inside and out. This gives you much more scope on where to place them… Although the limitless options may feel a little overwhelming if you are as indecisive as I am! Wherever you ultimately decide to put your bulkhead lights, and whichever aesthetic you go for, do ensure that they're compliant.
I hope I've insired you and that you can satiate any bulkhead light related cravings through this blog! They really are suitable for use anywhere it seems. If you need any advice feel free to contact us, and we always appreciate photos of your creations too!
Save
Save
Save