Being Bold with Black and Gold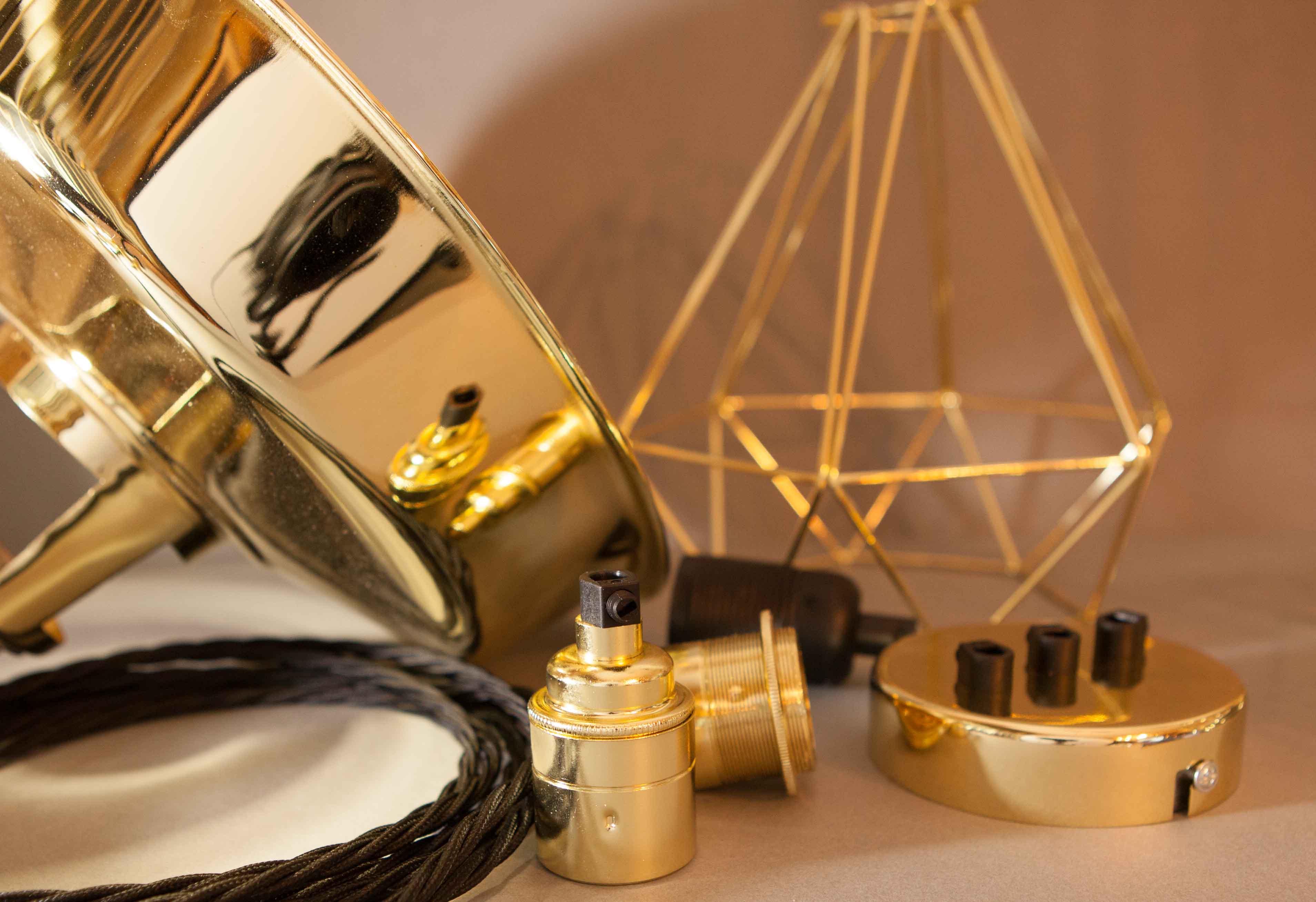 Sam Sparro's lyrics for Black and Gold have probably sprung into your head right about now:
'Cause if you're not really there
I don't wanna be either
I wanna be, next to you
Black and gold, black and gold, black and gold
…Well they certainly have now. But I digress, I'm talking interior décor here. I briefly mentioned Black and Gold as a trend for Autumn Winter in a previous post and to be honest, these colours are still going strong despite us moving into Spring Summer. I think you'll agree that two colours have never looked so luxurious together. The chicest of colours, gold instantly glams up anything it touches from toecaps on a pair of black suede boots, to gold nail varnish with an all-black outfit, to a gold light fitting in a dark and moody interior like this absolutely stunning Vita Black & Gold light shade… Well what did you expect really, we're all about lighting after all?!
So it's very timely that we've just launched our very own range of Fool's Gold lighting accessories enabling you to create gorgeous bespoke light fittings to tie in with this trend.
Black and gold can feel very art deco when combined with geometric shapes – and in fact if you're doing luxe glamour then Art Deco is a great place to start. It's a bold statement to combine these two colours, especially if you start contrasting surface textures too. Imagine something like black suede stiletto shoes, leather leggings, matt sweatshirt vest top and a statement gold necklace. Well I just described my 'uniform' really but you get the idea – combine one high shine accessory with softer textures and matt surfaces to create contrasts and so interest. The same rings true when planning your room's décor theme.
Black and gold geometric pattern mugs from Next
Black and gold is a sophisticated interiors trend that takes some courage, and know-how, to pull-off. Luckily (!), we've curated some of our products that will help you update your interior to add some glamour.
Black and Gold as accessory or accent colours
Black and gold can be done in so many ways. If you're one to err on the side of caution then use black and gold as your accessory or accent colours. One thing that looks amazing is a Danish style black and gold light shade in an all-white interior. It provides a stunning focal point and is a really quick and easy way to inject some contrast to switch things up a bit.
Black and Gold for drama
Used extensively, black and gold are a very dramatic pairing. Wallpaper that has a soft sheen or matt black background with a gold foil pattern makes a grand statement. Imagine a boutique hotel inspired bedroom that has darkest grey walls, black and gold bedlinen and gilt edged mirrors. Lovely.
BIBA black and gold bedlinen from a selection at House of Fraser
If you are a self-confessed glamour-puss and want to try this boutique hotel look at home, go for one of our Vita Black & Gold light shades.
Black and Gold creates classic grandeur
Black used with the actual metal element gold, is a combination usually reserved for very classic, opulent interiors. Usually mostly warm ivory wallpapered walls, painted fresco ceilings, gold metallic embellishments, flashes of warm red and highly ornamental black cast iron fireplaces. Of course that is a little extravagant for most of us, perhaps a more 'doable' pairing is grey with gold…
A softer side to black and gold
Drama and opulence are just one end of the scale. Somewhere in the middle ground there's a softer pairing of gold with grey – any shade of grey will do. Gold against a dark and moody storm cloud grey is still dramatic but slightly easier on the eye than jet black. A paler dove grey also works well, the shine of the gold bringing life to what can sometimes be a quite flat colour. If your style is more understated; on the calmer and softer side, then a soft matt gold with mousey grey will look ultra-chic and very contemporary – particularly if you mix soft textures of grey in your interior. Loving this room design by Next – you almost wouldn't want to get in that bed and mess it up.
Grey and gold bedding set from Next
Black, Gold and Burgundy
Burgundy, maroon, Marsala, Claret, Plum, Damson, Blackberry; any wine or dark fruity colour is very on trend right now. Burgundy shades are all over the high street and Marsala has been Pantone's colour of the year 2015. Black and gold look amazing with any of these deep fruity shades, they bring a new richness to the traditional black and gold luxe pairing brining it bang up to date and softening the edges of what can be a starkly contrasting pair. This bedding set by BIBA achieves that hard sought after combo of comfort and style. The rich black and plum set off the gold accents beautifully.
BIBA plum and black bedding from a selection at House of Fraser
As you can see there are many ways to 'do' the black and gold trend. There is always a way to incorporate elements of a style you love into your own interior, it just depends on whether you like soft tones or high contrast or something in between as to how far you go with it. We hope you've been inspired to have a go at introducing some metallic accessories into one of your rooms – maybe one you've been thinking needs a bit of something to liven it up.