Concrete table lamp: Reviving the original in celebration of Dowsing & Reynolds' journey
Rewinding 10 years, James, co-founder of Dowsing & Reynolds, was seeking an outlet for his creativity. Having seen a lamp she liked in a magazine, Ally, James' wife and CEO of Dowsing & Reynolds, tasked James with creating something similar, trusting that his design would be infinitely better.
Armed with a new challenge, James attended an evening art class to brush up his skills before creating a lamp that would kickstart a whole new career.
Ordering lighting components to make his lamp design a reality, James had some leftover spare parts. Listing them on eBay, he found that they sold incredibly well. From there, things progressed pretty quickly for James, and with the help of family, friends, and the ever-supportive Ally, who created the website, Dowsing & Reynolds was born.
A decade of beautifully designed products
A decade later, Dowsing & Reynolds has expanded its range beyond the original vintage light bulbs and industrial-style cage lamp shades that started the business. Working alongside his team of talented in-house designers, James has introduced beautifully considered home interior fixtures and fittings created to spark joy and pique interest at every interaction.
In celebration of Dowsing & Reynolds' 10th anniversary, James has gone back to his roots, working with the multi-talented people at Dowsing & Reynolds to develop, design and create a new collection of concrete lamps.
"In homage to that very first concrete lamp I made over a decade ago, we have released a handmade collection of concrete lamps to help mark our 10th anniversary."

James, Founder and Designer
Mastering the creation process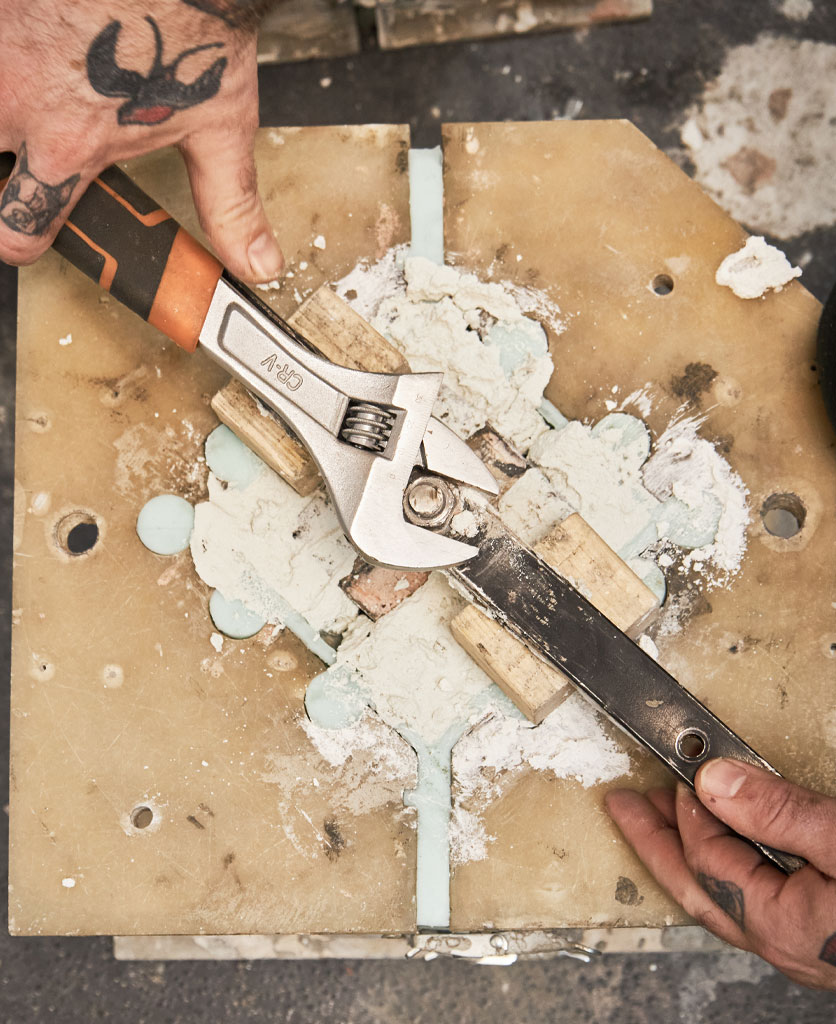 Step one: Concrete
Taking inspiration from James' original concrete lamp, multiple designs and colourways were tested, with the designers at D&R HQ falling for the rectangular and cylindrical bases in raw concrete, white, grey, pink and black… But it took a LOT of testing to get the collection perfected.
The first thing to get right was the concrete finish. With over 600 test samples concocted by Will, D&R's in-house concrete specialist, a concrete mix that resulted in pockets of air forming on the surface of the lamp base was the clear winner, loved by everyone at Dowsing & Reynolds for its rugged, raw and rustic finish.
The next test was to get this perfected across the range. The problem with hand-pouring concrete is that it's difficult to replicate the same finish and colour. Will dedicated himself to the cause, waiting up to three days to reveal whether the moulds he'd created had worked.
"Returning to a mix that's been curing over the weekend makes me feel like a kid unboxing a present on Christmas morning, I can't wait to see how it's turned out."

Will, Concrete Specialist
Step 2: Lampshades
Studying Illustration and Textiles at university, Heidi and Ellen, Dowsing & Reynolds' assembly experts, jumped at the chance to put their creative skills into practice, turning their hand to lampshade making.
Shadowing a specialist for a few sessions, the pair honed their skills to refine the process and perfect the finer details.
Sourcing beautiful fabric from a local mill, Heidi and Ellen created lampshade samples in circular, conical and square shapes, testing seam placement, stud positioning and fabric types until settling on the final versions in decadent black, minimalist white and rebellious tartan – an ode to James' original design and the Punk movement he loves so much.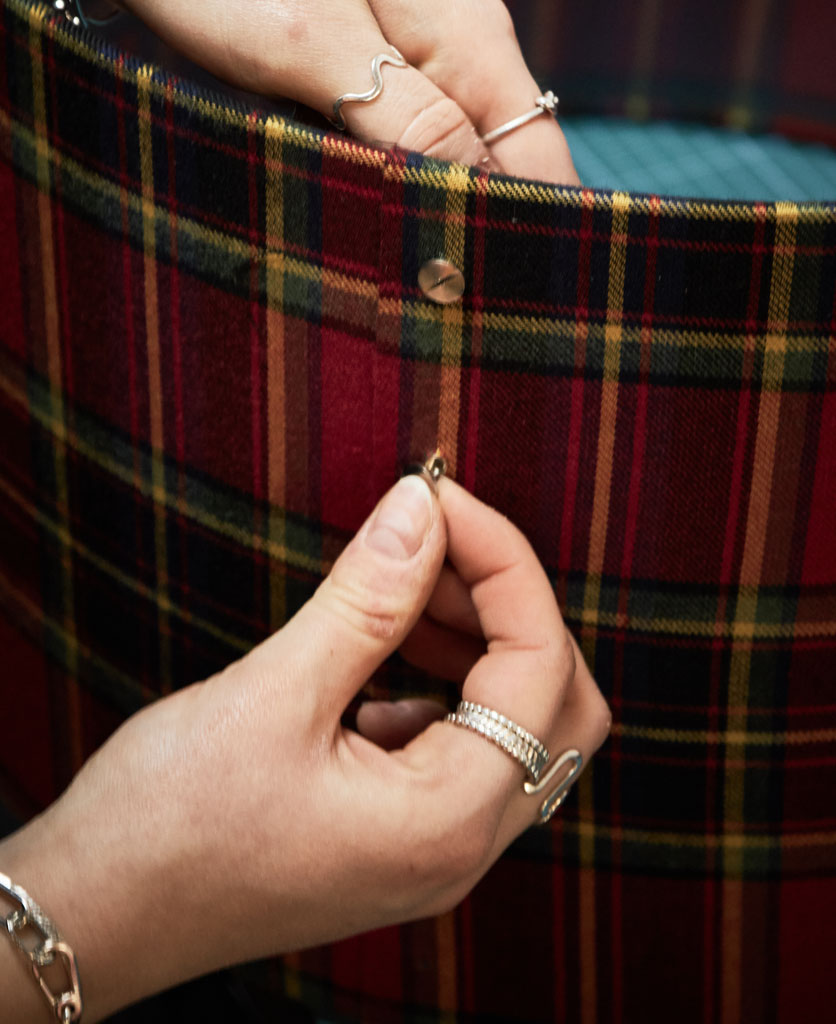 "At the start of this process, we had to go through a few different fabrics. With failing samples, the fabrics would fray, be too thick and create clunky-looking shades, so we had to experiment with different fabrics and suppliers until we reached the right ones."

Ellen, Assembly Expert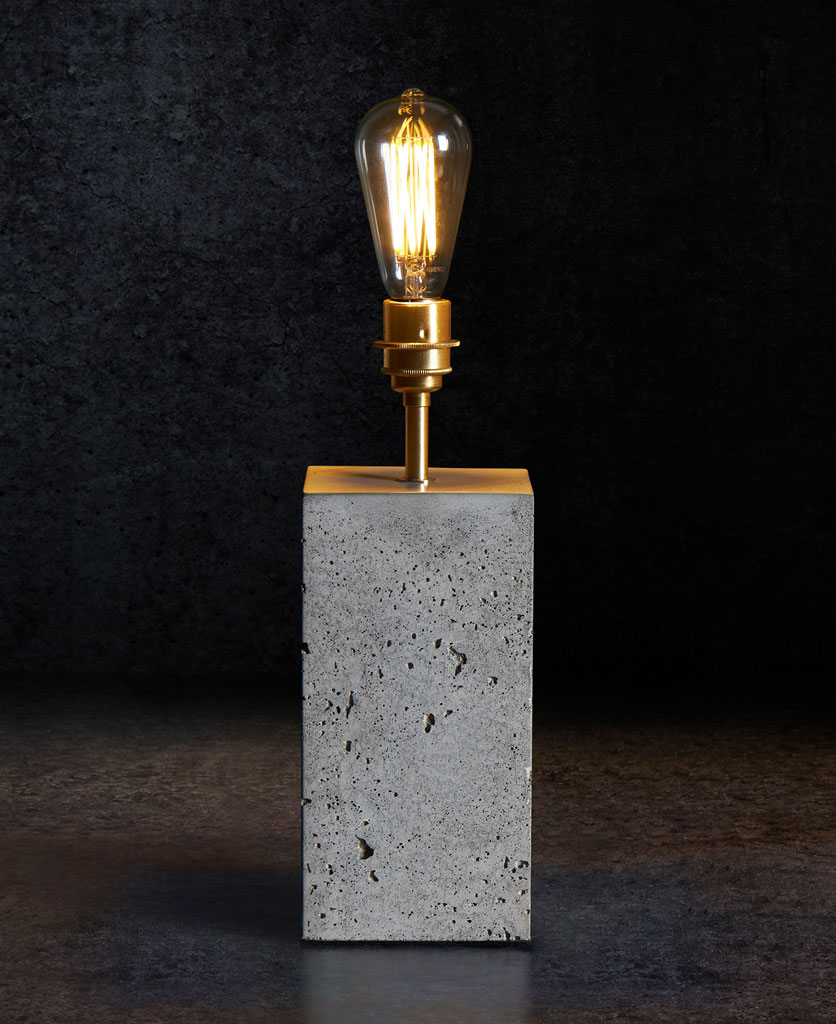 Step three: Finishing Touches
With the lamp bases and lampshades made and colourways carefully deliberated over by diligent members of team marketing and merchandising, the components were then handed over to assembly where they would be transformed into fully functional, beautifully impactful lamps.
Each concrete lamp features a carefully considered stem and bulb holder in a finish that complements the concrete, and coordinates with the securing studs on the lampshade. They're then wired up with a length of black fabric cable, plug and inline switch – it's all in the details.
The pièce de résistance… Dowsing & Reynolds' anniversary collection of concrete lamps.
From a seed of an idea in James' mind to an entirely in-house designed and created product that united teams from across the business, this table lamp is a symbol of Dowsing & Reynolds' epic journey.
Blossoming from a small lighting components business that started in James' garage, to a fully-fledged company that thrives on designing beautiful products that instil moments of happiness as you move around your home, Dowsing & Reynolds' transforms and improves the everyday, and that's exactly what James dreamed when creating his first lamp.
"That drive to keep improving is part of what fuels me, part of what fuels Dowsing & Reynolds."

James, Founder and Designer