3 ways to create a feature ceiling with colour, statement pendant lights and more…
Tilting your head to gaze at the captivating, inky-coloured painted ceiling, you sit transfixed, staring into an imagined distant galaxy. The seemingly never-ending backdrop showcases your sputnik-style statement pendant light brilliantly.
Creating a statement ceiling
The first step in creating a statement ceiling is to consider it a 'fifth wall'. Just as walls don't need to be white – neither do ceilings. Getting creative when painting your ceiling can have all kinds of positive effects on your room. Spoiler alert: painting it white doesn't necessarily make your space feel bigger!
We've all been there, spending weeks agonising over the exact shade for our walls, only to automatically reach for a tin of 'brilliant white' to paint the ceiling. But if you really think about the feeling you want to create in your room, you may decide that colour suits your interior style more.
How do I add interest to a ceiling?
Often the most significant blank space in any room, the ceiling is an excellent opportunity to get your creative juices flowing. Think about the ornately painted ceilings of the Renaissance period. Brimming with extravagant skyscapes, soaring cherubs and gold detailing, they captivate your attention, taking your eyes skywards, making the room feel larger and grander than it is.
1. Use colour
One common misconception is that a dark painted ceiling will make your room look smaller, but with a few handy hints and tips, it can have the opposite effect, creating the illusion of more height and space.
If you're planning to paint all the walls in one shade, an easy trick is to take this colour across the ceiling. The all-over colour will create the illusion of infinite space by disguising the edges, plus it saves you from buying tins of paint in multiple colours.
Fancy showing off your artistic prowess? Turn your ceiling into a canvas and create a mesmerising mural, as @childhoodinteriorsbygemma did in her son's bedroom. Pairing her dreamy statement ceiling with our low-rise mini bubble chandelier, she's enhanced the whimsical feel of the room.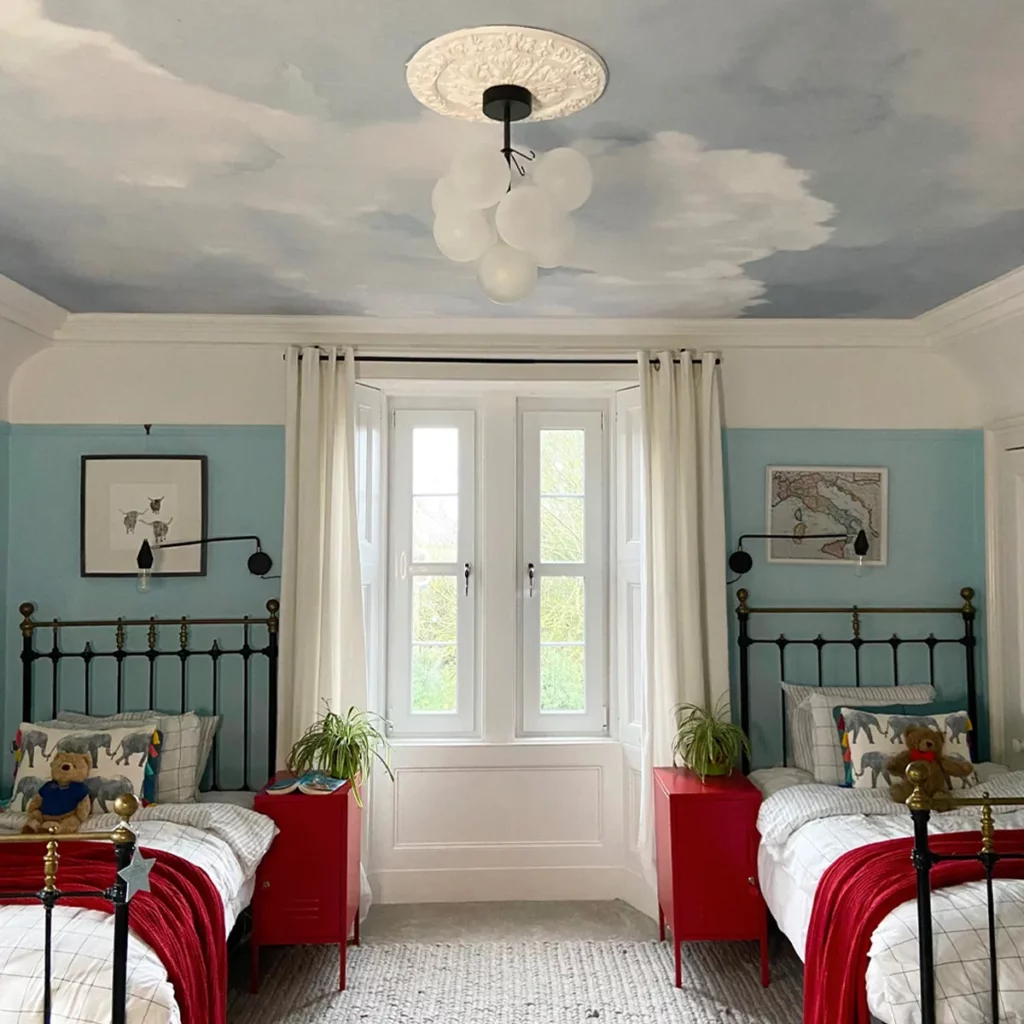 If you need time to get used to the idea of full colour, a good tip is to keep your walls light and paint your ceiling in a contrasting shade, expanding the colour down the top few inches of your wall to make the ceiling appear higher. Cutting the paint off at the ceiling line can make the space feel cramped. Have a look at our luxury paint collection here.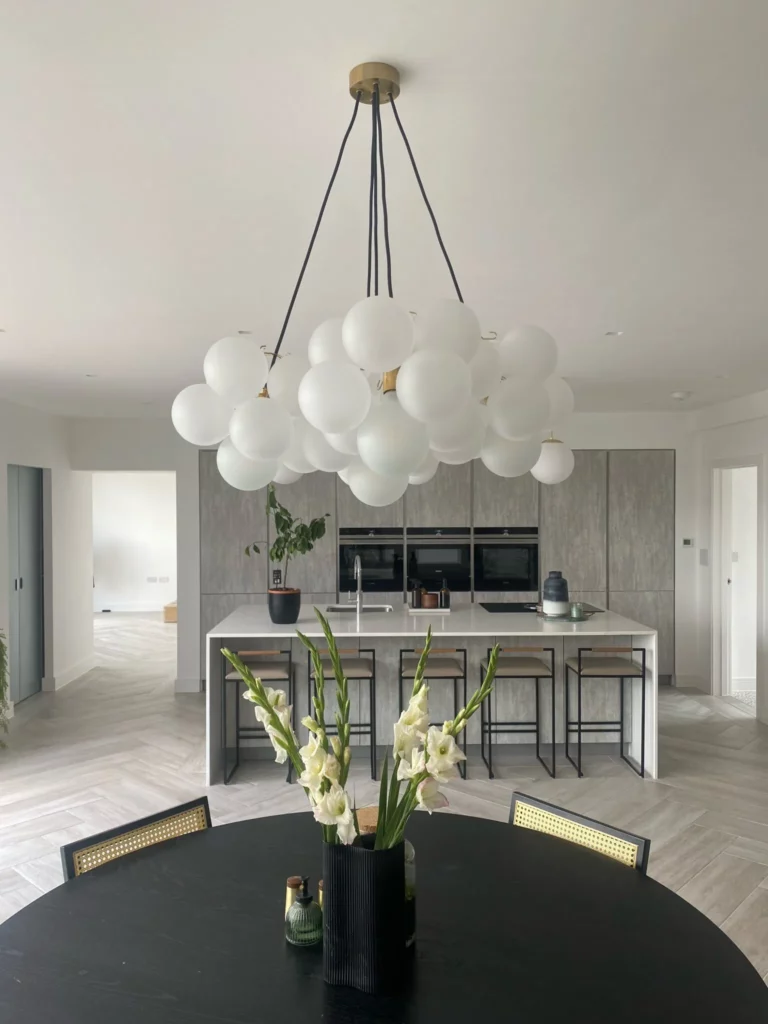 2. Fit statement pendant lights
When walking into a room, your gaze naturally falls on the most stand-out feature, which, more often than not, is a statement pendant light.
Lighting is a great way to provide a focal point in your room, drawing attention to the ceiling and making your space feel bigger than it is. Choose something that reflects your unique personality but always go larger than you think!
When choosing a statement pendant light, the first thing to consider is your ceiling height. Semi-flush ceiling lights are perfect for lower ceilings, and with lots of stylish designs on the market, you can really get creative. Some, like our Hoxton and Berkeley ceiling lights, can even be customised by selecting statement bulbs. Long tube light bulbs will give these lights a more retro feel, whereas spherical opal bulbs will feel more classic and timeless. Think about your personality and how you want your light to look.
If your home has high ceilings, you can go bold, selecting an impressive statement ceiling light with a longer drop. Unleash your creative side with an iridescent multi-coloured ceiling light, or choose a pendant with unexpected features such as chains or ropes for a cable. Love architecture, shape and design? Bubble chandeliers resemble a cloud drifting across a summer sky, capturing attention the minute your guests arrive.
3. Fit mouldings
If the idea of colour makes you feel more on edge than relaxed, you can still add interest to your ceiling whilst maintaining a minimalistic look. Laura from @laurahome paired our classic Frosted Bubble chandelier with a beautiful decorative ceiling from Plaster Ceiling Roses to bring her white canvas to life.
You can also replicate the look of traditional 19th-century properties with plaster coving and cornices, again drawing the eye upwards.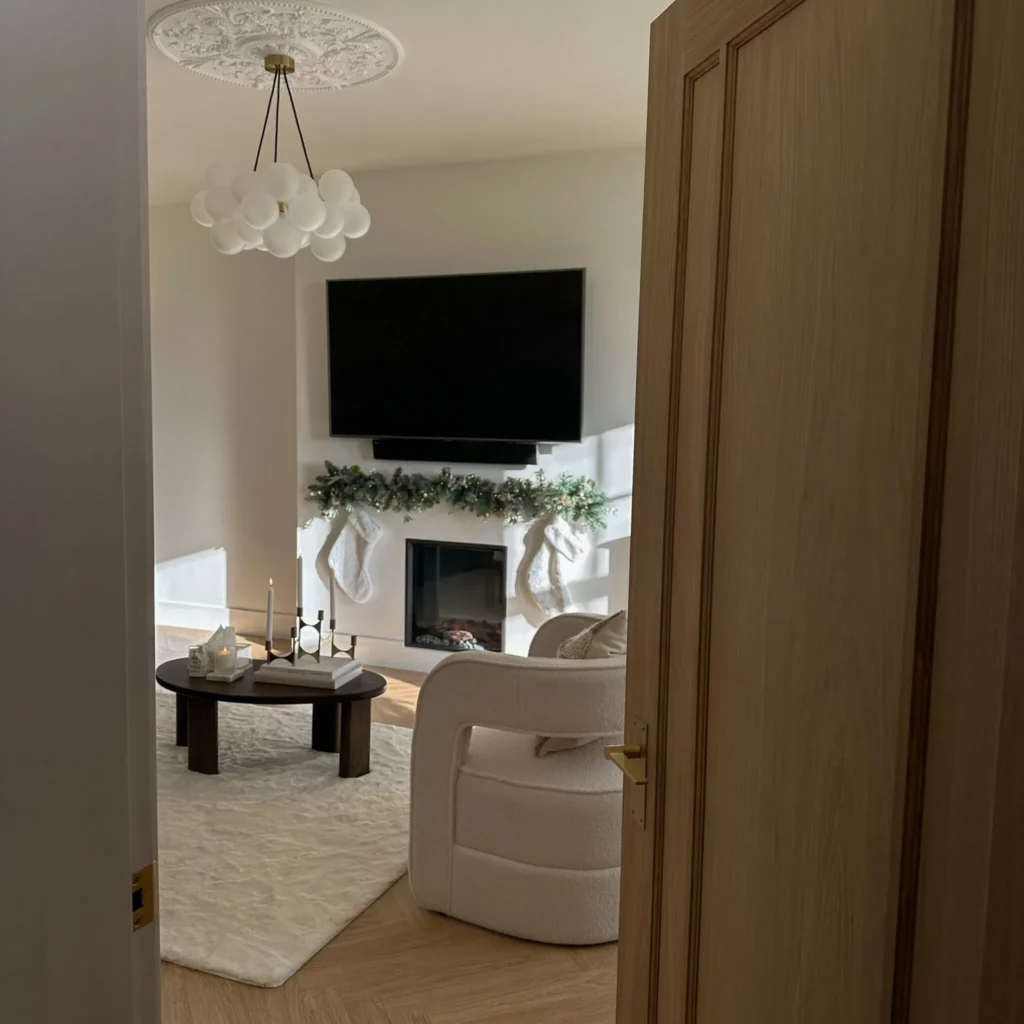 Which room should have a statement ceiling?
Ultimately, it's up to you, but it can be a good idea to start small. Try sprucing up a small guest bedroom with a statement pendant light, or add some colourful paint to your downstairs cloakroom. As mentioned previously, statement ceilings can make the space feel bigger, plus starting small lets you experiment without a huge cost if you decide it's not for you.

Another great place to create a statement ceiling is your hallway – it's usually your first greeting when you arrive home after a long day, so creating a warm and inviting space is key.
What colour should I paint my ceiling?
Whatever colour you like! If you love a crisp, clean white, then go with that. If pink makes your heart soar, then why not? When looking at painted ceiling ideas, a good tip is to peek inside your wardrobe and pay attention to which colours you see the most. They're likely to be the colours that make you feel good, so you can't go far wrong by replicating that across your home.
Top tips for creating your statement ceiling
Start with a smaller room like a guest bedroom or cloakroom
Take as much time thinking about your ceiling as you do the rest of the room
If you decide to paint your ceiling in colour, paint the whole room the same, or bring the colour down a few inches onto the wall to create the illusion of more space
Look in your wardrobe for colour inspiration
Choose a ceiling light you love, and that catches your eye
Consider your ceiling height when choosing a statement light feature – and how tall you are!
If you prefer minimalist décor, explore plaster moulding options to add interest and intrigue
Ready to take the plunge? You'd be surprised at how much a ceiling can impact your space. Don't be afraid to get creative with your 'fifth wall' and use it to express your unique personality and style.
Show us your statement ceiling
We'd love to see how you've turned your ceiling into a work of art. Tag @dowsingandreynolds on Instagram – we can't wait to see your ideas!