Diamond LED geometric light bulbs are forever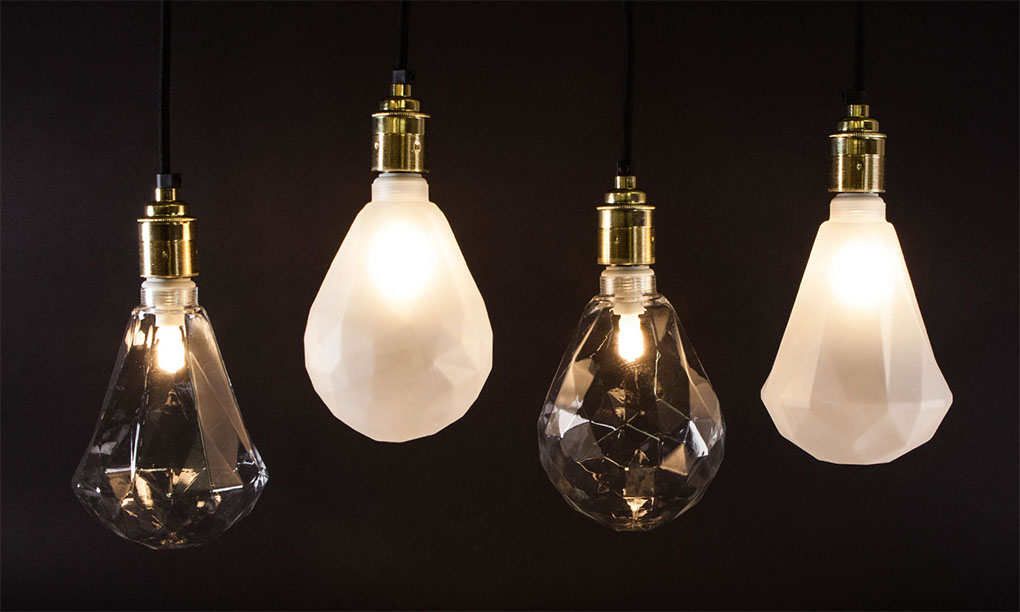 A while ago James had a brainwave that he wanted to create a range of LED geometric light bulbs. Of course we were all dubious…we usually are. The mere thought of LED's was a daunting prospect! The acronym LED – light emitting diode, for me conjures up the beautiful image of Lite Brite, one of my favourite 90's childhood games. Technically this game wasn't made from LED's, but that was the illusion it gave. LED's are also commonly associated with garish Christmas lights, bright and trashy. A multicoloured hell…but still so full of joy. I didn't know what to expect of the designs at all.
LED bulbs are now appearing as the standard choice in our homes because of their energy reserving benefits which not only prevent ghastly electricity bills but also reduces our carbon footprint in the long run. In spite of this wondrous planet reserving capability, the designs of these bulbs leave much to be desired and as such are often concealed beneath light shades. It seems that we are a little ashamed to display our environmentalist tendencies.
Just imagine an LED light that doesn't turn your home into the North Pole or have to be hidden away in shame…It's not a myth!
LED geometric light bulbs are here
Imagine our joy when these beautiful diamond and polygon pear light bulbs emerged in our office, everyone suddenly morphed into a parliament of magpies around these geometric treasures, solemnly swearing to implicitly trust James forever more. They really are stunning.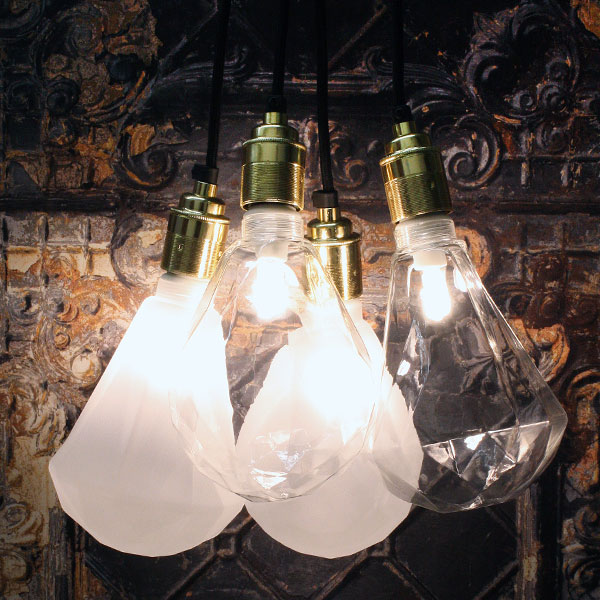 These striking LED geometric light bulbs are a little bit more elegant than our more industrial light bulbs and are perfect for making a statement in your interiors. The geometric, multi-faceted design of these pear and diamond light bulbs cascades light gorgeously into whichever room is lucky enough to receive such a gem. To make your life that little bit more challenging, you can also choose from a clear or frosted finish…or both if you're as indecisive as I am.
Having designed such a sophisticated light bulb, James thought that it would be wasteful to invest in decadent feature lighting for it then to have to be replaced in its entirety once the bulb had gone. A usually costly process.  With this in mind James incorporated a G9 LED light bulb into his design. This sneaky feature means that your geometric light bulb really will last forever. Simply unscrew the top and replace the energy saving LED inside. The man's a genius (don't tell him I said that!)
Diamond LED light bulbs
Our clear diamond light bulb is wonderfully lustrous, and I think the most opulent of the range. A luxuriously styled lounge is craving this geometric light bulb. But don't be afraid to adopt it into a range of interiors. It's very versatile! As a huge fan of anything remotely Gothic, I think that these bulbs would look amazing against sumptuously rich walls interspersed with lavish golds and sleek blacks. Complete the look by suspending this jewel-shaped light bulb from a length of black fabric cable. Pair with a fool's gold light bulb holder to accentuate the splendour. Beautiful.
This matt frosted diamond light bulb is my favourite. A little more industrious than the clear variety, it still maintains a classic air. This geometric bulb is perfect for using as a secondary light source as it casts a delightfully soft and ethereal glow. Suspend from a vintage Bakelite bulb holder to gently highlight an eclectic gallery wall. Alternatively, use to add ambience to a dark reading nook. This art deco inspired light bulb is perfect for making an industrial interior that little bit more luxe.
Polygon Pear LED light bulbs
Our multi-faceted polygon pear light bulb is a geometric dream. The frosted variety is almost reminiscent of creased white paper and its opaque finish emits a warm glow that. It's just beautiful. I think that these bulbs would make a striking lighting feature suspended in a series above a dining table…They would also make an awesome conversation topic. Why not coordinate with the clear polygon pear light bulb, a wonderfully unusual design that resembles crinkled cellophane. This light bulb exudes elegance and the dainty creased finish contorts and reflects light spectacularly around your interiors.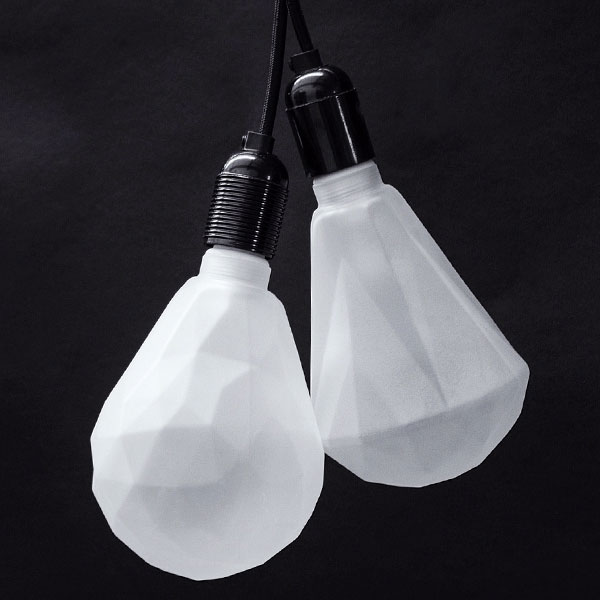 If you can't whittle your choice down to just one of our LED geometric light bulbs, Why not mix and match between the diamond and pear in frosted or clear to create a really unique statement lighting feature that exudes opulence. These bulbs complement each other gloriously, so it would be a shame to just have one.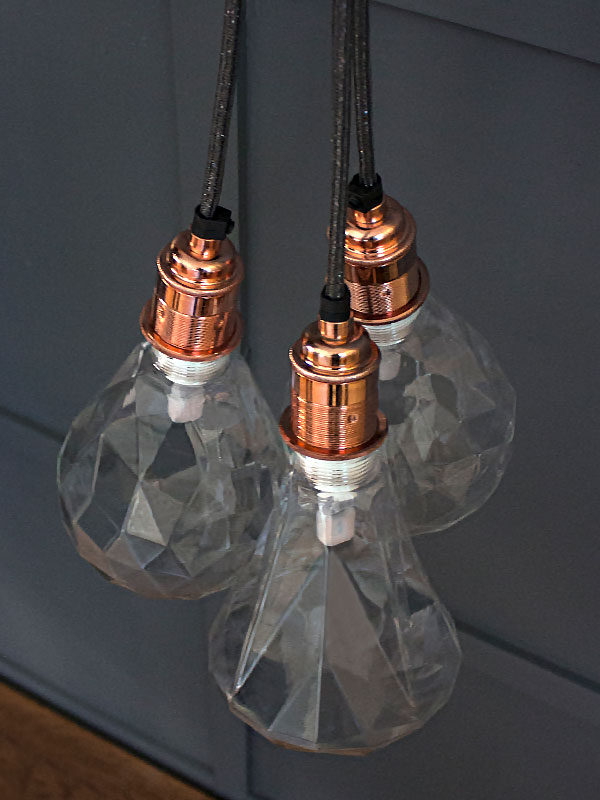 Embrace the LED
I hope that I have eradicated some light emitting diode associated fear and have changed your perceptions of using LED lighting within your home. Times are changing, so why not embrace it by showing off one of our LED geometric light bulbs.
We really love to see how you incorporate our designs into your homes. Don't forget to tag us in your photos on Instagram!