How to Use Hooked Light Bulb Holders & Hooked Ceiling Roses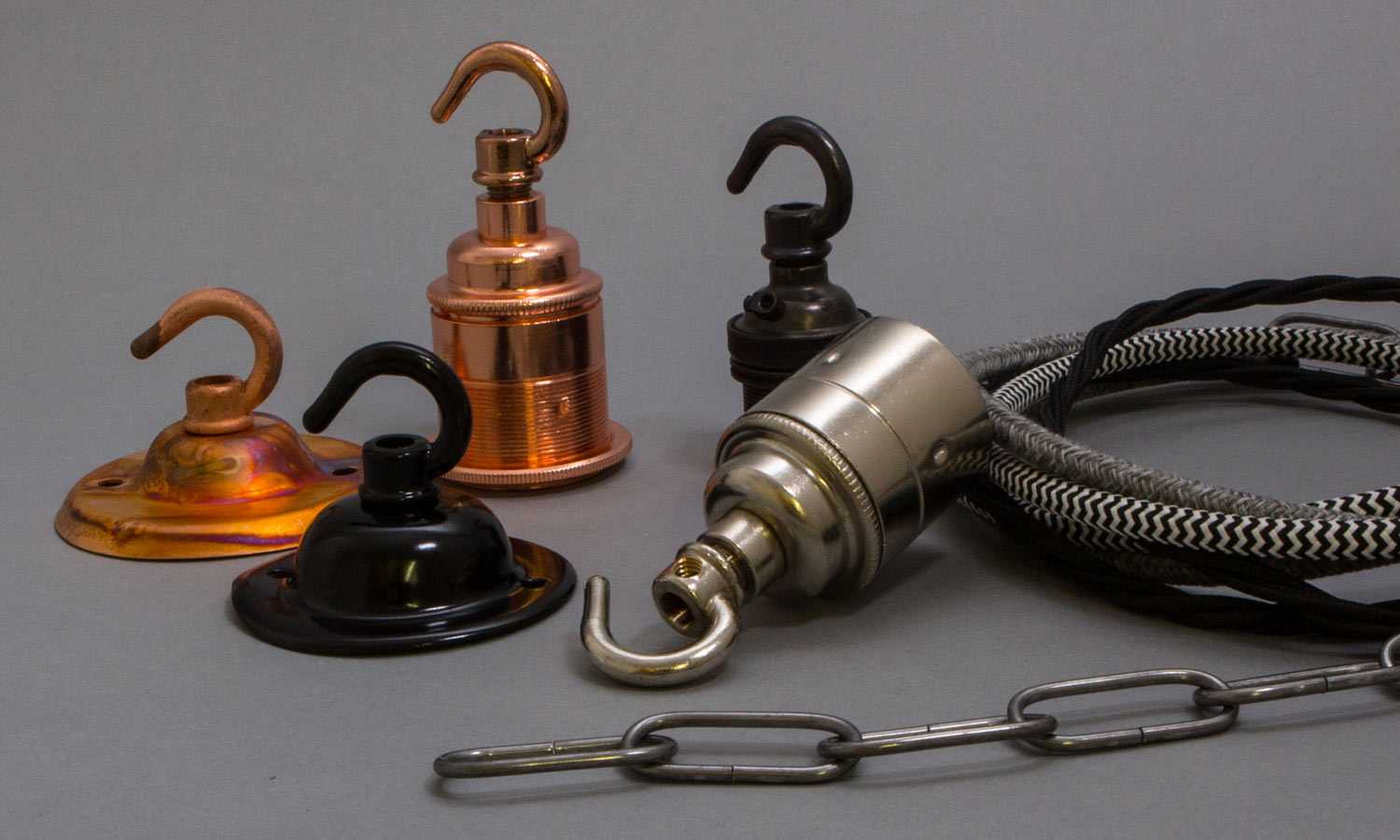 You may have stumbled across our hooked light bulb holders & hooked ceiling roses on the website. But did you know that they're not just here to look pretty? They can be used for a whole host of different things – they're really quite practical.
Take a look at our industrial hooked light bulb holders & hooked ceiling roses
Our hooked ceiling roses have a lovely vintage feel that looks fab in any interior. The white hooked rose is perfect for using in a crisp white interior, where you don't want your light fittings to look conspicuous. But don't worry, if you're looking to make more of a statement out of your lighting, we have some much bolder finishes that are sure to be noticed. Polished copper adds instant femininity to grey rooms – pair with grey jumper fabric cable to add texture. Our luxe fool's gold hooked ceiling rose adds a glam touch to industrial interiors and our rugged tarnished copper finish epitomises industrial chic – pair with retro black and white fabric cable against exposed brick walls and polished concrete to create a Brooklyn loft vibe. The entire range looks amazing against crisp white painted ceilings. But if you're feeling adventurous try painting your ceiling a darker colour to really display your lights. Let's face it; they're a beautiful alternative to white plastic fittings.
Hooked ceiling roses for support
Available in either standard or domed designs, the main purpose of these hooked ceiling roses is to suspend heavier chandelier or pendant lights where fabric lighting cable alone would not be strong enough…Just make sure that you use some lighting suspension chain for extra support.
If you're not a chandelier type of person – why not embrace our hooked ceiling rose as an accessory instead. All you have to do is drape a length of fabric lighting cable from your ceiling rose, across your ceiling to the hook and drop down wherever your heart desires. Drape and drop lights make it really simple to add secondary lighting into harder to reach areas of your rooms – or where you don't have an electrical lighting point in your ceilings. So much more stylish than a lamp! Hang vintage filament light bulbs nice and low above coffee tables, side tables and sofas to add instant ambience and create a relaxing zone in your home.
Vintage-industrial hooked bulb holders
Hooked light bulb holders coordinate so well with our ceiling roses, adding a retro, factory-style vibe to your lighting. Hook onto lighting suspension chain to support heavier light fittings or use individually to accentuate an industrially styled room. Whichever way you choose to style them, don't forget to explore our create your own lighting section. A collection of fabric cables, suspension chains and light bulbs, to name but a few. Play around with colours and finishes to make a light feature that fits your style perfectly.
We always love to see how you use our products – and are always looking for new and innovative ideas. Feel free to tag us in your photos on Instagram!