Steel in the Spotlight – the must-have material for any industrial décor
The history of steel
In this post I'm looking into the history of steel. The one material your industrial style interior cannot afford to be without. What is steel, where does it comes from, how is it made and how can we use it to best effect. And I found a few cool steel facts that you could use to amaze your friends… Well maybe not but I thought they were interesting.
Why steel?
Raw steel is one of our favourite materials for industrial-inspired light fittings, ranging from ceiling roses to bulb holders to light cages so I decided to look further into what makes it so quintessentially industrial. Steel is the perfect material for many styles of interior adding a harder industrial edge to fixtures. In your home, mix these with softer hand-woven textiles and more tactile materials to soften them for a more homely feel. In a warehouse, mill style office or restaurant environment, steel accessories can bring beautiful contrast to rough-grained timber, polished concrete and rugged whitewashed walls.
We come into contact with steel of some description, at some point pretty much every day. Steel is used in buildings, cars, computers, tools, bridges, ships and lights. It is one of the most common materials in the world and in 2013 world crude steel production reached 1,606 million metric tonnes (a).

But when we say 'production' what exactly does that mean – where does our favourite industrial-style material come from. What is steel made of and how does it end up being made into our light fixtures and fittings? Here's a potted history of steel…
What is steel?
According to the World Steel Association: Steel is an alloy of iron and carbon containing less than 2% carbon and 1% manganese and small amounts of silicon, phosphorus, sulphur and oxygen. (b)
What's an alloy?
An alloy is a material made from two or more elements 'melted' together. Steel's main 'ingredient' is iron to which carbon is added.
Who invented steel?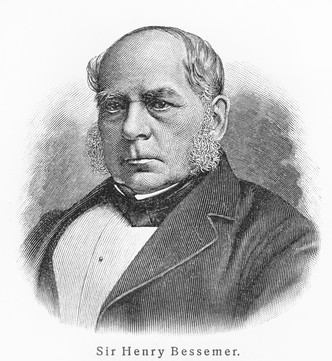 The invention of the Bessamer Converter (or process) in the mid-1850s by an English engineer, Sir Harry Bessemar (January 19 1813 born in Sheffield – March 15 1898, knighted in 1879) saw the beginning of the mass production of steel. You can see one of only three Bessemar Converters left in the World, at Kelham Island Museum in Sheffield.
The most common method for making modern steel is with the use of an oxygen furnace similar to the original Bessamer Process. Pure oxygen is blown through melted iron to remove impurities then other things are added to create different kinds of steel.
Types of steel
So whilst all steel has the same basic component elements of iron and carbon, the proportions of these and other additives will differ depending on the application of the steel, and therefore the qualities it needs e.g. strength, corrosion resistance, formability and hardenability.
The American Iron and Steel Institute (AISI), categorises steel into four main groups based on their chemical compositions:
Carbon steels
Alloy steels
Tool steels
Stainless steels
Carbon steels
Carbon steels contain minimal additional elements on top of the basic iron and carbon and account for 90% of total steel production (c), There are three sub-categories:
Low Carbon Steels/Mild Steels contain up to 0.3% carbon
Medium Carbon Steels contain 0.3 – 0.6% carbon
High Carbon Steels contain more than 0.6% carbon (d)
Alloy steels
Alloy steels have extra ingredients added to the basic iron and carbon mix to alter the steel's properties. Chromium, nickel, aluminium, manganese and titanium change the hardness, strength, rust resistance and maleability of steel.
Tool steels
Cutting and drilling equipment is the main use for tool steels.
Stainless Steel
These following people are associated with the development of stainless steel:
Pierre Berthier (July 3 1782 – August 24 1861) a geologist and mining engineer
Englishmen J.E.T Woods and J Clark a mysterious pair these, there seems to be very little information available about when they lived and their life's work
Henri-Ami Brustlein ( 1833 – 1912 ) a French metallurgist
Harry Brearley (February 18 1871 – July 14, 1948) an English metallurgist who is generally accredited as the initiator of the industrial era of stainless steel. (e)
The addition of chromium (typically less than 11%) to steel gives it a bright shine and makes it resistant to rusting (f)). Corrosion resistance is what makes stainless steel different from other kinds of steel.
There are three sub-groups of stainless steel: Austenitic; often used in food processing equipment and kitchen utensils, Ferritic and Martensitic; used in knives, tools and surgical equipment.
Sheffield cutlers like Viners Ltd began regular production of stainless steel cutlery, surgical scalpels and tools round 1920. I grew up in Sheffield and often used to pass the Hillsborough premises of the global brand Swann-Morton, makers of precision surgical scalpels, blades and handles.
Why does steel rust?
This is a great question. Our raw and untreated steel products age and rust naturally resulting in some beautifully unique textures and patterns. We also have a range of rusted steel lighting fixtures that come ready rusted so I'm interested to know how and why this happens…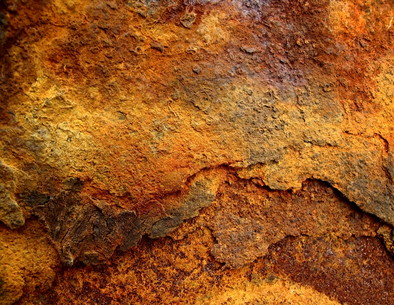 In a nutshell it's a chemical reaction. When steel comes into contact with water and oxygen this chemical reaction causes the steel to begin reverting to its original form – iron oxide.
The coating on some of our steel ceiling roses and bulb holders prevents air and moisture reaching the steel so they remain shiny and pristine for their lifetime. Powder-coating, metal plating, painting and enamelling also prevent things rusting.
So all in all, the history of steel is quite fascinating. Steel has a substantial heritage anchored in industry; from the heavy industrial processes once used to produce it through to its heavy industry applications. It's a versatile material that has many traits; strength and toughness for the construction of bridges to the finesse required for surgical scalpel blades. Perhaps this is what makes it such a great material for placing in an industrial style décor; you can have beautifully crafted lighting accessories either naturally raw and rusting, or pristinely shiny chrome depending on your particular style.
10 Steel facts
The last two decades have seen the development of 75% of modern steels. (f)
Engineers would only need one-third of the steel originally used, to re-build the Eiffel Tower today. (f)
The new steels used to build modern cars are stronger yet up to 35% lighter than older types. (f)
The steel industry directly employs more than two million people worldwide, with a further two million contractors and four million people in supporting industries. (f)
All steel is recyclable. (f)
Without steel, we wouldn't have Skyscrapers. Today, the housing and construction sector is the largest consumer of steel at around 50% of world steel production. (f)
Over 305 million PCs were sold in 2012 and 25% of an average computer is made of steel. (f)
Recyced steel doesn't lose strength. (g)
Recycling steel saves the equivalent energy to power about 18 million households for a year. (g)
When you buy steel, you're always buying recycled. (g)
Sources:
(a) World Steel Association http://www.worldsteel.org/faq/about-steel.html
(b) International Stainless Steel Forum http://www.worldstainless.org/what_is_stainless_steel/introduction_to_stainless_steel
(c) (d) About Money http://metals.about.com/od/properties/a/Steel-Types-And-Properties.htm
(e) The Stainless Steel Information Centre http://www.ssina.com/overview/history.html
(f) The American Iron & Steel Institute (AISI) www.steel.org
(g) AISI: 50 Fun facts about steel (PDF) http://www.steel.org/~/media/Files/AISI/Fact%20Sheets/50_Fun_Facts_About_Steel.pdf
Resources and further reading:
The history of stainless steel http://www.stainlesssteelcentenary.info/StainlessHistory
The Stainless Steel Information Centre http://www.ssina.com
Kelham Island Museum http://www.simt.co.uk/kelham-island-museum/what-to-see/outdoor-collection/bessemer-converter
MAGNA Science Adventure Centre http://www.visitmagna.co.uk/content/14/steel-heritage
Sir Henry Bessemer http://www.britannica.com/EBchecked/topic/63059/Sir-Henry-Bessemer
The Bessemer Process http://www.britannica.com/EBchecked/topic/63067/Bessemer-process
Science with kids http://sciencewithkids.com/science-facts/facts-about-steel.html
ASM International http://www.asminternational.org/documents/10192/19735983/amp17207p34.pdf/01ca169f-ab50-4d13-9b5e-af25737ec543