It's easy (and stylish) to be green
Quick SummaryThe impact we're having on our planet is big news. Reducing our individual energy consumption is a change we can all effect right now. In this post, we're looking at the improvements in LED bulb technology that now makes them a viable option for our stylish homes.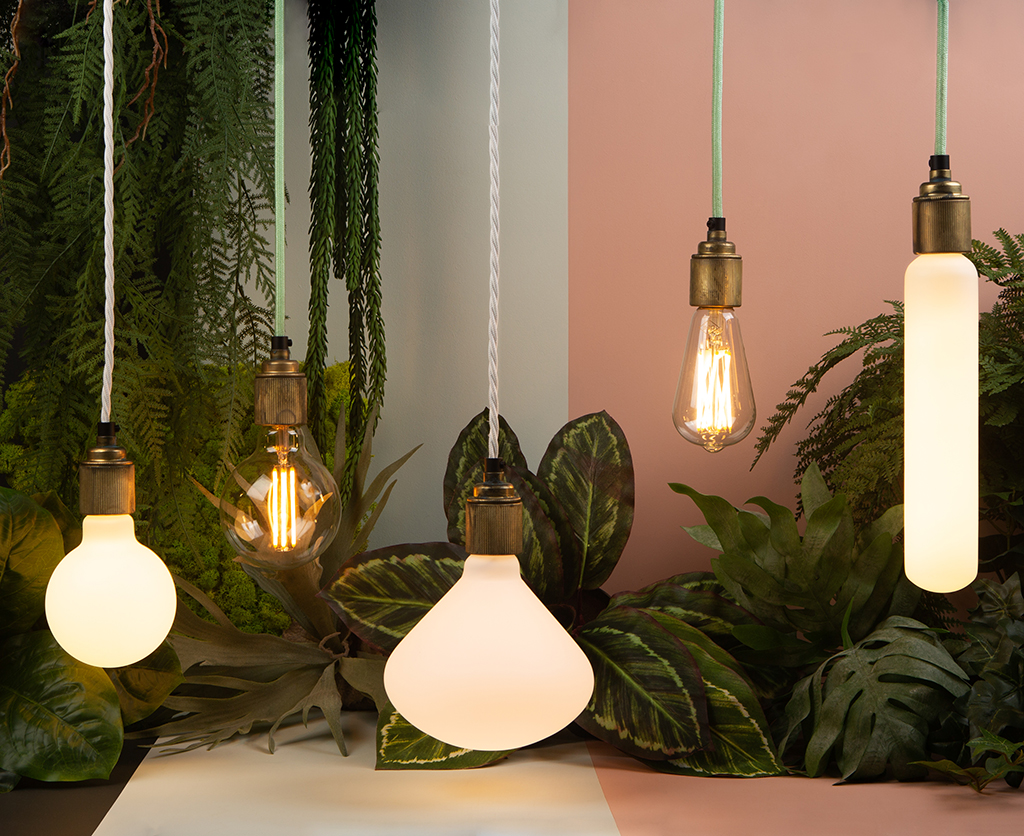 As we move further into the new decade and our 'I'm not going to drink during the week' resolution has fallen by the wayside, it's maybe time to consider something more achievable. Something along the lines of saving the planet through sustainable living…
As silly as that sounds, we can all make a difference by doing little things, every day. The impact we're having on the environment is big news and one quick win that we could all achieve is swapping our lightbulbs over to environmentally sustainable led bulbs.
LED lighting has moved on…
LED lighting has been around for a while, but it's only over the past few years that it's started to look and perform in a way we'd actually want to have in our homes.
Gone are the days of LED bulbs illuminating your space with stark 'operating theatre' white light. There's a new breed of LED in town and this renewable energy comes in a whole variety of colour tones, is dimmable and some even have visible filaments. You can have a beautiful 'feature' bulb that creates just the right ambience – a win-win for aesthetics and performance.
Advantages of today's environmentally sustainable LED bulbs:
Most are suitable for use with dimmer switches
Available in warm, clean white tones
Aesthetically pleasing
Available with filament effect components
Less-heat producing
Last longer than halogen bulbs
Cheaper to run.
It's really important to us at D&R that we promote sustainable living wherever we can, it's a work in progress for us. We're striving to reduce all plastics in our packaging while simultaneously making beautiful products we'd all love to have in our homes. To that end, we've curated a range of stunning LED bulbs to suit any stylish interior.
When LED lighting first arrived on the scene, it was clunky looking and expensive. We weren't altogether on board with replacing our elegant halogen bulbs with something ugly that had a hefty price tag to boot. Only hardened eco-warriors were willing to adopt these environmentally friendly eye-sores. The rest of us have taken a little more convincing.
The future is LED lighting
LED's have come a long way since then. They're more accessible, and acceptable, for the majority of us now. These bulbs are now created using chip technology, which means that as technology advances, they're becoming cheaper to buy. And, they're getting smarter – they can be connected to your home's wifi and controlled through your phone, tablet and even voice control. Welcome to the future!
6 Reasons to choose LED bulbs
If you're still not convinced, here are six good reasons to choose LED bulbs:
They use considerably less energy than their halogen counterparts…
Anything that cuts electricity bills is great news as far as we're concerned. But on a selfless level, this is also great for the environment as a whole. Less energy puts less demand on our energy grid and ultimately less stress on our natural resources.
LED bulbs produce less heat than incandescent bulbs
This makes them safer to use around the home. Halogen bulbs get much hotter, meaning that most of the energy they do produce is wasted as heat.
LED's have a much longer lifespan… 20 years!
This means that far fewer are being thrown away. Fewer bulbs 'consumed' means fewer resources for manufacturing, less packaging and reduced transportation costs.
LED's don't contain any harmful chemicals or materials
Their CFL counterparts contain mercury and need disposing of in a specialist way to avoid the chemicals contaminating the environment. LED's are much cheaper and easier, to dispose of.
Most components of an LED bulb can be recycled
Specialist collection centres (your local council tip usually has this facility) send them off to be dismantled and the appropriate parts recycled, reused or repurposed.
LED bulbs have a much higher quality of light distribution.
They have more directional light than their halogen counterparts meaning fewer LED bulbs are needed to achieve the same level of brightness. And because they're dimmable you can always achieve just the right ambience.
Are there any downsides to LED lighting?
The main drawback to LED lighting is the perceived initial investment. They often have a higher upfront cost than halogen bulbs BUT once you consider that LED bulbs last up to six times longer than other bulbs, the price is actually very reasonable.
Think about it as cost-per-use. Let's use our D&R radio valve bulb as an example:
The LED bulb costs 0.08p per hour | £15.99 with a life expectancy of 20,000 hours
A halogen bulb costs 0.29p per hour | £9.99 with a life expectancy of 3,500 hours
As you can see, the LED is far more cost-effective (by about 300%!) when you consider the price over a lifetime.
So there you have it, a whole host of reasons to ditch the halogens and go for environmentally sustainable LED bulbs. Check out our range and make the switch today…