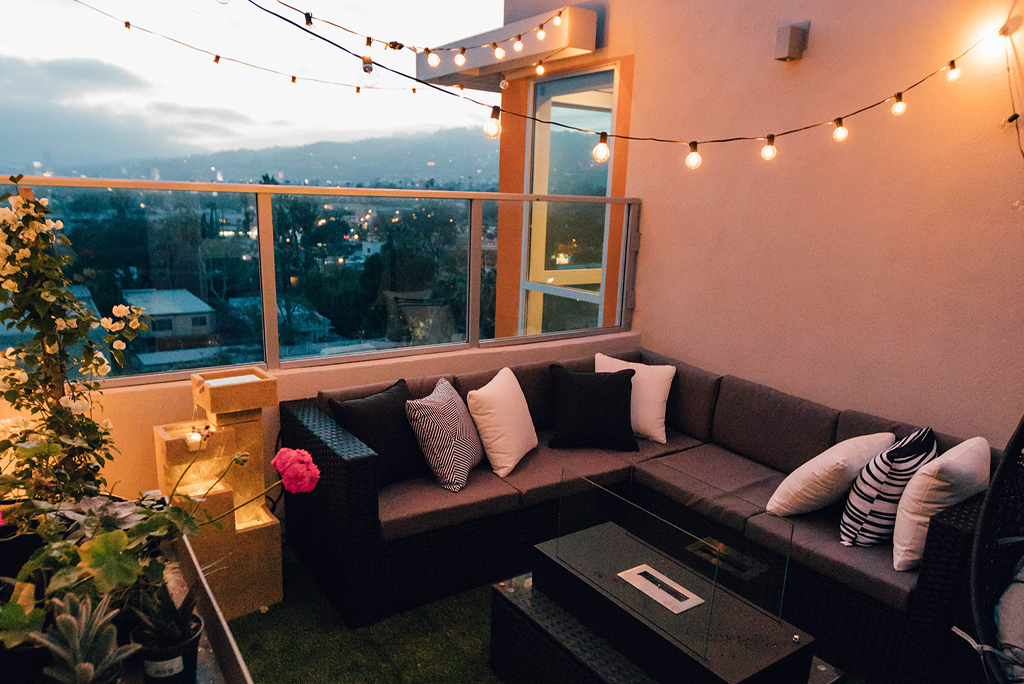 Now more than ever we're increasingly noticing, appreciating and being grateful for the little things in life. Birds tweeting, the way sunlight moves around our rooms during the day and pockets within our homes that bring us peace and joy. A relaxing afternoon sun trap in the living room or the corner of a balcony that instils a sense of tranquillity. That's why we've come up with this handy balcony garden ideas guide, to help you style up your balcony to make the most of being outside.
Balconies are an often-neglected small space that can be tricky to work with. An outdoor space, no matter how tiny, is a place to be cherished, so we've put together a few quick tips to help you make the most of your balcony.
Plants that have scale
Bring small spaces to life with oversized foliage. If your balcony is mostly in the shade, you could use big leaf plants like Fatsia Japonica (paper plant) to create the sheltered, jungle look.
Those with south-facing balconies could choose Mediterranean climate-loving plants such as lavender. Try combining these smaller, silver-leafed beauties with tall, sun-seeking palms to create a wonderful height contrast.
Providing your balcony isn't too exposed, you can almost have your pick of what plants to adorn the space with. However, if it gets a bit blustery up there, it's a good idea to choose plants that are known for their windy or coastal climates such as Eryngium Variifolium (variegated sea holly) or Stipa Tenuissima (a wispy, versatile grass).
Another thing to bear in mind is weight. Check whether your balcony has any weight restrictions and choose planters that are within these limits.
Create height and privacy
Bamboo is at its best when planted in a galvanised metal container as its strong roots will wreak havoc on plastic and terracotta pots.
Black bamboo is an excellent choice to create height and privacy as its dark, elegant canes help create a cocooning space. This is perfect in situations where one balcony is attached to another or if it overlooks a public hotspot.
Mood lighting
Lighting is a great way to bring interest and even personality to a balcony garden space. As long as the design you choose is IP-rated, it'll be weatherproof and durable against the elements.
For a low-key, ambient space, place up-lighters at the base of the bamboo, a wall or other tall plants. The shadows cast from the light will dance around the space as the sunsets.
Invite a characterful monkey light to nestle into the corner or drape along a wall. If jungle isn't your thing, a striking raven light perched effortlessly on a window ledge or table will bring heaps of personality – and maybe even keep those pesky pigeons at bay! Either way, they're sure to make excellent conversation starters.
To create romance, add still or very gently twinkling outdoor LED lights in warm white. Equally, wall lights which show off a low wattage filament LED bulb look beautiful and last a long time, too.
Scent and living walls
Fashion a living wall with herb plants like basil, parsley, thyme and mint. As they start to give off their characteristic aromas, you'll find yourself spending more and more time in your balcony garden, taking in their lovely scents. They're also perfect for compact spaces as you can grow them in small containers on a window ledge.
Choose a fragrance that brings fond memories. For us it's Jasmine – it reminds us of those sunny evenings on holiday and growing this fragrant climber takes us right back with its heady scent.
If you don't have quite the right wall space, you can find pocket planters that attach easily and hang from balcony railings.
Concrete jungle
Love it or hate it, artificial grass is perfect for getting that essential green into a concrete area. This is especially true for balcony spaces which can often have an overpowering grey stone feel.
Laying down artificial grass will instantly bring a sense of life to the space and help you relax and recharge in it. Imagine sipping your morning coffee barefooted, the soft green bristles tickling your toes as you take in the surrounding views. That thought alone is enough for us to forget the fact it's not real grass!
Take a seat in style
You might be wondering just how you're going to fit in a couple of chairs or even a table? If your balcony garden is spatially challenged, the key is to seek out furniture that is easily adjustable.
Choose a table design that folds down from the railings, or chairs you can whip in and out of the flat as needed. For sunny spots, you can even get a parasol that fixes to the wall or railing. No bulky base means you can easily swivel it as the light changes.
If you're looking to create a comfier, more casual space, lay down a hardwearing jute rug or opt for a colourful Moroccan design and scatter large cushions. These can also be easily stored away if the weather changes.
Don't forget sound
It's all about what gives you moments of joy or peace. Music that brings back a fond summer holiday memory can do wonders for your wellbeing in times of stress.
Invest in a quality outdoor speaker and opt for trickling river music to whisk you away to another place.
And for when friends and family are eventually allowed to visit, enjoying your favourite music as you chit chat the evening away will make all the difference.
Have you renovated or restyled your balcony recently? We'd love to see cosy, eclectic or tranquil, escapist havens you've created.