From smoked gold to matt black, single plug sockets to those with built-in USB ports, you had no idea plug sockets, and light switches came in such beautiful finishes and colours.
Elegant, captivating, but also functional, you love how your new plug socket looks under the illumination of your decadent floor lamp. The gentle click of the switch is a small but satisfying detail, and you admire how the copper surface glints in the light – blending seamlessly with your blush-pink-coloured walls.
Our premium plug sockets and matching light switches are designed with style and practicality in mind for a sleek, timeless feel.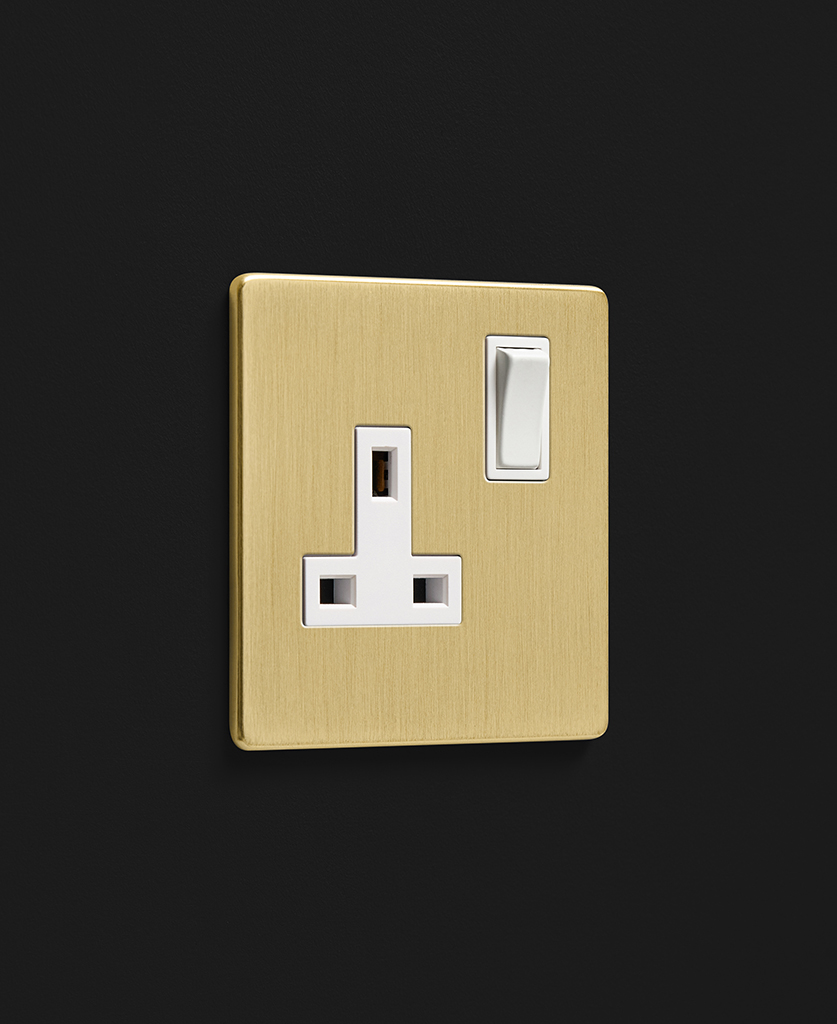 Fit our distinctive plug sockets and transform your outlets into eye-catching details. Their thoughtful screwless, flush-fit design adds a touch of refinement wherever you place them.
When you want to update your interior, explore our exclusive plug sockets and experience the simple joy of plugging something in.
Enhance the finer details of your home with our premium plug sockets
Even a routine task like connecting your statement table lamp to your new chrome plug socket feels satisfying when everything perfectly clicks into place.
The moment is fleeting, but it's just enough to get you daydreaming over how else you might synchronise your home décor.
Your home is more than just a place to rest your head. It's a sanctuary where you can create an environment that reflects who you are. Dowsing & Reynolds can help you make the small details in every corner of your home feel special – starting with your plug sockets.
Plug sockets no longer need to be an overlooked detail but become a focal point of your interior design scheme. Our collection of contemporary yet practical plug sockets enables you to create just the look for you – whether you want something understated and classic or to be a bit more daring.
Why choose Dowsing & Reynolds for your new plug sockets?
Plug sockets are the unsung heroes that keep your home running smoothly and your guests' phones charged! And we have a finish to suit your home décor style… From show-stopping unique metal effects to minimal black or white to opulent gold and sleek chrome plug sockets.
What sets the Dowsing & Reynolds plug sockets apart?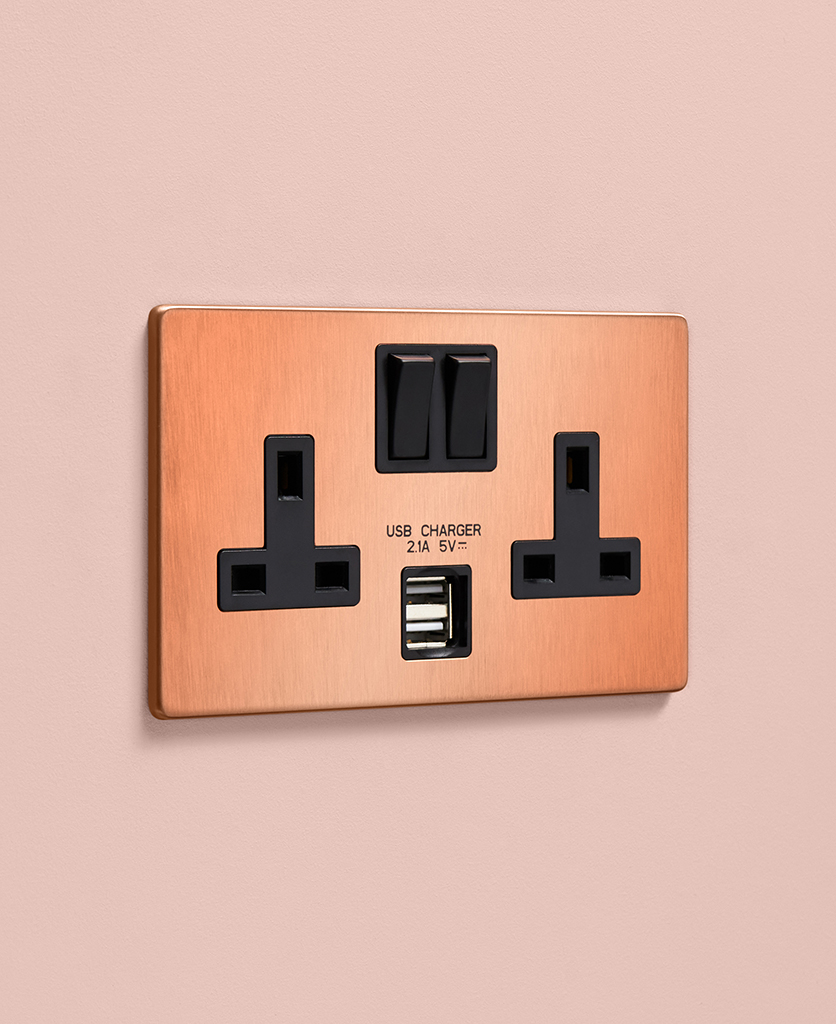 When you flick the switch on, you glimpse how seamlessly our plug sockets fit into your home's design. Dowsing & Reynolds can help you get the most out of even the modest details of your home – and plug sockets are no exception.
You don't have to settle for a standard single socket
Most of us have at least one or two old, single sockets in our homes. Maybe they're in the front room, they came with the house, and you're just unsure what to do with them. You may hide them behind your furniture because they don't fit your décor.
With our range of metallic single sockets, your single sockets can become a striking element of your home décor.
Stunning single sockets:The classic single socket you're familiar with but better. To add a hint of drama to your home, look no further. We have the plug sockets and switches for you. Our black sockets with white inserts work in stunning contrast with warm tones of wood and stone, making them ideal for injecting exceptional detail into your space.
If you've got your heart set on an interior with the edge, consider our smoked gold or tarnished copper sockets. They'll add intrigue to any room with their distressed finish that evolves beautifully over time and with use.
Unswitched plug sockets: Unswitched sockets are the cleanest and most minimalist of plug sockets. They're ideal for powering the larger appliances in your home, streamlining your space while boosting its visual appeal.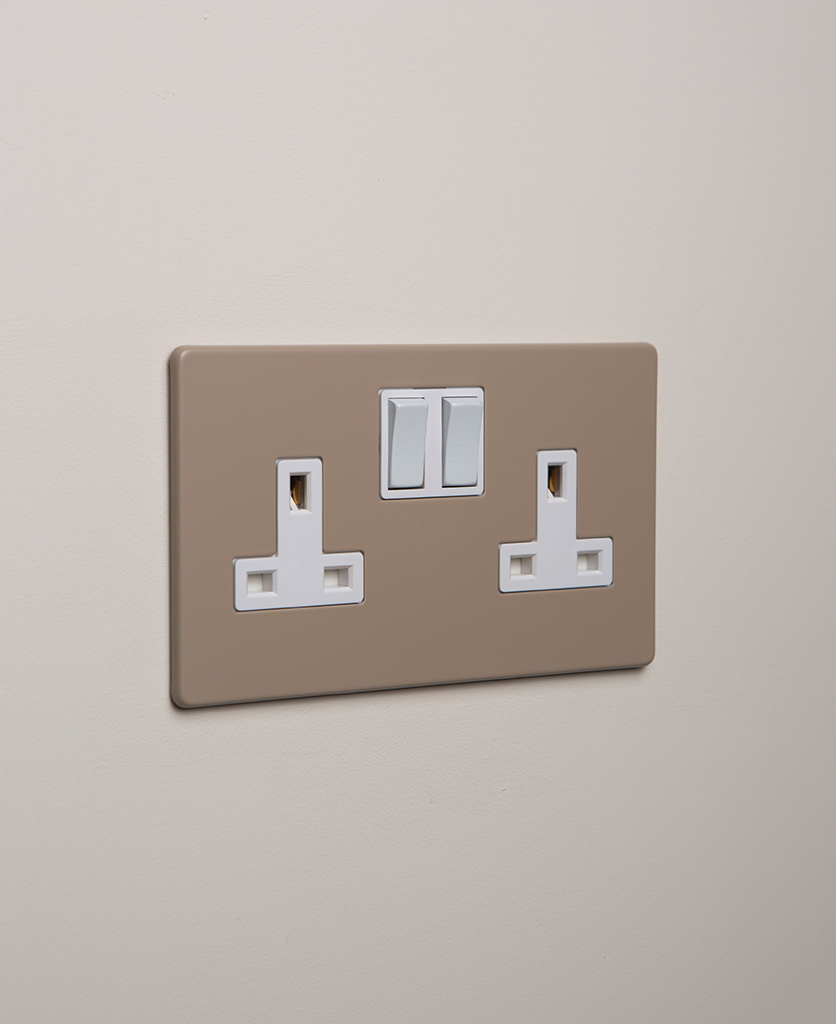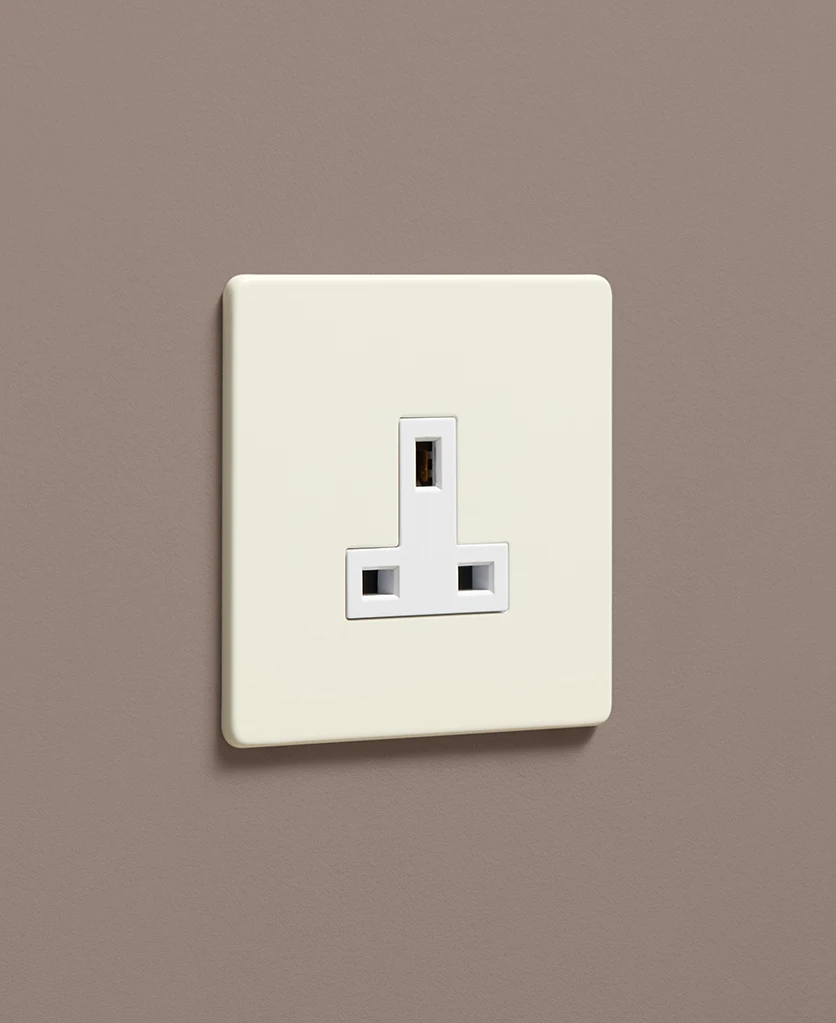 With their neat design and extra phone charger not required, space-saving qualities, they perfectly match the rest of our range, so it's easy to replace all the sockets in your room at once.
Our double sockets with USB are the perfect solution for anyone who has chosen between charging their phone and powering their lamp. Now you can do both, with no hasty fumbling around trying to plug everything into one outlet before your battery runs out. 
Sometimes, the best things in life are the simplest.
With our high-end plug sockets, you'll be able to replace ordinary components with ones that make everyday tasks more enjoyable and convenient.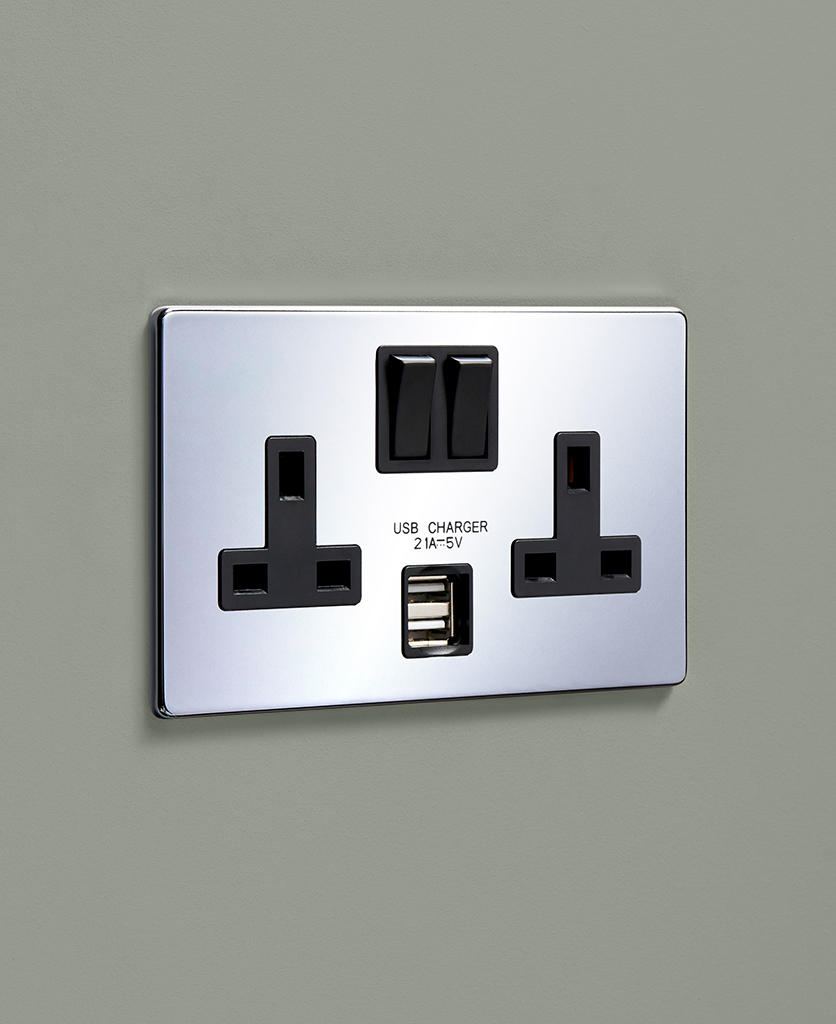 Cooker sockets: The ultimate choice for practicality and style
The kitchen is the heart of any home. It's where we prep, cook and enjoy meals with family and friends, so you want it to look unique. That's why we have cooker plug sockets to help you transform your kitchen into a space that looks cohesive and coordinated. Or, if creating a bold statement is what you're hoping to achieve, browse our warm cinnamon collection and contrast it against white walls.
Dowsing & Reynolds has created a line of cooker switches that are as elegant as they are functional. You can customise the look of your home to the very last detail with our extensive range of colours and finishes. From powder-coated white plates to brushed brass and dreamy coffee-shop hues, our cooker switches help you express your style in the most beautiful way possible.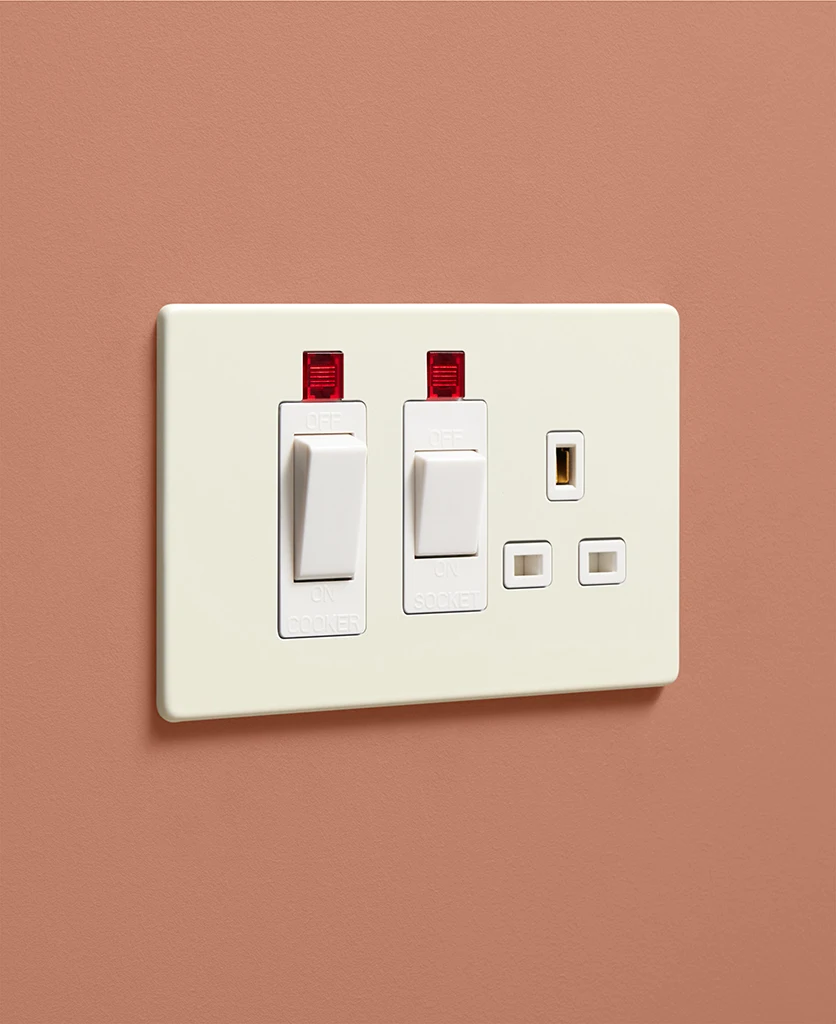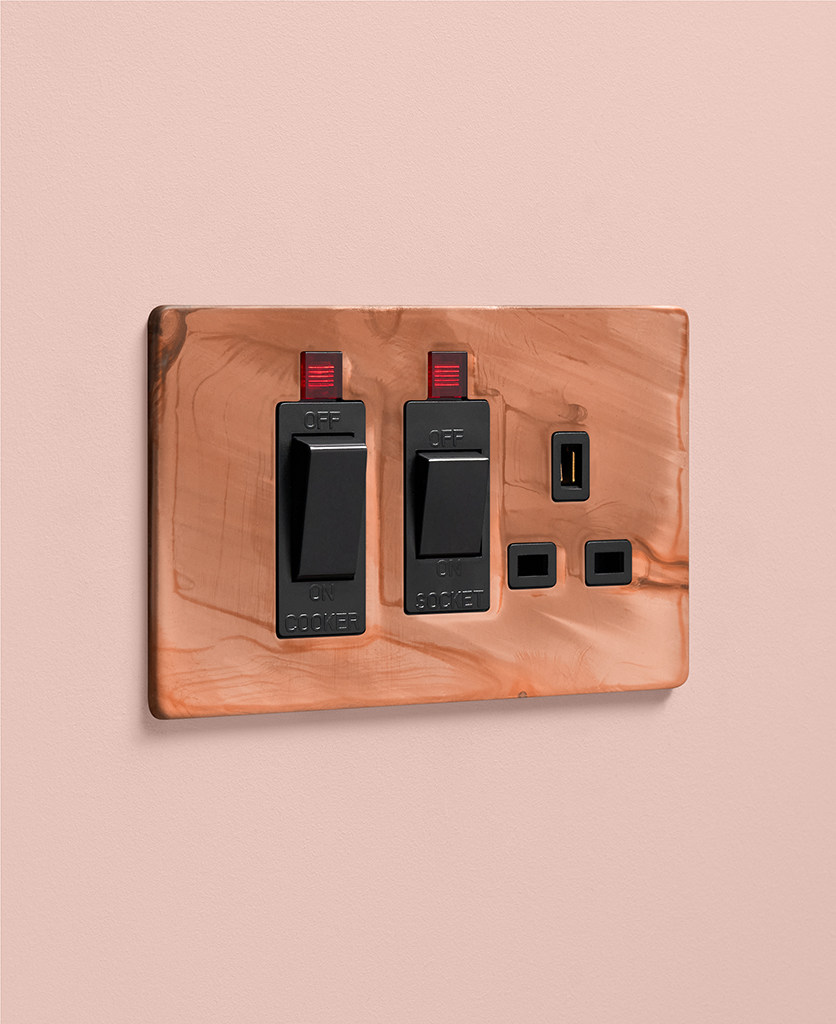 Have you considered coordinating your switches and sockets with other accessories and appliances within your kitchen - the trick interior designers use to create cohesive, eye-catching spaces that make you stare in awe?
Discover the versatility of Schuko Sockets
Changing out your plug sockets can be transformative, giving your interior an updated and stylish look.
Swap out old plastic Schuko sockets for more premium products with our unique collection – you won't find these pieces anywhere else.
Laying eyes on our Schuko plug sockets, you notice their sleek and minimalist design. The unique finishes adds a touch of sophistication to any room, while the compact size ensures that they won't clutter up your wall space.
But it's not just the visuals that make our Schuko plug sockets stand out. The durable construction and sturdy materials used in these plug sockets mean they'll hold up well against wear and tear, ensuring a long lifespan for your investment.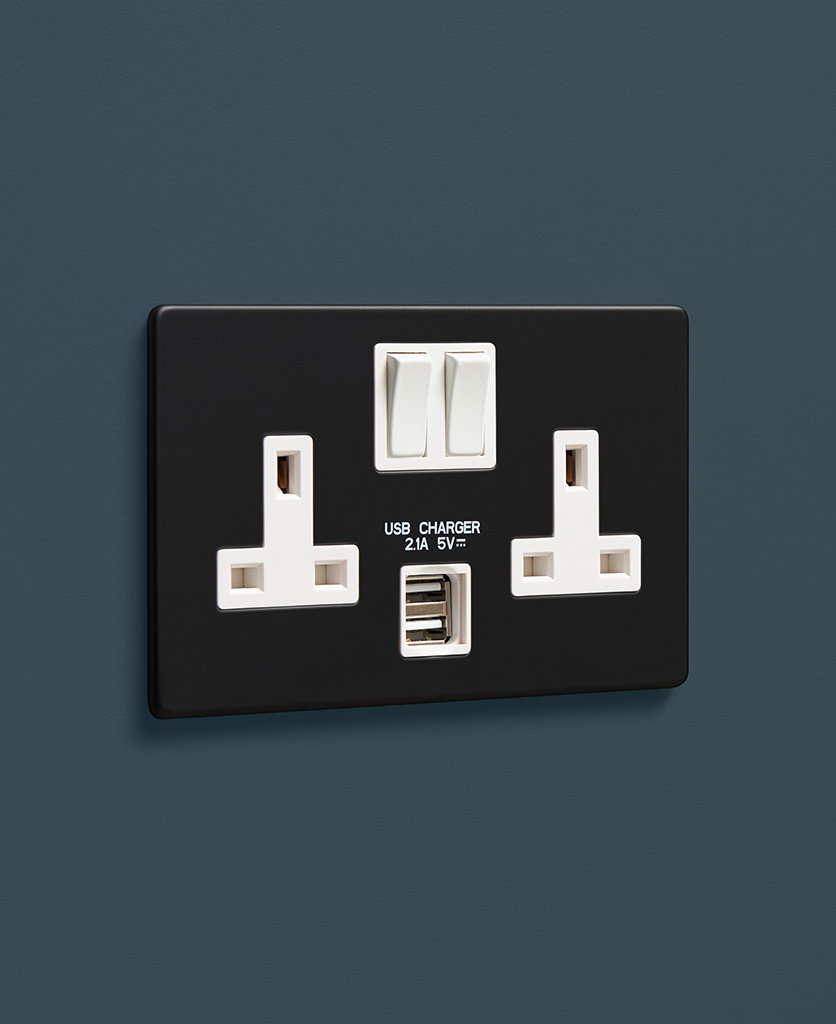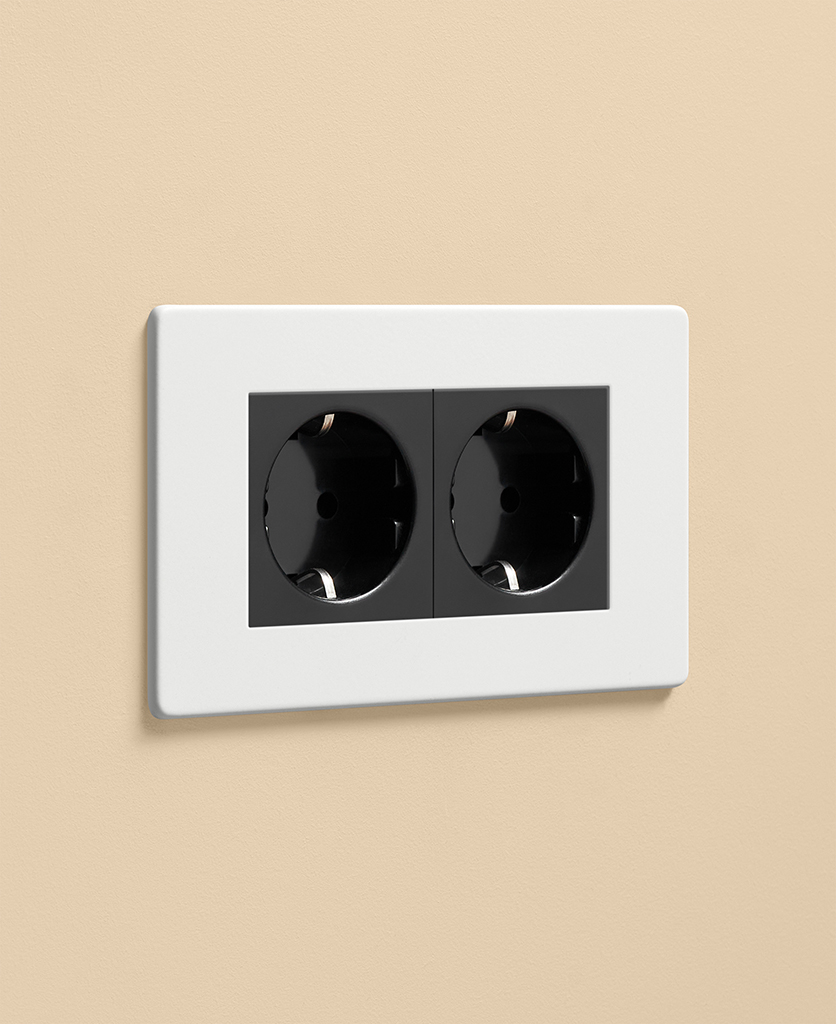 Premium plug sockets you'll love to love
We're all about curating products that help you create a personal space where you feel at home and love to spend time. Our plug sockets are about more than just functionality – they're the finishing touches that make your interiors yours.
The ridged texture of a knurled dimmer light switch. The smooth, curved surface of your kitchen drawer knob. The soft and gentle glow of your multi-pendant light. A few details that make your everyday interactions more enjoyable.
In the design world, these small details make a space truly beautiful. They are what make a home feel comfortable. They give you something to touch, something to experience, and moments of delight.
Create a home you love with our characterful collection of plug sockets.