Your April Instagram shots: the ones I adore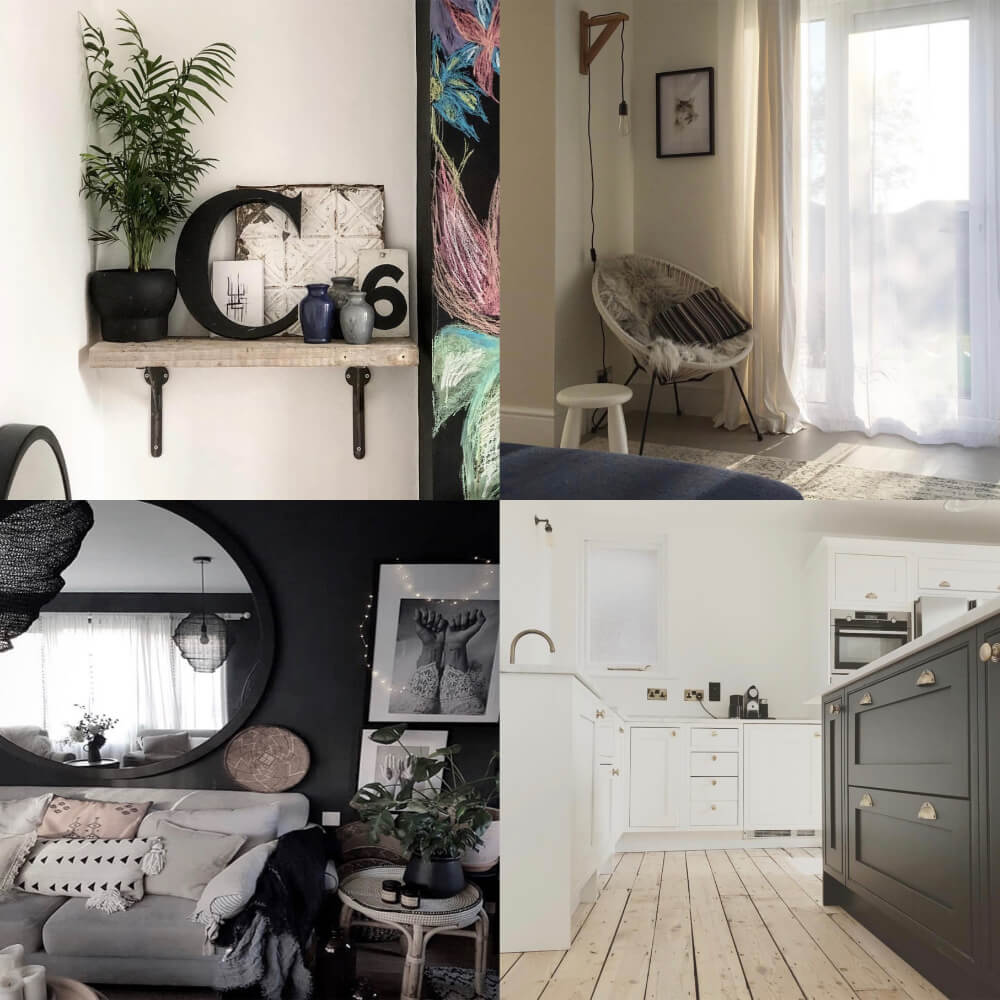 Well it's that time again! It's the end of the month and I've got an April Instagram roundup for you…. And we've been totally spoiled this month with all you lovely people tagging us in your pictures. Some serious interior inspiration, we couldn't possibly keep these images to ourselves…
April's theme has definitely been Scandinavian living. Spring is here and our homes are reflecting this. We love the Scandi-vibes of your interiors and how you've styled our products within your spaces. We've seen reclaimed wood, washed down floors and white walls. Absolutely gorgeous. But all you lovers of dark interiors fear not… You can still incorporate a Nordic influence into your home while staying true to your style. Go with natural textures against deep, rich tonal walls, lots of plants and black & white prints. Complete bliss!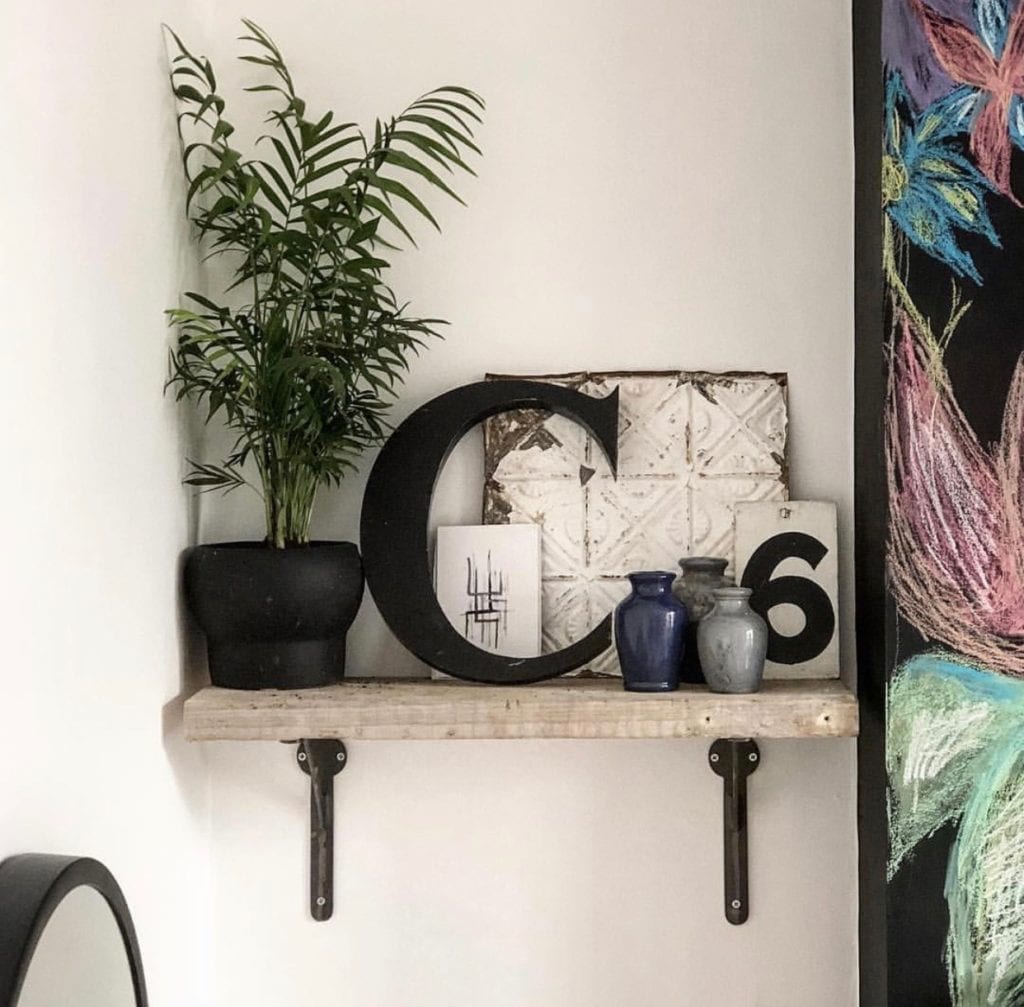 Vintagecuratorinteriors Perfect Shelfie
Looks like someone's read our latest #shelfie blog post! We love how Samantha has styled this shelf, creating a focal point in her bedroom. She's used our Eddie iron brackets along with a reclaimed piece of wood for that perfect shabby-chic shelving unit. The washed-out wood combined with the white walls soften the masculinity of the metal brackets. A splash of colour on the chalkboard wall injects energy into the monochrome palette. With the mixture of vintage glassware, ceramic tile and of course, a potted plant, we give Samantha an A* for this shelfie.
Check out more of vintagecuratorinteriors gorgeous home on her feed.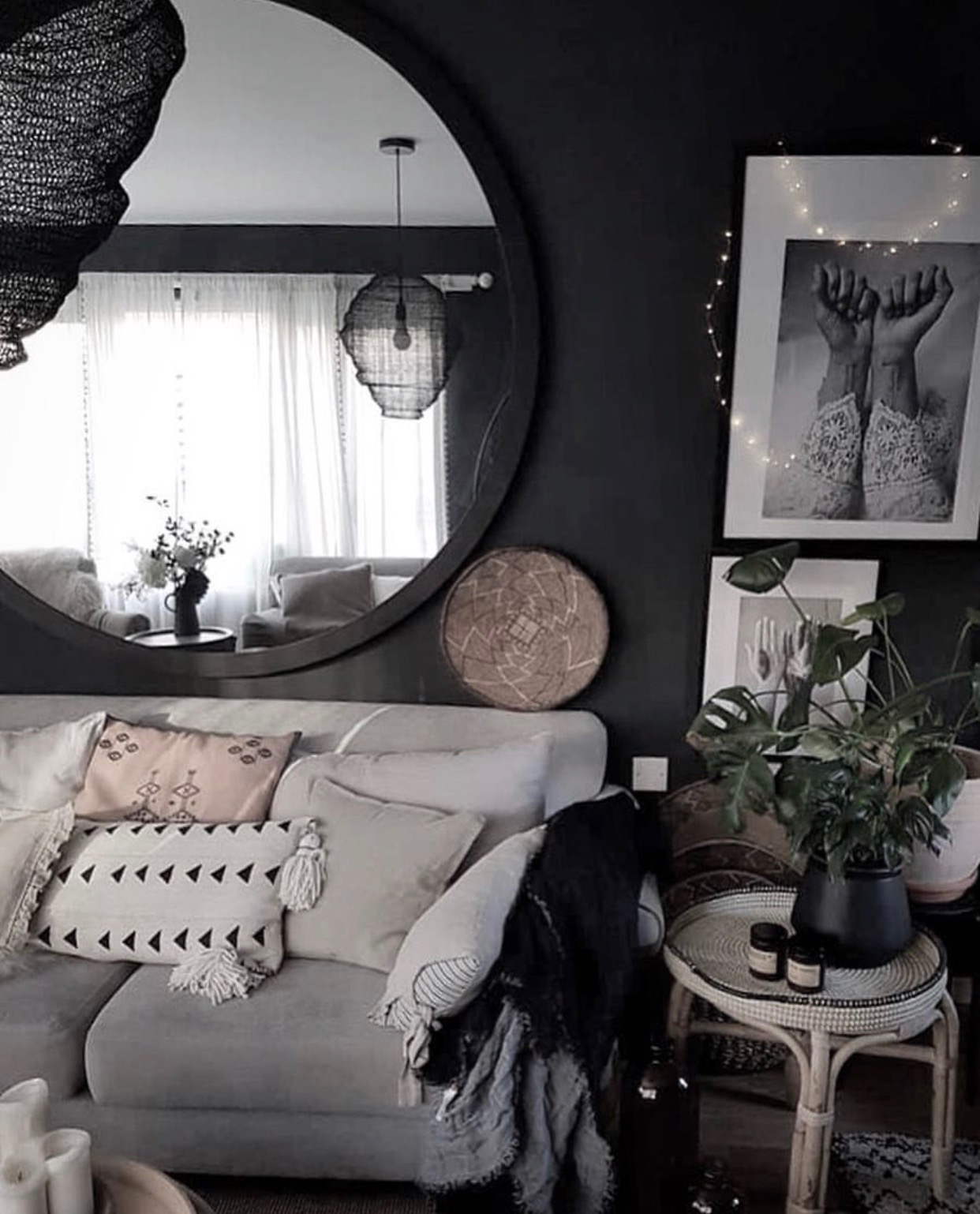 Vintage_skye's Nordic Living Room
We absolutely love the cool, relaxed vibe of Mina's home. Every one of her photos gives us major interior inspiration. Mina's home is the perfect example of embracing the Nordic look, without all the walls in being white! Our Baya Nest mesh light adds a touch of texture and interest to the room. Adding a mirror opposite the window floods her lounge with natural light, off-setting the dark walls. With all the luxe cushions and throws dotted on the sofa, it's certainly a grown-up living room we want to curl up in to watch our favourite Swedish crime drama.
Check out more of vintage_skye's lovely photos on her feed.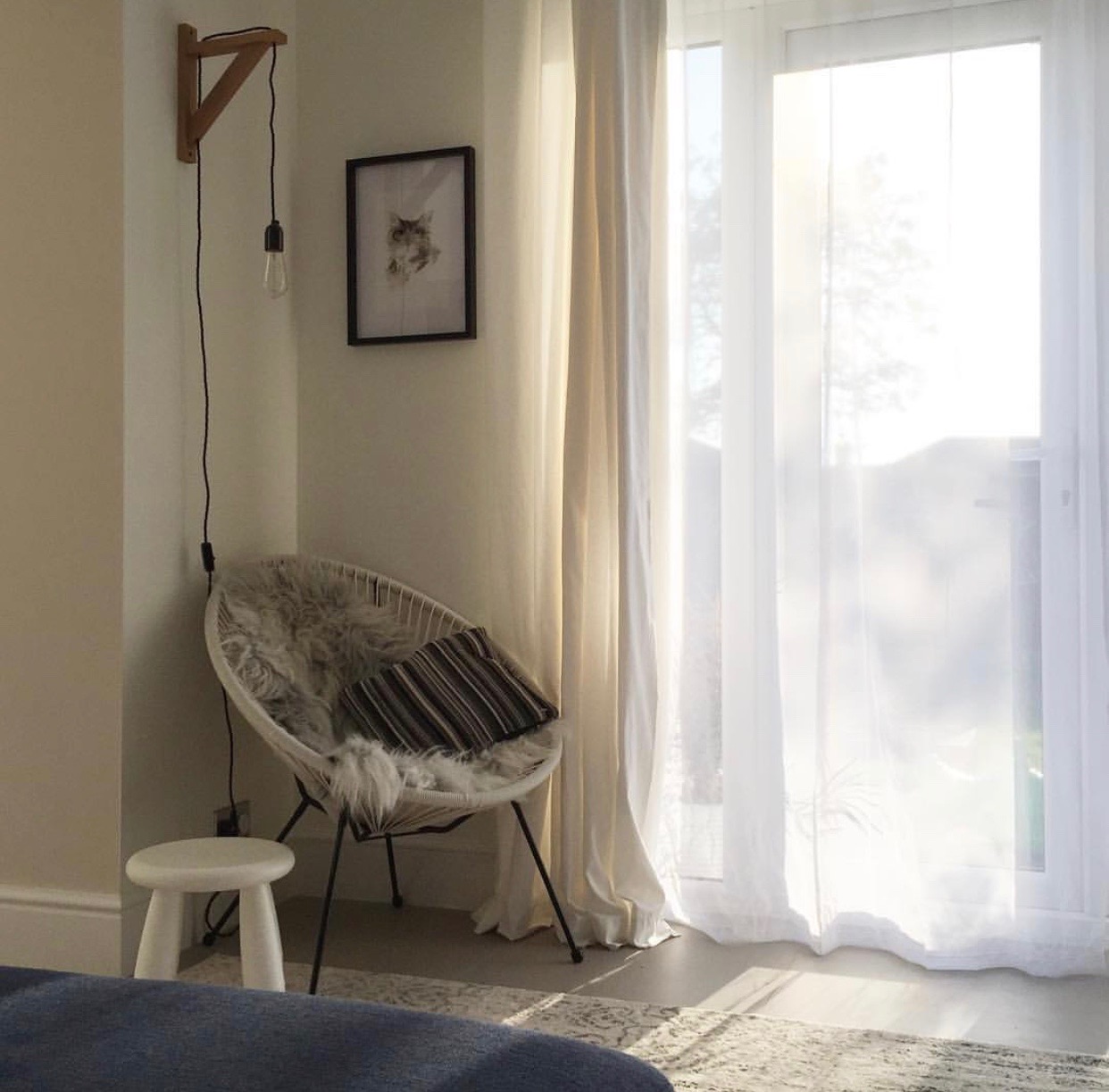 Teamartina_living's Cosy Reading Nook
We've all tried to create the perfect corner nook that we imagine ourselves in; curled up on a cosy chair with a cup of coffee diving into the latest 'must-read' novel. Teammartina_living has managed just that. We're big fans of the contemporary bucket chair with fur throw to give the space a welcoming feel. The corner is very in keeping with the Scandinavian feel; light coloured walls, grey tones and a natural vintage rug. We love how she's placed our Hebden wall light just above the chair. We can't think of a more perfect spot to unwind in after a long day at work.
Check out more of teammartina_living's pictures on her feed.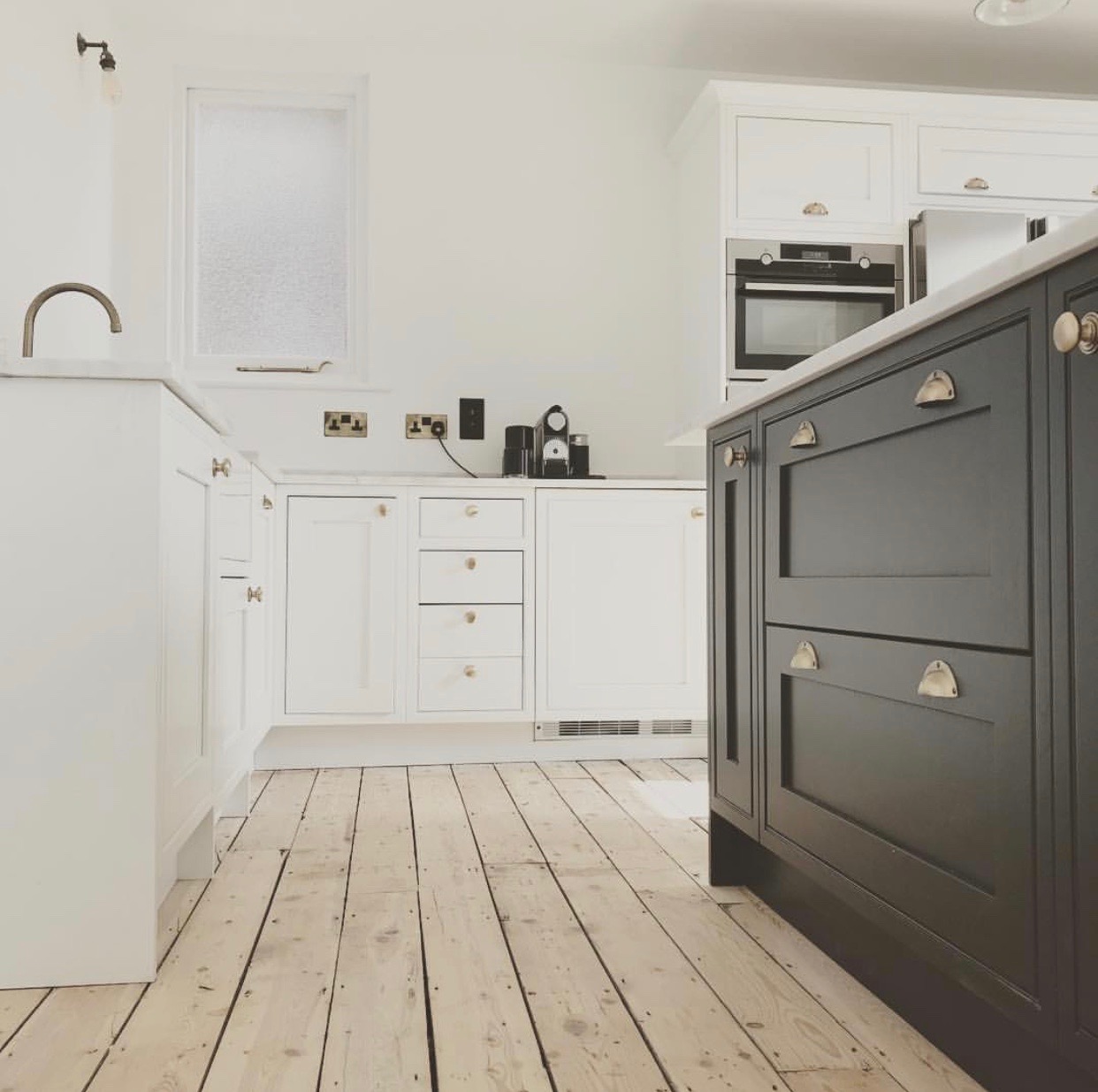 Surrey_renovation's Stunning Kitchen Makeover
We've been following the renovation of Anna's flat from the beginning, and have been very much looking forward to seeing her finished kitchen. The mixture of the marble countertop, white cabinets and dark painted island gives the space depth – it looks spacious and airy without feeling too washed out. Our smoked gold plug sockets perfectly complement the other brass accents in the room. The eagle-eyed amongst you will also notice one of our Manston wall lamps just above the sink, an ideal down-light that helps keep the counter sides clutter-free… If only we could keep our own kitchens this clean and tidy!
Check out more of surrey_renotaion's home makeover on her feed.
Do you want to be featured in our next Monthly Roundup?
Be sure to tag us in your photos of our products and use our hashtag #dowsingandreynolds. You never know, you might be seeing your pictures in next months post…