Kitchen Handles: our guide to making the perfect choice…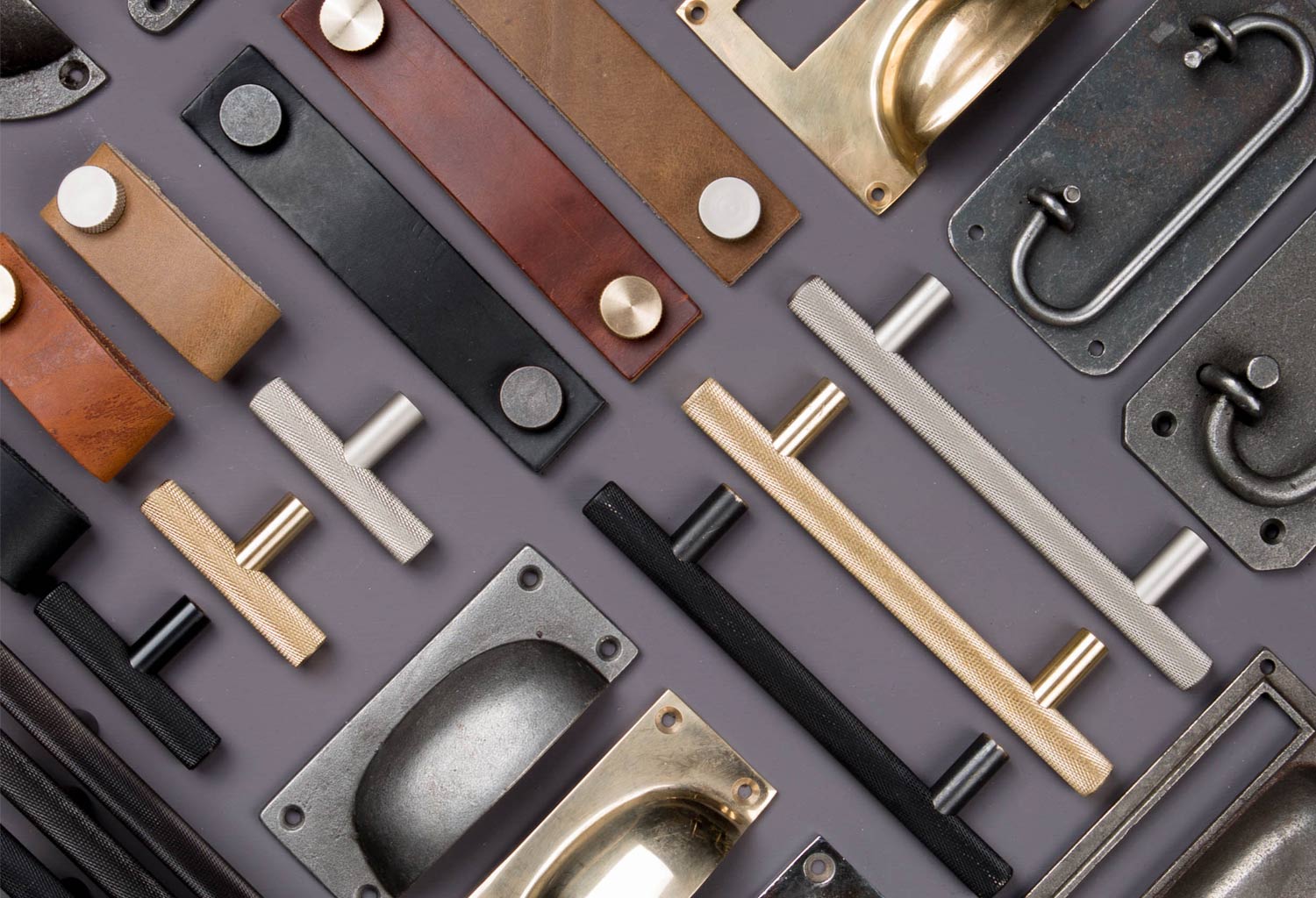 Kitchen handles are an often overlooked design detail. But think of it this way, no outfit is ever truly complete without a little something to finish it off. Be it a watch, belt or simply a pair of earrings, the same goes for your kitchen. These humble cupboard handles may seem like an insignificant detail, something that won't really impact your overall design, but we're pretty sure you'll regret it in the long-run… I know I can't handle that kind of anxiety (not sorry!).
Whether you've got a brand new kitchen, or are just looking for a way to do a quick spruce up on your current units, kitchen door handles are the perfect way to finish things off. So where do you start… How do you settle on what colour, material, shape and size to choose? Read on for our step-by-step guide to selecting the perfect kitchen handles for you.
Step one: Which colour of kitchen handles to choose for your decor
Featured handles: Skyscraper
The most important decision you're going to make is colour. After all, you want these kitchen handles to reflect your personal taste. You want to enjoy looking at and using them. So think about whether you prefer to match colours together – a white handle on a white unit – or do you like contrasting colours e.g. a brass handle on a black cupboard? Maybe tonal shades make your heart sing; think silver metal handles on a grey painted door.
When thinking about your new cupboard door handles, picture your finished kitchen in your head… Do you want your handles to be an accent or to become part of the theme… Do you want the handles to match other accessories you have – if you have brass taps and light fittings for example, do you want your handles to match those and become a feature. Or, do you like a more streamlined look where the handles blend into your unit doors. Once you've decided which look appeals to you most, move onto step two – choosing the material…
Step two: which material is best for your needs
Your choice of kitchen handles really matters. This is the thing that's going to impact the overall vibe of your kitchen. Whether you're after a Scandi vibe, something altogether more minimalist or a heritage finish, we've got a solution.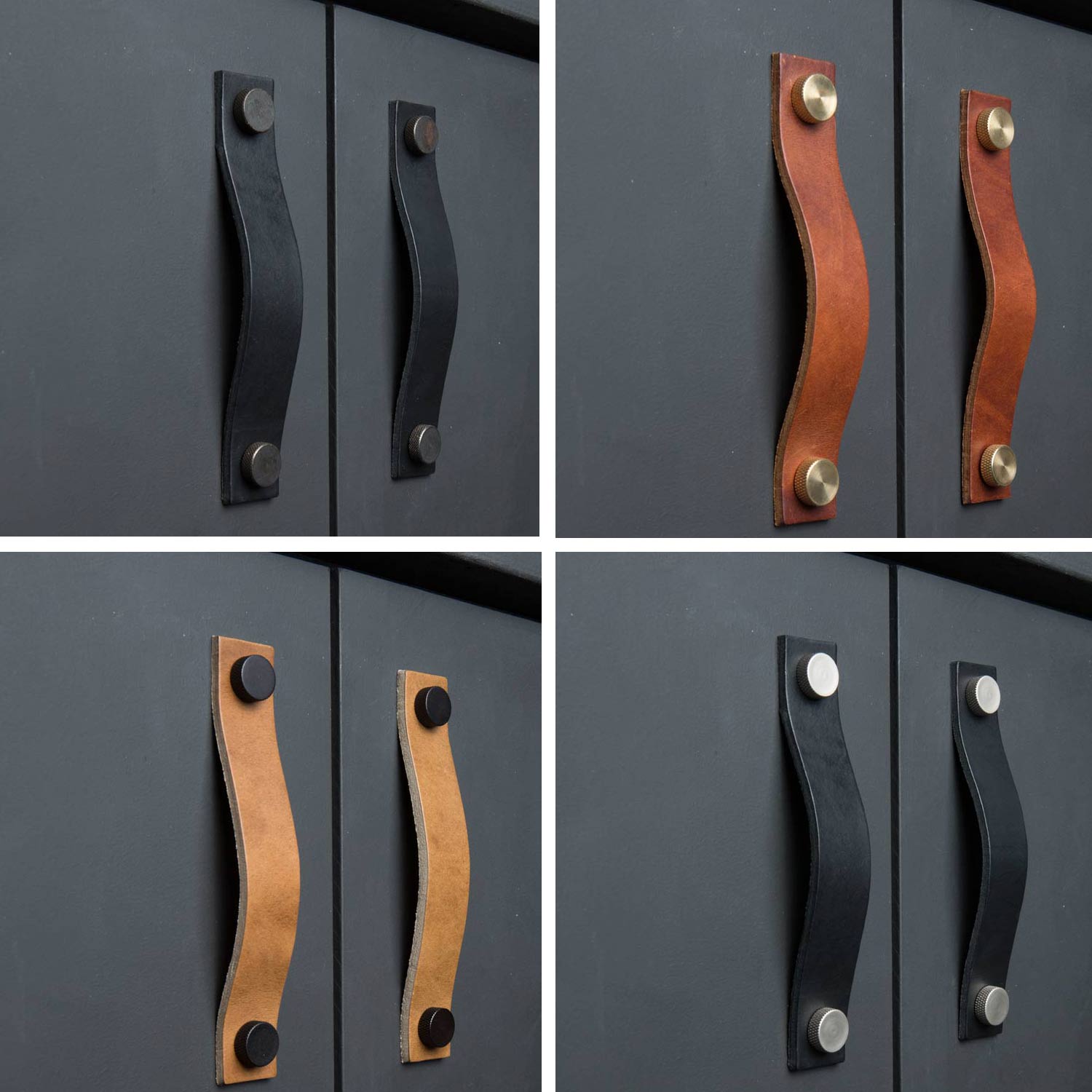 Featured handles: Thor with Crack in The Pavement paint
Leather cabinet handles are quite masculine straps that can be used either vertically or horizontally to add a touch of luxury to your spaces. These pull handles are beautifully tactile which makes opening your doors a real pleasure.
Leather is a material that becomes softer with wear and tear. Just think of your favourite leather boots or jacket… And like these, they will take some breaking in – but it's worth it in the long run for the supple finish. With this in mind, if you're wanting to keep your leather handles looking their best it's probably best to use them in areas that aren't in constant use. Also bear in mind that many leather pull handles are uncoated so they're probably not the best choice for areas where sticky little fingers can get at them!

On the opposite end of the spectrum are metal pull handles. Solid metal kitchen cupboard door handles instantly feel luxurious. They're weighty, robust and chic. Streamlined pull handles work in any style of kitchen, and can stand out as little or as much as you want. If you're looking to make a statement, choose a handle in a larger size or in a contrasting colour to your drawer or door. For something more subtle, opt for complementing colours such as silver on white.
Metal handles are not only stylish, they're a practical choice for busy kitchens too – metal can easily be wiped down if it accidentally gets marked.
Traditional iron

Scoop handles have an authentically vintage vibe about them and they look gorgeous in any kitchen – especially on wooden units and cupboards. These sturdy metal pull handles remind me of those you'd find on an old-school filing cabinet in a library or factory. The neat freak buried deep within me loves the idea of a handle with an inbuilt label slot for my drawers – it makes me wish I was hyper organised. But in reality, my drawers are full of unsorted mail and takeaway menus… I don't think 'stuff' would quite cut the mustard as a drawer label. But a girl can dream.
Step Three: Size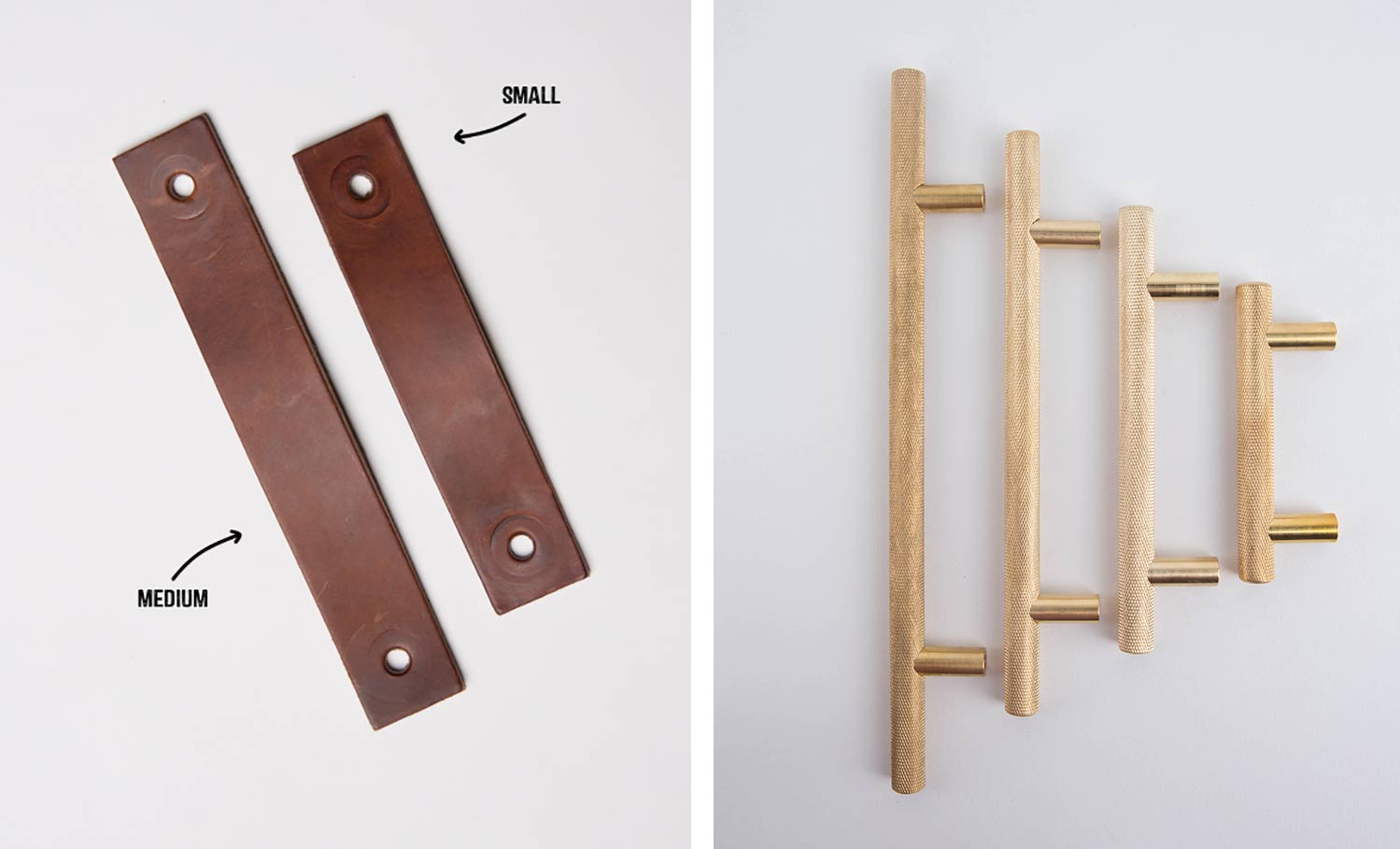 As you probably know from your research, kitchen handles come in a plethora of sizes and choosing the right one is important for how your kitchen will look. If you want to keep things neat, opt for smaller, streamlined handles that will be more of an accent. Larger handles are perfect for making a bold statement in your interiors. Fix them horizontally across the length of your drawers or vertically on cupboard doors for an ultra-chic and stylish look. After all, a lot of thought has gone into selecting these handles, they deserve showing off!
Step Four: Screw size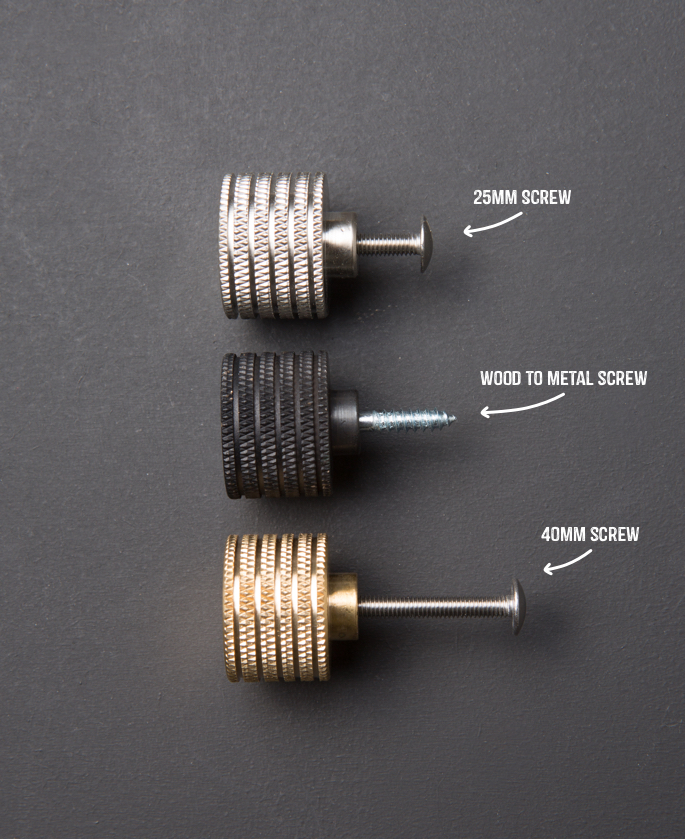 Featured handles: Avant Garde
A final thing to note before you order your new kitchen handles is the size of the screws – I did warn you that buying handles could be a minefield! If your cupboards and drawers are relatively thin, think IKEA style wood, 25mm screws should be sufficient enough to secure your handles. If you have solid wooden cupboards, opt instead for a 40mm screw. Finally, if your wood is super-thick and solid choose a wood to metal screw – which, as the name suggests, secures metal handles to wooden surfaces. Simples.
If all of this is still a little overwhelming, our dedicated opps team are always more than happy to help. You can email them for advice: contact@dowsingandreynolds.com or chat with them on live chat.
Whichever kitchen handles you choose, we always love to see how and where you're using our products. Feel free to tag us in any photos you post to Instagram #dowsingandreynolds and who knows, we might just feature you in our monthly blog on the Instagram feeds we love.