Monkeys and Ravens and Hares. Oh my!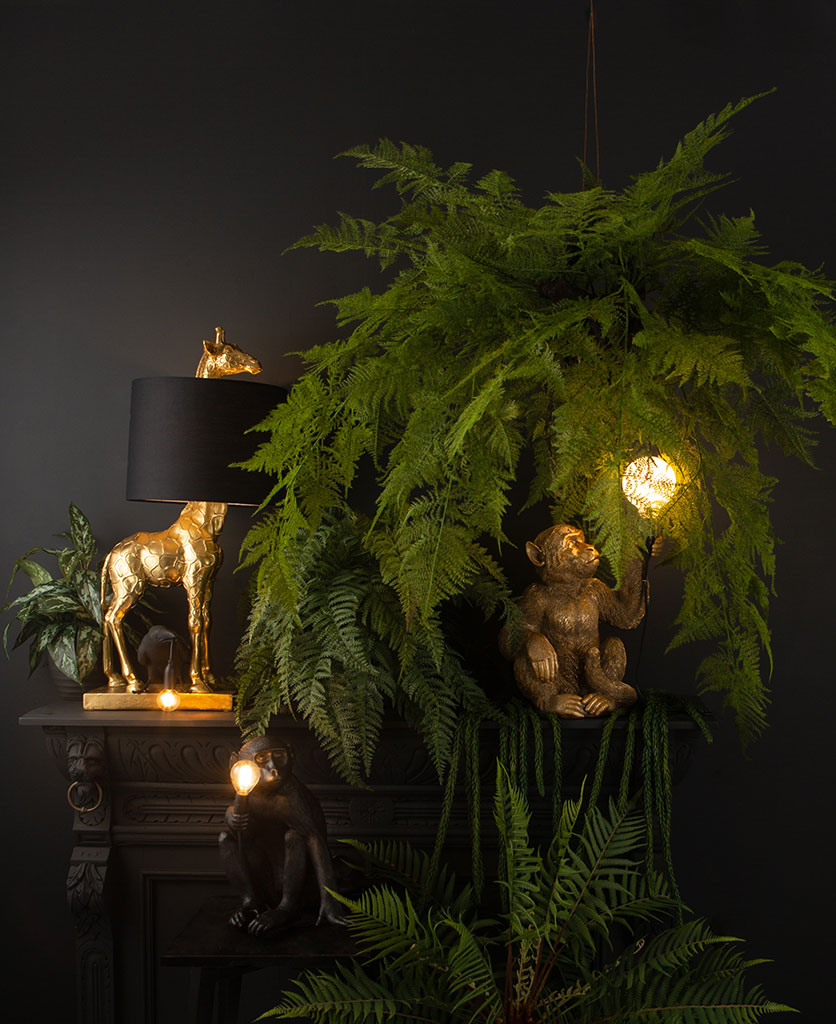 If like me, you get a real sense of happiness watching Sunday evening Attenborough, then maybe you'd like to adopt an animal lamp. Granted they aren't very cuddly, and they won't entertain you for hours on end. They are lamps after all. But maybe that's a good thing. Monkeys are cute, but no one actually wants a menagerie of mammals wreaking havoc in their beautifully styled home!
Our collection of animals is a Motley crew. A whole zoo of hares, giraffes, ravens, monkeys and dogs, each with their own personality, patiently waiting to be shipped to their new homes. But beware, one look at their cheeky little faces will leave you wanting to buy them all. So without further ado, let me introduce you to our delightful animal lamp friends.
Mischievous monkeys
You'd be crazy to let a monkey loose in your house unless it's one of our fabulous primate pals. These cheeky chappies are available in all kinds of weird and wonderful positions (ooh err), AND some can even go outside, something to really get the neighbours talking.
An unfriendly of Ravens
Ravens are a controversial animal. Some cultures see them as an omen, vilifying them for their tendency to feast on the flesh of decaying animals. It's not all doom and gloom though, other cultures celebrate the raven, seeing it as a symbol of protection. In fact, the tower of London keeps an unfriendly of seven ravens, six residents and a spare, as the 'Guardians of The Tower'. Legend has it that if ever the ravens disappear from their fortress, the kingdom will fall. A tad dramatic, but folklore can't be broken, I suppose.
Whatever you think of these winged creatures, they sure look slick. rated as IP44, our playful and waiting raven lamps look amazing both indoors and out. Daphne and Alfred's preferred place to perch is on a side table or shelf where they can dangle their bulb happily – whilst standing guard of course.
Hares, Dachshunds & Giraffes
If you're more of a dog lover, I'd definitely opt for our Fred animal lamp. He's a loyal Dachshund who's bound to keep you company on those dark winter nights. Sure he doesn't really do much, and you won't get to explore the woods and great outdoors with him. But does that really matter when he's this handsome? Just look at those puppy-dog eyes.
On the opposite end of the animal lamp spectrum is our Sky giraffe lamp. She's tall and magnificent, the perfect specimen for making a statement in your room. I'd say that Sky was the most refined of our animal collective, there's just something in her demeanour.
Finally, we have the oh-so bashful Hartley. As much as she tries to shy away from the limelight, this demure hare is just too tall. At just over 1 metre this is a large lamp, ideal for lighting up those darker nooks and crannies.
So there you have it. My roundup of the quirkiest animal lamps to inject some character into your home. But who will you choose?
As ever, we love seeing how you use our products, especially when it's one of our beloved animal companions. Tag us on Instagram #dowsingandreynolds