Our New Normal – ideas for tweaking your home to fit
With many of us continuing to work from home, it's becoming increasingly important to try and find a balance between our home and home offices. Not only that, but I've found that with so many restrictions in place, we're doing lots more at home as a family too, which means that my house has evolved into something far more important to me than I ever thought it would be… Here are a few ideas and improvements I've made to spruce up my home and make it multi-functional to embrace our new normal.
I don't know about you, but my home just isn't quite what it used to be at the beginning of 2020. For starters, I'm writing to you from a whopping great desk plonked slap bang in the middle of what used to be my living room. For five months now this room that used to be our little solace has been a hive of activity, housing not only our cosy sofas, TV and log burner but also my entire office (sadly not the people) and a playroom. It's like a Tardis!
Unfortunately, our house is not so blessed in the size department – it was fine for a pre-lockdown retreat. But as a family of three with an energetic toddler and two cats, we quickly realised that we needed to adapt to our new normal or risk burning out and going stir crazy.
The Living Room:
Collectively we spend a LOT of time in our lounge, it's become a place where we play, work, eat and relax. It's having some serious hammering at the moment. So for me, it's important that this space can adapt to whatever I want it to be that day. It needs to be practical yet relaxing. It needs to be a space where I can concentrate, but also switch off and not worry about work while I'm not actually working. Because of this, I've moved my furniture round more times than I care to remember in search of the perfect balance.
So what can we do to make the living room multi-functional?
First up, you need to separate your office from your home. I'll be honest this has been trial and error for me. But for the time being, I've settled on putting my desk in the corner. It looks out onto the rest of the living room but is out of my sightline if I'm relaxing on an evening or watching tv.
Adding a lamp makes my desk feel more ambient and relaxing, it's also much more flattering than the 'big light' during those all-important zoom meetings. That being said, secondary lighting is perfect for creating a zen-like space on an evening too. So my desk light has really come in handy over the past few months.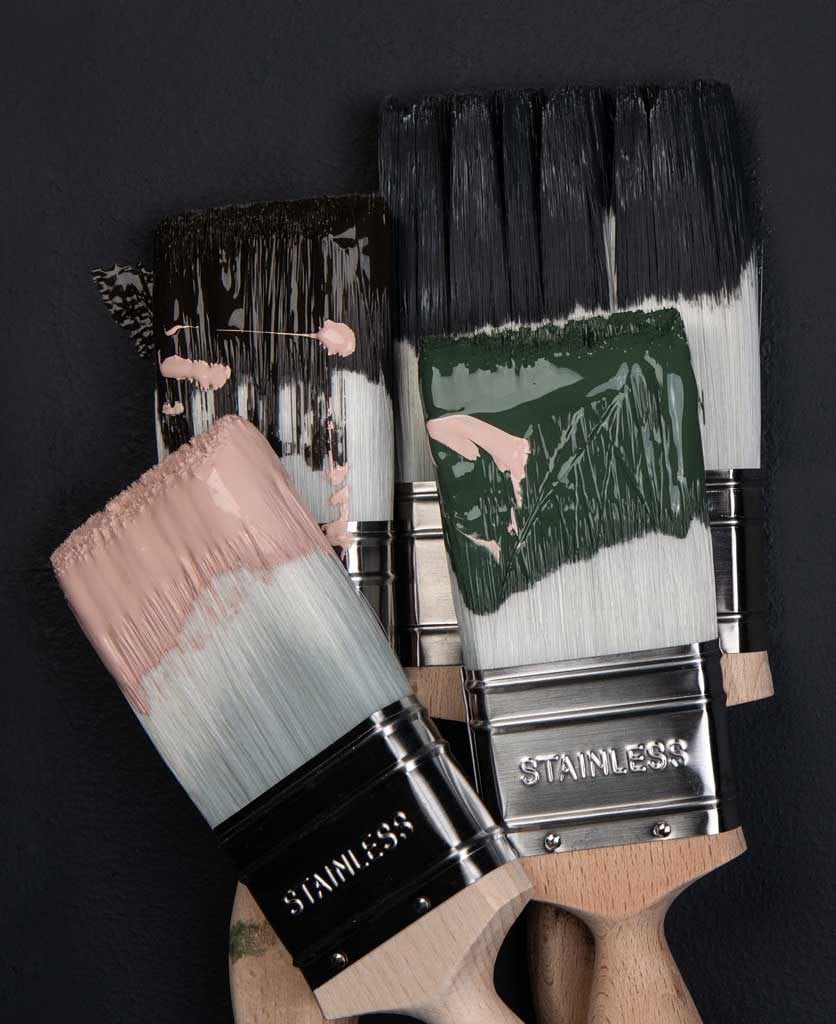 The colour you choose to paint your room can really have an impact on your mood, productivity and happiness, and if this lockdown has taught me anything it's that I desperately need to redecorate. There's only so much staring at a grey wall a person can take. Painting is a relatively easy fix and can really transform your space… Now I just need to decide on the colour! If like me, you just haven't had the time to slap some paint on your walls, then art can be just as mood-boosting. Find a piece that makes you feel inspired and happy and show it off above your desk.
I don't know about you, but foliage instantly makes me feel happier – it's a real mood enhancer. It reminds me of exploring outside and adds a pop of colour to your space. Show off some beautiful blooms to elevate your mood.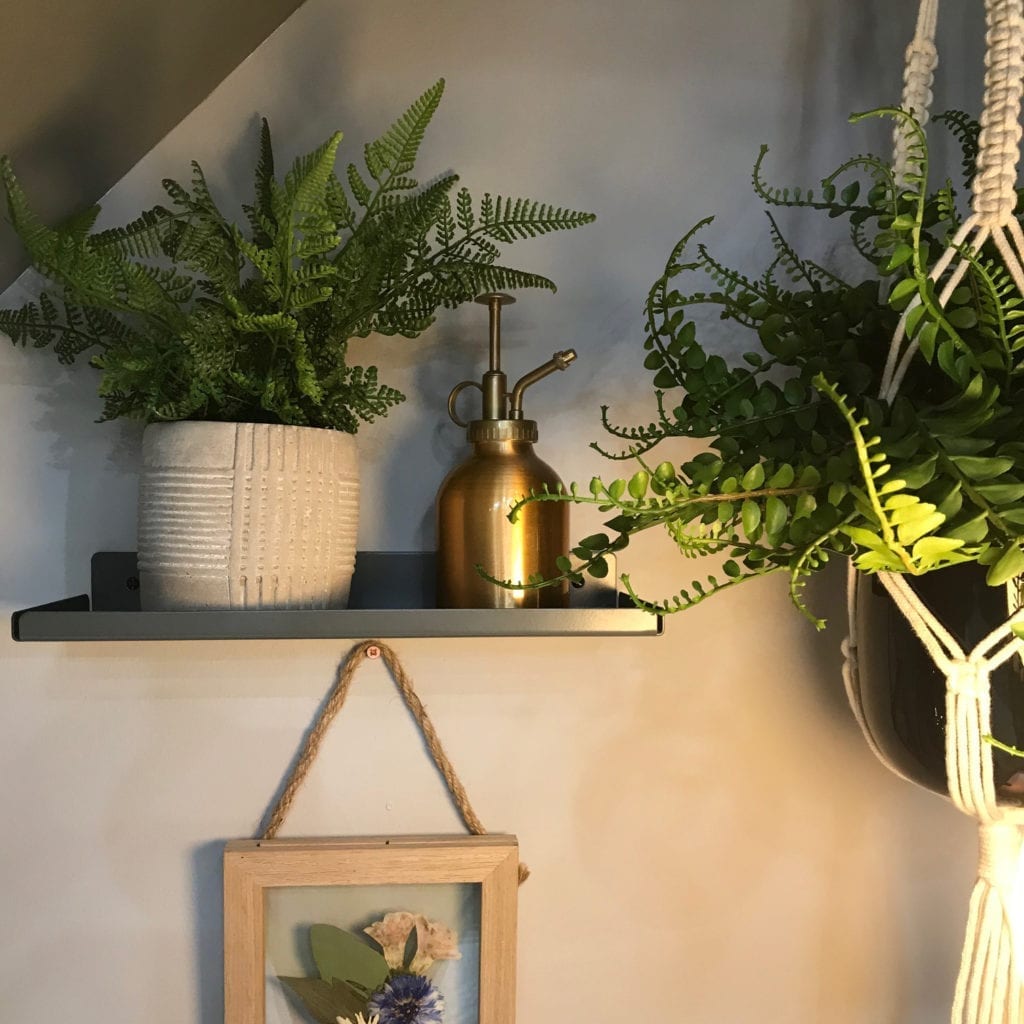 Strategically hiding ALL of the toys from my sight during the day keeps my mind uncluttered, and stops me wanting to break off work to tidy up all the time. Storage also makes you look more professional on zoom calls. A tidy home produces a tidy mind… Or so they say.
Spruce up the Bathroom:
Ah the bathroom, this has quickly become my refuge within the house. Long baths and showers are a great way to unwind, relax and recuperate, often with a book and a cup of tea or glass (or two) of wine. It's one of the only places in the house that I can guarantee I won't be interrupted, so I milk it for all it's worth.
Transform your bathroom into a zen-like haven
It may seem a daunting prospect to revamp your bathroom, but it's actually easier than you think.
First up, give it a fresh coat of gorgeous high-pigment paint. Paint is one of the easiest ways to make a place feel more relaxing. So coat the walls, ceiling and even tiles if you're feeling brave in something new and exciting.
Swap out those cupboard handles for something slick. Metal drawer and cupboard handles can instantly uplift your bathroom cabinets. Choose finishes that coordinate with your tap, shower and light fittings for a beautiful polished look.
Invest in some new taps and showers. A statement tap is a fabulous way to inject some fun and grandeur into your space. In my opinion, you should always go big, especially over your basin to transform it from the mundane to the extraordinary.
Install some shelving – beautiful shelves are a great way to show off your fancy toiletries. Intersperse with foliage to create a gorgeous tropical haven that you actually want to spend time in.
Update your lighting. Ceiling lights are practical, but they just don't give off the relaxing vibe you crave during a nice soak. Wall lights are a great way to add ambience to your space. Fit low wattage, warm-white bulbs to get the perfect atmosphere for a bit of 'me time'.
The Kitchen
Over the past few months, I've desperately missed eating out. Going to restaurants was my way of escaping the mundanity of cooking and trying out new recipes. Alas that was cruelly taken away, so i've been cooking up a storm at home instead. With three of us home for three meals a day, the kitchen has been used A LOT! So it's important that this space works and is a serene environment too.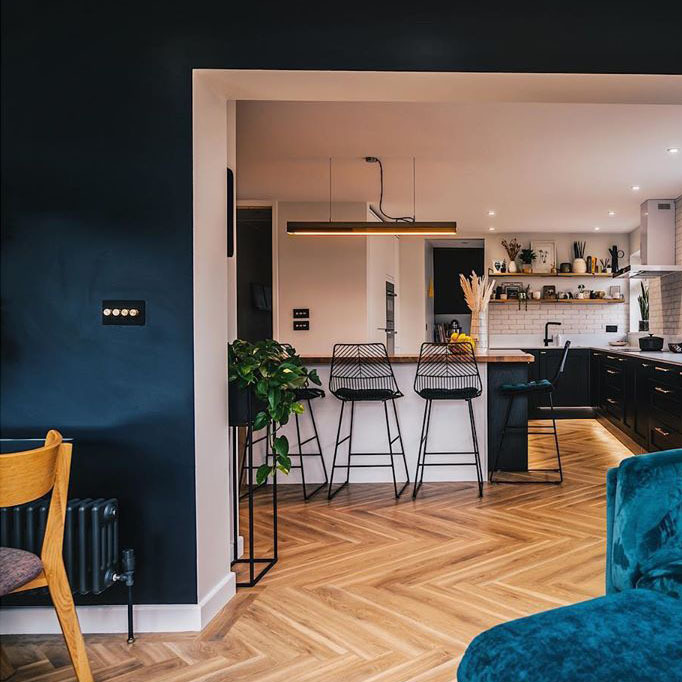 Updating your kitchen
A hot water tap makes cooking so much easier. Say goodbye to boiling the kettle for pasta, stock, sauces and tea. Simply turn it to the hot setting and your good to go.
Shelving is a great way to organise your kitchen. It gives everything its own place and looks good too. Open shelving is also a beautiful place to show off the cookery books you've been frantically flipping through for some dinner inspiration and all the fancy crockery that up until now was saved for a special occasion.
Swapping out existing kitchen door handles for something altogether more striking will give your kitchen a whole new feel. Opening a cupboard door will feel more luxe with slick metal handles or knobs. Coordinate these with your light switches and ceiling pendants for an ultra-glam look.
Tidy things up with some wall hooks. Wall hooks come in all shapes and sizes and are ideal for hanging aprons, bags, tea towels to make your kitchen altogether more streamlined. Bliss.
So there we have it, if you spruce up those three main areas even slightly, you should be able to master your new normal. All it takes is a little planning and some small tweaks to really change up your space and make it feel multi-functional, for the time being at least.
If you've been tweaking your home to make it work better for you and your family, feel free to show us what you've been up to on Instagram. We love to feel inspired and see how you've been embracing our products.