Light Bulbs Explained: Creating the Perfect Ambience in Any Room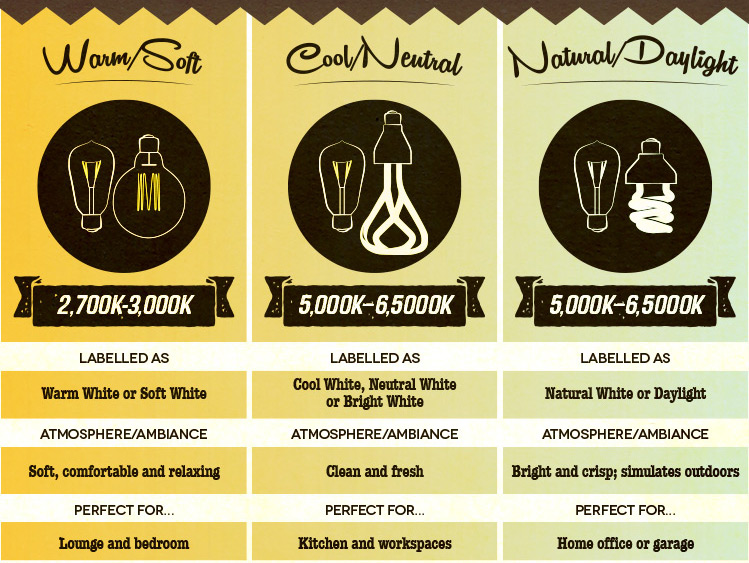 We've launched our own range of LED filament bulbs and whilst writing the copy it became apparent that buying light bulbs has got a whole lot more complicated since traditional incandescent bulbs were withdrawn from general sale. So, to help dispel some of the confusion between watts, brightness, Lumens, colour temperature and degrees Kelvin, as well as LED, CFL, Halogen and incandescent, we've put together this quick 'light bulbs explained' guide to help you get the right bulb for every room of your home.
We'll explain watts, lumens and colour temperatures so you can decide on the right bulb to create the mood you want. After all, there's nothing more disappointing than switching on your brand new light fitting only to find yourself dazzled by bright white football stadium type light, rather than the rather warmer, ambient and romantic glow you had in mind.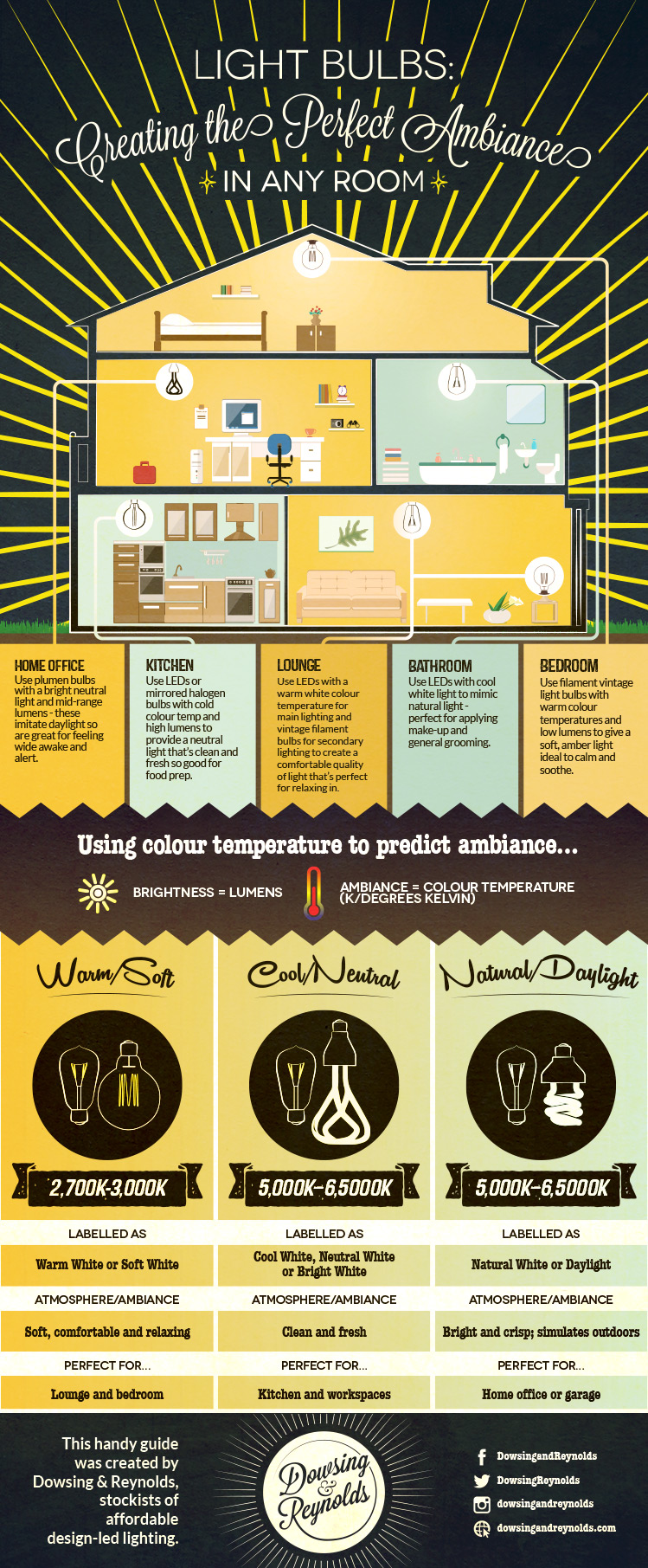 Using colour temperature to predict ambience…
In a nutshell, the colour temperature of light (measured in degrees Kelvin) determines the ambience, or quality of light a bulb will give out. Not all light bulbs emit the same colour of white light; some provide cold white light whilst others a warm white light and these differences are due to colour temperature…
Kelvin and the colour of light
So who's Kelvin? Well, the Kelvin Scale (K) measures light colour, or rather temperature and basically the lower the number the warmer (or yellower) the light, and the higher the number the colder (and bluer) the light. For example, warm white light has a temperature of 2,700K – 3,000K and clear daylight 6,000K and beyond.
You can see from the infographic that the traditional incandescent bulb gave out a warm yellowy light of a temperature around 2,700K. So to recreate that look, go for bulbs labelled 'warm white' or 'soft white' – our own vintage light bulbs and amber LED filament bulbs produce this lovely ambient kind of light. This is the colour and quality of light most of us want to recreate in our homes but all too often we end up with the disappointing 'bright white' bulbs that are more akin to daylight and often used in shops – not ideal when you're trying to wind down or create a cosy romantic atmosphere!
Forget watts, Lumens (lm) are the new kids on the block for determining bulb brightness
We used to use wattage as an indication of how bright our incandescent light bulb would shine. Well technically wattage is really a measure of how much energy/power a bulb draws and not an indication of brightness at all, although in the case of incandescent bulbs, there was some correlation between the two.
The whole idea of modern light bulbs is that they use less energy, and so using watts for brightness becomes less useful. For example, a modern LED bulb comparable in brightness to a traditional 60W bulb is only 8-12 watts. So how do we get an idea of how bright our light bulb will be… The lumen (lm) is the correct measurement of brightness emitted by a light bulb; the higher the lumens, the brighter your LED bulb will shine.
Pulling it all together to get the right light bulb for each room
The light bulb you choose for each of your rooms can have a huge impact not only of the mood in the room, but also productivity and energy levels.
Lighting your home office
In your home office you'd want to use something like Plumen bulbs that have a bright neutral light and a mid-range lumen rating – these imitate daylight and so are great for feeling wide awake and alert.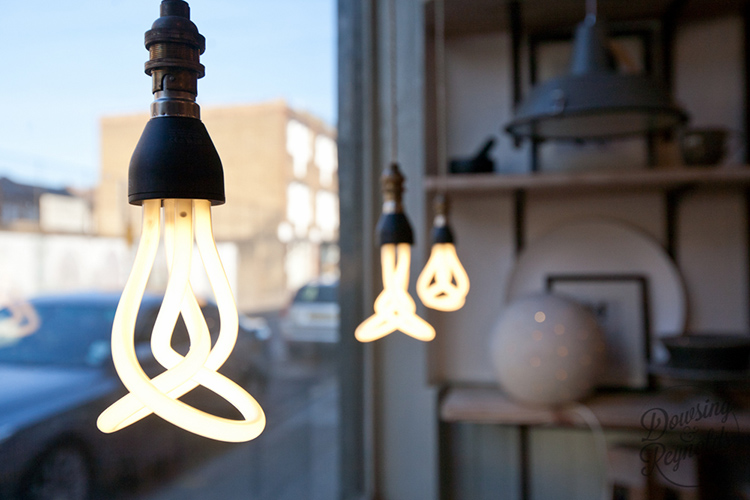 Light bulbs for your kitchen
You want a neutral and bright light in your kitchen that's clean and fresh so great for food prep. LEDs with a cold colour temperature and high lumens will be perfect to achieve this look.
Light bulbs for lounging
Your lounge is perhaps a slightly trickier room to light as you need primary lighting that's bright enough for activities and secondary lighting that's relaxing so perfect for reading by. We'd recommend LED filament bulbs with a warm white colour temperature for your main lighting and vintage light bulbs for your lower-level lighting that create a comfortable cosy quality of light.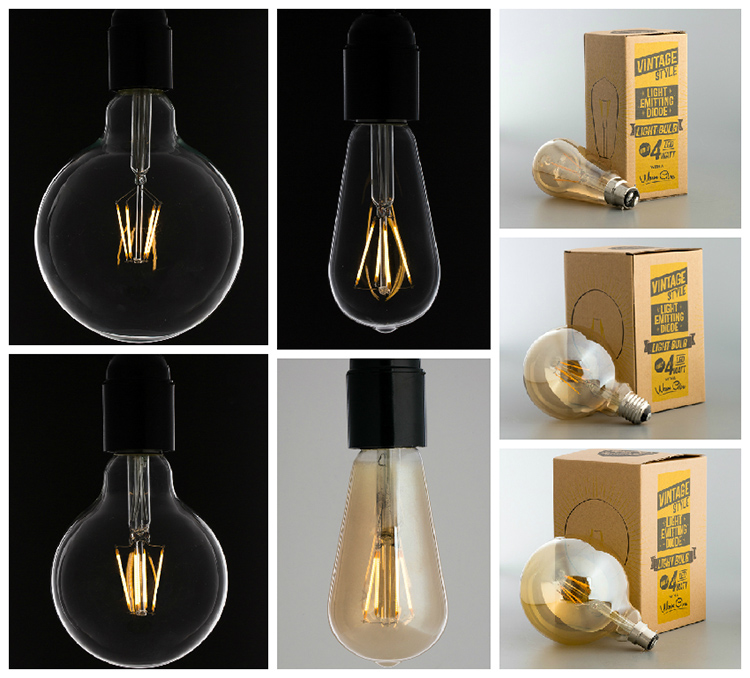 Bathroom light bulbs
You do need to be a bit careful with bathroom light bulbs – always check they're suitable for the environment they're being placed in. We recommend LEDs here that have a cool white light that mimics natural light – it's perfect for applying makeup and general grooming.
Gorgeous filament vintage light bulbs for your bedroom
Your bedroom is the one room that is a sanctuary in your home and as such you want a calming and soothing quality of light. We'd go for beautiful filament vintage light bulbs here every time – choose ones that have a warm colour temperature and low lumens for a lovely soft amber light. And relax.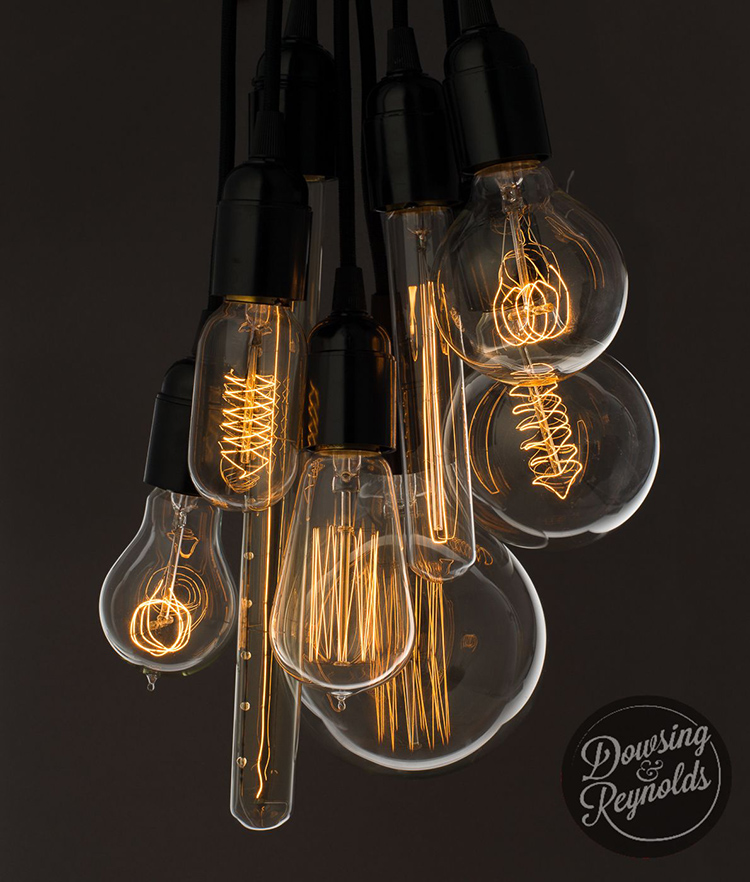 We hope this guide has demystified some of the common terms surrounding light bulbs and that you're now fully equipped to purchase the right bulb for every room in your house.