Uplift your room with feature wallpaper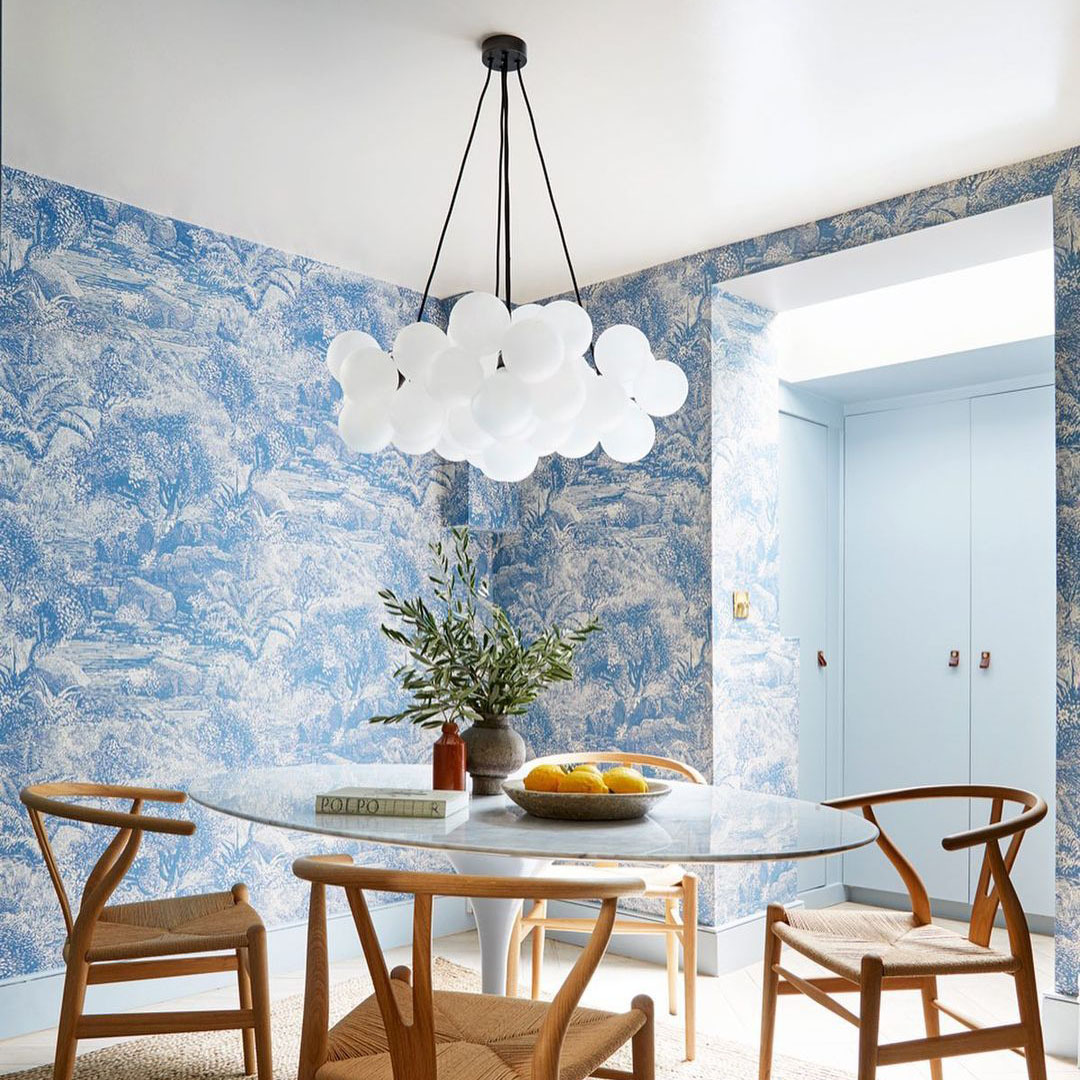 Lounging on the sofa, you breathe in the aroma from your espresso and wait for the caffeine to hit. Today's the day! You're finally going to turn your feature wall dreams into a reality. You've selected the location, chosen the wallpaper and carefully curated all the little nick-nacks to finish it off. All that's left to do is get that guilty pleasure playlist blasting and crack on with the task. By the time the sun sets, your room will look incredible, and you'll feel content, happy and relaxed if a little tired.
What does a feature wall do?
Adding a feature wall to your room is an excellent opportunity to play around with textures, shapes, colours and patterns to create a space that not only looks good but oozes with your unique personality. Only you know which combination of things make you feel happy, relaxed and at home, which means, if you are thinking of incorporating a feature wall into your space, it's essential to follow your heart over the latest trends.
Choosing just one wall to focus your attention on is a much more manageable task than overhauling the whole space. In addition, splitting your room into concentrated zones breaks down the renovating process and doesn't seem quite as intense a project.
Wallpaper makes adding feature walls to your space simple. You can even wallpaper your rented accommodation now, thanks to peel and stick wallpaper, so nothing is holding you back.
Create a feature wall WITHOUT wallpaper
If you have strong feelings against wallpaper, there are other tricks you can use to make a feature wall in your space. Wooden cladding is a great way to bring natural materials inside and also adds texture and warmth. In addition, nature has the magical ability to make most of us feel calm. Reconnecting with the outside world evokes a sense of adventure and nostalgia. Using natural materials, like wood, can make you breathe a little deeper, recollecting that summer's evening walk where all was quiet and still except the gentle rustle of trees on the evening breeze.
Paint a feature wall
But, again, if this seems like a step too far, you could always get creative with paint. Mark out shapes and colour blocks with pencil and masking tape, steady your hand, and you're good to go. Sweeping painted arches can transform the whole profile of the room, eradicating that blank canvas of straight lines and softening the space. Curves are so much more exciting to look at, too, a real treat for the eyes.
Feature walls create a defining point of interest that gives your eyes a space to stop and rest. Imagine walking into a living room, and ahead of you, see the most luscious botanical wallpaper popping out from behind the sofa. Your eyes are enchanted, delighted in the vibrant colours and towing trees before them. It's these statements you use around your home that makes you and your guests feel comfortable, enveloped in happiness and exciting textures.
Choosing a feature wall is also handy for zoning your home. If, for example, you have an ample open-plan space that's used for dining, relaxing and your office space, it can be pretty difficult to differentiate between these areas. Creating a feature behind your desk separates it from the rest of the room, defining it as a space in its own right.
Which wall should I choose for my feature wall?
You've made the big decision that your space needs a feature wall. The next step is deciding which wall you should focus your efforts on.
Feature walls in kitchens or living rooms should be the focal point. The wall behind the sofa or where the TV is are excellent choices, basically somewhere where it will be seen and noticed.
If you're revamping a bedroom, you'd ideally want to put the feature wall behind the bed, where the headboard is. This means that you'll see it when you walk into the room, but it won't be in your line of vision while you're trying to unwind and drift off.
Decided to make a statement in your hallway? Make sure you choose the wall that's in front of you when you walk in, so it'll be the first thing you see.
Hints and tips for creating feature walls
DIY know-how
Ensuring you put time and effort into choosing the right feature wall will make you feel comfortable in your own space. Samples are the answer. Get plenty and live with them for a week or so to make sure.
Become a DIY superhero by doing the job yourself. It's always great to have a new skill under your belt, and a sense of achievement is always a confidence boost.
Become a master of your craft, measure, measure and measure again. Running out of wallpaper halfway through a revamp would be somewhat annoying.
Unleash your inner interior designer
Feel calm and settled in a smaller room by wallpapering the whole space. Creating a feature wall in a small area makes it feel instantly smaller and claustrophobic, definitely not something you want to feel when you're trying to relax.
Promote a restful nights sleep by avoiding busy overstimulating prints. Winding down is beneficial for our mental wellbeing, so anything you can do to help yourself rest and recuperate before sleeping is always a bonus. If you HAVE to have that bright and bold print, put it behind you so you're not staring at it before bed.
Feel like a feng-shui master by carefully zoning your space in smaller multifunctional rooms. An inspiring wallpaper might be a good idea to keep you motivated if you're working from home, separating your office space from your living room area.
Pull your whole look together by carefully selecting tones from the paper and using them around the rest of the space.
Trust your instincts
Empower yourself by embracing wallpaper. As long as you love the design and resonates with you and evokes feeling, you can't go wrong.
You don't need to follow the latest trends, unless it's something you love. Trends change like the tides, and if you have no emotional attachment to your chosen design, you're never going to feel at home.
Show us yours
Feeling inspired to add a feature wall to your own space? Once you're done, take a snap and tag us on Instagram – we love looking through before and after revamps!