At home with Victoria Summer
Surrounded by boxes, you polish off the last of your tasty takeaway, before collapsing onto the sofa. There really is no other way to get through moving day than with a quick and easy meal that you haven't had to prepare. You're far too busy for that today!
Hunger appeased, you let the excitement wash over you again. Pulling out your phone, you scroll through Instagram looking for home decor inspiration, an hourly ritual that you've completed ever since you signed along the dotted line.
Something catches your eye. You hold your thumb on the screen to take a closer look. Suspended from the ceiling, a cloud of frosted baubles hangs above a bed, creating the most soothing space to spend those 30 minutes tucked under the sheets before drifting off into sleep. Clicking on the profile, you discover Victoria Summer's feed, hitting the follow button and saving the post of that magnificent chandelier… Victoria Summer
@summerhousestyle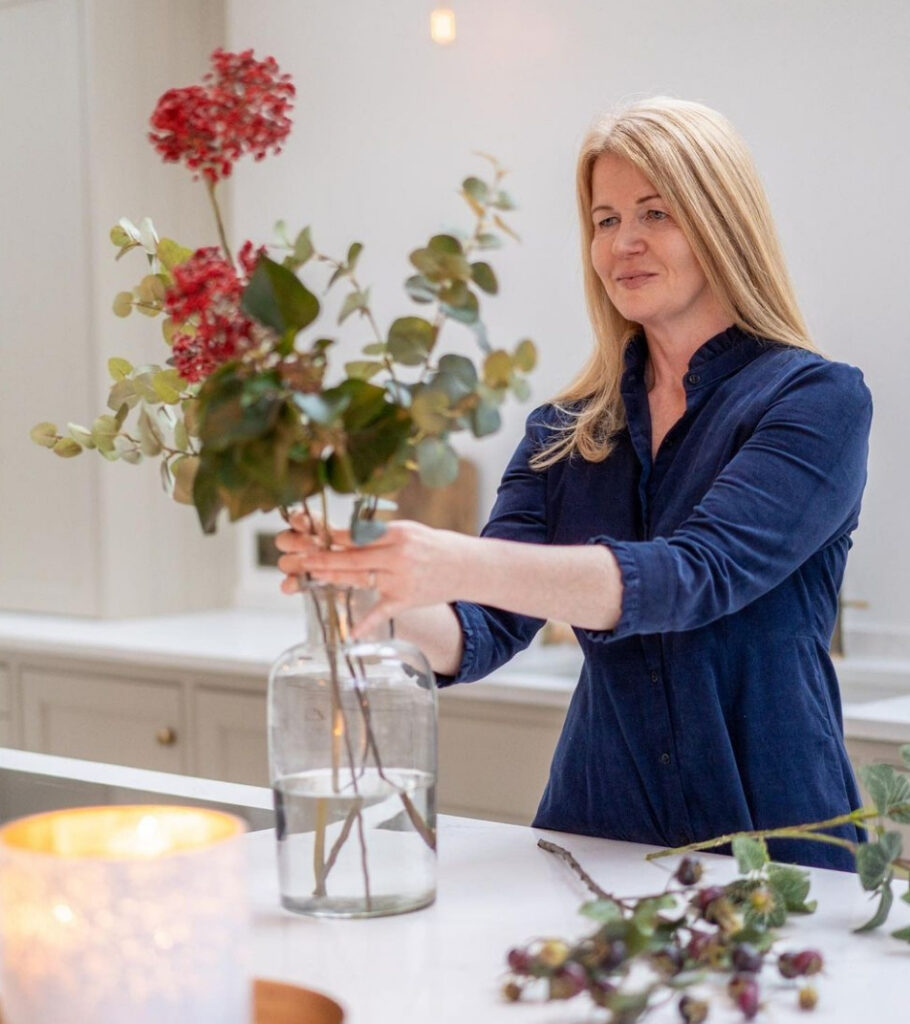 Behind the walls of Victoria's home
Brimming with period features and blessed with beautifully tall ceilings, Victoria's semi-detached Victorian terrace in West London is a dreamy sanctuary that's a far cry from the hustle and bustle of the big city. Originally designed as a three-bedroom, Victoria added a loft bedroom to create more space, pairing the original features with an airy, neutral colour palette to make the most of the natural light. Mixing her minimalist style with statement lighting and vintage-inspired fixtures, Victoria has created a family home that's both practical (take a peek at her hidden storage reels for ultimate satisfaction) and stylish.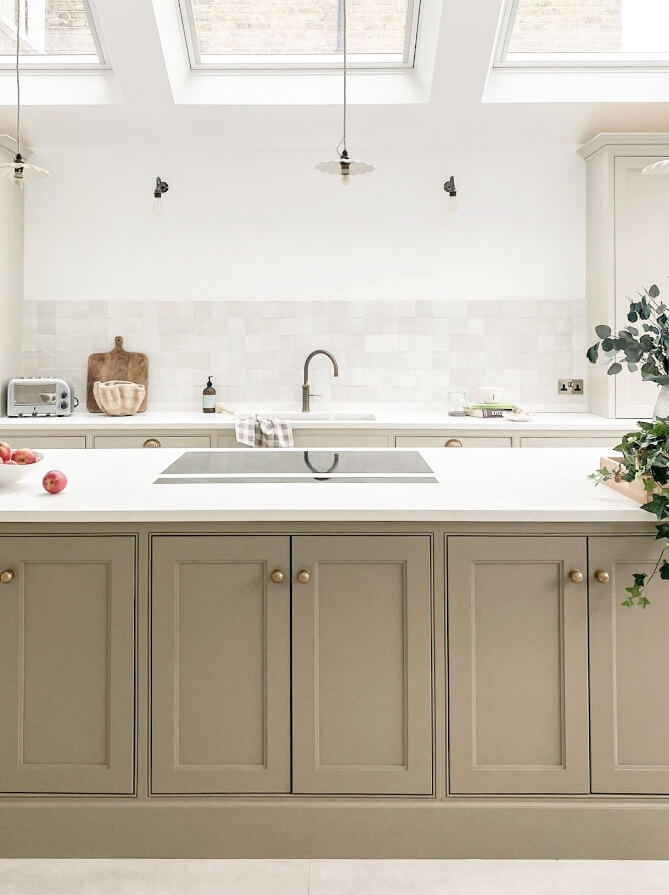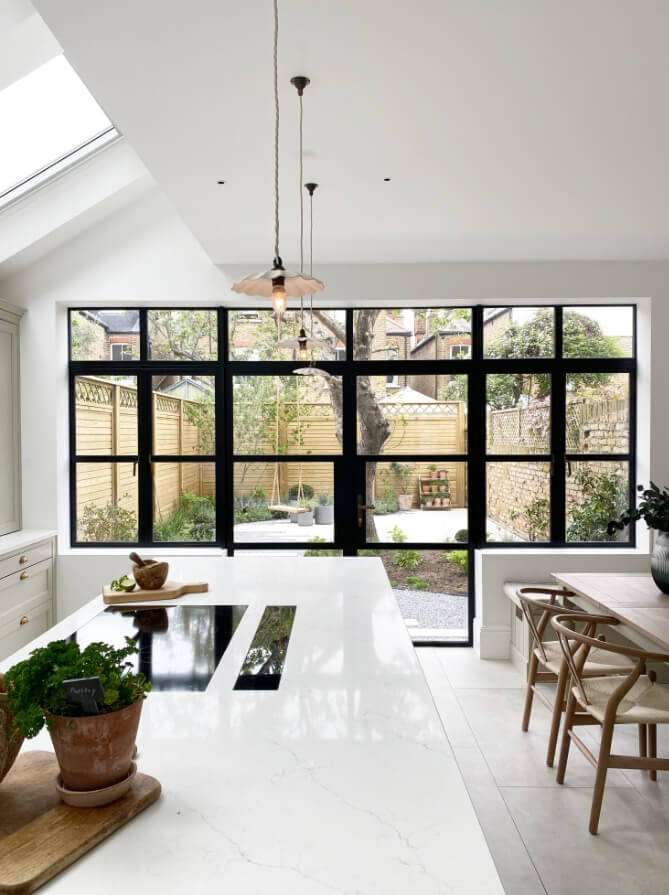 The kitchen
Light and spacious, Victoria's kitchen is a dreamy place to end the day with a scrumptious dinner and vibrant family chatter. Featuring Crittall style doors that overlook her garden, the space has comfy bench seating, paired with our Bramley wall lights to add a touch of ambiance when the day turns to dusk.
Victoria suggests:
"Your kitchen is somewhere you'll spend a lot of time, whether you're entertaining friends or cooking a family meal, so invest in timeless pieces that you adore and that you'll keep throughout the years."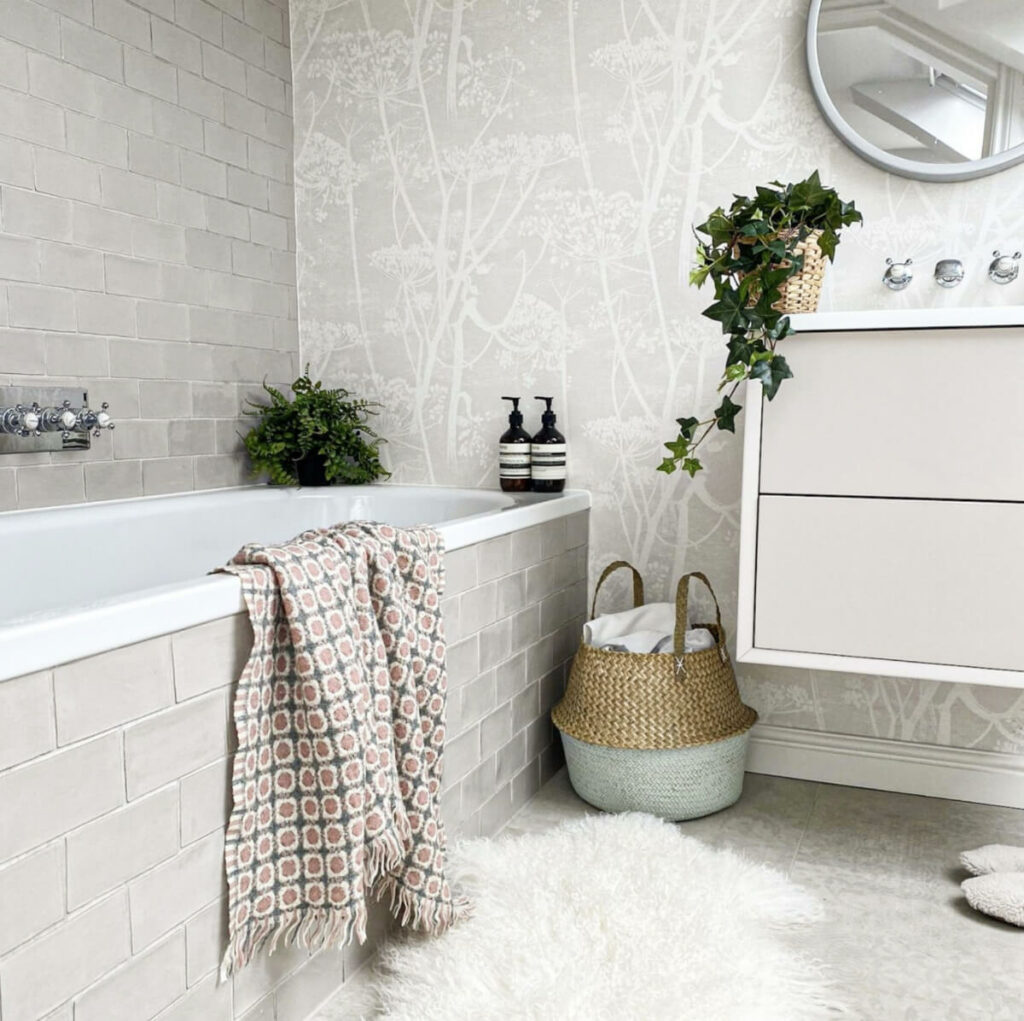 The en-suite bathroom
Unwinding in a hot, steamy bath surrounded by foliage makes for a picturesque night, but tending to the foliage? Maybe not. For her bathroom sanctuary, Victoria uses our Faux fern plant and Ivy trailing plant to add a subtle hint of nature to her space, without the need for maintenance.
Victoria suggests:
"I tend to use faux plants all year round, and I use preserved flowers and stems more in the winter. They're amazing if you're busy or struggle with the upkeep of real foliage. Candles are also a great way to change up your bathroom decor. I have some classic candlesticks and swap them for different designs regularly."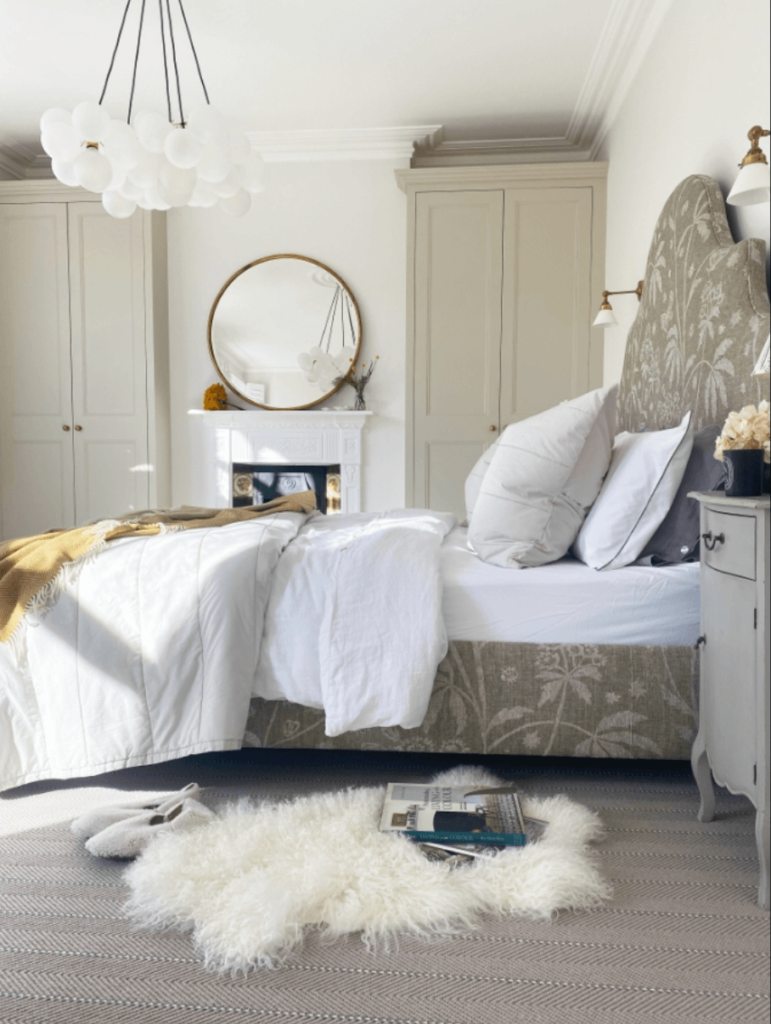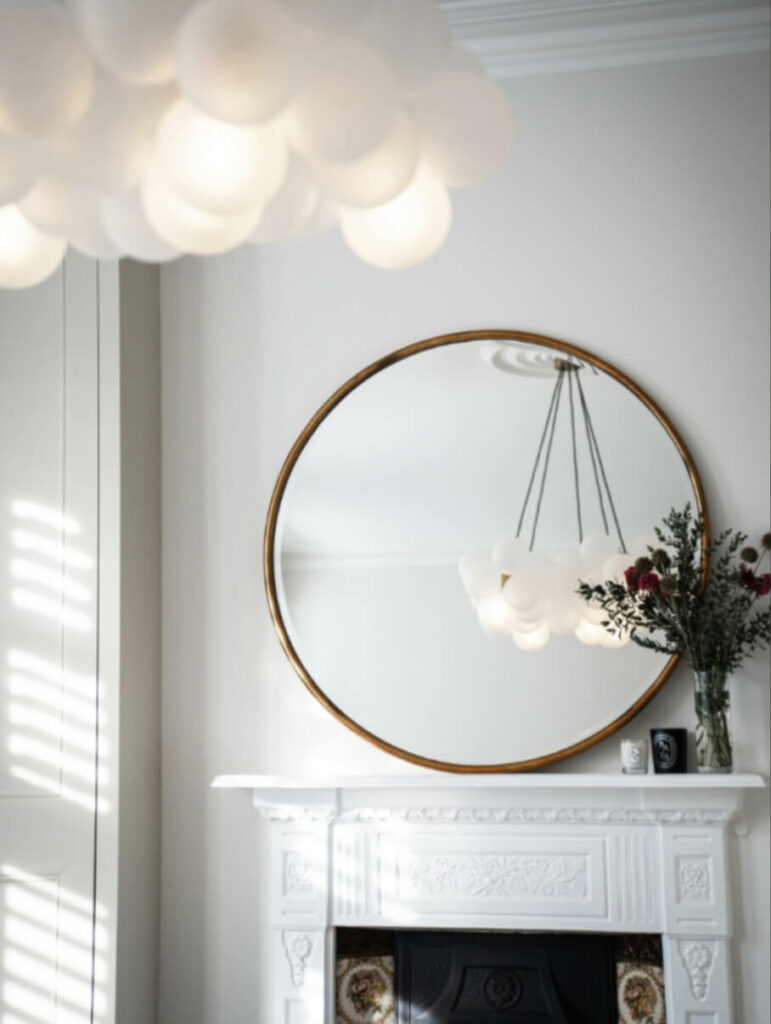 The main bedroom
Sheets tucked right up to your chin, there's no better feeling than taking that deep breath at the end of the day, letting your body sink deeper into the mattress. To help her transition from day to night, Victoria has infused her main bedroom with a soft, neutral colour palette paired with our playful Frosted bubble chandelier above her bed, which can be controlled using a dimmer switch to create the perfect atmosphere.
Victoria suggests:
"Invest in your more permanent fixtures like lighting and switches, and mix things up with various bed linen sets that are different from each other. We're lucky enough to have the original fireplace in our bedroom which is one of my favourite features. I've added a couple of subtle decorative items such as faux flowers and plants on the mantelpiece, which I change with the seasons to keep things interesting."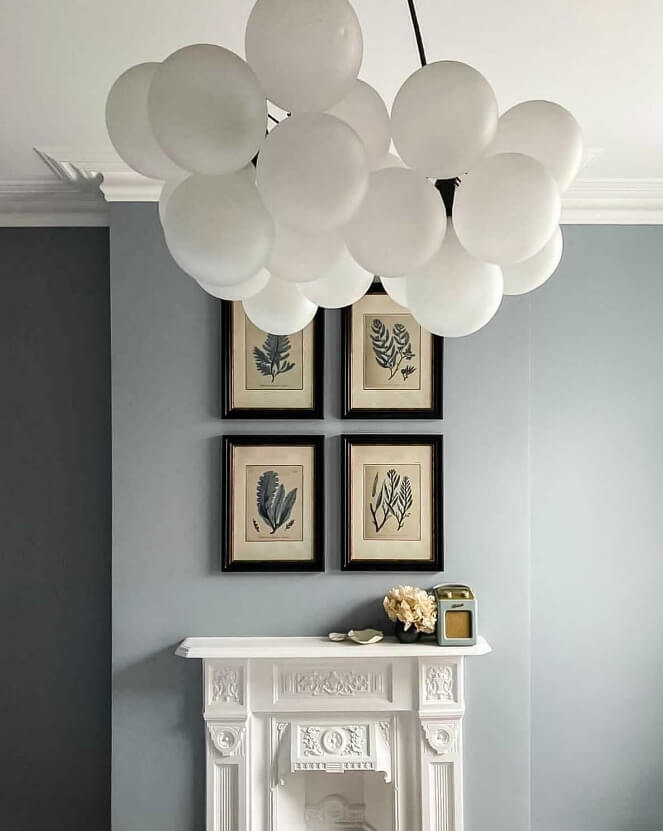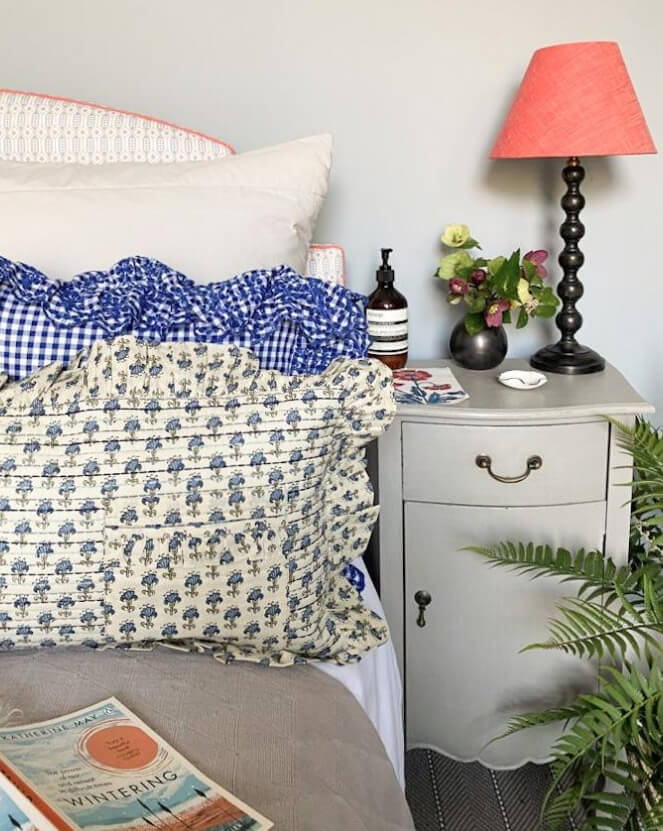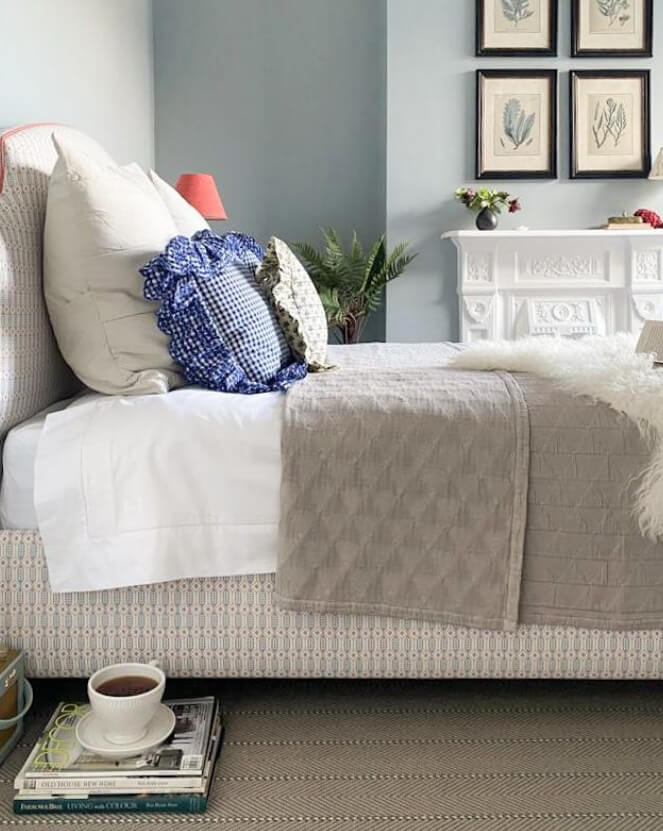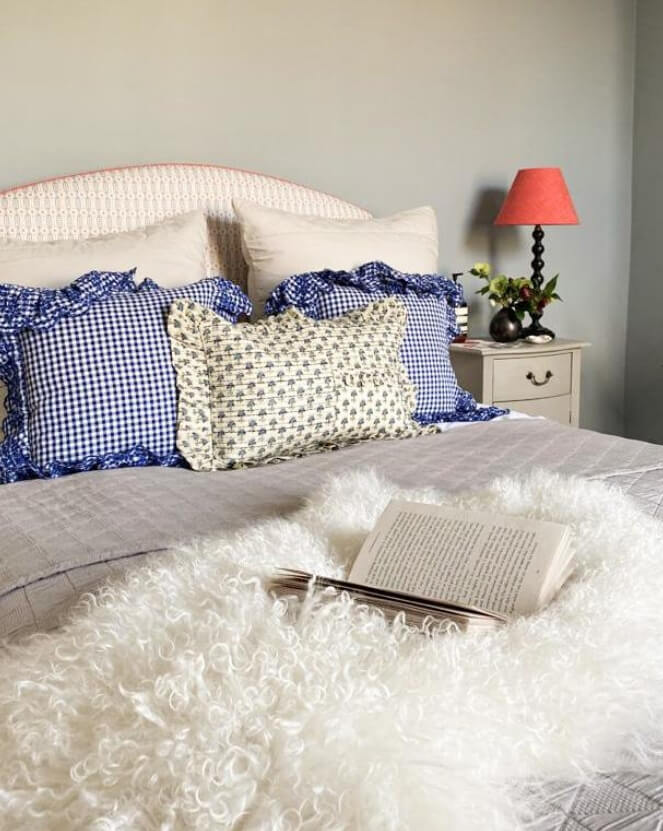 The guest bedroom
You don't have to leave mini chocolates on the pillow to make your guests feel at home! In her spare bedroom, Victoria has layered her pastel blue canvas with textured fabrics and curved fixtures, such as our Frosted bubble chandelier, to create a cosy space for lodgers to kick back and relax.
Victoria suggests:
"At heart I am quite minimalistic, but I don't think that makes for a very enjoyable family home. So although I'm drawn to neutrals, I try to use a lot of pattern and texture to layer colours. My guest bedroom is very colourful which I love. I am drawn to ruffles and scallops which soften the more minimalist lines."