3 experts. 3 tips. How to pick the best lighting for your kitchen diner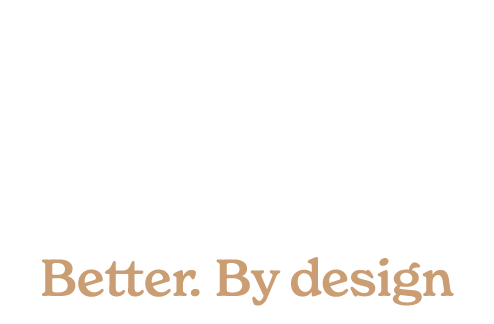 Striking a match, you inhale the distinctively sharp smell, the amber flame flickering as you light the final candle on your beautifully decorated dining table. Tonight is the first time you've had friends round for dinner since the kitchen renovation, and you can't wait to show off your forest green haven.
Glancing back towards the kitchen island, you notice the Trikonasana pendant catching your eye, its adjustable arms striking an elegant pose while suspended from the ceiling. Getting this fixture right wasn't easy – you ordered and returned many lights that were far too small. Your home has high ceilings, and you wanted a light that makes a statement in the space.
Layered with wall lights and table lamps, you've created the perfect functional kitchen diner. A striking smoked gold dimmer switch lets you control the atmosphere, whether prepping Sunday lunch for the extended family or grabbing a quiet half hour to relax with a chilled glass of Sauvignon.
It's actually surprisingly easy to get your kitchen diner lighting right – when you know how. There are three fundamental things to consider, and after that, it's all about your style and preferences.
Here are three experts with three tips on the essentials to consider: our CEO Ally Dowsing-Reynolds, Interior Design Specialist Connor Prestwood, and Magnet Concept Design Lead Jen Nash.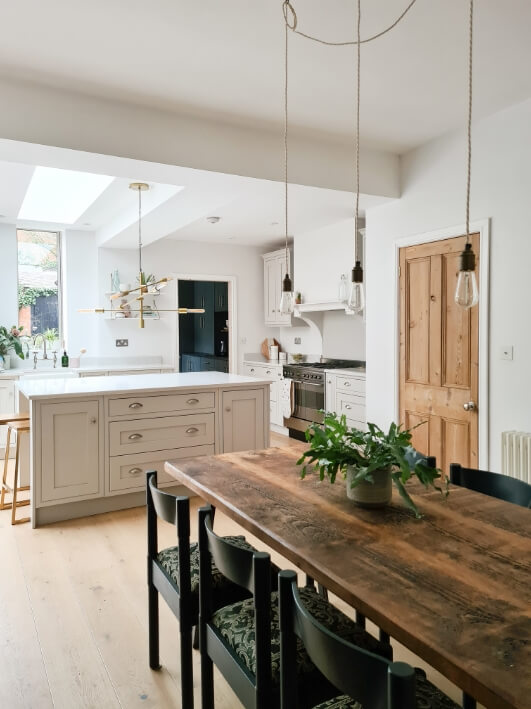 Image courtesy of @homeonthegrove
1. Size: do you have a smaller kitchen or a larger open space?
Considering the size of your kitchen and the height of the ceilings are the main factors when starting the hunt for new kitchen diner lighting. Your light should be slightly too big for your space if you want it to have the maximum wow factor.
But if you want a subtle divide between your dining and kitchen prep areas, over-island pendants work very well. If you're starting at the planning stage, incorporating wall lights into your design will give you an extra layer of lighting for the evening time.
"Taking the size of your kitchen into account is really important when choosing your lighting," says Connor Prestwood, Interior Design Specialist at Dowsing & Reynolds. "Do you have a smaller kitchen or a larger open space? Semi-flush ceiling lights work well for smaller kitchens whilst still making an impact.
You can also install recessed lights within, underneath or even above your cupboards, which will give you lighting at different levels across the room. For larger kitchens, choosing a light feature that stands out, like the Trikonasana pendant, will create a beautiful focal point."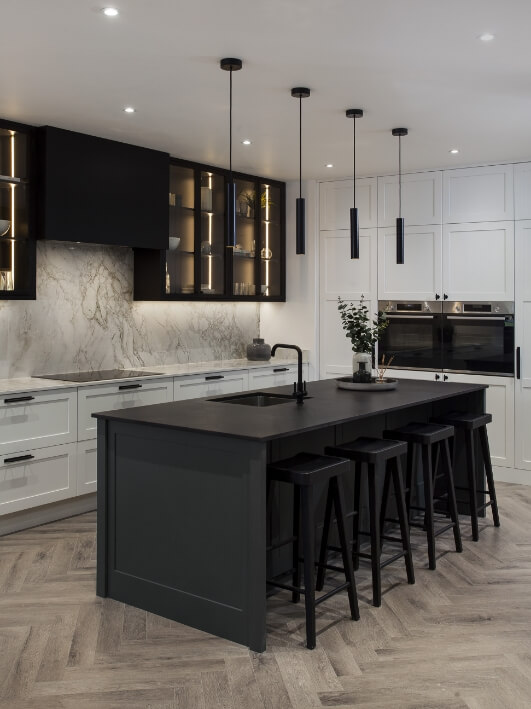 Image courtesy of @studiofourinteriors
2. Layers: a light for everything you do in your kitchen diner
Conventional wisdom suggests a minimum of eight light sources for a room will cover most eventualities – this includes your 'big' light, table, floor and wall lamps, fairy lights and even candles.
"At the heart of every kitchen is function," says Jen Nash, Concept Design Lead at Magnet. "The room has a job to do, and nowadays, our lifestyles demand a multi-functional space – this means different lighting for different tasks or moods. Your kitchen may serve as a home office during the day and a spot for intimate dinner parties at the weekend.
For Magnet's new Ludlow Arboretum kitchen design, we hoped to create a fun atmosphere that also has the potential to feel relaxed and inspiring when the moment arises."
Our CEO, Ally Dowsing-Reynolds says, "Having multiple light sources gives you a more comprehensive range of uses for the kitchen at all hours of the day, perfect for creating a multi-purpose space. Your choice of designs will depend on the answers to the following two questions:
How do you want to feel in the room?
What will you do in the space?
Answering these allows you to get the right combination of functional 'task' lighting plus decorative 'ambient' and 'accent' lighting to create your desired atmosphere."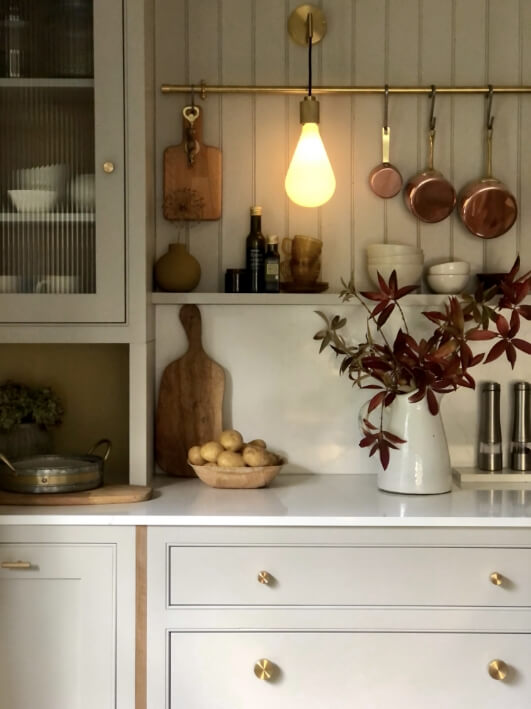 Image courtesy of @hornsby_style
3. Bulbs: avoiding the blue light operating theatre look…
An often overlooked detail is light bulbs. You'll know this if you've ever bought a lamp that emits a harsh bright light, more akin to a football stadium than the relaxing evening glow you had in mind.
"Daylight bulbs are fantastic for task work – above your kitchen countertop is ideal, but where you want to create a cosy ambience, you want warm-coloured bulbs that are easier on the eye," explains Jen.
"The warmth and colour of your bulbs are primarily down to personal preference," says Connor. "We'd suggest choosing lighting on the whiter and brighter side in your kitchen, especially in task areas like your countertops and islands where you need to be able to see clearly.
If you usually stay away from brighter bulbs, try putting them on dimmers – this will allow you to control your lighting and create the perfect atmosphere."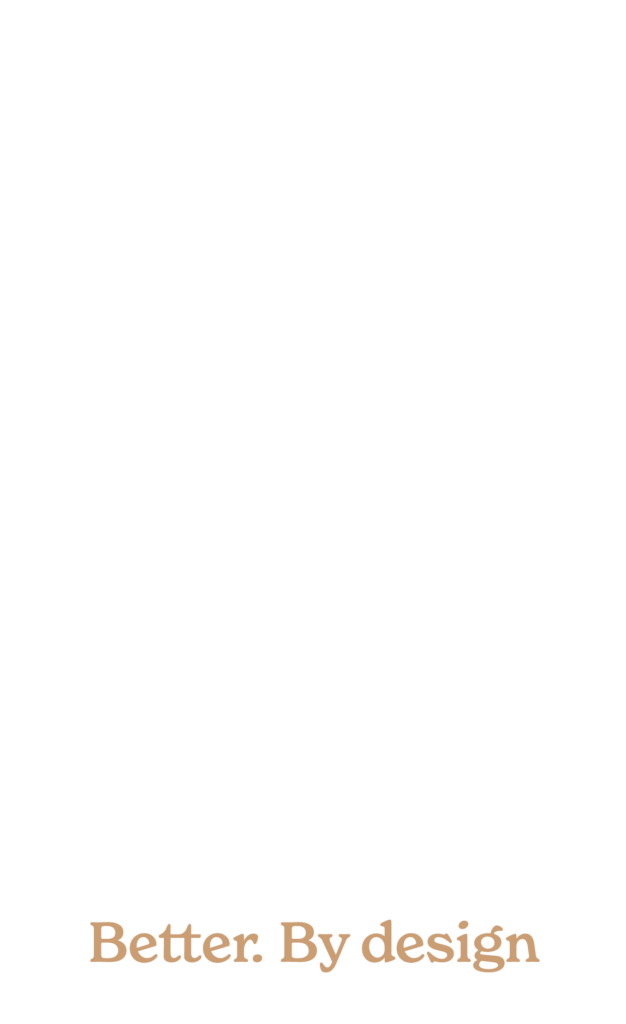 Brimming with rich botanical elements, Magnet's new Ludlow Arboretum Green kitchen combines the history and heritage of traditional high-ceilinged British homes with the tranquil elements of biophilic design.

Dowsing & Reynolds' smoked gold switches and sockets were hand-picked by Magnet's Concept Design Lead, Jen Nash, to add eclectic character, while the Trikonasana pendant softly enhances the natural light that streams in through the open windows – a dreamy space and an even dreamier collaboration.
If you'd like some expert help tailored to your specific kitchen and style tastes, then click to find out more about our Interior Design Inspiration Service. The Dowsing & Reynolds interior experts work alongside you to establish your style, looking at how that translates into lighting that works for your home.
We'll be sharing more kitchen tips and tricks over the coming weeks – keep an eye out on @dowsingandreynolds Instagram for more.