Living Coral: how to use Pantone Colour of the Year 2019 in your home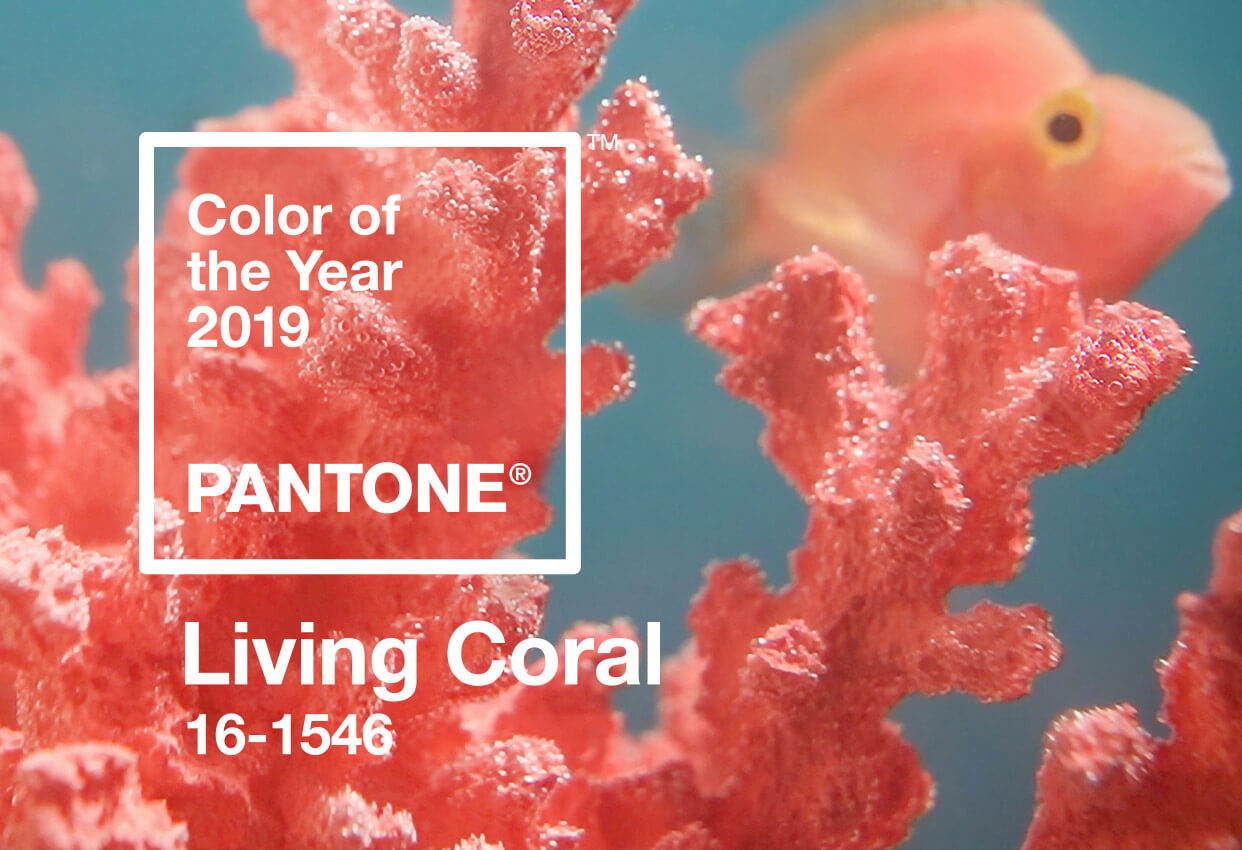 Pantone has finally announced its colour of the year! And the colour we'll be using across our interiors for 2019 is… Drumroll please…
Living Coral 16-1546
Living Coral is a beautifully evocative tone of sunsets and sunrises don't you think? Warm and calming, Living Coral is a happy, vibrant and mellowing colour. We LOVE it.
Three easy ways to introduce Living Coral to your home…
What better way to add some zing to your interiors than to inject some Living Coral.
It's the kind of colour that sparks creativity – a colour you want to have around and be around.
A complete contrast to COTY Spiced Honey from Dulux. A slightly, dare we say it, 'durdgy' colour.
This is a brand new year. We want to feel upbeat, energised and excited for all the possibilities of the year ahead. Bring on the coral we say!
1. Paint a feature wall
Fully embrace Living Coral and paint an entire wall in it. Brilliant for your kitchen where you want an energetic and creative environment.
Just beautiful with copper accessories.
Consider updating your plug sockets and light switches whilst you're in the mood for change. Tarnished copper is a beautiful finish that's copper, but not too copper, if you get what we mean. Check out our copper sockets and switches… But beware, you're sure to fall in love.
2. Colour-blocking
Colour-blocking emerged during 2018 and a half-painted wall is the must-have feature for your home this year. Yikes!
Now with colour-blocking you either 'go for it' or don't bother. Go big or go home as they say. There are absolutely no half measures wth this look!
Use Living Coral on the bottom two-thirds of your walls and doors, with a fresh white on top. Yep you heard us, doors and all. Even better if you include skirtings as well. Be brave fellow warrior.
If you're really out for making a statement, do the reverse. Paint coral around the top of your room. Controversial we know, but rules are meant to be broken every now and again. Yes?
Just tone things down with whiter than white sockets and switches.

3. Touches of it here and there…
We get it. Living Coral is a strong colour and quite the commitment.
The 'dip your toe in the water' option is to use it as an accent colour.
Start small with a few scatter cushions on your sofa. This colour looks fabulous with minky shades and taupe.
Next go for a set of coral towels in your bathroom. Coral was made to accent bathrooms as it's so versatile and goes with most colours, including rich navy and dark grey. And let's face it, who doesn't love new fluffy towels?
Let's not forget the bedroom. That sanctuary of calm for adults only. Annndddd back to the real world…
But seriously, a sumptuous coral velvet throw for your bed is so decadent. But absolutely necessary obviously. If you have deep olive walls then Living Coral will look divine as a contrasting accent.
Whilst you're sprucing up your bedroom, check out our skyscraper handles. The fastest way to sexy up your wardrobe doors. Go for gold. The perfect accompaniment to Living Coral. Lush.
And finally, a zingy colour like this is brilliant for drawing attention to a piece of furniture or feature in your home. Paint a single wooden chair, a dining or side table, a windowsill, a picture frame or even a fireplace to inject some subtle pizzazz.
How will you use Living Coral in your home?
If you want more ideas on how to use Pantone Living Coral in your home, check out our Pinterest board for more inspiration.