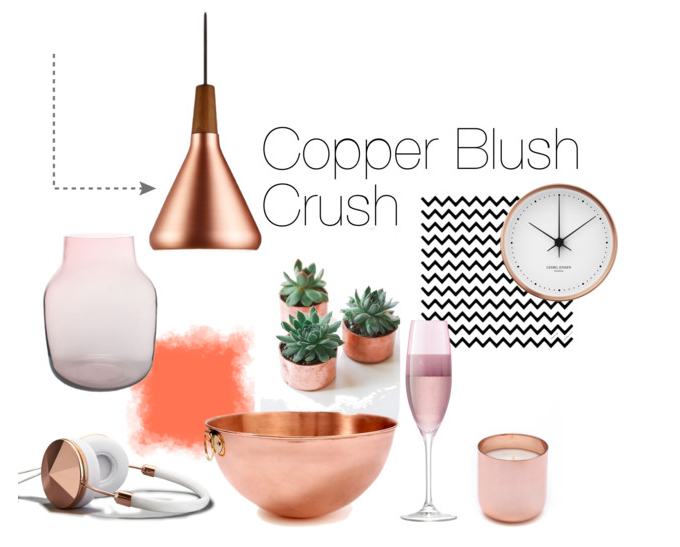 We know that copper has been a key trend in interiors for a little while now, but did you know about 'Copper Blush'? – mixing copper with pink. Copper Blush takes the bold metallic tones of copper and softens them with a peachy blush pink. The warm undertones of the copper tone the pink side down, giving it a much more earthy feel. It's a match made in heaven and we love it. It's fresh and it's perfect for a spring/summer home makeover.
Colour Futures say:
As witnessed at global events from Stockholm and Milan to Shanghai, metallic colour tones are playing an increasingly important role in modern design. Replacing the cool blues and greens of recent years, a warmer spectrum of pinks, reds and oranges is emerging, reflecting a more positive global outlook.
Dulux love it so much that they have made their paint of 2015 a shade called Copper Blush, fronted by Sophie Ellis-Bextor no less.
How to get Copper & Blush into your home
An easy way to apply the Cooper Blush interiors trend to one of your own rooms is to firstly, grab some Dulux Copper Blush paint (code: 50YR 36/263) and give your walls a once over with this romantic, dusky pink hue.
Then add in your copper accessories; think copper lighting, bowls, vases, cushions or candlesticks. The list is endless, just let your imagination lead you!
If covering your walls with pink paint is a little too far out of your comfort zone, you can still do the trend – just use the blush as an accent colour with furniture or accessories instead. Don't forget to still bring in elements of copper to really lift the pink – the Fredrik Danish Copper Pendant Light from our Nordlux range has a beautiful sleek design and is a perfect match for pink tones.
Here's the link to our Polyvore set too – you can find all the items and their retailers listed: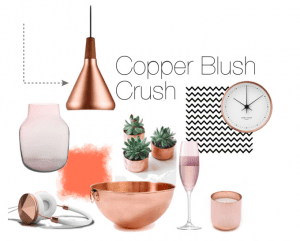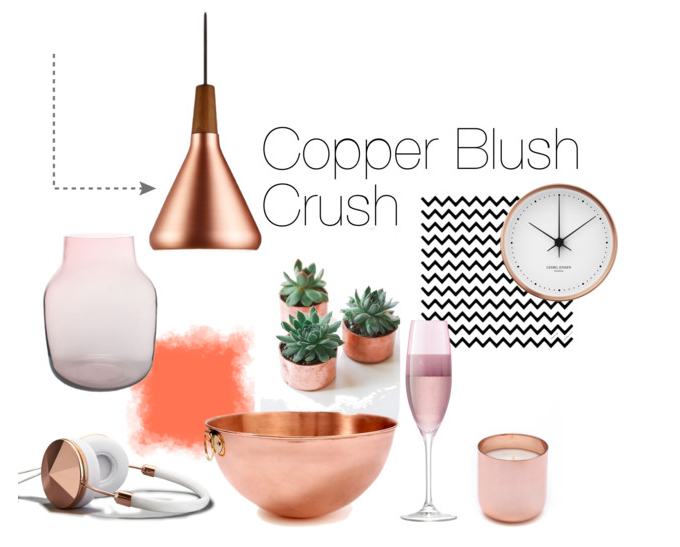 Have fun with this trend… play about with it to find your own interpretation. Copper Blush can still work in a more industrial style interior. Copper pans in a kitchen with a feature wall in a blush tone would work well with stainless steel worktops in an otherwise white or neutral room. Likewise adding colours like storm grey or chocolate brown and accents of gloss black can really bring it back to a more industrial feel if that's the look you love.
Adding wooden textures into the mix can make it feel more rustic and using reflective mirrored glass furniture will add an edge of sophistication. As with any colour trend, interpret it your own way to make it yours.
If you love copper, but you're not feeling the blush, check out our copper interiors post for more inspiration.