White Interiors: What's your style personality and how can the white trend complement it?
White interiors – probably the most discussed…and most 'pinned' interiors trend in the past year. But how can you do the white trend – what style matches your personality?
In this article we're looking at how to adapt the white interior design trend to fit our own personal styles. It can be tricky finding your interior design personality – how do you keep up with latest trends without compromising your own creative look and feel?
According to every gorgeously glossy interiors blog and home magazine we read, you are so last decade if you don't have at least one all white room in your home. Whilst some of us at D&R are totally on-board with the white interiors trend…a few of us maybe struggle to work it into our individual styles.
If your favourite colour is white, this apparently implies that you are neat and immaculate in your appearance…as well as in the presentation of your home. Is that the level of dedication it takes to rock the all white interior design trend?
Whilst no-one in team D&R could be accused of being fanatical about neatness, we're certainly concerned with the appearance of our homes, and ourselves. So how do we mere non-neat mortals do the white trend?
What style personality are you?
First things first, let's determine your interior style personality – take a quick look at the colours you wear most often. This gives you fast insights into what makes you feel good. If you habitually wear white from head to toe, then you can likely make totally brilliant white interiors work for you. If your white jeans are grubby before you've even left the house (ahem…), then perhaps accents of white are the way forwards.
Making white interiors work for a deep and moody style
Take Lyz for example, her style personality is deep and contrasting with a hint of the dramatic! She loves sophistication and glamour, but also minimalism (complicated!)…so how do we recommend she does the white trend? very good question! This one had us flexing our creative muscles; clean, crisp white being the polar opposite of her usual style.
We focussed on the contrast element of her personality. We visualised Lyz in an outfit – she predominantly wears high contrast textures of black and the only way we could see her wearing white, was white jeans in dramatic contrast to a black tee.
That's all well and good, but how does this translate to our white interior trend? Well, we realise that an entire room of brilliant white loveliness is probably never going to happen, so we think striking feature pendant lights by Umage Lighting are the answer. In particular the white Vita Silvia.
This looks stunning against dark moody walls providing the contrast and drama she loves, but the light shade itself is not overly fussy.
How to do white interiors if your style is laid back
This one's a bit easier! Tony is a pretty laid back chap. His feathers are not easily ruffled and day-to-day he's most at home in a pair of blue jeans and a sweat… but he occasionally cuts a dash in a sharp suit or tailored shirt.
In terms of an interior, we think this translates into clean lines and relaxed living. Functional, but definitely not frumpy. A little quirky wouldn't go amiss where Tony's concerned. He's also someone who would probably struggle with an entirely white room – he's just not that neat (sorry Tony).
Tony is more likely to have plain matt white walls with a few choice framed, bold graphic prints and large comfy sofas in a deep neutral colour. Effortlessly stylish and warmly welcoming. You'll always feel at home round Tony's pad.
In terms of translating this to our white interiors trend, we think he'd suit a white diamond light cage made into a table lamp with retro black and white chevron fabric cable.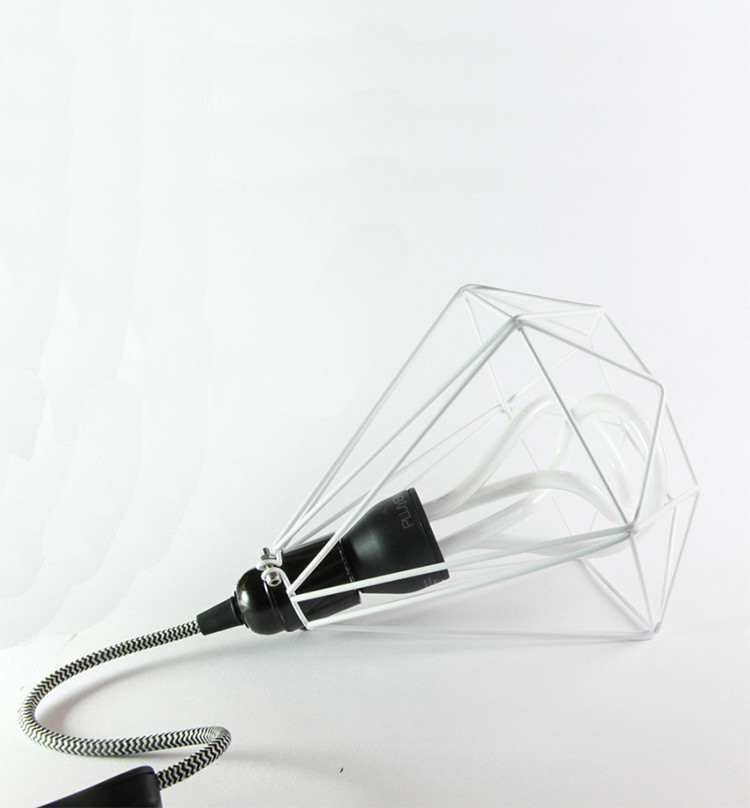 Perfect for drawing some of the white from the walls into the room. Practical, a little bit different…and bang on trend!
The creative personality and white interiors

Creative personalities are so varied that this is a tricky one. James is the creative brains of D&R and has very definite ideas about what he does and doesn't like – and he isn't afraid to voice them! He obviously has an eye for design and is passionate about well-designed, well thought out every-day items. Things that work, but are also beautiful to look at. He can literally ogle a designer lightbulb for hours.
Whilst James has his obsessive creative streak, he also has an astute business brain…which is reserved and anything but frivolous. An interesting mix when it comes to looking at how his creative style personality could do white interiors.
James quite often has a bit of a hipster vibe going on and is most at home amongst whitewashed brick walls and industrial style fixtures and fittings. For that reason you may think that a factory-style white enamel pendant light would be right up his street – and you'd be right. But we're throwing a curve ball here and going with something a bit different.
We think the minimalist white LEFF Amsterdam Tone Clock by Wiebe Teertstra would go perfectly on James' whitewashed brick walls.
Preferably three in a row to add texture and interest. Three in a row appeals to his need for order but also his creativity – who would think of hanging three clocks on a wall other than an interior designer?! …and the minimalist style of the clock goes with his love of sleek aesthetics.
If you're creative without James' need for order, then why not hang multiples of these clocks randomly on a wall? We've seen it done and it creates a stunning display.
Working white interiors with a natural style
Our other Liz has a relaxed natural style – but she does like things just so. Of all of us, she's probably the one who could absolutely pull-off an all-white interior.
A natural style lends itself very nicely to white interior style décor – as you would expect. Think lots of tactile, natural materials. Pure cottons, linen, bleached and sanded wooden floorboards, woollen knitted cushions and perhaps a touch of suede or leather for a bit of luxe.
The danger with a natural all-white room is that it can look a bit bland, one way to overcome this is to make a feature wall. But go with something a bit different from the norm – we love this white Scrapwood feature wallpaper by Piet Hein Eek.
A bit Scandi-style or even beach-chic and perfect for your natural paired-back interior.
Introducing a bold style into white interiors
Some of us just love colour and can't resist adding a colour pop to white. On the QT we think Jim is this person. Oh at work he's very chilled out…but lurking under that cool exterior there's a cheeky sense of fun. A bit of tongue in cheek roguishness.
If you're nodding in agreement that this is you, you're probably wearing bright coloured trainers with an otherwise pretty neutral/black/white outfit. Effortlessly cool and probably quite accidental. We're all jealous of how easy you make it look.
Adding colour pops to a white interior should come quite easily to you – but how best to do it for maximum impact? Fabric cable is the cool way to hang lights from your ceiling. If you haven't tried it yet, what are you waiting for?
Bag yourself some white porcelain light pendants with vibrantly coloured fabric cable flexes and hang a cluster of them in your room. Mix and match the colours and tie in a bunch for a real wow factor.
All you need now are some lightbulbs to complete your look. If you favour minimalist clean lines, go for the sculptural Plumen bulbs and if you like the industrial vintage vibe go for Edison filament style light bulbs. This kind of bold colour pop is definitely brave but if you take the plunge you will be handsomely rewarded.
White interiors for a chic style
And so to me. I would dearly love to live in a minimalist monochrome haven… but that's just not me. It's something I love to look at, but not to live with.
I'm a girl that loves designer clothes mixed with high street bargains. A balance of style and comfort is what I strive for in an outfit and that goes for interiors too.
My lounge is painted pure brilliant white and I love it, but can't quite get my head around the practicalities of white furnishings too! Eeeek…I just can't see a white sofa working out with my husband and two cats! I truly admire all of you who have immaculate white interiors despite the kids and pets. How do you do it?!
My ideal is pure white walls with luxe textures of white and off-white to stop it being too clinical and sterile. It's got to be tactile and also warm and welcoming. Stylish but lived in, that elusive mix of show-home chic and practicality.
I know that lighting is so important for setting the ambiance of a room so that's probably where I'd look to create a full-on white textual feature. For me it'd have to be one of the beautifully unusual feather pendant lights by Vita Lighting – I love them.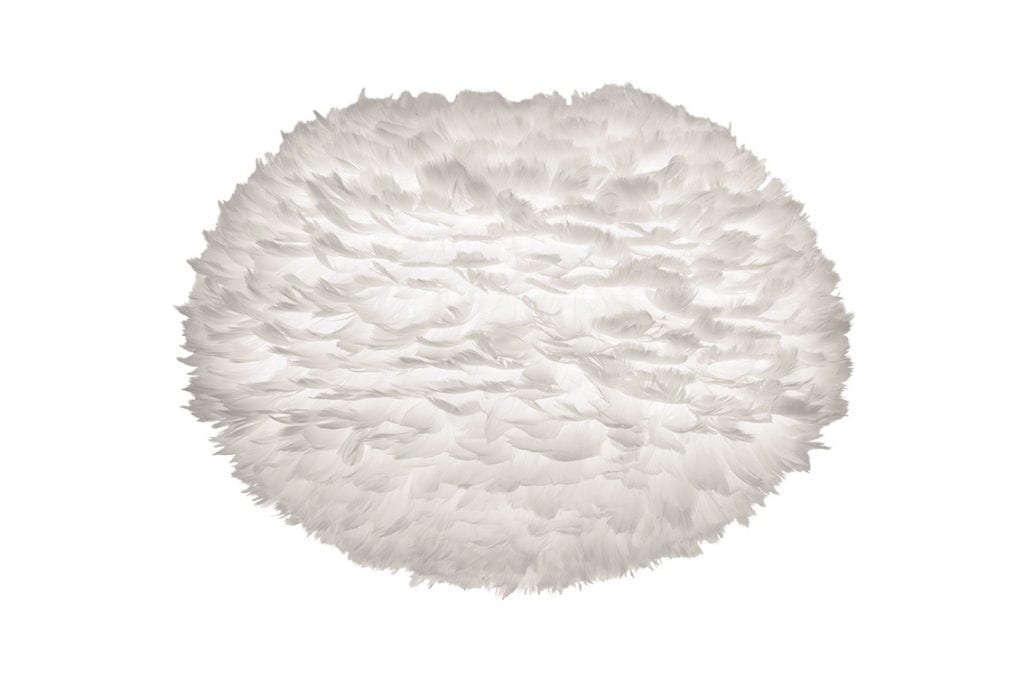 They're soft, white and so chic. And definitely not the kind of thing you'd find on the high street.
Well, that's all of us sorted. We hope we've helped you get a sense of your inner white interiors style guru and given you some ideas on where to begin with the 'white trend'. I think we've proved that anyone can do it… to some degree or another!
If you're looking for more inspiration: Check out our collection of white lighting accessories
We'd love to see how you've doing the white interiors trend – tag us in your pics on Twitter or Facebook.