Kitchen Door & Cupboard Handles
Grasping the kitchen door handle, you notice the feel of the intricately knurled surface against your fingertips. The metallic finish glints in the sunlight and leaning in to look closer, you marvel that this small detail has the ability to stop you in your tracks.
It's easy to make even the smallest details count with our premium range of kitchen door handles and kitchen knobs.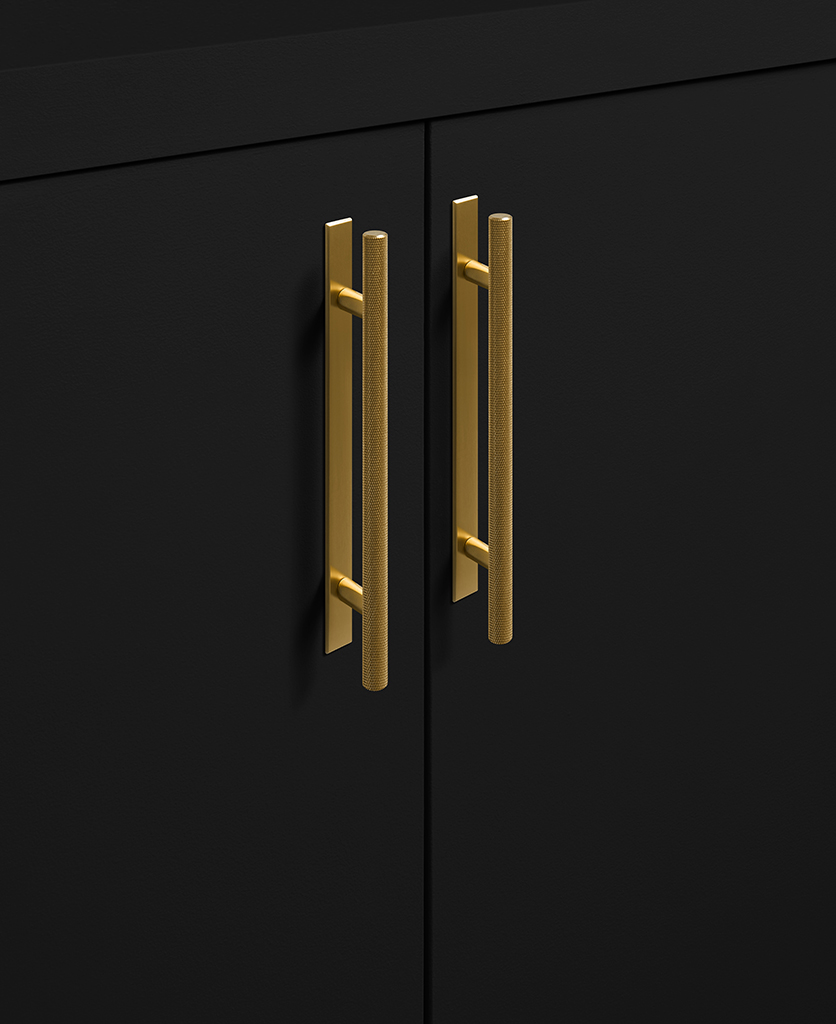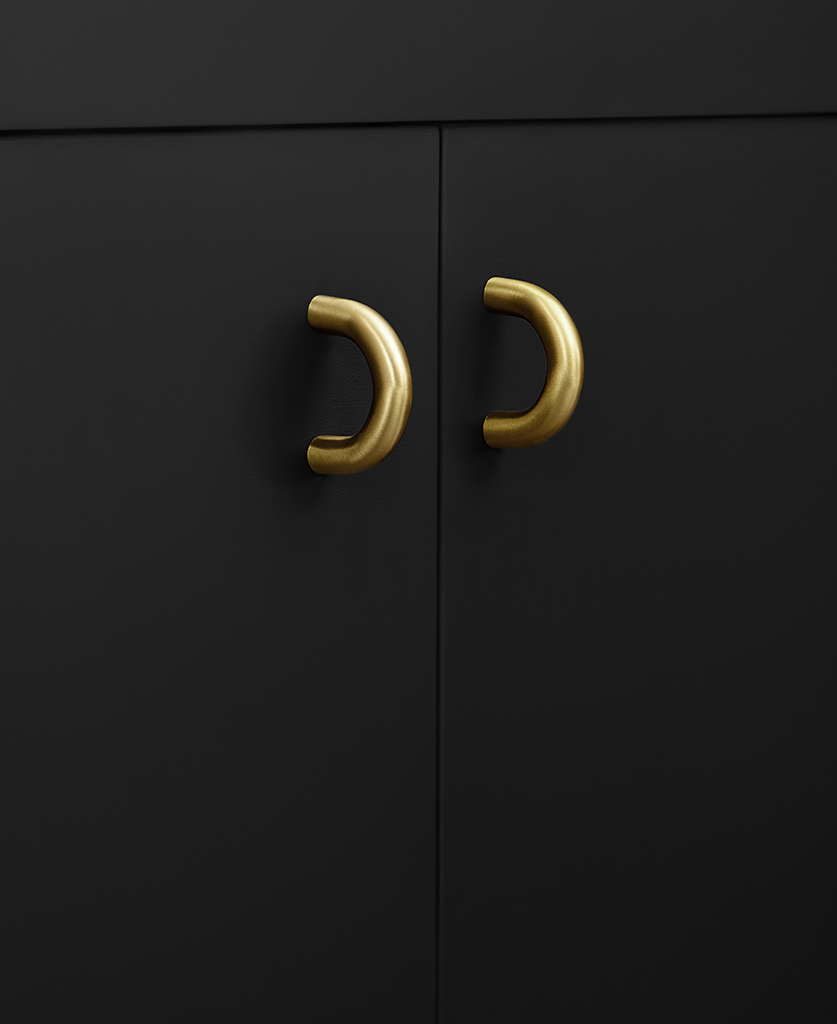 Our exclusive ranges are considerately designed to appeal to your senses. Odd as it sounds, a small detail like the cupboard door handles you choose can help you fall in love with your kitchen all over again. Choose from our best-selling skyscraper range of textured solid brass door handles, or a more minimalist geometric shape like Taipei. All are available in a variety of colours, some even come in vibrant red if you're feeling bold!
Dowsing & Reynolds' kitchen door handles leave a lasting impression
The solid brass door handles, with their various colours and striking finishes, don't steal the limelight entirely. Our kitchen door handles simply attract your attention momentarily as you reach for them. Gold handles glint beautifully under your kitchen lighting whilst matt black adds drama and intrigue. You'll love them so much you'll find yourself wondering where else in your home you can fit them.
Made from high-grade metal, these interior door handles feel soothingly cool under your fingertips. The carefully considered finishes are as pleasing to the eye as they are to your sense of touch - a small detail that leaves you delighted.
The texture of the metal is smooth, almost satiny. Then there is the weight – these kitchen door handles are sturdy, giving a firm sense of quality, their slick lever action makes them a joy to use. 
Dowsing & Reynolds' kitchen door handles are the perfect blend of form and function. They're sturdy and elegant. Ergonomically designed and stylish. And above all, they're timeless so you'll never have to worry about them going out of fashion
Find the perfect door handles to elevate the details in your kitchen 
It's the little things that matter when creating a kitchen you love. 
From kitchen door handles to cabinet handles, a well-designed kitchen should be a reflection of how you live and your personal style. That's why we've curated a collection of premium kitchen hardware that can be mixed and matched to reflect your personality, allowing you to customise your space and truly make it your own.
Our original collection of cabinet handles, drawer knobs and leather door handles has grown, giving you more choice than ever before and all made using the finest materials and craftsmanship.
Whether you want to make a statement or create a minimalist haven, our interior experts are here to help you find the perfect kitchen door handles for you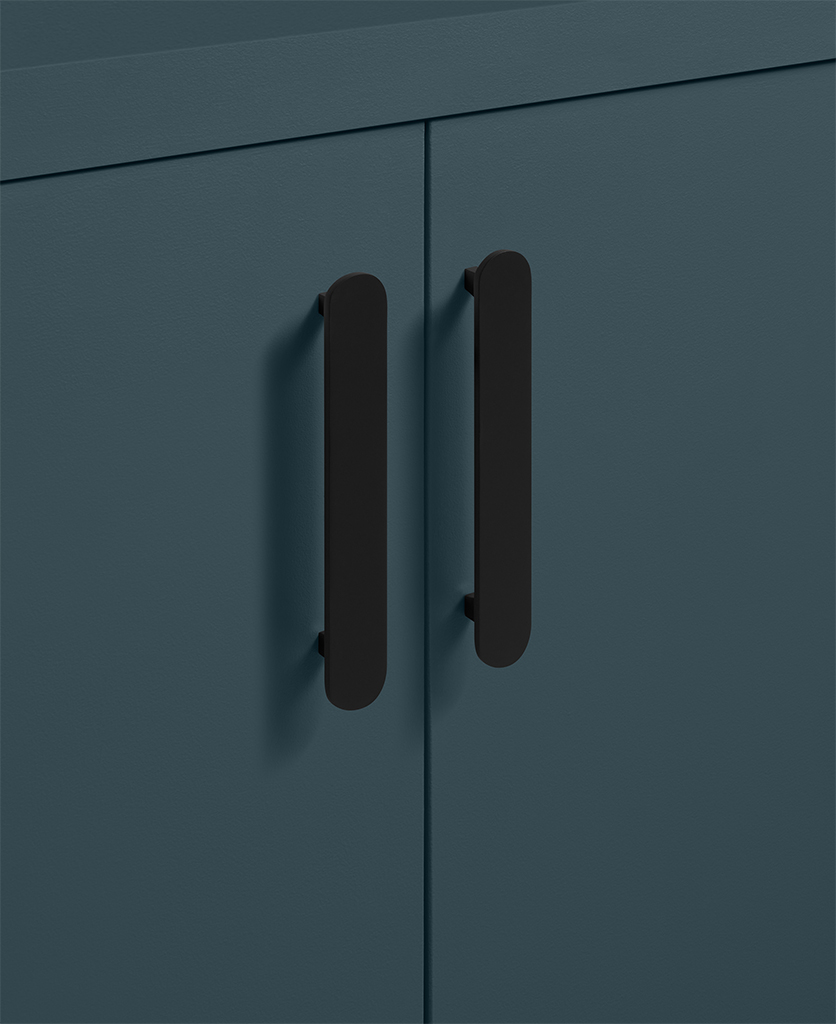 A new sense of texture awaits you with pull bar cabinet handles
The Skyscraper and Hive ranges are designed to add a touch of character that'll make you fall in love with your kitchen's interior all over again.
From satin smooth hexagonal to diamond-patterned knurled door handles, our range is sure to add a premium feel to any kitchen.
Skyscraper door handles with plates: 
Sculptural and striking, our skyscraper knurled handles with plates are perfect for injecting modernist style and grandeur into your home.

These kitchen door handles are statement-making, and a great way to substitute your old pull handles for something that will really stand out – and no need to sand and fill old screw holes either.
Available in black, silver and brass, these pull bars are designed to fit all styles of kitchen doors – all you have to do is select the size that works best for you.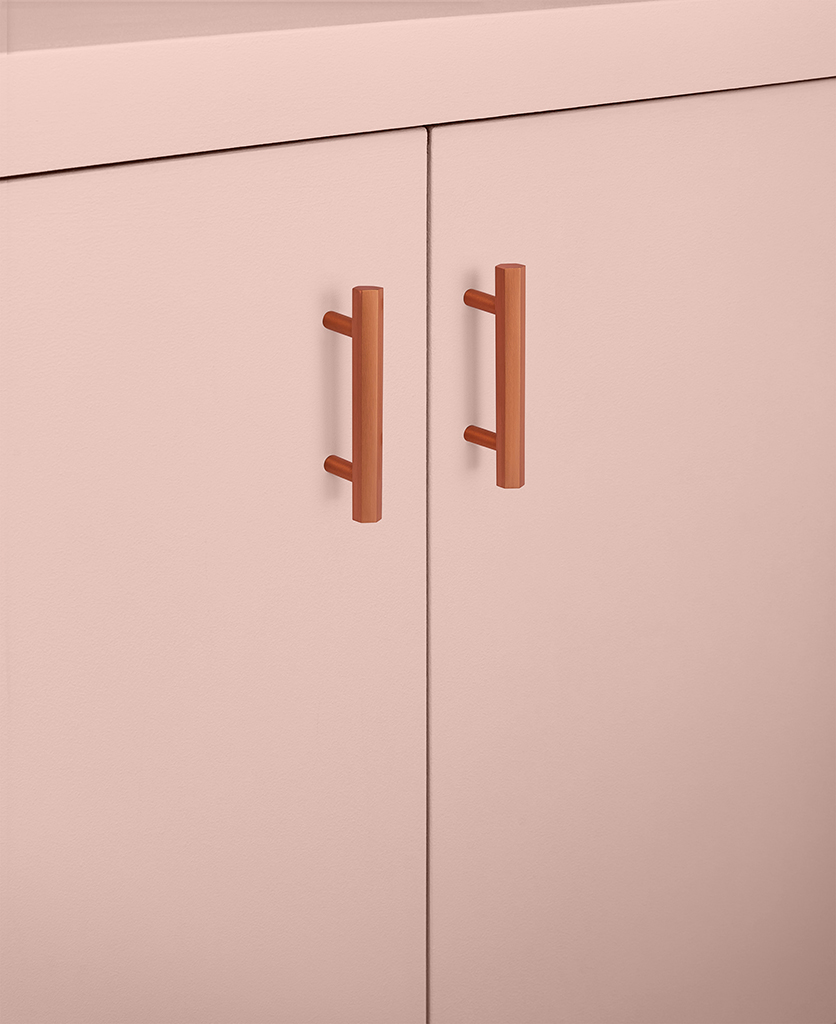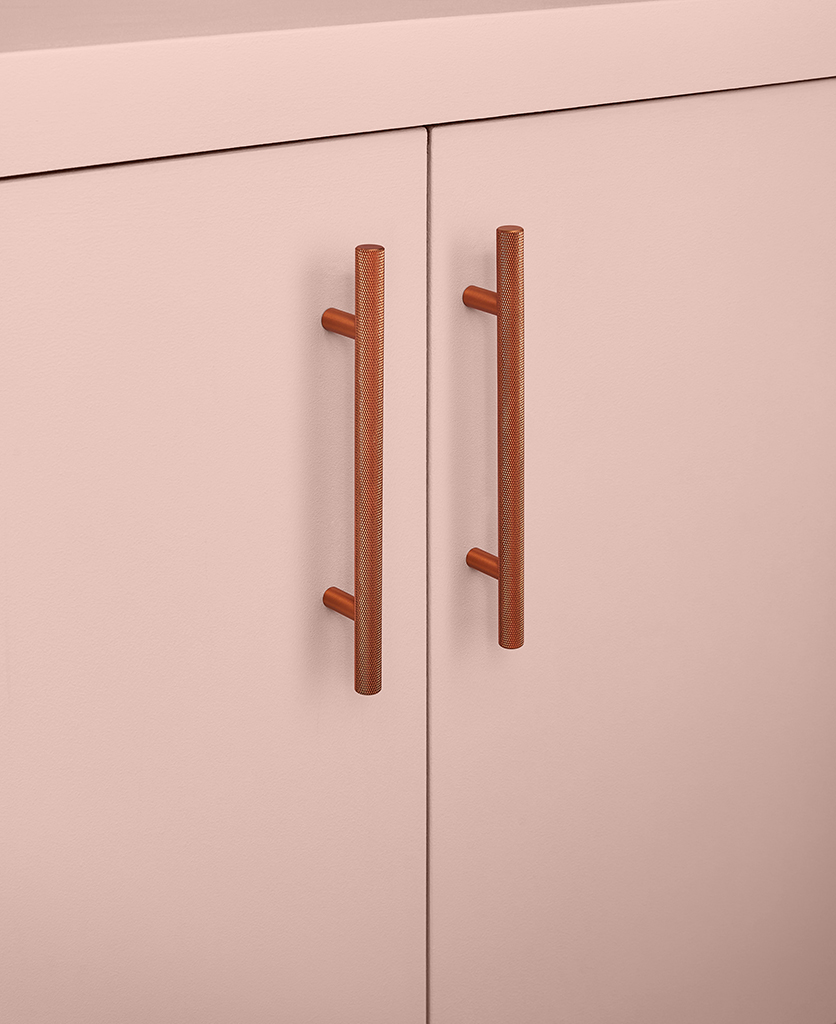 Hive hexagonal drawer handles: 
Our Hive hexagonal handles are a uniquely premium way to add flair to your kitchen drawers.

Made of solid brass, these kitchen door handles feel sturdy when you grasp them, and their fascinating shape adds intrigue to cupboard doors and drawers.

Available in classic colours, such as gold and silver to bold and daring shades of red and dramatic matte black.

D&R's wide variety of Hive kitchen door handles are perfect for smaller drawers, or you can explore our larger Hive handles for something more impactful.
Tau door handles:
Exclusively designed in Yorkshire by James, co-founder of Dowsing & Reynolds

, our Tau collection is the epitome of style, form, and function.

These door handles are a sleek and edgy addition to any kitchen, with their comfortable, ergonomic shape and easy grip.

Tau kitchen door handles are engineered from solid brass and come in a variety of colours, including classic brass, matte black, and silver.
We'd love you to be delighted with the difference that adding these metallic accents makes to every moment of your cooking experience. 
Embrace Art Deco style with curved metal pull handles
If you're looking for kitchen door handles with a twist, you're going to love these.
Curved kitchen door handles are designed to tuck into your cabinet doors and drawers, providing just the right amount of space for your fingers to grip. They're made with elaborately curved metal that'll add stunning detail to any room or kitchen.
Available in a variety of colours and finishes, it's easy to find a set that blends seamlessly with your existing kitchen decor.

The curved shape adds interest, punctuating and softening the straight line of your kitchen cabinets. It also draws attention to their beautiful form.

The wave-like shape of the kitchen door handle allows them to fit perfectly into any gap between cabinet doors or drawers, making them easy to install and blend in with the rest of your kitchen.

When you're working with a modern aesthetic, why not consider our Neo Mint or Miami Pink curved pull handles to add instant flair to your room?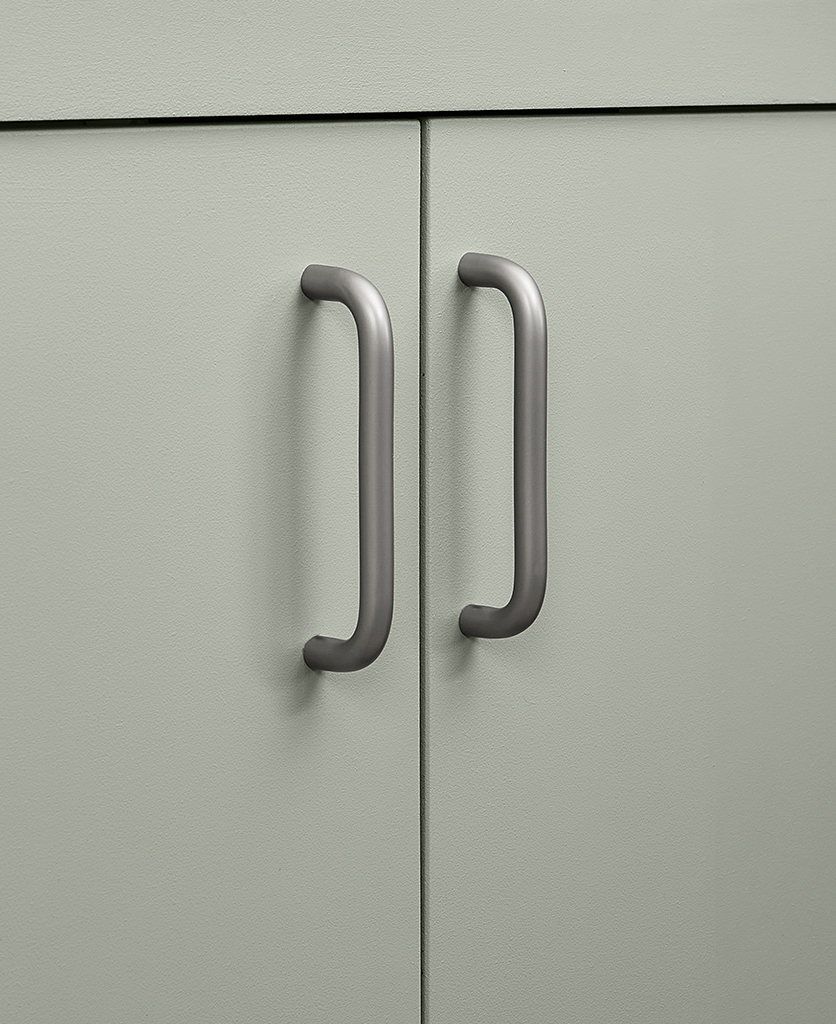 If your kitchen is lacking the intrigue of our curved door handles, it's time to give it the upgrade it deserves.
Irresistible designer leather pull handles
Leather pull handles are the perfect complement to your high-end, classic interior style. Their understated design introduces a relaxed feel to any room – subtle details that add texture and help the flow of a space. 
Adding leather handles to your wooden kitchen drawers instantly transforms them with a classically relaxed feel. The gentle curved loop of the handles makes them easy to grasp, and the durable, smooth texture provides a moment of pleasure for your fingertips. 
There are multiple leather and stud colour combinations, enabling you to find the perfect match. All of these door handles are made from the finest Italian leather, tanned by hand using natural vegetable dyes to create the perfect shade.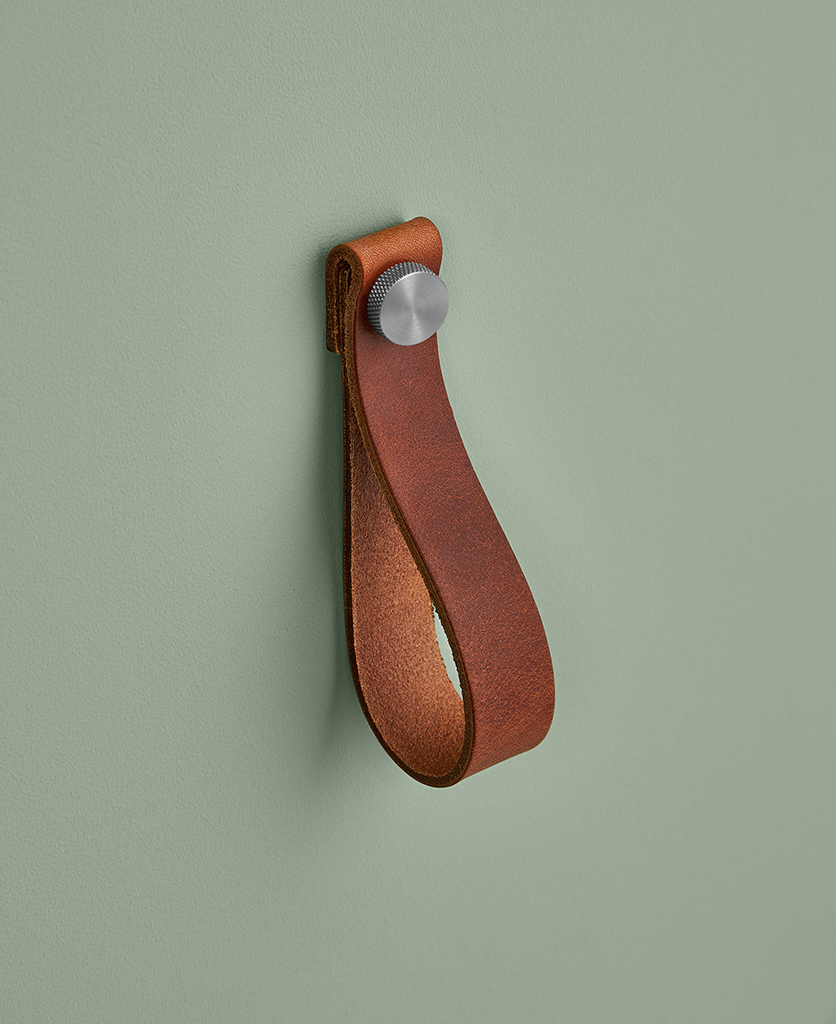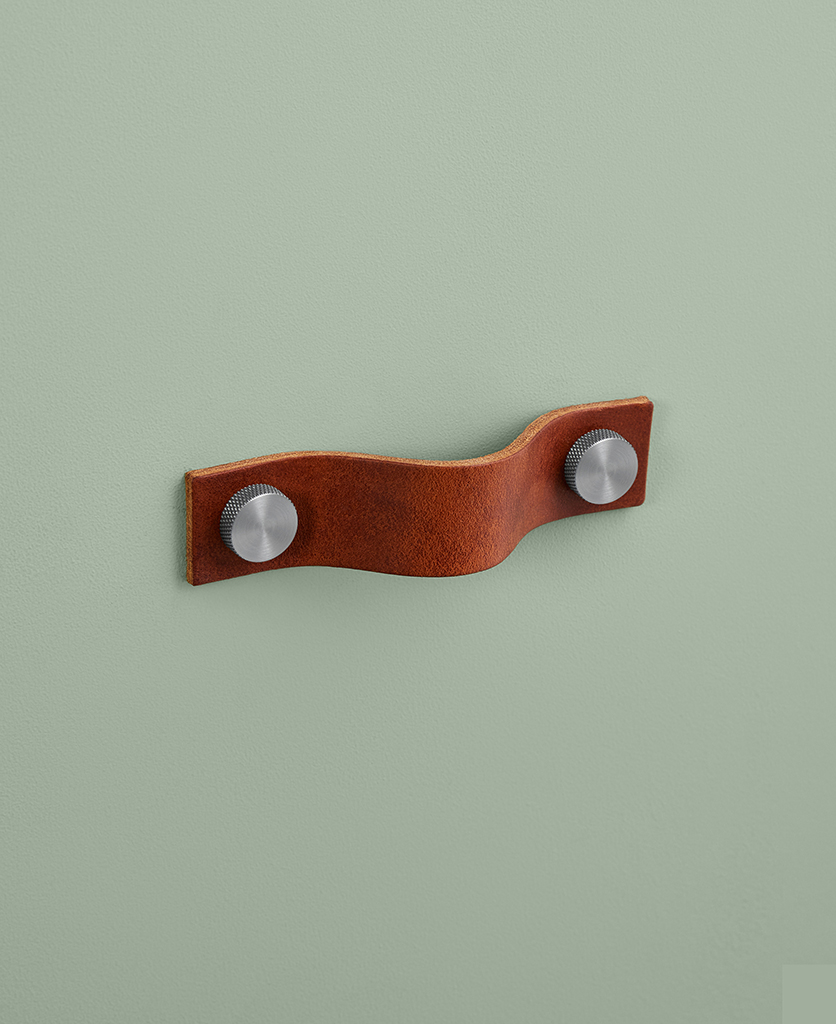 Rekindle love for your kitchen 
Wandering into your kitchen to make a coffee, you experience a moment of sheer happiness and relief. Everything finally fits into place. 
All the small details you overlooked for so long have now been replaced by quality, designer pieces. You delight in the look and feel of your copper kitchen handles and knobs at every grasp.
Your synchronised light switches and sockets create a gorgeous visual harmony that reflects the way you feel about your life: calm, relaxed, and content. 
As you flick the chrome rocker switch, the satisfying click signals the end of another day in the home you've turned into paradise.
At Dowsing & Reynolds, we believe that the little things matter. Every detail is important when it comes to creating a space that feels like home. We carefully curate everything from bespoke lighting to kitchen taps in one place, so you can easily find the foundational elements for your room with matching finishing touches.
We're here to help you create a space that makes you feel like you're in your very own sanctuary – one where every meal is made with love, and where every interaction is made a little bit more enjoyable.
Carry on Reading...
No products were found matching your selection.