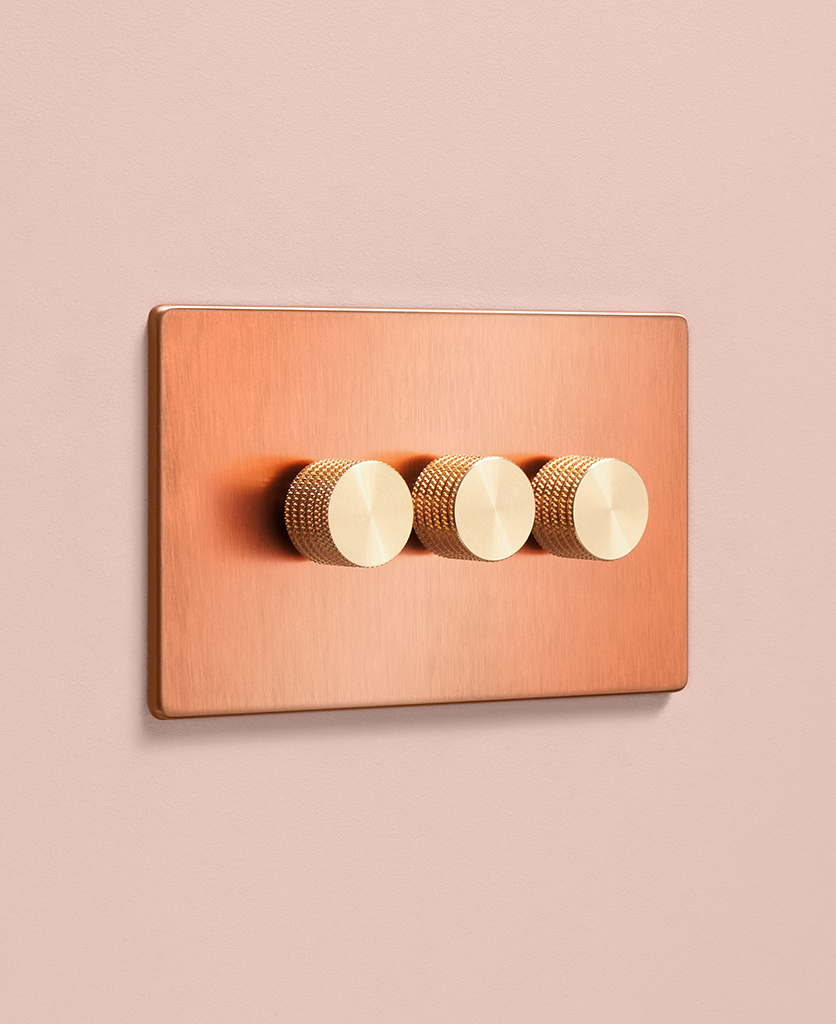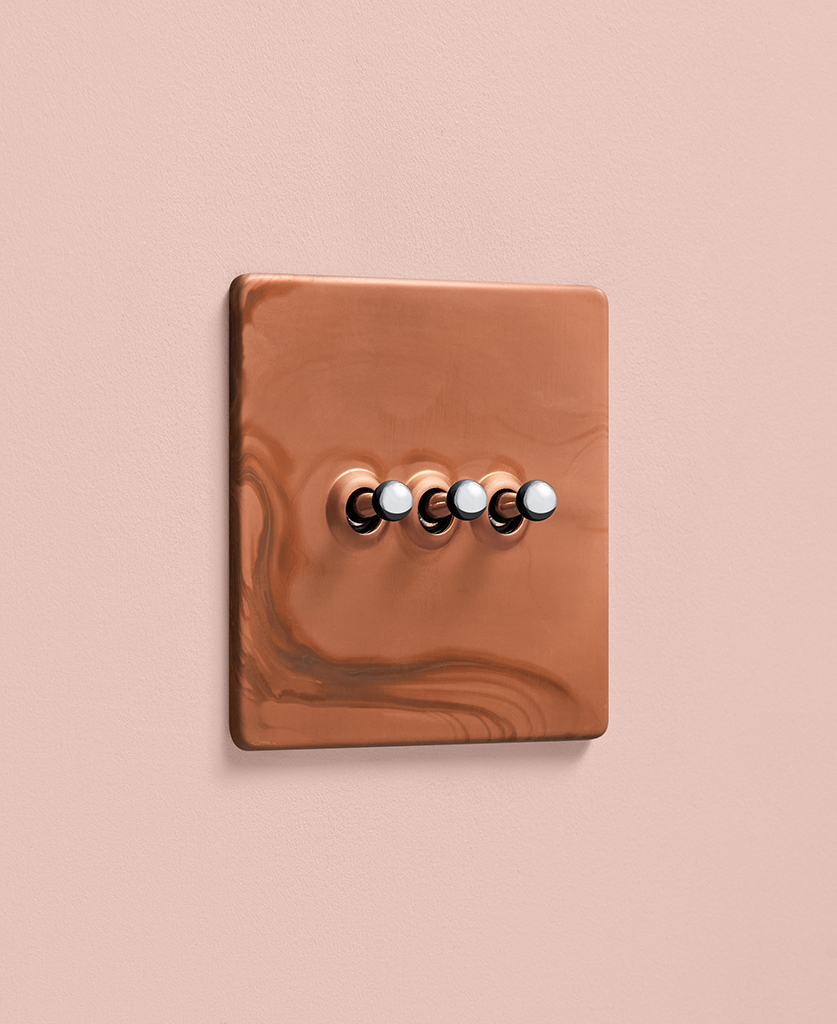 Beautifully designed light switches and matching sockets
Light switches are one of the first things we interact with when entering a room, yet they are an often overlooked detail
Beautifully designed light switches and matching sockets can finish off a space giving it a premium look. Our exclusive ranges come in various colours and stunning metal effects to help you achieve just that.
Why choose premium light switches?
Premium light switches and sockets may cost a bit more, but they're worth every penny.
You interact with light switches multiple times a day, so if they look great and are a pleasure to use, you've already added more joy to your life.
Premium products usually come with subtle improvements on standard rages:
They look more attractive as the details get plenty of consideration – flush-fitting screwless designs look sleeker in your home.

They sound better – the click of a thoughtfully-designed switch as you turn it on and off is satisfying in a way cheap components can never be.

They're enjoyable to use – the switch rockers, toggles, and dials are sturdy and ergonomically designed to feel good to your touch.

They come in a broader choice of colours and finishes, so you can better match them to your décor style.

Premium light switches last longer – ours have a ten-year guarantee.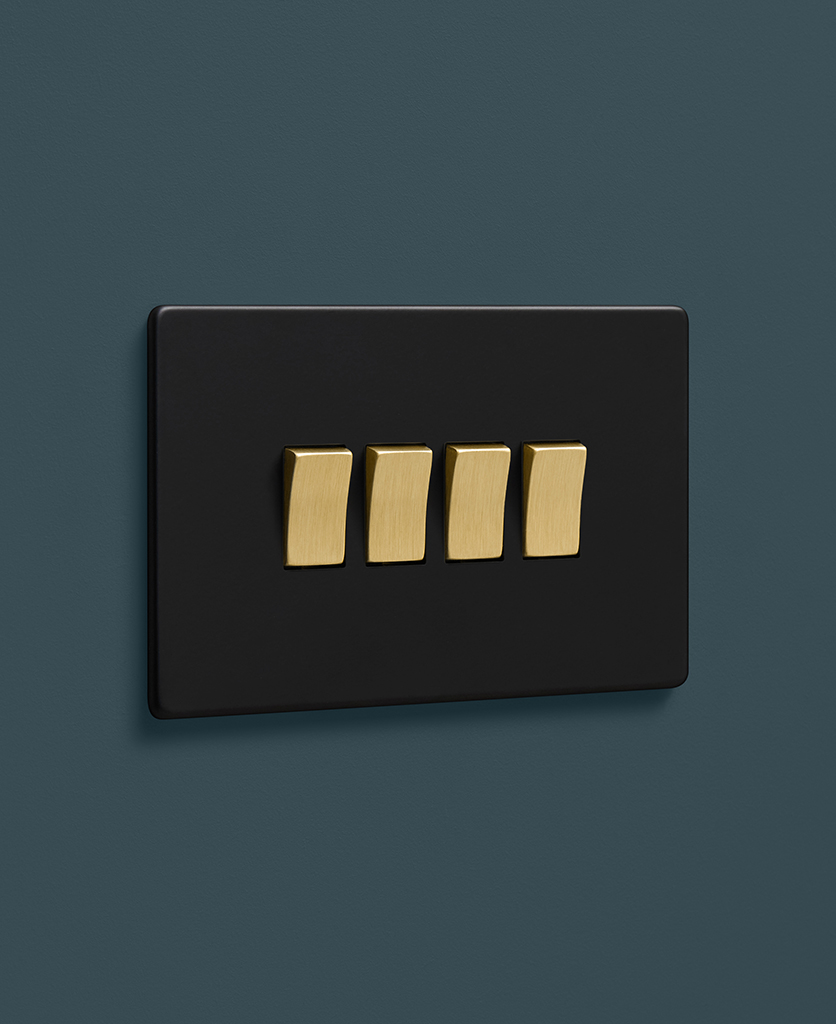 Dowsing & Reynolds believe in elevating the everyday items around your home to create joyful moments. Light switches are no exception; swapping these small details will help you create a home you love. 
Our ever-evolving light switches collection features various colours and finishes to help you find what works for your style. We're also continually extending our ranges to cover all the configurations of switches and sockets you may need around your home.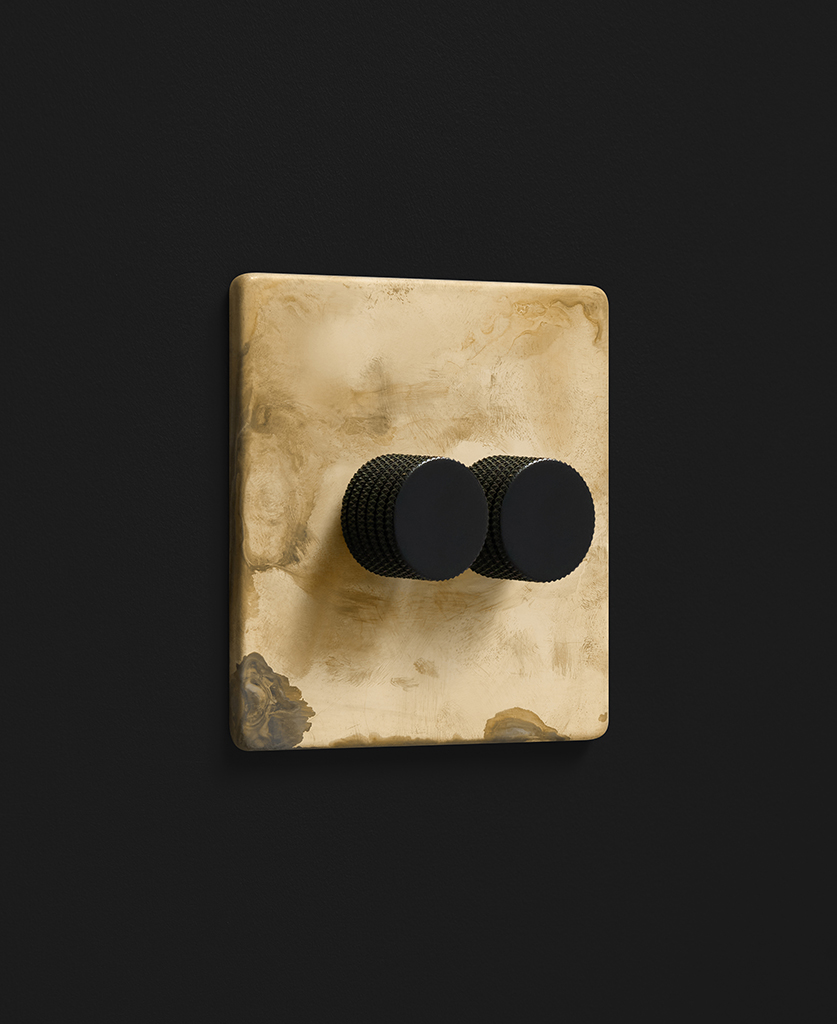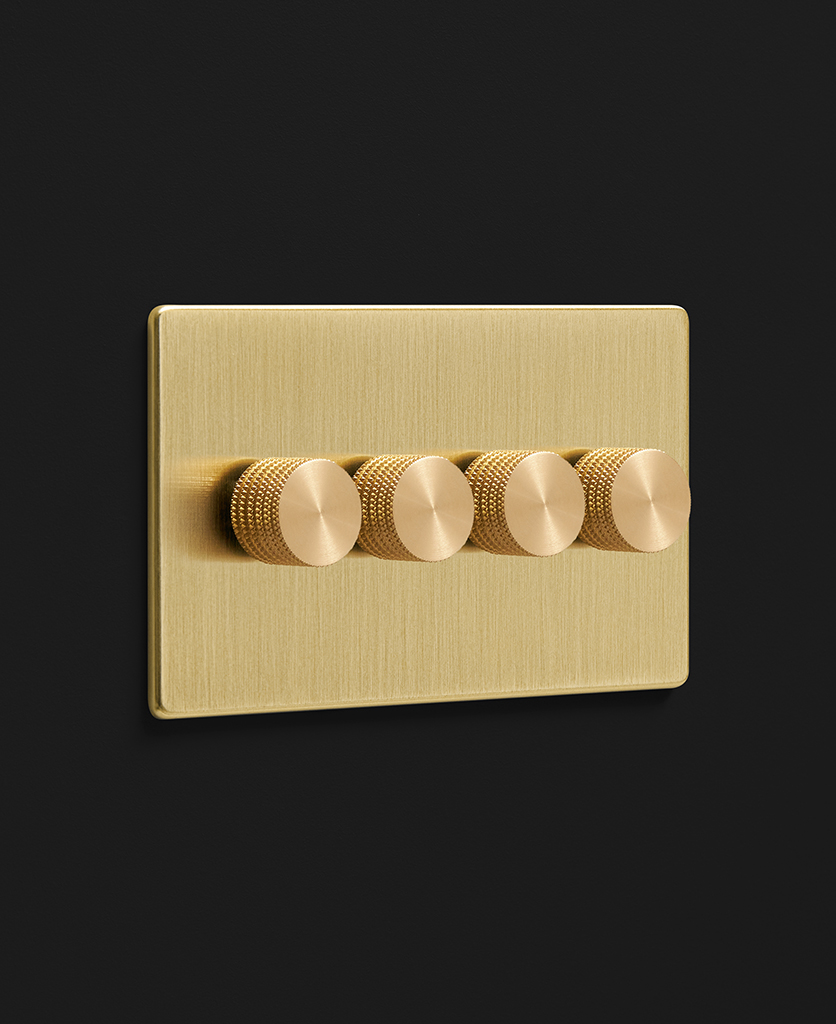 Is it worth fitting dimmer switches?
You often ask us if it's worth fitting dimmer switches over standard rockers – and the answer is always a resounding yes!
Dimmers enable you to control the ambience of your room to the nth degree. Turn the lights up bright when you need to see what you're doing, dim them down when you want to create a cosy atmosphere for relaxing, and every nuance in between.
Set the tone with a single dimmer switch or modify multiple lights in the same space with quadruple dimmer switches.
If you like the idea of this much control, why not take it further with a bespoke dimmer switch? Select your primary backplate finish, and then choose what colour knurled knobs you want, from black, white, silver, chrome, gold or copper.
The choice is totally up to you. Mix and match the components to coordinate perfectly with your interior. We can offer this service because we assemble all our switches in-house at our Yorkshire-based HQ.
Like a more tonal look? We don't all want to make a statement with our switches and sockets but crave something that blends better with our décor. Walls painted in earthy nature-inspired shades are especially tricky, but our Café Culture range sits seamlessly with these colours.
Get playful with a toggle switch.
A toggle switch is a pure retro throwback and a thoroughly joyful thing to have in your home. We guarantee you will flick this on and off more than is strictly necessary!
Combined with modern décor, toggle light switches in contemporary finishes will steal your heart. The everso satisfying click as you switch your lights on and off makes you pause a moment to enjoy it.
But not all toggles are made equal – a beautifully designed toggle switch from Dowsing & Reynolds comes with a ten-year guarantee, so you can be sure you're investing in quality.
What else makes a Dowsing & Reynolds toggle switch different:
Our switch and socket designs and finishes are exclusive to us – you won't find them on the high street.

We created a broad range aiming to have a colour or metal finish to help everyone express their unique style and personality.

You can even bespoke your toggle light switch, choosing a different backplate colour and toggle finish.

Our gold, chrome, and polished copper switches are sleek and elegant, while

the monochromatic selection of black and white switches

is sophisticated and understated.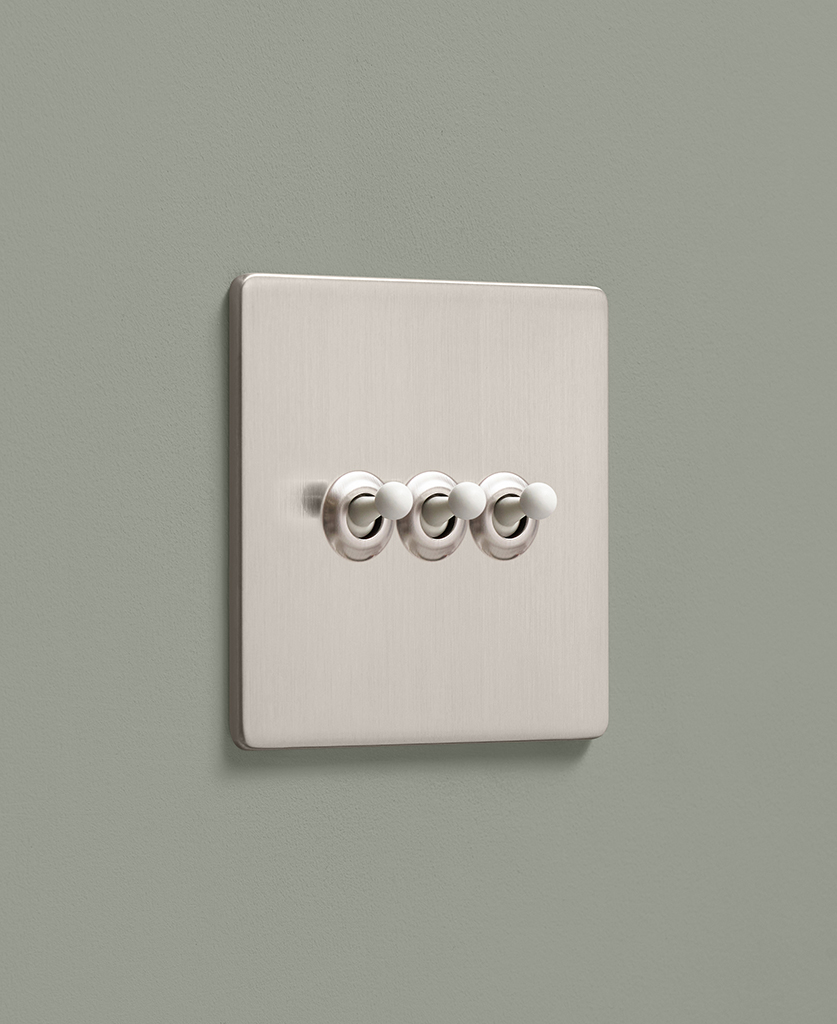 Update classic rocker light switches with a modern twist.
Rocker light switches can be a little uninteresting, but if you love the classics, here's a way to update your light switches without straying too far from your comfort zone.
Our range of exclusive colours and finishes enables you to create the look you want down to the very last detail. You can select bespoke options on our rocker light switches to add personality to your home, safe in the knowledge that you're sticking with the easy functionality you want and love. Our classic rocker switches with a modern twist come in options from 1 – 4 toggle, perfect for spaces large and small.
Stay cosy in bed with pull cord switches.
Getting out of bed to switch off lights when you're settled, warm and cosy is less than ideal. But it's a simple challenge to overcome with pull cord switches.
Fit one of these at the side of your bed, and hey-presto, you can easily switch the lights out – minus the quick dash across the room.
We created these stunning pull light switches so you never have to leave the sanctuary of your warm bed again. We've also updated the design of this fundamentally helpful switch to make it beautifully stylish with a choice of cord colours and coordinating hardware finishes so you can perfectly match it to your bedroom's décor.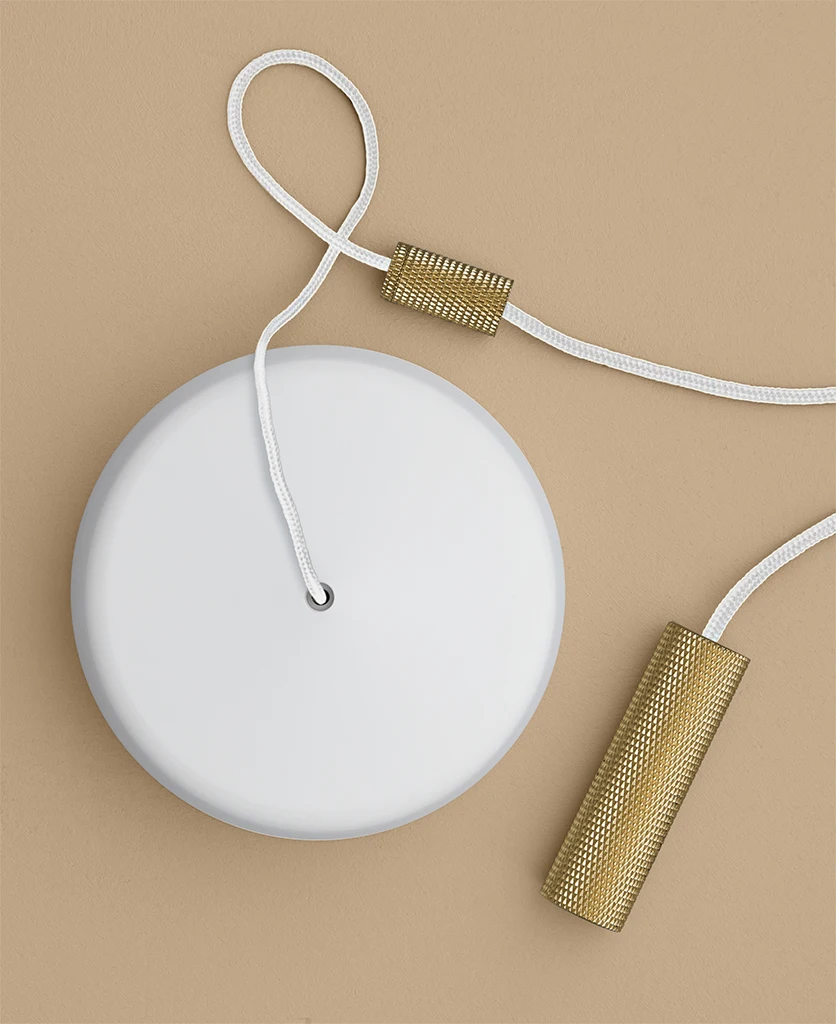 Discover the Café Culture Collection and add instant calm to your home
Our exclusive Café Culture Collection of light switches and sockets takes inspiration from the warm, cosy feeling you get when you walk into your favourite café and smell the comforting aroma of freshly brewed coffee and delicious pastries.
The Whipped Cream switch

has a simple, elegant design. It's a timeless finish that's a bit softer than brilliant white. It's ideal for natural, neutral interiors where you want to elicit a feeling of peace and calm.

The Caramel Latte switch

evokes the comforting feeling of a hot milky latte. We chose the colour to blend perfectly with the Dulux paint colour Brave Ground, and it's perfect for creating a seamless look with other warm neutrals.

The Cinnamon switch

is an earthy shade. It's rich and exotic, just like the spice. Make a statement with this switch against creamy walls, or blend it on a feature wall of the same colour, providing a warm accent in your space.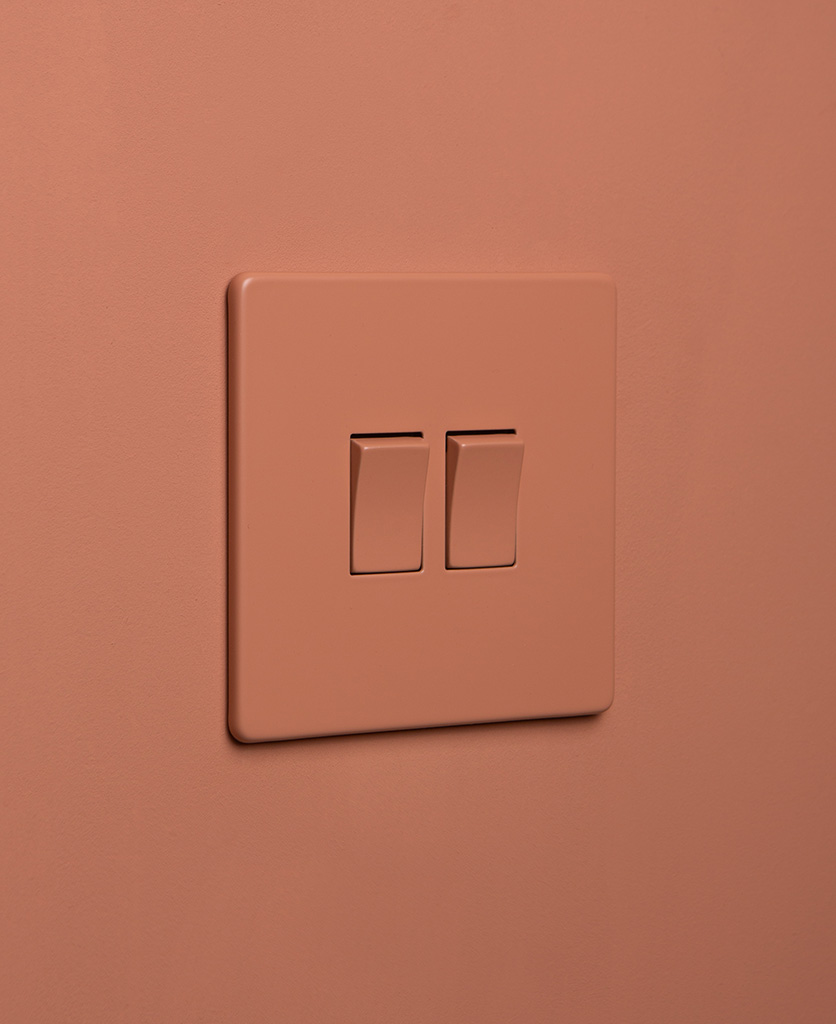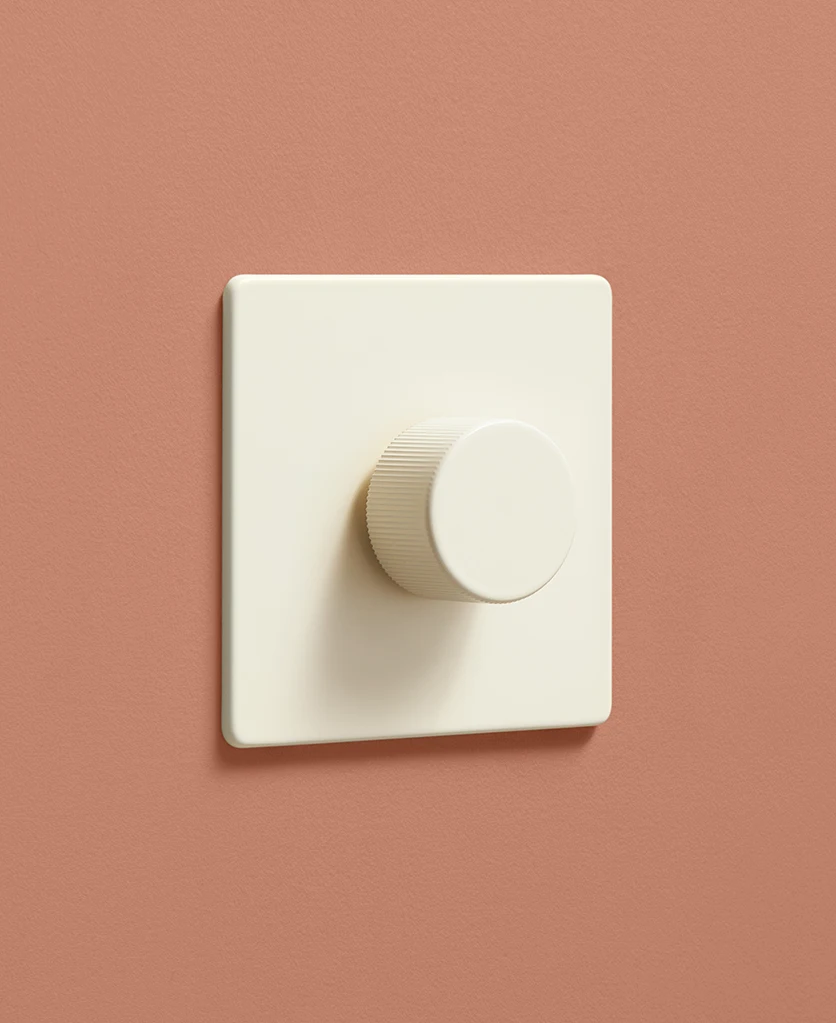 Matching your switches and sockets to the colour of your walls makes them blend into the background, achieving a stylishly understated look. Our beautiful Café Culture collection provides all the quality and detail you expect from Dowsing & Reynolds in a calm and tonal range designed to work with warm neutral colour palettes.
Captivating light switches you can't resist touching.
Choosing thoughtfully designed and high-quality finishing touches can elevate your home. Transforming rooms with designer light switches is one tiny detail.
Twisting a knurled dimmer knob to illuminate your statement bubble chandelier is one small pleasure. Perfectly controlling the glow of your pendant light to create just the right relaxing mood is another.
Plugging your phone into a sleek USB plug socket that's both functionally brilliant and looks lovely in your home makes everyday jobs more manageable.
Grasping the stunning handle on your kitchen drawer while rummaging around for candles to boost the intimate lighting you've created gives another moment of delight.
We aim to design and curate the products you need to finish your home – to help you create a place you love to spend time.
Our light switches are about more than just turning on a light. It's about sparking a moment of enjoyment and delighting in the everyday interactions we take for granted.
Browse our coordinating light switches and plug sockets to begin the journey of transforming your home into a place you love.