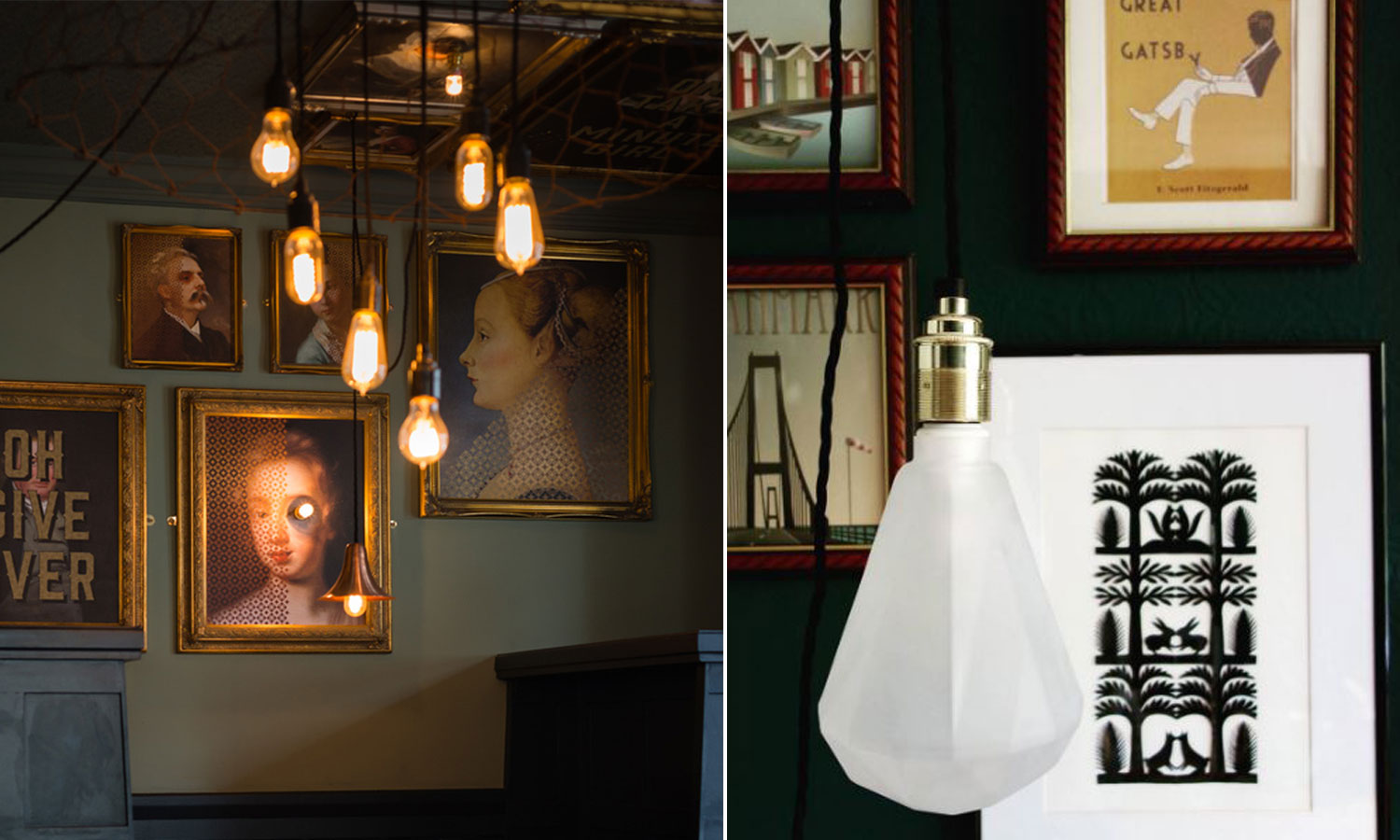 Over the past few months you've been sending us photos of your lighting projects, using our products. Thank you! We love seeing your designs and we wanted to share them…so others can take a little bit of inspiration.
Then we thought, why not turn this into a regular feature? So that's what we're going to do! Every month we'll be showcasing your projects on the blog, showing how easy it is to use our products in your lighting projects.
This month it's all about keeping it simple. We're showing you how easy it is to create a stunning light feature with just light bulbs, bulb holders and fabric cable. Here's a few photos from the past few months to start you off…
It's all about quirky features for The Better Half
Located close to the beautiful seafront of Hove, The Better Half is the oldest pub in the area. But this is no ordinary pub, as their website states they're "a million miles away from the predictable".
They've taken a selection of our vintage light bulbs, fabric cable, multi-outlet ceiling roses and hooks and created an array of light features. The fabric cable is wound through ceiling hooks to create a spider-like design. The bulbs are then added and the light is directed to specific areas within the pub. We love them!
Images and styling courtesy and © of Simon Stern.
Unique designs from Making Spaces
Making Spaces is an interior design consultancy where access to good design is the name of the game. Karen, founder of Making Spaces is a very talented lady and has a good eye for dressing a room and selecting exactly the right pieces. We've worked with her a few times and we highly recommend checking out her work.
Karen recently selected our new frosted geometric light bulb for an interior she'd been designing. The room has a wonderfully eclectic mix of furniture, with undertones of Scandinavian design. And did we mention those jewel tone green walls? The dark colour with gold feels gorgeously opulent.
One of the main features within the room is a gallery. An array of frames, prints and photos packed full of character. This area of the room was also a little dark and required ambient light. Our frosted geometric light bulb was the ideal choice. Paired with our Fool's Gold bulb holder and Oh So Black twisted fabric cable, they give the light an added wow factor. We think the angular, frosted glass of the bulb looks like a piece of art itself and sits perfectly amongst the framed images. What do you think?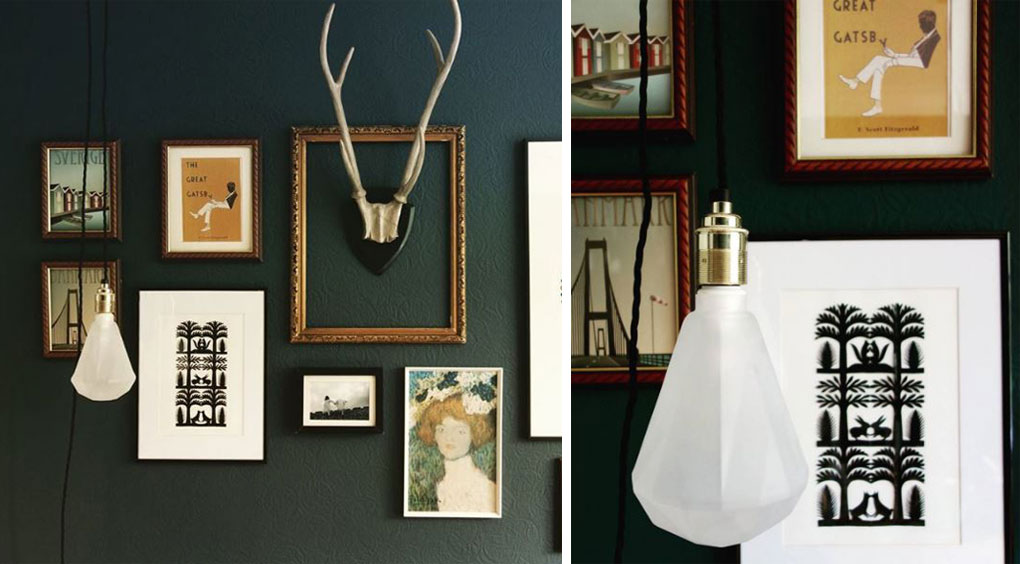 Images and styling courtesy and © of Karen Knox.
Cathy Pyle is keeping it simple
Cathy is a photographer based in Surrey. As well as an interiors addict, she's also a house tour contributor for the fantastic design and interiors blog Apartment Therapy. Cathy's latest project was to upgrade her white plastic light in her living room, as she felt it was out-dated. She kept the design simple and in keeping with the rest of her interior, choosing our copper light bulb holder, fabric cable and a vintage globe light bulb.
As you can see below, the results are beautiful and we agree that keeping it simple was the right choice. The light and it's polished copper bulb holder sit beautifully amongst the neutral decor of Cathy's room.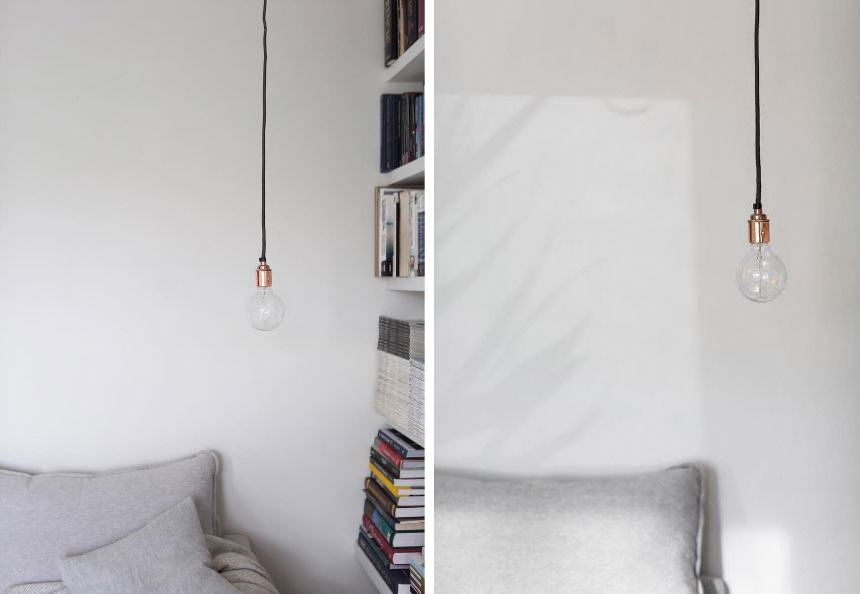 Images and styling courtesy and © of Cathy Pyle.
Hints of copper for Number39_
Number39_, as they're known on Instagram, follows the owners' journey of buying and decorating their new home. Their interior is clean and neutral, keeping design minimal throughout. For three of their rooms, they chose our polished copper-domed bulb holders, grey fabric cable and vintage globe light bulbs.
Throughout the rooms, each of the lights immediately catches your eye. The copper bulb holders add a touch of colour to the neutral designs, and the detailing of the holders creates and adds interest to the interior. It's amazing what a hint a of colour/metallic can bring to a room.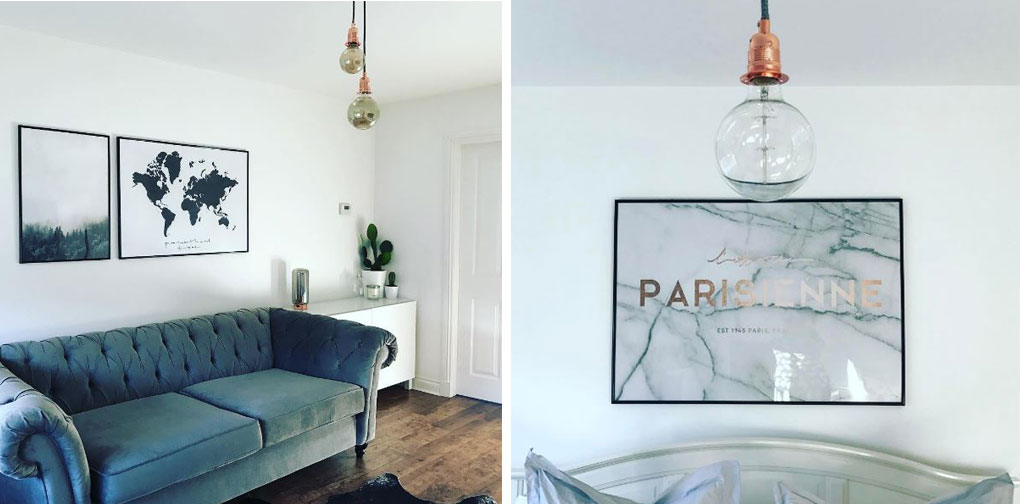 Images and styling courtesy and © of Number39_
Why not give it a go?
Whether you're an expert or a novice, these projects are proof that you can create an eye-catching light with just a few of our products. So, if you're feeling inspired, or have used any of our products in your projects, let us know, we'd love to see them! You may even get featured in an edition of 'We love how you're using our…'
Send your photos to marketing@dowsingandreynolds.com or tag them @dowingandreynolds on Instagram – don't forget to use the hashtag #dowsingandreynolds