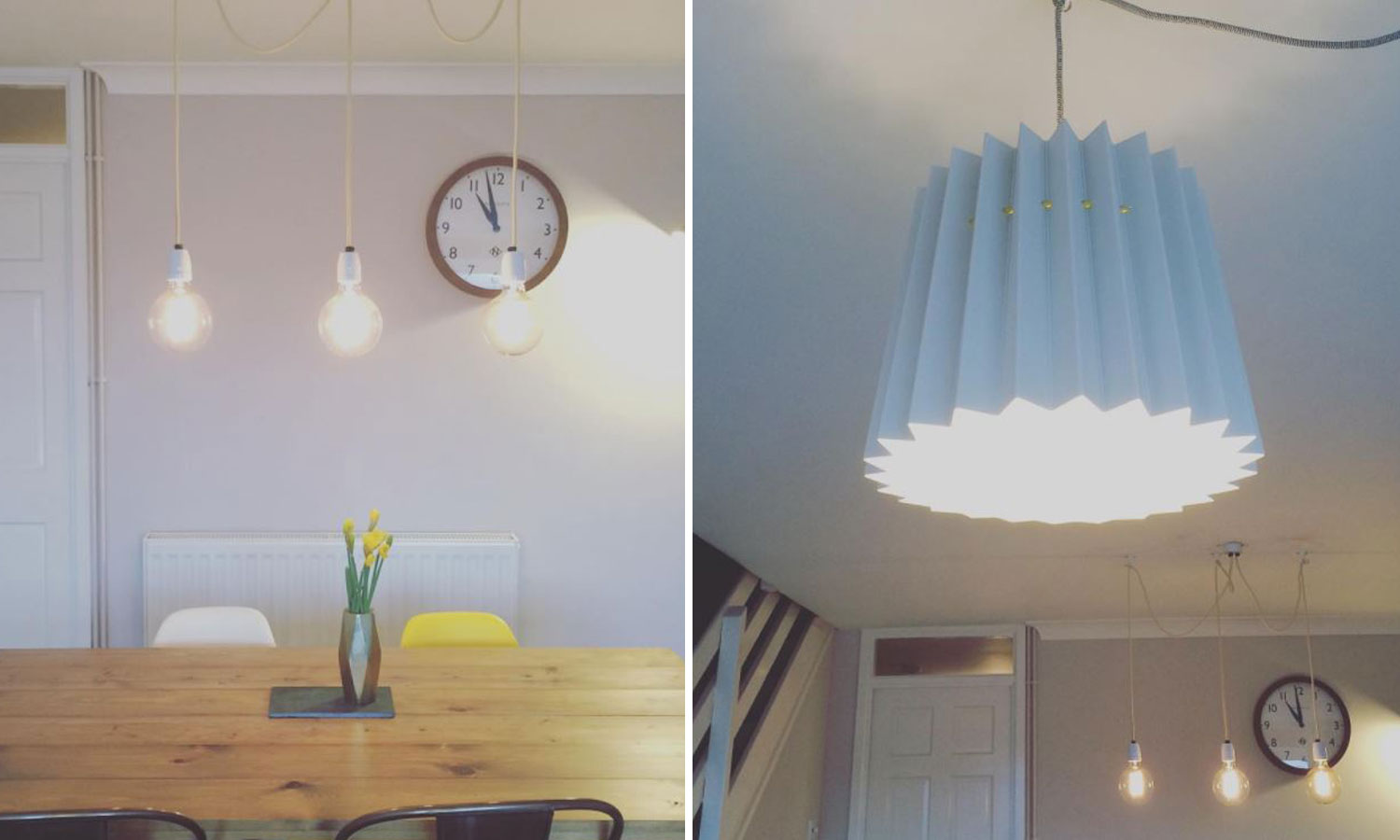 Following on from our last Keeping it Simple post, we've got another roundup of your project photos. We've enjoyed looking through your lighting and renovation projects where you've used our products.Thank you to everyone who emailed their photos or tagged them on Instagram!
This month the focus has been on little details.
All the projects featured below show how the smallest of details can go a long way. Whether it's changing a standard light fitting or adding industrial sockets, the results can be amazing!
Andy Morley
As his Instagram profile states, Andy is a full-time angler and part-time electrician. We love that. He's currently busy working on an old mill project for a client, installing the lighting, plug sockets and light switches.
The interior of the mill is beautiful and Andy has clearly taken this into consideration when selecting products. Even the little details have been thought about and are complimentary to their surroundings. By selecting our Smoked Gold dimmer switches and plug sockets, they blend into their setting but still remain aesthetically pleasing.
We think they look great and can't wait to see the final results once the mill is complete.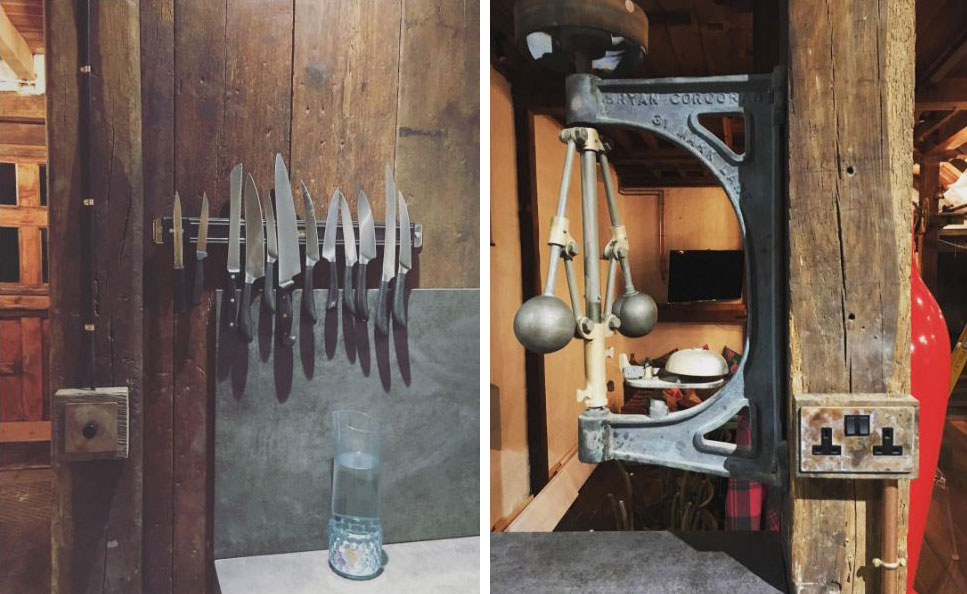 Images and styling courtesy and © of Andy Morley.
Dan Chambers
Dan Chambers is an interior decorator with a meticulous eye for precision and design. Home interiors are his passion, and he's worked on a range of properties including office spaces, grand mansions and even world-famous hotels.
In two of Dan's recent projects, he opted for bare vintage spiral large globe bulbs hanging from lengths of fabric cable. He selected this particular lighting design to complement the clean, fuss-free interiors. As you can see below, these lights were a perfect choice.
It's these little details that can help to bring a room alive, but often get forgotten about. But not with Dan, his meticulous eye won't let him.
Images and styling courtesy and © of Dan Chambers.
Eleanor Bath
Eleanor Bath, the writer of the blog A Slice of Life, decided it was time to update her 90's lighting with something a little more contemporary. With a soft, neutral colour palette in her kitchen, Eleanor added a dash of colour to the room with her accessories. Her choice of lighting was no different. By selecting individual lighting elements from our 'Create your own lights' section, Eleanor designed a light that complimented her room. Our Sherbet Lemon fabric cable fused with our porcelain bulb holders and a large globe LED bulb work well in her space. She's created a wonderful centrepiece, just by hanging the lights low over the dining table.
To complement the bare bulbs, Eleanor also selected a Little Greene lampshade from our friends at Lane. How lovely do they look together!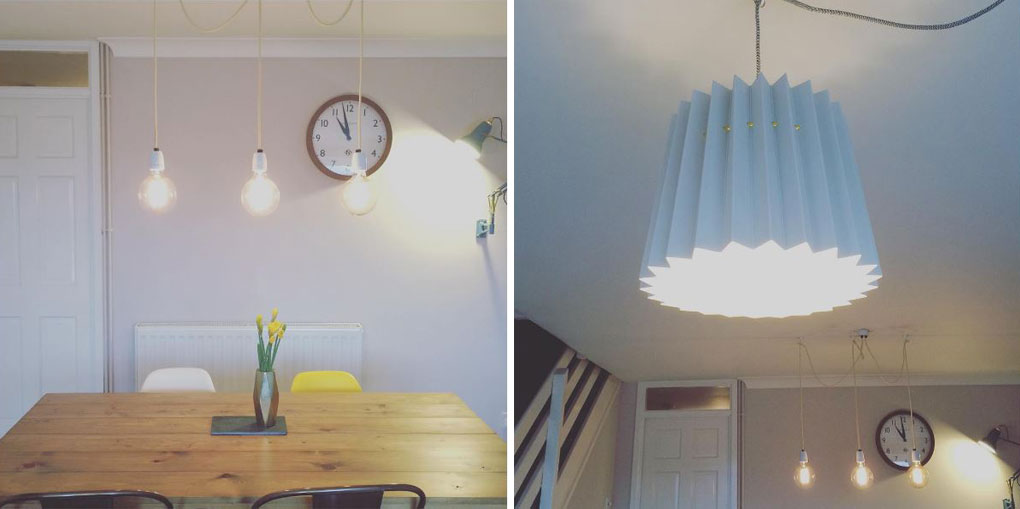 Images and styling courtesy and © of Eleanor Bath.
Leeds Dock
Located in the heart of Leeds at a wonderful waterside venue, you'll find Leeds Dock. A creative digital community where innovation, culture and enterprise meet, with great spaces to work and socialise from. Recently they refreshed their working space, giving it a new lease of life. Keeping the main focus of the design simple, they have added interest to the room with lighting and quirky accessories. It's those small details that have been thought about and go a long way in the overall design. We Love it.
When thinking about their ambient lighting, they chose our Hebden side wall light along with a vintage light bulb and fabric cable. By selecting these lights, they were able to pinpoint light into specific areas of their workspace. Pretty cool.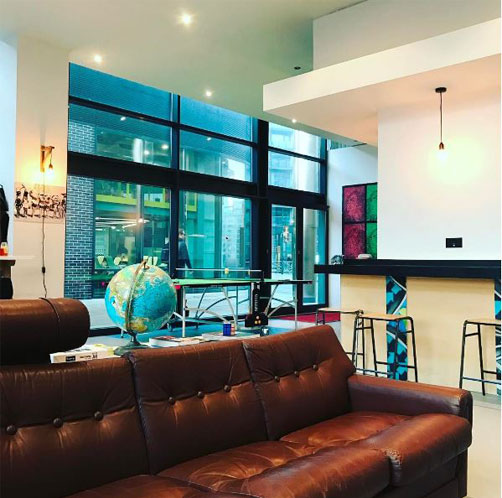 Images courtesy and © of Leeds Dock.
Don't be afraid to give it a go!
If you're feeling inspired by any of these projects, then why not have a go at your own lighting project. It doesn't matter how big or small it is, just a simple change can make a big difference. Don't forget, if you share your image with us, it may get featured here on the blog.
Send your photos to marketing@dowsingandreynolds.com or tag them on Instagram to @dowsingandreynolds – using the hashtag #dowsingandreynolds