Fabric Cable for Lighting and Fabric Covered Electrical Cable – What's the difference?
This is a very good question and one we encounter a lot of confusion over so in this 'fabric cable explained' article we will help you to understand the differences between fabric cable for lighting and fabric covered electrical cable. At first impression, you could be forgiven for thinking that these two types of fabric cable are interchangeable – and to some degree, the terms are, however, the actual fabric cables are not… Each has a very specific use.
Fabric cable for lighting
As far as we at Dowsing & Reynolds are concerned, fabric cable for lighting is specially designed to cope with the lower power demands of ceiling pendant lights, table lamps and floor lights. It's basically 3 core, 8 amp cable covered in high-quality Italian fabric – and at only 7mm diameter it's much thinner than our fabric covered electrical cable so works perfectly with our ceiling roses and light bulbs holders to make your own light fittings.
We have a carefully curated range of fabric cable for lighting including white, black, green, grey, burgundy and blue. We also have a few textures and options of vintage style braided (or twisted) fabric lighting cable or, the standard smooth fabric cable. There is definitely something for every style of interior décor!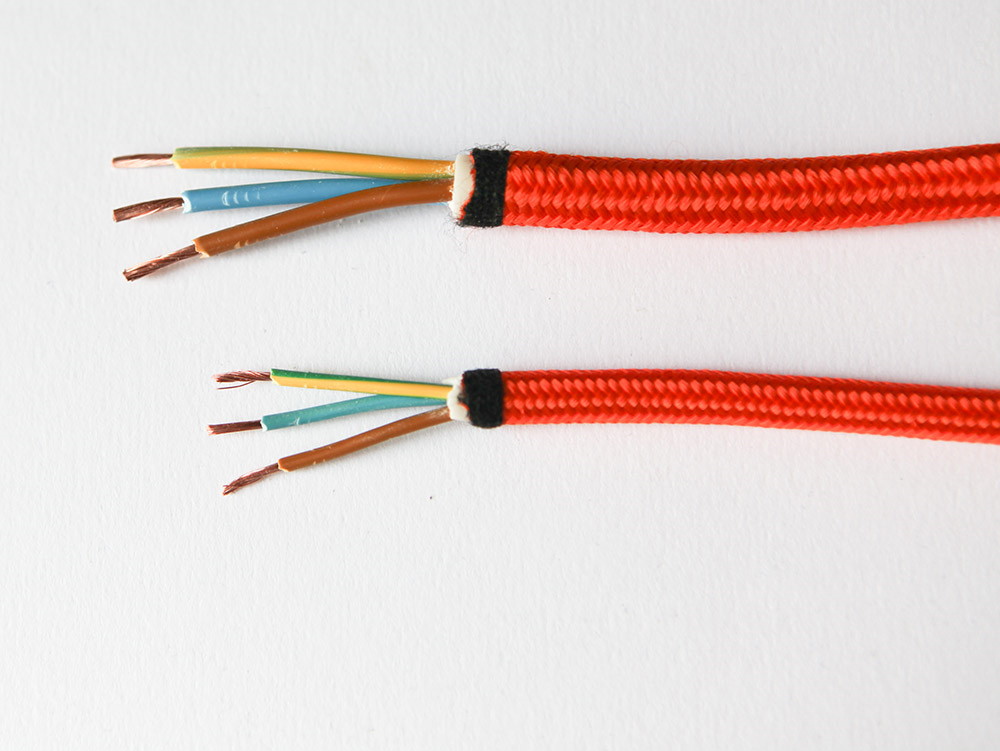 Above: on the top is 16 amp, 9mm mains power fabric covered electrical cable and shown at the bottom is 8 amp, 7mm diameter fabric cable for lighting.
Fabric covered electrical cable
Fabric covered electrical cable, on the other hand, is heavier duty than the fabric lighting cable and made to handle 16 amps of mains power. As such it's stiffer and thicker than our fabric lighting cable which at 9mm means it doesn't fit with our lighting components; bulb holders and ceiling roses specifically.
What fabric covered electrical cable is good for is re-wiring or making your own extension leads – anything that requires full 240v mains power to run. The perfect way to banish ugly plastic wires and make 4-ways look a bit sexy. Do check your warranty before doing this though as re-wiring your appliances will likely invalidate it and, get a qualified and registered electrician to undertake the work.
We hope that clearly explains the difference between fabric cable for lighting and fabric covered electrical cable – if you have any questions before you buy, just drop us a line and we'll be happy to advise.