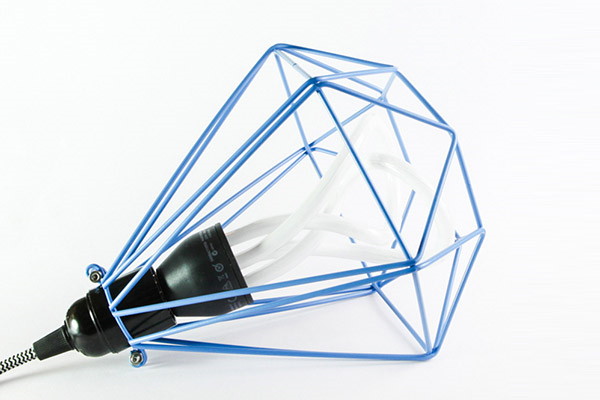 OK maybe not an odyssey but it had a certain ring to it.. more of a quick look at this summer's Greek Blue interior trend. Specifically how can you use blue lighting accessories to keep your holiday memories alive…
Greek blue immediately conjures up a panoramic view of Cobalt blue Ocean, azure blue sky, topaz swimming pools and of course the ubiquitous white-washed buildings with Greek blue doors, window shutters and even the odd dome.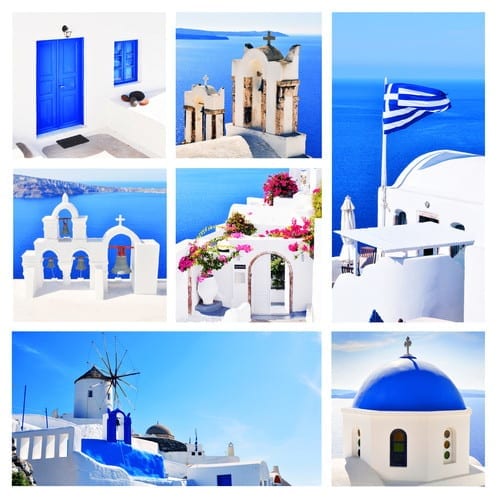 Above: Santorini with churches and sea view in Greece
School's out for the summer now and it's the perfect time to turn thoughts to impending holidays… And if you've ever travelled to Greece, you'll know the exact shade of blue we're talking about when we mention the latest Greek Blue interiors trend.
Greek blue is pretty much always used as an accent fresh, crisp white… To mirror its Hellenic origins we guess. Paired together they have a nautical feel and are also the colours of the Greek flag – which is rumoured to have been inspired by the blue of the sky and the white of the waves. Draw your own conclusions there! But I digress, there is no doubt that these two colours are a match made in heaven, the background of bright white makes the royal Greek blue pop and gives it an authentic Mediterranean feel. A hint of geranium red adds hot accents of colour to your Greek Blue odyssey theme.
We reckon the Greek blue interiors mini-trend is probably driven by the desire to bring our travel memories home with us. Who doesn't want to be reminded of the carefree days of abandon we experience on holiday… And why not try to recreate a bit of the Med back in your own home?
Doing the Greek Blue interior trend yourself
So to help you keep some of that holiday feeling alive at home, we've curated a collection of Greek Blue trend inspired products that will bring a little bit of Greece to any interior.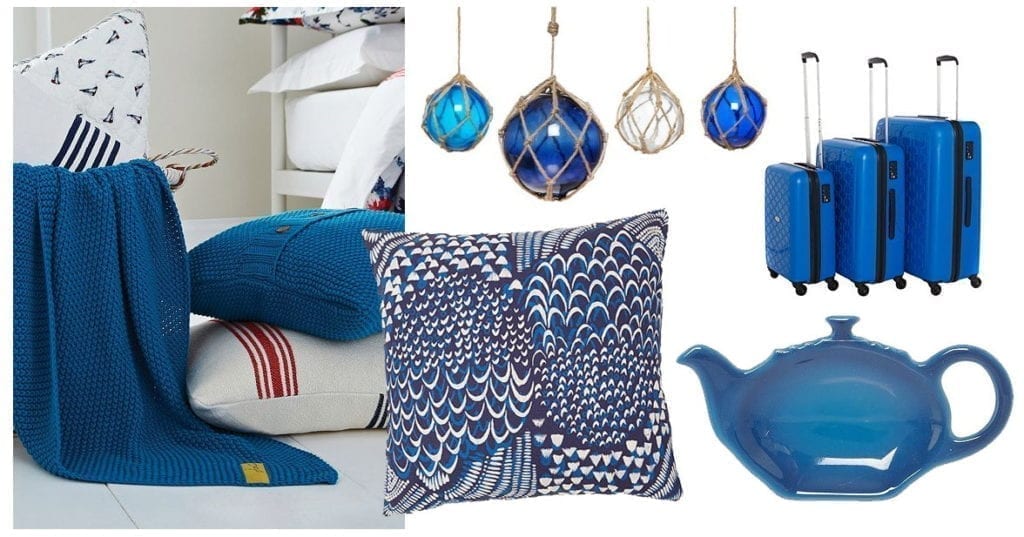 Above: a selection of blue travel and home accessories available from House of Fraser
And of course we're biased towards lighting (no change there!) so here are some quick, easy and affordable ways to update a whole room's theme with blue lighting accessories. What's more, Greek blue is a totally unisex trend – this clear, rich warm blue is just as at home in an otherwise monochrome bachelor pad as it is in your country-style inspired kitchen.
Updating your interior with Greek Blue lighting accessories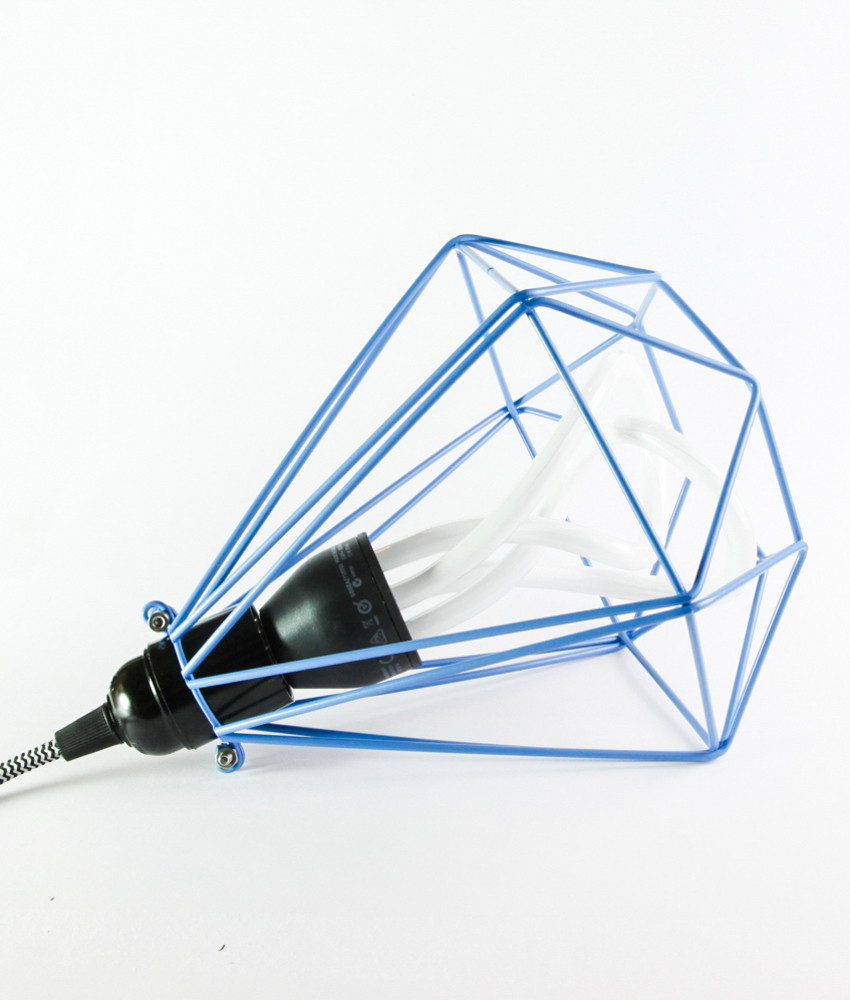 Above: Pre-assembled Blue Diamond Cage Side Lamp
A quick and easy way to liven up an occasional table is with one of our diamond cage side lamps – go for this one in ocean blue and pair it with a sculptural Plumen light bulb for something a little different. It comes pre-assembled so you literally just have to plug it in and hey-presto you have a touch of Greece right there in your room.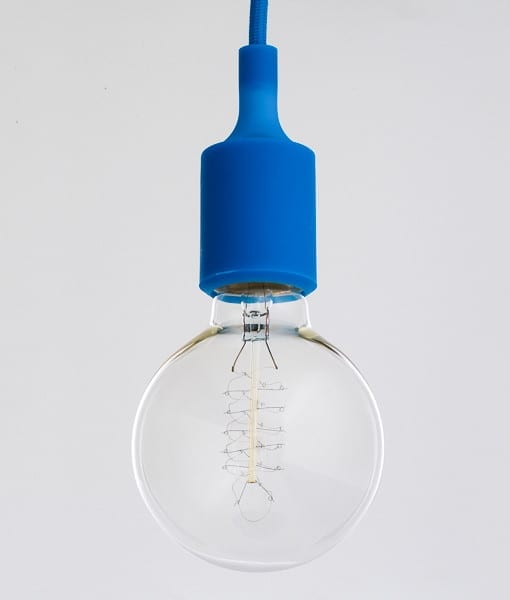 Above: Blue Silicone Ceiling Light Pendant

Inject some Greek Blue into your room with our blue silicone ceiling light pendant. This will look fantastic in an all-white bedroom – just the right amount of uplifting colour to remind you of those lazy days spent under a deep blue sky.
If you're feeling a little more creative i.e. you want to have a go at making your own light fitting from scratch… We'd recommend you start with a white porcelain ceiling rose and some summer blue fabric lighting cable. Next, pick a white porcelain bulb holder and a large globe spiral filament vintage light bulb. To make more of a feature of your light add one of our lovely geometric diamond blue cage light shades. Hang in a white kitchen room for that all year around summer feeling!
We hope you've found some inspiration here on how to incorporate some Greek Blue into your interior. Check out our blue lighting accessories section for more ideas and products.