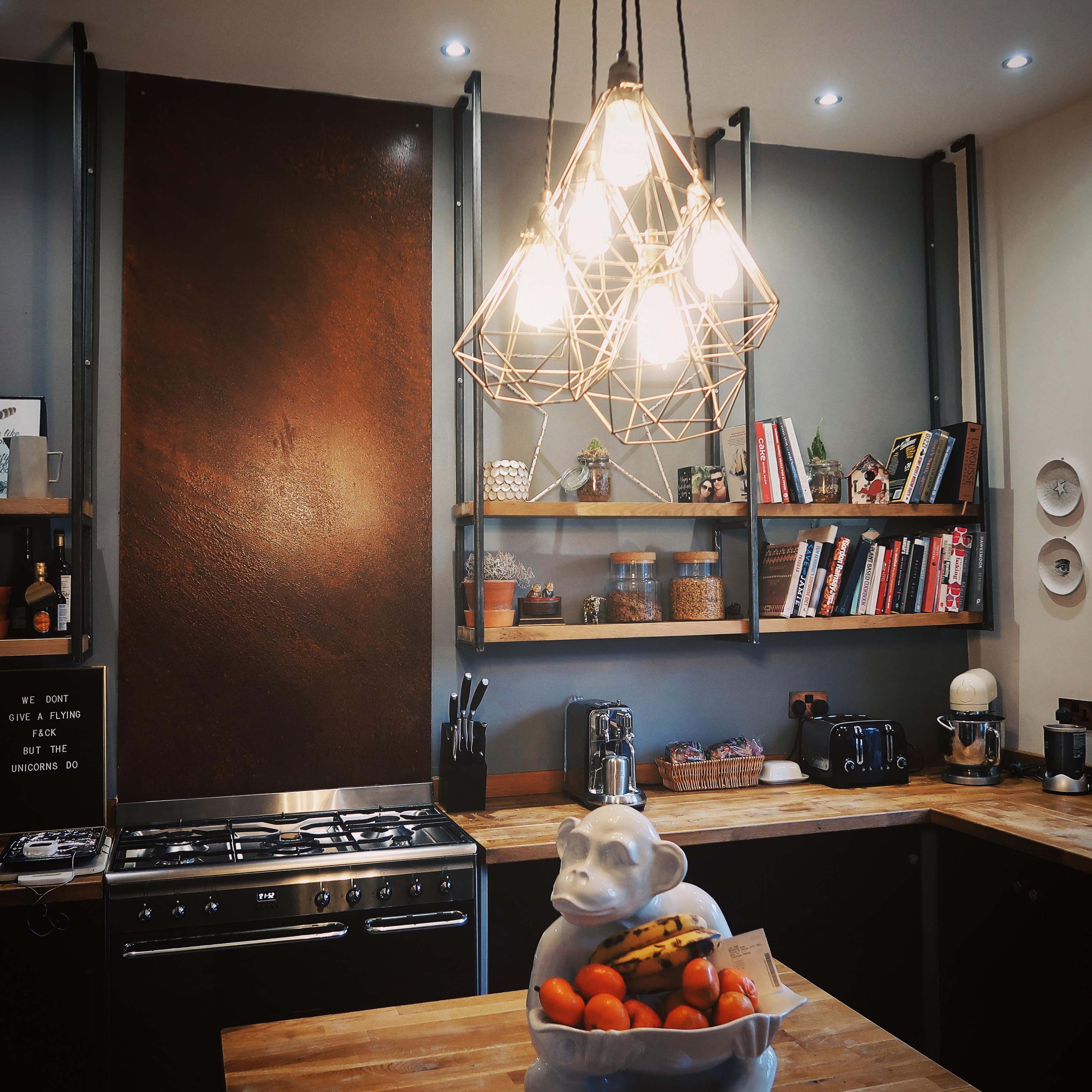 Ah, the kitchen – my all-time favourite place… And that's not just because the food is there. Personally, I spend an unquantifiable amount of time in my kitchen. Granted, most of this time is spent opening and closing cupboards in the hopes that more exciting food has magically appeared, but everyone does this right?
On a serious note though, I do spend a lot of time in the kitchen – it's become a social hub in our house, a place for list-making, dancing, catching up on new music, socializing. It's where my baby plays, where we catch up and fundamentally where we cook and eat. It's got a really homely vibe and a sense of family. I love it, but this isn't a new fashion. Below I will explore some up and coming kitchen trends for 2019 including brass, matt black, dark kitchens and nature. And of course, offer inspiration on how to introduce these into your home.

Traditionally, the Egyptians would gather around a fire during meal times. Primarily because this was the safest place to congregate, it was light, warm and there was food – why wouldn't you hang out there?
As time went on – specifically after World War Two, the kitchen started to take pride of place in the house. For the first time, people were spending time decorating their kitchen and money on appliances to transform their spaces. Then, in the 1960s and '70s, there was a boom in home-cooking, the kitchen became a space for all the family to spend time. It was convenient, a place where mum could cook AND keep an eye on the children at the same time – how's that for multitasking. Because of this, larger kitchens became more desirable and the kitchen, as a space, became more social.
Kitchens these days are SO multifunctional. Yes, they're used for cooking, but they're so much more than that. A LOT of time is spent here, which means that the kitchen not only has to be practical, but needs to look great too, and that's where kitchen trends come into play. I mean you wouldn't want to be out of touch in the style stakes, now would you?
So, what are the current kitchen trends, I hear you ask, and how can they be replicated easily without ripping the kitchen apart.
Trend #1: Brass
Brass is a finish that's making a resurgence. Gone are the days of the yellow-tinged gold accessories, as we say hello to a much more muted, matt finish. Brushed brass is a fabulous replacement for the polished nickel and chrome that is a staple in most kitchens. It's a more sophisticated finish that adds instant class. What's great about brass is that it works in practically any style of kitchen. A simple way of introducing brass into your home is by swapping out those chrome cupboard and drawer handles – it's a quick fix that can be done by any DIY novice, even me!
Once that's been done, it's time to tackle those pesky switches and sockets. Lucky for you, we have a stunning collection of brushed brass sockets to use across your space, from the humble dimmer right the way through to oven switches, we've got all bases covered. A simple way to transform your spaces is by coordinating brass across your kitchen, it sets a grown-up vibe.
The piece de resistance is a brass tap, the ultimate kitchen accessory and the perfect jewel to adorn your sink. Brass kitchen taps add warmth to clean minimalist kitchens and a little bit of luxe sparkle to more industrial spaces. They really are something special… Hey, they might even encourage you to embrace the washing up. Or maybe not.
Trend #2: Matt Black
When regular black just won't cut it, matt black is the only option. Sleek and sexy, it's a stand out finish that adds a naughty flair to your kitchen. Matt black really makes a statement against white cupboards. There's something in the contrast. but if you really want to be on-trend, you have to embrace Jewel tones. Hunter green cupboards are all the rage and will show off those black knobs to perfection. If you're not feeling a full-on kitchen overhaul, swapping your white plastic switches and sockets to these gorgeous matt black coated metal ones will really make a difference. You could always kill two birds with one stone and opt for black switches with gold toggles – so very chic.
The great thing about the black trend is that there are so many possibilities with it. You can keep it small and low key with knobs, handles, switches and statement taps, or you can totally embrace your dark side by painting your kitchen units a slick matt black. If you want to go the whole hog, retailers are embracing the matt black trend by offering everything in a black finish to complement your kitchen. From matt black toasters and coffee machines to ovens, fridges and washing machines, there really is an appliance for any scenario. After all, who doesn't want matching kitchen gadgets? A girl can dream.
Trend #3: Dark kitchens
If black is just that little bit too far out of your comfort zone (it is a bold step) but you still want to embrace the dark trend, then navy or green may be just the ticket. Not as harsh as black, but still bold enough to make a statement, these colours are easier than you think to introduce into your kitchen. Jewel tones look amazing on kitchen units and really add depth and ambience. Plus they look incredible with the current trends of dark wood, matt black and brass accessories.
Hunter green is a fabulous colour, one of my favourites. It has a traditional vibe about it but adds real contemporary flair to kitchens. To me, green has a natural, outdoorsy vibe to it but still feels dramatic when used indoors. It makes a statement and feels homely – definitely how I want my kitchen to feel. In a world that's ever dependant on technology, I'm all too eager on encouraging my family to embrace nature and the outdoors, and having more green around the home certainly does that. Green evokes a real sense of calm and serenity which is also important in my chaotic life.
Navy blue is another favourite of mine and is being hailed as the new neutral for 2019/2020. Introducing navy in kitchen cabinetry, wall and floor tiles or splashbacks sets a classic yet moody tone in your kitchens. It works beautifully against white walls and is the perfect backdrop for brass accessories. Brass shaker style door handles add a traditional twist to your cabinets and drawers. However, our minimalist tapered knobs are just the thing if you're looking for something more contemporary. Small knobs are all the rage, dontcha know.
Trend #4: Nature
Even if you're not massively into the outdoors, escaping our everyday lives and trying to reconnect with the natural world is beginning to influence our interior style. Replacing white painted finishes with wooden cupboards and countertops alongside green and blue tones is a simple way of embracing nature. Personally, I love having fresh flowers and plants around the house, they make me happy, calm and content. Alas, with two cats and a lack of green fingers, real plants are just not practical. That's why I'm obsessed with our new artificial plants. They're easy to care for but still look real enough to give off that much desired natural vibe.
If you're a no-fuss kind of individual and even artificial plants are too much – embrace nature with leather pull handles instead. These soft handles are a great alternative to metal and look amazing too.