High-end lighting ideas for a modern home
Fluttering your eyelids, feeling the soothing weight of sleep pulling you under, the cluster of pendant lights above casts a gentle glow through your half-open eyes. The dewdrop bulbs radiate a calming energy, helping all of your worries disappear. The twinkling glow feels like a soothing lullaby for your senses, whisking you away into a state of relaxation.
As you sink further into your afternoon snooze, the decorative lights become a subtle reminder of the atmosphere you spent so long fine-tuning.
Let our interior expertise and innovative lighting ideas ignite your creativity. Delve into our handpicked selection of popular products and uncover exclusive tips and tricks to find the lighting vision you've longed for.
Modern lighting ideas for every room
Designing a home you love
Lighting has the power to transform the mood of any space. Whether you want to snuggle up with warm, cosy lighting or add lively, active energy to your space, the right lighting can give each room a unique personality.
Revamping your home's lighting with modern ideas is a fun and exciting project that will leave you feeling inspired and refreshed. A great place to begin is to explore the endless possibilities of contemporary lighting – whether you're updating one lighting fixture or giving your entire home a transformation.
And if you're really in the mood for a full upgrade, consider the impact designer light switches can make, not to mention the convenience when it comes to light adjustment.
"Aim to have at least eight light sources in larger spaces such as living rooms and kitchens – this might sound like a lot, but it includes windows and doors, as well as candles and fairy lights."

Connor Prestwood, D&R Interior Design Specialist
Kitchen lighting ideas
Brighten up your cooking space
Designing a kitchen that's both functional and beautiful can feel like an uphill battle, with so many moving parts to consider. After all, the kitchen is where we whip up delicious meals for friends, and spend countless hours snacking and chatting. So, nailing the right level of light for every activity and function is important, but it's not always easy.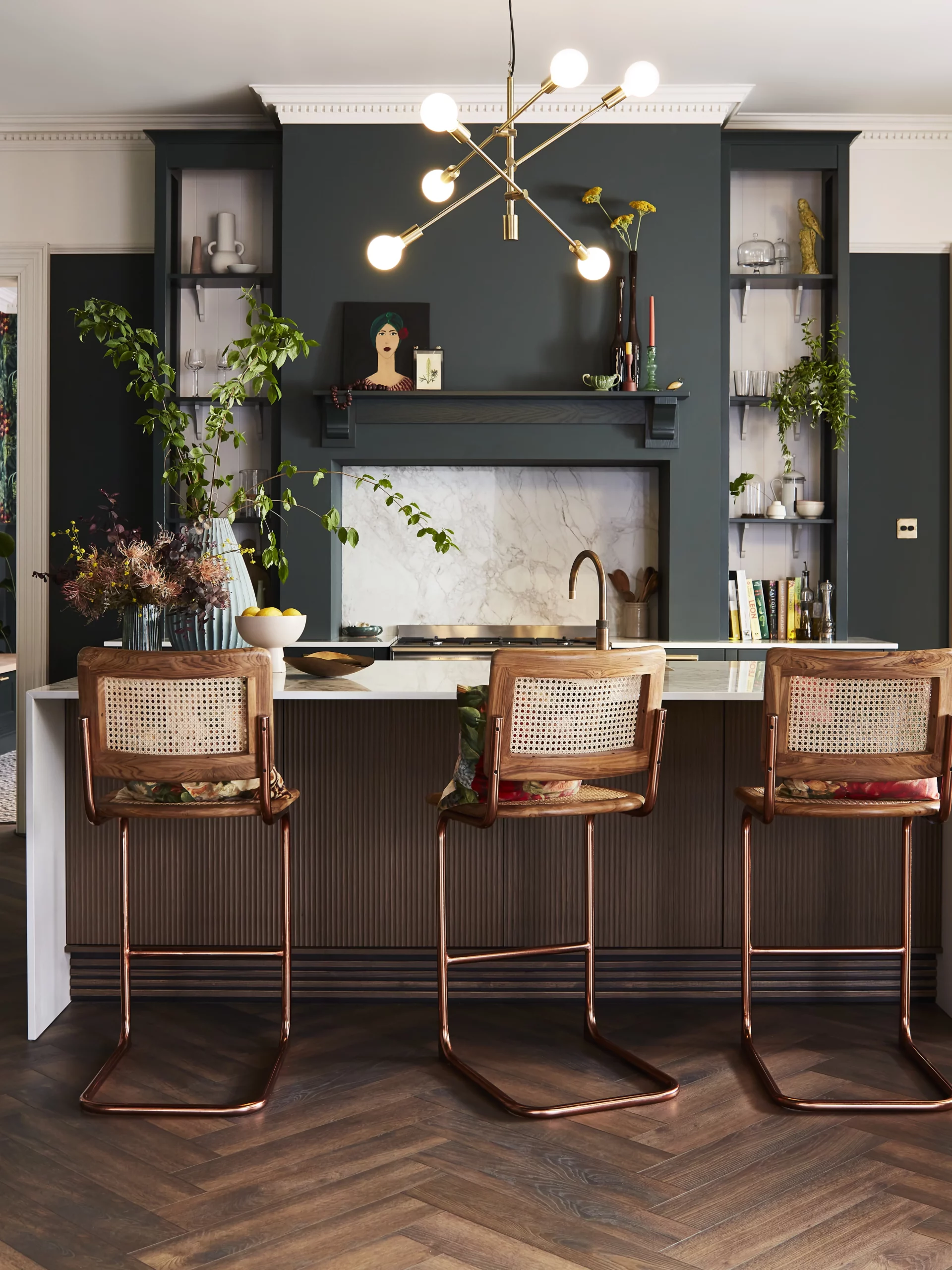 Key considerations:
Task lights can be very handy for illuminating your kitchen space for extra clarity. Think of it like focused light, illuminating your countertops, sinks, and stovetops so you can chop, scrub, and stir with ease.
When you're grooving around your kitchen with a glass of wine in hand, mood lighting sets the scene and helps to make your cocktail making and cheese board styling a whole lot more enjoyable.
By adding layers of light, you can create the perfect balance of brightness and warmth. Embrace the freedom to tweak your lighting levels to your heart's content.
Add symmetry and balance with multi-pendant ceiling lights
In 2023, kitchen lighting trends are all about modern industrial styles, with an emphasis on sleek and structural island lighting. To add a touch of sophistication, clusters of pendant lights can be suspended above the focal point of the room, creating a captivating feature that adds a stylish flair to your space.
Our matt black baton pendants are the perfect solution to answer both form and function. With their long drop, clean lines, focused light, and elegant black-coated steel batons, they encourage the eyes to travel upwards, creating the illusion of higher ceilings. But it's not just about aesthetics – the baton pendants also provide ample lighting for cooking and entertaining.
Enjoying a leisurely Sunday morning breakfast bathed in the warm glow of these pendants is a joy – the perfect atmosphere for starting your day off on the right foot.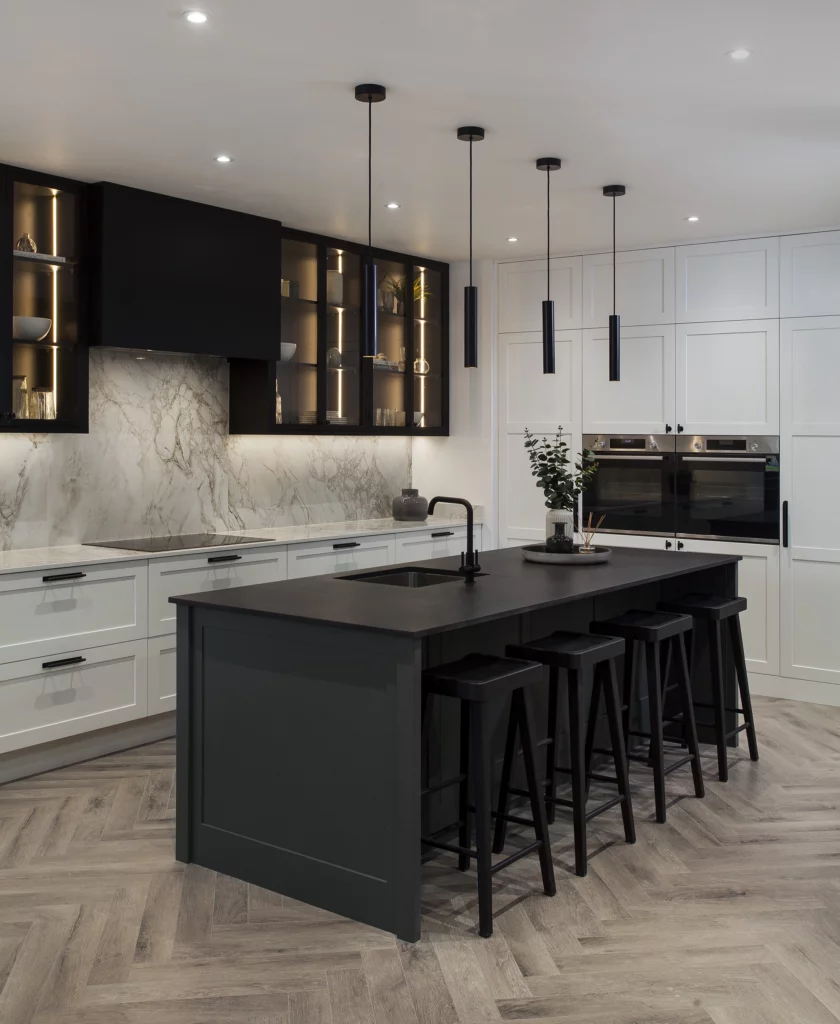 "Think about how do you want to feel in the room and what you'll be using the room? This will allow you to combine functional 'task' lighting with decorative 'ambient' and 'accent' lighting to create your desired atmosphere."

Ally Dowsing-Reynolds, CEO
Bedroom lighting ideas
Sleep tight with the right light
Retreating to your bedroom at the end of a long day is a much-needed relief from the hustle and bustle of everyday life. It's the place to seek solace and relaxation, and even the smallest details can make a big difference in creating the perfect sleep haven. By taking the time to carefully consider your bedroom lighting fixtures, you can create a serene space that's perfect for getting a good night's sleep.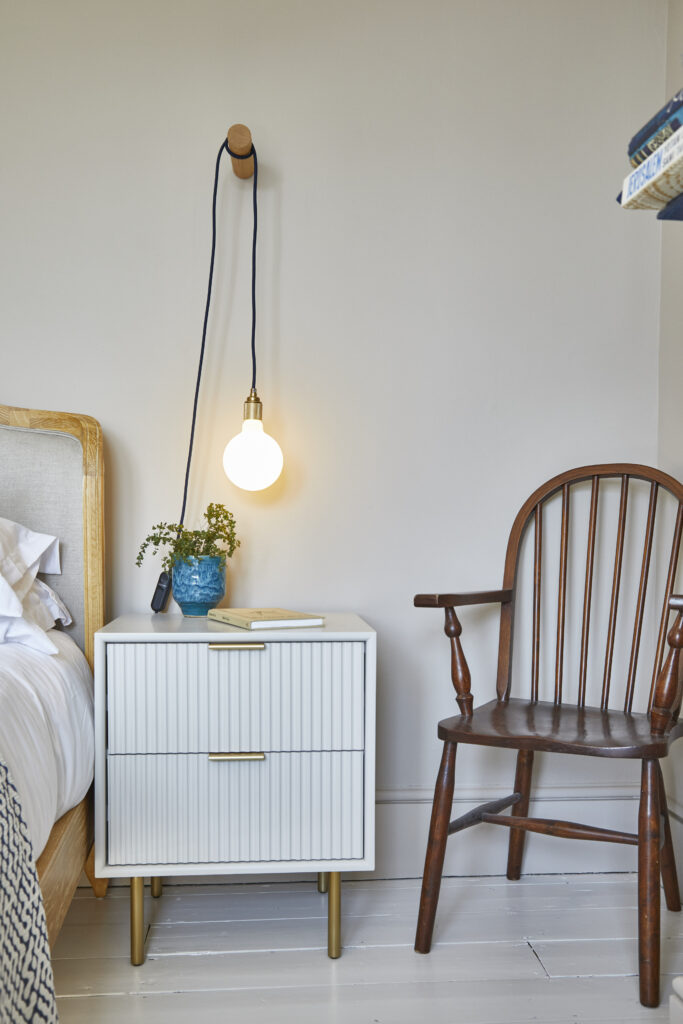 Key considerations:
Avoid overhead lighting that can create harsh shadows and instead opt for soft, indirect lighting stationed strategically around the room.
Replicate golden hour with sunset hues or amber tones. The warm colours of a sunset mimic natural signals to the brain that it's time to prepare for sleep. Try to avoid bright, cool-toned lights, they interfere with your body's natural rhythms and make it harder to get those Z's.
If your bedroom is feeling a bit dull, jazz it up with a fun and colourful lamp. Bedside table lamps with thoughtful designs provide a small touch of beauty to admire before turning them off at bedtime. It's never a bad idea to utilise soft light with twinkling fairy lights and LED strip lights, too.
Incorporate modern and artistic statement pieces
The bedroom is where we spend hours of our time, occasionally staring up at the ceiling, a statement light fixture is a great way to add a finishing touch you'll be happy to gaze at.
If you're a fan of natural elements and love the vibrant look of greenery, check out our fern teardrop chandeliers. These pieces blend sculptural shapes with brass accents and opalescent frosted bulbs for a majestic look.
The faux greenery intertwined between the cascading fronds makes it an eye-catching feature, captivating your attention with its intricate details. These feature lights are more than just a way to illuminate a space – they're true works of art that make a visual impact even during daylight hours. For anyone who loves interior design, these beautifully-designed ceiling lights are a dream.
Nature lovers can bring the outdoors in by complementing this light fixture with rattan and woven textiles or pampas grass and dried flowers for a bohemian look.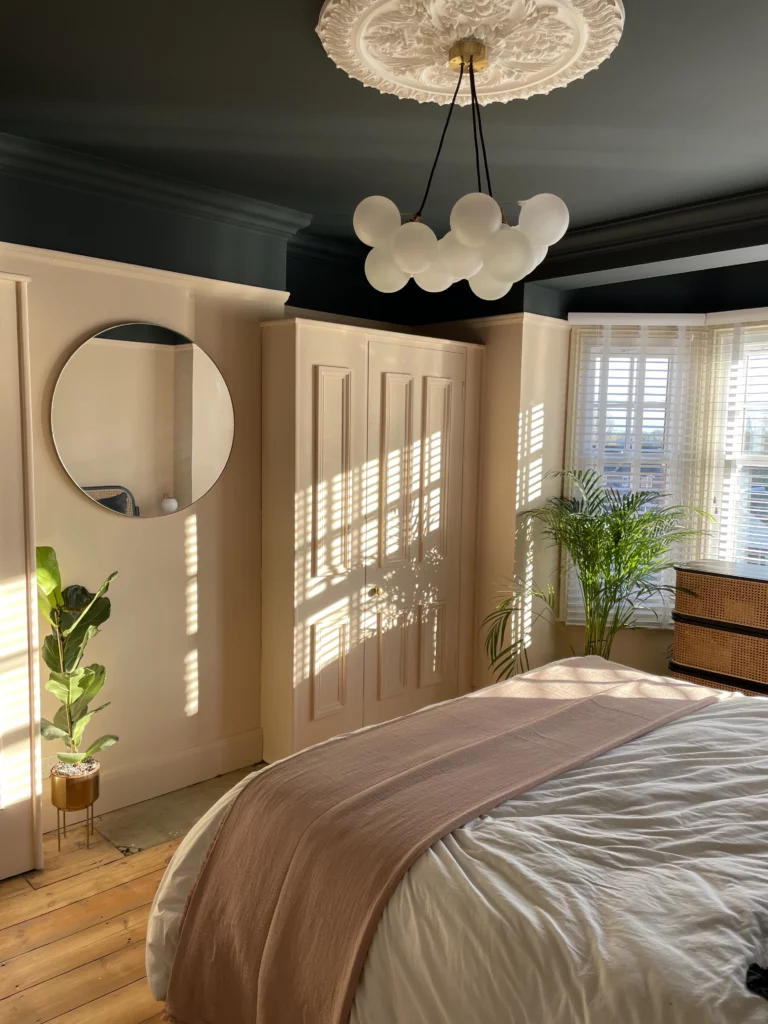 Having a statement light is a great way to really define and lead the style and feel of your bedroom.

Xander Shreenan, D&R Interior Design Specialist
Living room lighting ideas
Create a contemporary living space
A living room is the heart of any home. It's where all the magic happens – laughter, chats, sofa cuddles, you name it. And the best way to make it a place you enjoy sitting back in is through premium living room lighting. Creating an inviting living room atmosphere may be something you want to tick off your new home to-do list.
One of the best ways to achieve a welcoming atmosphere is through lighting. In fact, this is a room in the house where you can really push your inner creativity and rely on more than just the central light source…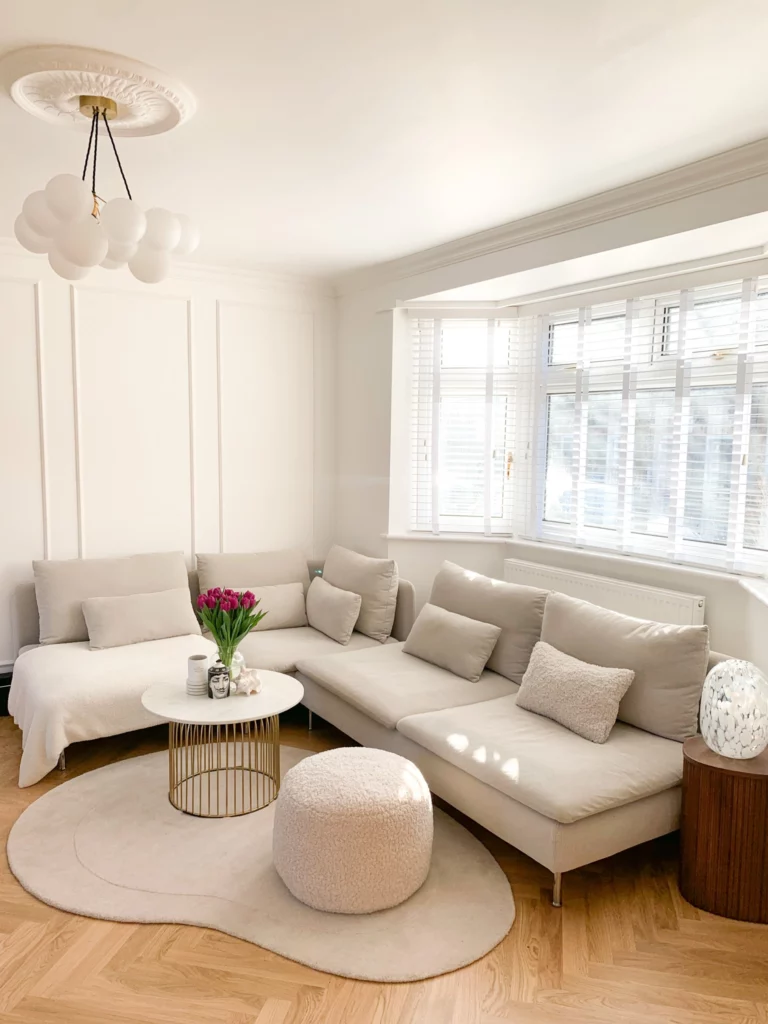 Key considerations:
Don't underestimate the power of natural daylight. If you're blessed with big windows that let in loads of sunshine, consider embracing it to get a bright and airy feel in your living room. Maybe even some sheer curtains to diffuse the light and create a softer glow.
But if your room doesn't get much natural light, you can still brighten up the space with some clever artificial lighting. Try mixing up some floor lamps, table lamps, and overhead lighting to create a layered look that gives your room depth and dimension.
The key is to keep the design simple and understated, letting the light do all the talking without taking over the space.
Highlight your favourite décor elements with wall lights
Let's talk about the incredible versatility and beauty of wall lights. Wall-mounted fixtures provide balance and set the perfect mood for a chilled night in. When you're just not feeling the harsh glare of the overhead light or the limited reach of your table lamp, these lights do the trick.
Wall lights are also the ultimate multitaskers – making your reading nook more tranquil with their downward glow, and they put your wall art and architectural details in the spotlight – mood lighting and accent lighting intermixed.
Bask in the soothing and ambient glow of our porcelain wall lights, designed with your peacefulness in mind. Let the stresses of the day melt away as you sink into a state of complete tranquillity.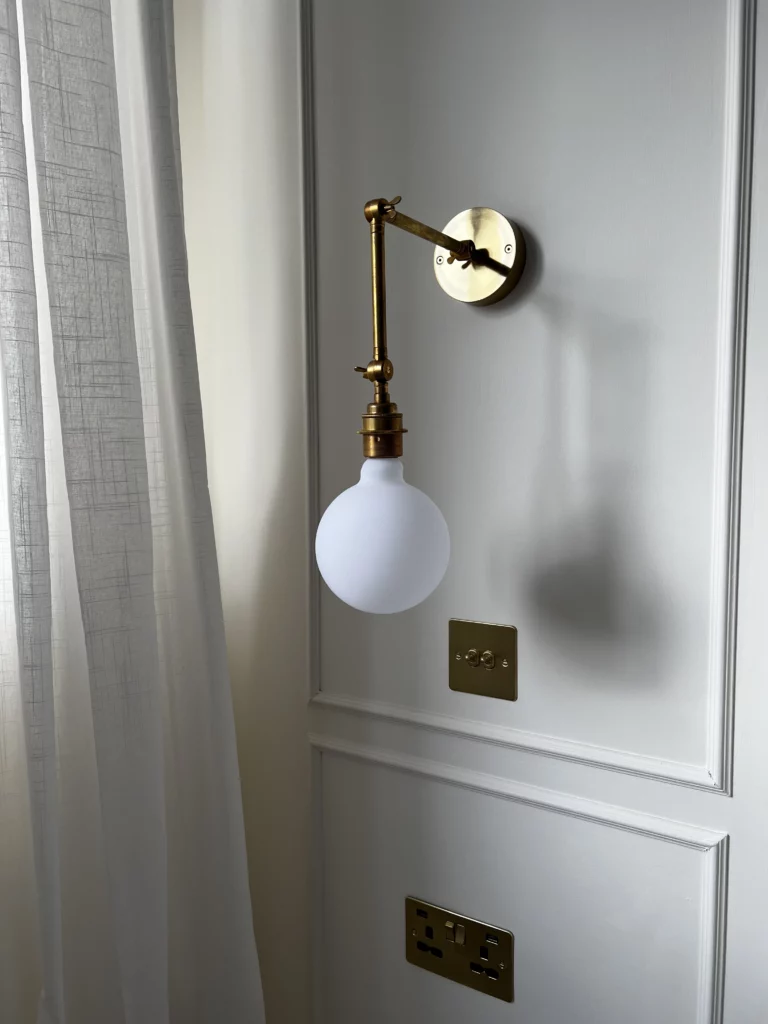 "Carefully place table and floor lamps in corners and on shelves to create additional pockets of light. As a finishing touch, candles will give that lasting comfortable, homely feel."

Xander Shreenan, D&R Interior Design Specialist
Dining room lighting ideas
Get the perfect ambiance
The room where you gather to enjoy a delectable meal deserves some TLC and a touch of pzazz. It's a versatile space where we engage in various activities such as working from home, hosting dinner parties, going on date nights, or celebrating children's birthdays. Therefore, when selecting the right dining room lights, think about the general mood you want to create.
More often than not, lighting takes a backseat to the dining table, which naturally captures our attention. In this case, it's perfectly fine for lighting to not steal the spotlight and play a supporting role in creating the right ambiance.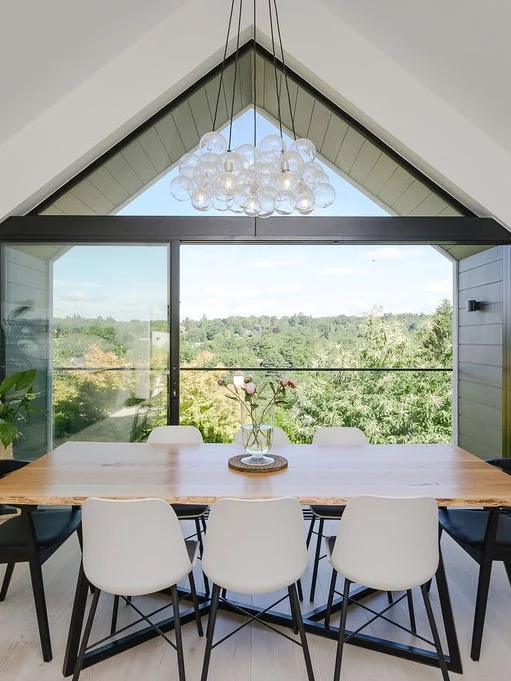 Key considerations:
Let's focus on the dining table as the star of the show. A bold chandelier can be the crowning glory, lifting up the entire space and bringing everything together. For those looking to create an opulent and grand interior design scheme, a feature light like this can really add to the drama.
On the other end of the spectrum, you can opt for subtle, practical choices that don't demand attention such as recessed fixtures or track lighting if you want a high-end feel.
The colour temperature of light bulbs can significantly influence the ambience of a dining area. Consider the use of warm-toned bulbs to create a more intimate feel, or cool-toned bulbs for a brighter and energised atmosphere.
Brighten darker corners with table lamps
It's easy to overlook the smaller details and focus on 'the big light', but table lamps bring an aura of elegance and charm to hidden corners of a dining room.
A hand-picked table lamp can bring a touch of your personality to the overlooked end tables in the dining room. It's a small detail that goes a long way in making your space feel truly yours.
If you value simplicity, our Asteria table lamp is a must-have. Its cream and gold shades and metallic finish add just the right amount of grace without being too showy.
This lamp looks gorgeous perched upon a rich, dark wood end table – a vision that will leave you grinning from ear to ear with sheer delight.
"Having multiple light sources gives you a wider range of uses for the extension at all hours of the day, perfect for creating a multi-purpose space."

Ally Dowsing-Reynolds, CEO
Find designer lighting made just for you at Dowsing & Reynolds
Sinking into the plush cushions of your armchair, the delicate flood of light from the tear-drop shaped pendants spark instant happiness as a smile forms on your face. The soft light accentuates the shiny glint of your new brass handles, highlighting the unique character and personality of each piece.
With a contented sigh, you glance back up at the chandelier, still in awe of its grandeur. Its glass baubles seem to float like bubbles in the most fascinating way, filling the room with a meditative atmosphere. Discover endless possibilities and bring your vision to life with our designer lighting collection.